Introduction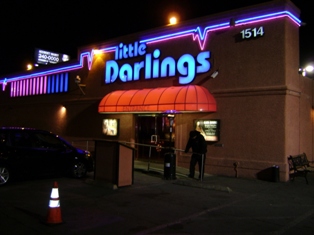 Introduction
Little Darlings is a totally nude gentlemen's club located south of downtown Las Vegas, northwest of the strip. By law, the club is dry. I visited with a friend on a Thursday evening, on December 10, 2009. This review is based on that experience.
Preface
When I was in college, many of my female classmates hated to be referred to as "girl." The implication was that anyone of the female gender past puberty was a "woman." However, at this establishment the dancers all referred to themselves as girls. So I am using the same term, with apologies to any women who may take offense.
Location and Hours
The club's address is 1514 Western Ave., Las Vegas, NV 89102. Western Avenue runs north south, just to the west of the Strip. Little Darlings' location is in an otherwise industrial area between Sahara Avenue and Charleston Boulevard. The phone number is 702-366-1141.
As of December 2009, Little Darlings is open Monday – Saturday 11:00 am – 6:00 am and Sunday 6:00 pm – 4:00 am.
Parking
The parking lot is large and well lit. I pulled up near the entrance and a valet parker took over. There was no valet fee, but as always in Vegas, nothing is truly free, so a tip, I'm sure, is expected. When I was there I had the impression that it was valet only. However, the reviewer at Vegas.com says free parking is available at the adult book store on the south side of the building.
Limo Service
Advertising for the club and signage inside indicated they have free "limo service." The phone number to call on the ad is 702-366-1141. My friend and I drove ourselves, so we couldn't put that service to the test. However, my more-knowledgeable friend said that tipping would definitely be expected, and the limo ride when you leave the establishment isn't necessarily free. He also said the entrance fee might be more if you arrive by limo or taxi.
Admission
On the Thursday night I was there, admission was $10 for locals and $30 otherwise.
Facilities
There are three main sections to Little Darling's building. In the middle is the main floor, which boasts one big stage and one small stage, each with one pole. As is usual, there is seating right by the stages, but most men that night preferred to sit at small tables a little further back from the action. There was a bar on the side of the room away from the main stage, but it would not have afforded a good view. I would estimate the maximum occupancy of the main room would be about 100 customers. The interior was clean and simple. The girls were often cleaning the stage poles. No chandeliers or anything fancy. The lighting was pretty dark, as is usually the case at such places.
The north side of the building houses lots and lots of "private dance" rooms. Some have couches and some offer beds, and some had privacy curtains while others did not. The temperature of this area was very cold, as the girls justifiably complained about. The south side of the building is home to fewer but larger "VIP" rooms. These are more expensive to get in to, and they boast private dance poles. The restroom is located between the main floor and the "private dance" rooms. There is also an adult book store with a separate entrance on the south side of the building. I never went in, so I can't comment on that.
Security
One issue I have with other Strip clubs is there are too many muscle-bound bouncers wandering around with an attitude like they are itching to get into a fight. However, Little Darlings was much more welcoming. The only male employees I saw were the valets, the cashier at the entrance, and a men's room attendant. Perhaps I saw others out of the corner of my eye, but nothing worth remembering. Another thing I liked was that there was not frequent reading of the rules over the public address system; you often find this annoyance in other clubs. So it was a nice change to not feel intimidated.
Drinks
As previously mentioned, Little Darlings is dry. Except for the Palomino Club, which was grandfathered as an exception, all totally nude clubs in the Las Vegas area may not serve alcohol. Sodas and ice water are free to customers. Drinks for the girls are $10 each. I asked about the reason for the difference, and what I was told was the $10 goes to the girl who received the drink, but she is expected to share it with the waitress and bar staff. The waitresses are not shy about coming over when a dancer is nearby to ask if you would like to buy her a drink. I was told that the girls have to pay $40 per shift to work there, so I think the least the customers should do is buy some drinks for the girls.
Music
Compared to other clubs I have been to, the music volume level at Little Darlings was fairly low. We were able to hold a conversation by raising our voices only slightly. At one point, when a new DJ came on, the volume went up noticeably, but it still was not to the headache-inducing level that a lot of other clubs seem to prefer.
The music was not familiar to me. It was very electronic and syncopated, and nothing I would ever listen to by my own free will.
My friend and companion for the night is much more experienced with strip clubs than I am. He complained many times that the duration of each "song" was too short, at about 2.5 minutes each. The DJ was obviously cutting the songs early, blending them into the next one. My friend later timed the songs at Spearmint Rhino to form a basis of comparison, and he said the average there was 4 to 4.5 minutes. As I'm sure many readers know, the reason the length of a song is significant is that except for certain VIP deals, the girls sell their time by the song.
The Clientele
As I mentioned before, the main floor probably had an occupancy of about 100. When I arrived, there were about 10 other guys there, but the crowd grew to about 30 men by the time I left. I did not notice any female customers. Most customers seemed to be in small groups of two to four. Pleasantly, I never noticed anybody smoking, so the second-hand smoke level was nice and low. There wasn't much lighting, so I didn't get a close look at the other customers, but they seemed to be well behaved. However, at one point when I was walking to my chair, I passed a group of four young guys in gang attire, acting tough. One of them gave me the evil eye, as if it was his club and I wasn't welcome.
The Girls
By law, to work in a club that serves alcohol, which most strip clubs do, the girls must be 21 years old. Girls between the ages of 18 and 20, therefore, can only find work at totally nude clubs. For that reason, the majority of the dancers at Little Darlings were under 21. I think by virtue of the name of the club, none of the girls were much past 21. It wasn't just the age, but they had a different look too. The alcohol-serving topless clubs tend to attract cosmetically enhanced girls with long hair and layers of make up. By comparison, there was no shortage of small, natural boobs at Little Darlings. Most of the girls had natural looking hair and make up as well, as if they had just graduated from high school. Their young bodies were very firm, toned, and skinny. One difference between the Little Darlings entertainment and the average high school graduating class is that tattoos were rampant at the former. Personally, I hate to see a tattoo ruining what is otherwise a beautiful, young, healthy body. I could get past a small tasteful one, but some of the girls went way too far -- and it was rather sad.
Overall, I think the girls who work at the high-end topless clubs are prettier, but the standards are still pretty high at Little Darlings, so nobody should be disappointed.
As is true anywhere, the personalities of the girls are varied. Some are very aggressive, quick to hustle for a private dance, while others will sit on your lap and make small talk for a while before getting down to business. Some took "no" for an answer easily, while others went for a hard sell, and others still acted insulted if they were refused. I doubt club management sets any standards about how aggressive the girls can be, as a few were aggressive and/or rude while others were extremely nice and patient. Speaking only for myself, I think honey works better than the hook, but maybe other guys prefer the more dominant type.
Another aspect of this group that surprised me was how catty the girls were. They were not shy about expressing their opinions about the other strippers. When a girl approached, you never knew what she would say or do. There was a lack of the kind of procedure and decorum you find at clubs with more experienced strippers, for better or for worse.
Private Dances
Unlike other clubs I have been to outside of Vegas, the only money the girls seemed to be making on the main floor was from the $10 drinks. There was not much tipping going on at the stage, and all private dances were done off the main floor.
On a dance-by-dance basis, the private dances were advertised as $20 per song. After each song, the girl would ask if you wanted another. At certain times, about once an hour, management offered a two for one special, but my friend said they cut the song time even shorter than the usual 2.5 minutes. I'm sure what some readers want to know is how far the girls go during the private dances. Despite signage that indicated songs were $20 each and overcharging should be reported to management, most of the girls were not shy about saying if you paid more, then touching them was allowed. By "touching," I mean above the waist. Most asked for $40 a song to touch, but my friend reported they could usually be bargained down. One of the girls we met allowed touching at the regular price. Nevada law prohibits intimate touching, so what you can expect depends entirely on the girl and how much you tip. Most girls were surprisingly candid about what you could get for what price.
If there was one common denominator, all the girls seemed to indicate you could go even further in the VIP rooms. The prices there were $100 for four songs (but some would give a five song set), $300 for half an hour, or $500 for a full hour. This pricing was clearly indicated in signage, and it didn't seem negotiable. I was told the money was split between the girl and the club but any additional tips went entirely to the girl. One girl indicated that in the VIP room she could be touched in her, um, private area. It made me a bit uncomfortable just to be offered the opportunity.
Special Events
Signage at the club indicates Tuesdays are "amateur night," with $500 in cash prizes. One of the strippers said the contest is primarily used to audition new girls for the club.
The flip side of the same signage said that Wednesdays were "rock naked" nights. On each Wednesday in December, a different tattoo parlor would give away $300-$800 in free tattoos to the music of some local band. Maybe that helps to explain why so many of the girls have entirely too many pieces of "skin art." It would not surprise me if the winning patrons offer their tattoos to the girls, who I think will regret getting them within 20 years.
Summary
My friend and I, overall, had a good and interesting time at Little Darlings. The girls were generally less jaded than older, more experienced strippers, and they seemed to enjoy being the cat for a change in the cat and mouse game between men and women. I also appreciated the lower volume of music, the youthful vigor of the girls, and the fact that I didn't have to pay a small fortune for a beer. However, the girls were too young and too naked for this reviewer.
Here are some suggestions for improvement.
Longer songs.
Wider variety of music, in particular more classic rock.
More DJ participation.
Discourage tattoos and body piercing.
More lighting.
Better furniture and decor.
Things I liked:
Low volume, especially with the DJ who was there in the early evening.
Lack of heavy-handed security.
Liberal touching rules.
Not much smoke.
Web Site