Introduction
On Thursday, August 11th, 2022 the National Basketball Association announced that they will graciously honor the historic legacy of the Boston Celtics legend and important civil right activist, Bill Russell, by retiring his jersey number 6 for all 30 teams of the NBA, according to the association and the National Basketball Players Association (NBPA).
Russell will now become the one and only as well as the very 1st player in the history of the National Basketball Association to have his jersey number honored by retiring it league - wide throughout the entire NBA.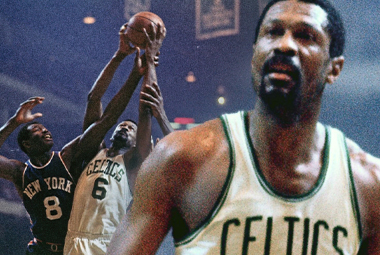 Commemorative Honors for the Legendary Bill Russell
In addition to that, all of the NBA players will sport a commemorative patch on the upper - right shoulder portion of their uniform during the upcoming 2022 - 2023 NBA season. Also, every NBA court and NBA franchise will represent Russell by displaying a shamrock - shaped insignia with Bill's # 6 on the side - line close to the courtside scorer's table.
"Bill Russell's unparalleled success on the court and pioneering civil rights activism deserve to be honored in a unique and historic way," the commissioner of the National Basketball Association, Adam Silver, disclosed in a statement recently released by the NBA. "Permanently retiring his No. 6 across every NBA team ensures that Bill's transcendent career will always be recognized."
New NBA Guidelines for the # 6
Beginning with the upcoming 2022 - 2023 season of the National Basketball Association, no NBA franchise will be authorized to issue the jersey # 6 to any player moving forward from then on. For any current NBA players who presently wear the number 6 on their jersey much like the veteran superstar guard / forward of the Los Angeles Lakers, LeBron James, they may continue to do so as they will be considered to be grandfathered in.
According to the exquisite and knowledgeable source of the Basketball Reference, 25 - NBA players (that includes LeBron James) as well as the notable players such as Kristaps Porzingis, Alex Caruso, Montrezl Harrell, and Lou Williams, wore the jersey # 6 during the previous 2021 - 2022 NBA season.
The NBA stated that the Boston Celtics have grand plans to honor Russell, and the details of those plans will be disclosed at a later date in the near future. The Boston Celtics franchise is creating their own "separate and unique recognition" for Bill on all of their uniforms for the quickly approaching 2022 - 2023 NBA season.
NBA Finals MVP Award Trophy
The National Basketball Association has already recognized and celebrated Russell's legacy as well as his overall contributions to basketball and the world in general when they named the NBA Finals Most Valuable Player Award after him back in 2009.
Steph Curry of the NBA world champion Golden State Warriors was the latest NBA player to win the Bill Russell NBA Finals MVP Award following his team defeating the Boston Celtics in last season's NBA Finals.
"This is a momentous honor reserved for one of the greatest champions to ever play the game," the executive director of the NBPA, Tamika Tremaglio, expressed in a statement of her own. "Bill's actions on and off the court throughout the course of his life helped to shape generations of players for the better, and for that, we are forever grateful. We are proud to continue the celebration of his life and legacy alongside the league."
The 11 - time NBA champion and ultimate humanitarian, Bill Russell, tragically passed away on Sunday, July 31st, 2022 at age of 88 - years - old as that day this world lost one of the greatest human beings to ever live in my opinion.
The Exclusivity of a Leaguewide Jersey Number Retirement
Having Russell's jersey number retired leaguewide puts Bill in an extremely exclusive club for professional athletes.
Major League Baseball permanently retired the # 42 in 1997 in honor of Jackie Robinson, who broke the Major Leagues' color barrier, with the complete understanding that those who were to wear that jersey number could continue to do so if they wished. Mariano Rivera of the New York Yankees was the last in the big leagues to wear the jersey # 42, doing so through his final MLB season a decade ago back in 2013.
Upon Wayne Gretzky's retirement way back in 1999, the National Hockey League said that the "Great Ones" hockey sweater number of 99 would be retired leaguewide in honor of that sport's all - time scoring leader as well as the NHL's all - time record holder of most offensive statistical categories.
Over 250 - players in the long history of the NBA have worn the jersey # 6, and Bill Russell is just one of 12 - NBA players that has been enshrined in to the Basketball Hall of Fame who wore that iconic number 6 at some point during their basketball playing careers. The others include all - time NBA greats such as Julius Erving, Patrick Ewing, Ben Wallace, Don Barksdale, Chuck Cooper, Larry Costello, Tom Gola, Cliff Hagan, Alex Hannum, Buddy Jeannette, as well as Neil Johnston.
Nobody has worn the historic and legendary number 6 jersey for the Boston Celtics since Bill Russell's final NBA season way back in in 1968 - 1969.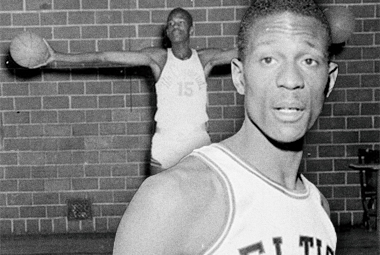 College Basketball & Olympic Career of Bill Russell
Throughout the duration of a 15 - year period, beginning with his time at the University of San Francisco, Russell had the most amazing and successful career of any player in the history of American team sports. At USF, Bill was a 2 - time All - American, he won two NCAA championships in a row, and Russell led the team to 55 - straight victories. Bill also won a gold medal at the 1956 Olympics for the United States of America with their men's basketball team.
During his 13 years in Boston, he carried the Celtics to the NBA Finals 12 - times, winning the championship 11 - times, the last two titles won while as both a player and serving as the NBA's 1st black coach.
The NBA Legacy of Bill Russell
A 5 - time NBA MVP as well as 12 - time NBA All - Star all with the Boston Celtics, Bill was possibly the best shot - blocker of all - time as he kept possession following many of his blocks, and he revolutionized the NBA on defensive too. Russell finished his outstanding career with 21,620 - rebounds, an average of 22.5 rebounds per game, and he led the NBA in rebounding throughout 4 - seasons.
Bill had 51 - total rebounds in one single game, and he pulled down 49 - boards in 2 other NBA games as he posted 12 - consecutive NBA seasons with 1,000 or more total rebounds. He also averaged 15.1 - points per game as well as 4.3 - assists per game throughout the duration of his astonishing 13 - year career in the National Basketball Association.
Until Michael Jordan's production with the Chicago Bulls during the 1990's, Bill was considered by many as the greatest player in the history of the National Basketball Association.
Russell was awarded the Medal of Freedom by former President Barack Obama in 2011, the nation's highest civilian honor. And in 2017, the NBA awarded him with its Lifetime Achievement Award.
Bill and the Boston Celtics had a dominating control of the NBA Finals by winning 10 - NBA championships over the course of 11 - seasons, and giving pro - basketball a level of status it may have never seen before.
In the process, Bill transformed the game of basketball. He was a 6 - foot and 9 - inch center who demonstrated lightning quick reflexes that brought unrivaled shot - blocking and defensive strategy that powered an unstoppable fast - break offense which had never been witnessed prior to the Russell era.
In 1966, following 8 - consecutive NBA championships, the Boston Celtics head coach Red Auerbach retired, and he named Russell as his successor as the next head coach of the Celtics. It was hailed as a sociological advance, since Bill was the 1st - Black coach of a major league team in any major American sport. However, Russell nor Auerbach saw the move in that manner. They felt it was simply the best way to remain successful on the basketball court, and as a player - coach, Bill won 2 - more NBA titles over the course of the following 3 - years.
After Russell won his 11th - NBA championship in 1969 at age of 35 - years - old, Bill retired. Throughout his 13 - seasons in the National Basketball Association, the league had expanded from 8 - teams to 14. Bill's Boston Celtics teams never had to survive more than 3 - NBA playoff rounds to win an NBA championship before the expansion.
Bill became the first Black player to be inducted into the Naismith Memorial Basketball Hall of Fame way back in 1975, and in 1980 Russell was voted the Greatest Player in the History of the NBA by the Professional Basketball Writers Association of America. He left one hell of an imprint on and off the court not only as one of the greatest players of all time, but also as a trailblazer for civil rights and equality. Bill Russell will be greatly missed by so very many.
Russell's Basketball Career Achievements, Honors, & Awards
Player
11 - Time NBA Champion (1957, 1959, 1960, 1961, 1962, 1963, 1964, 1965, 1966, 1968, 1969)
5 - Time NBA Most Valuable Player Award Winner (1958, 1961, 1962, 1963, 1965)
12 - Time NBA All - Star Selection (1958, 1959, 1960, 1961, 1962, 1963, 1964, 1965, 1966, 1967, 1968, 1969)
NBA All - Star Game MVP Award Winner (1963)
3 - Time All - NBA First Team Selection (1959, 1963, 1965)
8 - Time All - NBA Second Team Selection (1958, 1960, 1961, 1962, 1964, 1966, 1967, 1968)
NBA All - Defensive First Team Selection (1969)
4 - Time NBA Rebounding Champion (1958, 1959, 1964, 1965)
NBA Lifetime Achievement Award Winner (2017)
NBA Anniversary Team Selection (25th, 35th, 50th, 75th)
Jersey Number 6 Retired by the Boston Celtics
2 - Time NCAA College Basketball Champion (1955, 1956)
NCAA Tournament Most Outstanding Player Award Winner (1955)
UPI College Player of the Year Award Winner (1956)
2 - Time Helms Player of the Year Award Winner (1955, 1956)
2 - Time Consensus First - Team All - American Selection (1955, 1956)
WCC Player of the Year Award Winner (1956)
3 - Time First - Team All - WCC Selection (1954, 1955, 1956)
Jersey Number 6 Retired by the San Francisco Dons
Presidential Medal of Freedom (Awarded by President Barack Obama in 2011)
Coach
2 - Time NBA Champion (1968, 1969)
Sources:
"Bill Russell's No. 6 to be retired across NBA following legend's death last month", Andrew Lopez, espn.com, Thursday, August 11, 2022.
"Bill Russell", basketball-reference.com, Thursday, August 11, 2022.
Posted by
DavidGreen