Powerball Frenzy
It looks like we're starting the year off with what will be the largest lottery Jackpot in U.S. history surpassing the March 2012 656 million Mega Millions drawing! For those interested in taking a 1 in 292.2 million (rounded) shot at more money than they will ever possibly need, the next drawing is 1/9/2016.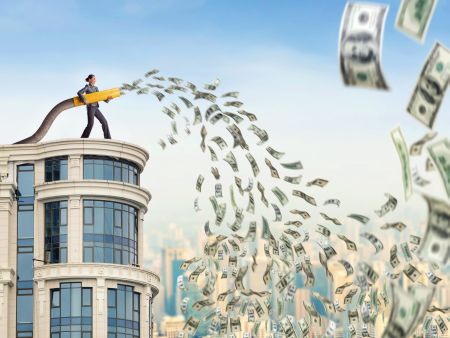 Can you imagine what can be done with 700 million dollars? (if there were no taxes, that is) Why, that's almost enough money to build 29.2% of a certain Atlantic City casino that sold for 3% of that. Just keep in mind that The Wizard has determined that buying a Powerball ticket can never have a positive mathematical expectation, and even some of those fortunate enough to win a huge lottery jackpot cannot be saved from their own bad decision-making. (Like buying the ticket in the first place).
As with all other State Lotteries, the Powerball is nothing more or less than a tax that the ticket purchasers are paying voluntarily, although, if a person is a cash assistance recipient of some kind, are they not technically free-rolling the House?
I find it interesting that a good many of these tickets are purchased by people struggling, yet the 700 million win (again, not considering taxes) would essentially be enough for every household in the entire United States to have their utilities paid for one month with some serious change left over!
Small Tribal Promotion
There is a chain of Tribal casinos that are currently offering a $10 New Players Club Member sign-up bonus immediately upon signing up for the card as well as $10 for each week after that for the following four weeks. It's not a huge promotion, in my opinion, only really useful if you happen to be nearby...but I never know when I am going to get angry texts for mentioning a casino hosting a promotion by name, so that's all anyone is getting for the time being.
At least one of these casinos also offers a promotion on Thursdays which is a free slot tournament with hourly, weekly and monthly prizes. $50 in Free Play goes to the highest score for a given hour during the applicable Promotional times, so you'll see a slight increase to Expected Value by going on a Thursday and taking part in that slot tournament at whatever you think is the slowest possible time.
Dotty's in Trouble
A Federal Appeals Court has upheld the Clark County ordinance that gambling must be incidental revenue to slot parlors, such as Dotty's, in order for them to function as such. The ordinance decrees that at least 50% of the revenue of these parlors come from some source besides gambling which, at best, is incredibly unlikely.
This push to have the Ordinance in forced, as I've written about before in a thread.
Is due in no small part to complaints from Stations Casinos who are miffed that Dotty's would have the audacity to identify a market segment, cater to said market segment, and operate a chain of extremely successful locations.
In other words, "Damn, why didn't we think of that!?"
Screw Stations Casinos.
Mountaineers Don't Smoke, or Do They?
The smoking ban in Hancock County, West Virginia went into effect causing Mountaineer Casino and Resort to effectively become a non-smoking property with exception to an open air Pavilion. The result? Net income for Mountaineer dropped 30% for the July quarter compared to 2014. Net revenues were down nearly 20%.
I'm guessing Wheeling Island Hotel, Casino, Racetrack had a decent quarter.
Again, this is part of the reason why Revel failed. Whether it be by choice or by legislation, you simply cannot have a non-smoking casino when there are smoking casinos within 50-100 miles. It is true that sister El Dorado Resorts property, Scioto Downs, in Ohio has a good year compared to last year, but that's because the entire state is non-smoking and you'd have to go at least two hours from Columbus to get to the nearest casino (Wheeling Island) in which you can smoke.
I think a concept such as Revel might have worked in Vegas simply because there are so many tourists that might appreciate such a thing, and if I were adamantly opposed to second-hand smoke, I'd find the non-smoking sections in the Vegas casinos (those that have them, that is) lacking. It's just a matter of looking at the market, in Mountaineer's case, given that nearly 30% of the population of West Virginia are smokers, Hancock County did nothing to help Mountaineer appeal to its target market.
Posted by
Mission146