A World Delayed
Genting Malaysia has announced to Vegas Inc. that the mega-resort project, Resorts World Las Vegas, is pushing its projected opening date to 2019 whereas the original projected opening was set for 2018. Major construction on the projected 3,500 room four tower mega-resort is expected to pick up during the last three months of this year. The project expects to bring in some 5,000 construction jobs as well as have half of that number in full-time employees upon opening.
It is difficult to say whether there will be 2.5k full-time employees at the property long-term, however, as recent examples (such as SLS) resulted in many of the early employees being laid off within months of the casino's opening day. Either way, this might end up being something of a family-friendly resort, in some ways, as they propose to have an indoor water park as one of the main features of the property.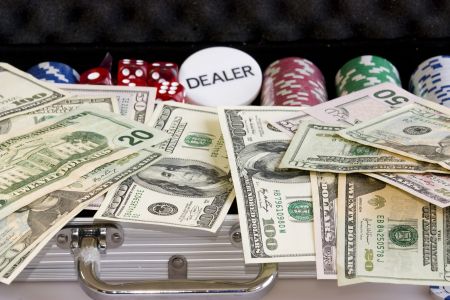 Maryland Breaks 100 Million
According to the revenue numbers released by Maryland Lottery and Gaming, Maryland casinos (as always, led by Maryland Live!) have broken 100 million dollars in monthly revenue bringing in 103.9 million compared to their previous high of 99 million for July of last year.
Always Tip...Your Players?
A few days ago, at the Horseshoe Casino in Cincinnati, Ohio, two individuals made off with a tip box situated on one of the walls in the casino. The two individuals simply took it off the wall and placed it into a backpack, then walked out. It almost makes me wonder if they cased the tip box and had some idea of how much was put into it during that shift, otherwise, why would anyone commit such a brazen theft without knowing how much they are getting?
All You Can Steal?
In another casino heist committed by a person clearly of nearly incomparable intellect, a patron of the Scarlet Pearl Casino (great name!) decided that taking the money bag from the buffet counter (presumably during a drawer change) wouldn't be too obvious. Unfortunately for Christopher Bailey, he was wrong and security detained him outside of the casino while they waited for police to arrive, he now faces charges of grand larceny.
I guess someone will explain to Mr. Bailey that casino buffets are generally not meant to be used for, 'Grab and Go,' orders.
Seen Any Old Movies Lately?
If you haven't seen any old movies lately, then there is still time. I don't expect them to be playing old movies by the time Summer gets here, though, so if you're going to go, you should go now.
Donald Trump (Effectively) Wins Republican Nomination
For those of you who don't already know: Donald Trump won the Indiana Republican Primary in a landslide this past Tuesday thereby resulting in Ted Cruz (and John Kasich shortly thereafter) dropping out of the Republican Primary. In effect, Donald Trump is running unopposed the rest of the way out. This fact kind of makes me wonder: Might Trump be a good bet at this point?
Currently, Bovada is offering Trump at +280 which represents a roughly 26% probability of winning. However, it appears that you can get Trump for 4.3 at Betfair right now which converts to +330 and an implied win probability of 23.3%, roughly.
I'm actually starting to wonder if the implied probability might not be just a little bit low. If you take a look at what Trump has overcome to get to this point, it seemed that there were about 2,413 other Candidates for the Nomination that he had to beat, he overcame multiple efforts concerned, not with electing a particular person, but exclusively with stopping him...which may be nearly unprecedented. He has also proven doubters who have referred to his, 'Ceiling,' of support wrong, including my favorite source for Political Probabilities, Fivethirtyeight.com.
Another thing that might be working in Trump's favor is that, despite the fact that Fivethirtyeight cites that he has the single largest net unfavorability rating of any Nominee for President since at least 1980, Hillary Clinton is actually second in that regard!
In addition to that, an Article that I read on CNBC suggests that Trump has performed very well in Open Primaries with new voters, especially in the early states. That would seem to suggest that Trump may have something of a base going for him and he has been successful in bringing people out who otherwise may not have voted.
Even with all of that, a recent Monmouth University poll has indicated that Libertarian nominee Gary Johnson would pull double-digit support and will actually take more of that support from Hillary Clinton than he will from Donald Trump. Johnson will be highly motivated, too, as a Popular Vote of 5% , or more, will ensure ballot access for Libertarians in 2020 as well as some funding from the Presidential Election Campaign Fund that (had Johnson achieved 5% of the vote in 2012) would have started him off this year with much more than he has raised thus far.
I should make it very clear that I am not suggesting that Trump should even be all that likely to win, much less the favorite, I'm simply suggesting that 25% is right about where I would put him, so someone with more political knowledge and insight than me might be able to find a good bet here. During the Primary process, Trump managed to overcome a great many doubters as well as many more competitors and a grassroots coalition designed specifically to stop him.
Going against Trump, of course, is the fact that it is very easy for the NeverTrump movement to untie behind one candidate if it so chooses, that candidate being Hillary Clinton, the likely winner of the General Election. Speaking of, Hillary can still be picked up at -4000 (or better) due to the fact that Bernie Sanders has not dropped out of the race, and since Sanders would need to achieve some 65% of the remaining pledged delegates to pull even in that regard, him getting Nominated is just short of impossible.
Even though Sanders has won a good few states with the kind of percentage he would need to pull even in Pledged Delegates, (as they are awarded proportionally) those states were extremely favorable to him demographically and it is highly unlikely that he would continue those sorts of successes based on what is left on the calendar.
In the interest of full disclosure, I have not made any such bets myself, but find the concept of betting on Politics interesting and what to hopefully start up some conversation along the lines of whether or not there are any good bets.
Posted by
Mission146