Introduction
Earlier this NFL (Off)-Season, I did a series of articles that looked at major free agent moves taking place across the NFL.
Why did I do it?
I'll be honest with you: I enjoy hockey and a number of other sports that probably nobody watches, but when you boil it down, there are only two major seasons in United States' sports for me: 1.) Football season. 2.) NOT football season.
NOT football season is an unfortunate time of year, but that is somewhat assuaged by the fact that it is spent getting ready for the next football season, so it's not a total loss. First, you have all of the moves that take place in NFL pre-agency, that mostly predate the NFL Draft, and then you have the NFL Draft itself.
Usually prior to all of these things, you'll have a number of NFL Head Coaches get fired (or not have contracts extended/renewed) shortly after the previous NFL Season, but before free agency kicks off. I had originally meant to do a, "Coaching Carousel," article a few months ago, but now is just as good a time as any.
Additionally, there are two AFC North teams that I want to address when it comes to the quarterback position. Those two teams are the Cleveland Browns and Pittsburgh Steelers: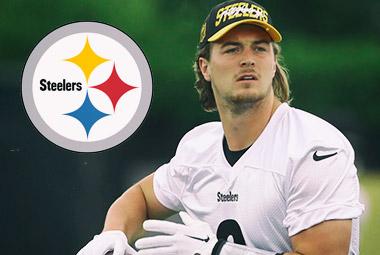 PICKING KENNY PICKETT
The first move that came in the draft that surprised many people were the Pittsburgh Steelers selecting Pittsburgh (University) QB Kenny Pickett in the First Round with the 20th pick.
There was a time that such a move wouldn't have surprised anyone, as it was widely known that this was Ben Roethlisberger's last hurrah and he needed to be replaced at starter, and preferably by someone not named, "Mason Rudolph."
At the time, there was some discussion to the effect of whether or not the Steelers would pick up a quarterback in free agency, or alternatively, whether they would, "Trade up," in the draft in order to ensure that they ended up with Kenny Pickett. For those of you really not in the know, "Trading up," refers to trading additional draft picks, players or some combination of picks and players to get an earlier overall draft pick.
Furthermore, it was generally understood, even prior to the end of the 2021 NFL Regular Season, that the Steelers would not hesitate to select Pickett with their pick in the event that he fell down to them. Of course, that assumption was also based on the notion that the Steelers had not addressed the position of QB1 in free agency before that.
However, the Steelers would, at least presumptively, address the position of QB1 prior to the NFL Draft. The Steelers would sign Mitch Trubisky to a two-year deal worth as much as 14.285M with 5.25M (in signing bonus) in guaranteed money.
So, that's it, right? It's Trubisky, innit? We're going to see how the guy does for two years, unless the first year is exceptionally great or exceptionally awful, then go from there, correct?
Not quite.
Even though most people discounted the notion of the Steelers still ending up with Kenny Pickett, regardless of how great of a story that would be, (after all, he played for Pitt and became something of a local hero) the goal is to WIN football games, not tell good stories. Personally, I think Steelers Head Coach Mike Tomlin LOVES winning games, but also likes telling good stories, so he called Pickett up on Draft Day and said (in part), "We're about to make you a Pittsburgh Steeler, brother, congratulations!" The link in the previous sentence goes to a video of the phone call, if you want to hear it.
Okay, so Trubisky is the backup, right? After all, you're not going to spend a First Round Draft Pick on a quarterback who isn't going to start right away, right?
Well, so goes the new thinking on this general question: A First-Round QB should either start right away or not be a First-Round QB.
However, the Pittsburgh Steelers are perfectly willing to go with the old way, if they think it is appropriate for the situation and player. With an emphasis on long-term stability and planning, the Steelers' organization has only had three Head Coaches in over fifty years! That's fewer than many teams have had in ten years!
Okay, so if Pickett needs some time to develop, then that is what he is going to get. In any event, given that he gets approximately 100% of the first-team reps, Trubisky is the presumptive starter going into Week 1. The report linked mentions that the writer feels that, "(Mason) Rudolph looked the best of the four quarterbacks and moved the ball well," but I think when Rudolph replaced an injured Roethlisberger, the last thing Steelers' fans wanted to hear about was how good Rudolph looked in practice. That is, of course, unless and until he would also start looking that good in games!
Okay, so let's take a look at our QB comparisons:
Kenny Pickett (College):
Attempts: 1,674
Completions: 1,045
YPA: 7.3
Yards: 12,303
Touchdowns: 81
Interceptions: 32
QB Rate: 92.89 (Using the NFL Rating System, 136.3 NCAAF)
However, Pickett didn't really turn it on until his last season with Pitt, averaging exactly one passing touchdown per game not including his final season with the school. However, his final year looked a little something like this:
Attempts: 497
Completions: 334 (67.2% Completion)
Yards: 4,319
YPA: 8.7
Touchdowns: 42
Interceptions: 7
QB Rate: 116.6 (NFL Rating System, 165.3 NCAAF)
Obviously, his final season with the program was his best, by far. Tom Brady's final season at Michigan wasn't even close. Of course, I don't expect Pickett to be the next Brady (not by far), but that's just to illustrate that Pickett had a remarkable final year at Pitt.
The question is: Does that mean that Pickett is Day 1 NFL starter material? It would seem that the Pittsburgh Steelers have indicated that Trubisky is the intended starter all the way, so I think they are going to let Pickett develop.
I'd called into the local radio station, but got into a bit of an argument with the producer (right after the draft) as I thought this is EXACTLY what the Steelers would be doing. To be fair, he did make some compelling arguments in favor of Pickett, (while kind of ignoring my point that Pickett had ONE good season) but also sounded kind of pissed off at the notion of Trubisky starting, so I just told him he was right (before going on the radio) and ended the call.
The fact is this: While you do expect players to develop to some extent over their college careers, Pickett's final season at PITT remains something of an aberration. They went from 6-5 the previous season to 11-3 (losing in the Peach Bowl), which obviously had something to do with Pickett's great performance, but in a game that calls for no fewer than 24 players to regularly see the field, you'd have to believe that Pickett couldn't have been the ONLY factor. In fact, if the team around him is better, then Pickett, by extension, should look better…so there are a bunch of moving parts.
On that note, Sophomore Davis Beville appeared in three games, threw one TD and one pick, but completed 77.3% of his passes and averaged more yards per attempt (with more than nine) than did Pickett. Another backup, Nick Patti, made six game appearances and went 14-for-19 (73.7% completion rate) and averaged nearly as many yards per attempt as Pickett.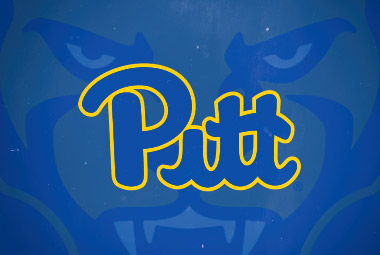 Granted, the performances of those backups were both small sample sizes, but as a body, the backup quarterback slate for the 2021 Pitt Panthers played very well when they were called upon.
Here's the thing: I'm not trying to take anything away from Pickett whatsoever; the dude had an amazing year! All I am saying is that was Pickett's only year that was even particularly good (much less amazing), that the game of football consists of a bunch of moving parts, so even the best quarterback in history wouldn't be able to do a lot if the entire team around him sucks and the fact that Pitt's backups also performed extremely well-especially in completion percentage!
In my view, it seems like a combination of skill, having tremendous talent on the offensive side of the ball, great coaching and preparation and excellent drawing up of plays. Jordan Addison hauling in 100 receptions for 1,593 yards and seventeen touchdowns also probably didn't hurt; he really came on for his Sophomore campaign!
PITT also had a dual-threat offense as the ground game would contribute an average of 152 yards per game (4.1 average rush) and nearly score two touchdowns per game (1.9), on average. It's much easier to be effective as a quarterback when the defense doesn't know what's coming due to the fact that the offense can move the ball extremely effectively (and pick up first downs) on the ground as well as through the air.
Pickett had just about everything working in his favor that season, but again, that's not to take anything away from him. Having the tools and the advantages doesn't mean anything if you're not a good quarterback, so he still performed remarkably well and had an insane TD:INT ratio, but at the same time, you have to understand that there is a reason that a quarterback who had such a stellar Senior year would fall to the 20th pick in a draft weak at the QB position to begin with.
That brings us to Mitchell Trubisky: For his career, he has attempted 1,585 passes, completed 1,016 of them (64.1%), for 10,652 yards (6.7 YPA), has found the endzone 64 times against 38 interceptions (1.68:1 ratio) and has a career QB RATE of 87.0.
Trubisky was selected by the Chicago Bears with the 2nd Pick of the 2017 NFL Draft and would spend his first four NFL years with that organization. Trubisky has never played every game of an NFL Season with his first four years consisting of 12, 14, 15 and 10 appearances. His TD:INT ratio was as strong as 2:1 in two of his NFL seasons.
Most recently, Trubisky was brought to the Buffalo Bills for a year to act as a backup to Josh Allen, who most NFL fans are going to know quite well, at this point.
Presumptively, Trubisky will be replacing the newly-retired Ben Roethlisberger, a name that I am glad I won't have to remember how to spell for much longer. Some would call Roethlisberger a surefire Hall-of-Famer, while those who wouldn't must at least allow that his trip to Canton is more likely than not to be booked at some point.
In the last three seasons, Roethlisberger had attempted 1,275 passes, completed 824 of those (64.6%) and found the endzone 55 times compared to 21 interceptions and amassed 7,894 passing yards for a QB RATE of 89.25.
Roethlisberger spent the better part of the 2019 campaign injured, but let's just say that the bloom had come off the rose when he got back. Honestly, "When is Ben going to retire?", has been kind of the big question on sports radio for the last few seasons. Many felt Rudolph was drafted to be the heir apparent, but then Rudolph actually appeared in a few NFL games, so that notion went right out the window.
I know some Steelers fans are going to come after me for this, but by today's NFL standards, Roethlisberger had, at best, three great seasons with one of those probably qualifying as outstanding. Not only that, but during his best years, he had JuJu Smith-Schuster as his #2 receiver with the unbelievable and slightly less insane version of Antonio Brown as #1 receiver. As if that weren't enough, Big Ben was also helped out by a stellar rushing attack during his most productive years as Le'Veon Bell ran all over opposing defenses.
Even earlier in his career, during what is arguably his best season, Willie Parker rushed for over 1,300 yards and had 4.1 yards per attempt. Oh, Heath Miller was also his Tight End and Santonio Holmes, Hines Ward and Nate Washington were his core wide receivers.
It's what Urinating Tree has always said, and I'm BEGGING you to check out his channel if you haven't, (see you next week, probably) but the Steelers offense, and more to the point, Ben Roethlisberger, have been coasting by on high end talent for the last decade and a half.
Roehtlisberger, consistently, has had no worse than Top Ten level receivers around him the better part of the time and has also gotten a ton of help from the ground attack. That's not to say that other QB's would have been able to do what he did with it, but there are certainly QB's who could have done more with the talent. Personally, just as a quarterback (ignoring as much as I can what is around him), I would say that Roethlisberger is a small measure above mediocre. He certainly had longevity, at least.
Anyway, looking at Big Ben's last few years compared to Trubisky's career as a starter, we have to conclude that, at worst, Trubisky shouldn't be a huge dropoff in talent. In fact, Trubisky can run a little bit and is honestly pretty stellar at throwing on the run, so he might be a slight upgrade compared to the clearly past his prime Big Ben Steelers fans were forced to endure the last two seasons.
Of course, running for his life is something that Trubisky has become used to over the years. In fact, let's compare the sacks allowed for Chicago and Pittsburgh from 2017-2020:
2017: Pittsburgh T-3rd (least); Chicago T-16th
2018: Pittsburgh 4th (least); Chicago T-8th
2019: Pittsburgh T-8th (least); Chicago 21st
2020: Pittsburgh 1st (Least); Chicago 16th
With that, we see that Pittsburgh quarterbacks have had no worse than the eighth best protection over those four NFL seasons. You know that the protection has been good, because Roethlisberger is not the world's fastest man.
In the meantime, Trubisky's protection hasn't been terrible, but it has been league average twice in his years with the Bears, below average once and Top Ten once. Would it come as a surprise that 2018 was Trubisky's best season? It shouldn't.
Look at this, 2017, you've got Le'Veon Bell rushing for almost 1,300 yards with 4.0 yards per carry, the Steelers receivers were Antonio goddamn Brown, JuJu Smith-Schuster, Martavis Bryant and Jesse James at Tight End—Roethlisberger had the third best protection in the league.
All I'm asking is this: Is it really THAT hard to believe that Trubisky could have also done something with that? He can also scramble a bit and throw on the run, as we learned, the QB Sneak was not even in the Steelers' playbook that season.
We jump ahead to 2018, Roethlisberger, despite the fact that he is a stationary object, is sacked the fourth-fewest times in the league. James Conner rushes for almost 1,000 yards. Flip Vance McDonald for Martavis Bryant and the receiving core is the same. Again, you can't see Trubisky being able to do something with that? I can.
Moving ahead to the 2019 NFL Season, this is the year that Ben misses most of due to some injury, so he is replaced by the tandem of Mason Looks-Good-In-Practice Rudolph and Devlin Hodges. Unfortunately, those guys were saddled with running back by committee and the Steelers, despite still protecting quarterbacks well, have the 4th WORST rushing attack in the league. The receiving core has been reduced to JuJu Smith-Schuster (now #1), Vance McDonald, James Washington and some guys they saw playing catch in a Scheetz parking lot that looked like they had decent hands.
I don't know that anyone could have done very much with that, in any case, the Rudolph/Hodges tandem certainly weren't able to. Rudolph would complete 176 of his 283 passes (62.2%) for 1,765 yards, thirteen touchdowns and nine interceptions. The result would be an abysmal 82.0 QB Rate, which is very much what backup material that doesn't really have much on offense to work with should look like.
2020 arrives and the ground game is still terrible, but Ben is the best-protected quarterback in the league, so that's something. Another few things are Diontae Johnson, JuJu, Eric Ebron and James Washington, which is a much better receiving core than in the previous iteration. Ben…damn it….had a good year. I don't know how much better Trubisky could have done, but I would have liked to think nearly as well. Mainly, Ben did a good job being safe with his throws and threw 33 touchdowns against only 10 interceptions. It should probably be mentioned that his average throw traveled roughly seventeen inches through the air. Almost every throw was a screen (it felt like) and they worked the ball underneath a TON. Honestly, it works. Brady has been doing it for years (but also throwing the long ball); it doesn't have to be dynamic to be effective…and being effective is more important.
I like Trubisky's ceiling going into this season, but I also like his floor. I think his floor is that he will be exactly no worse than Roethlisberger was last season…which was just good enough to get them into the playoffs in one of the weirdest ways possible. In terms of his ceiling, Trubisky did really well in the 2018 season (when he had meaningful protection) and distributed the ball equally amongst whoever showed up at the field and looked like they wanted to play receiver that day. He's got at least a little more receiving talent to work with this year.
Personally, I think it would take more improvement than I would expect for Trubisky to be seen as a Top 10 quarterback this season, hell, he probably won't be a Top 16 quarterback this year, but I do expect him to look like a serviceable starter if they do go the route of having Pickett learn the NFL game from the bench for a season or two. As of right now, it would appear that Mason Rudolph is the QB2 going into the year, so let's all hope that Trubisky stays healthy.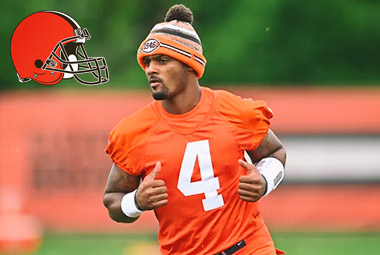 THE HIGHEST PAID QUARTERBACK EVER
It's unavoidable, we have to talk about Deshaun Watson. I don't want to talk about him, but we have to talk about him. I said this in the free agency article:
As many of you will know, demanding a trade from the Texans and then amidst some two dozen allegations of sexual misconduct with private massage therapists, Watson would become one of the most discussed quarterbacks for this free agent period in the NFL and the Browns were one of several rumored landing spots for him.
Since it involved the Browns, it had to be weird. Initially, Browns ownership and management flew down to speak to Watson about a potential trade, but news reports would later emerge suggesting that the Browns would not be the spot for Watson. Shortly thereafter, Browns quarterback Baker Mayfield would release a statement thanking the city of Cleveland and Browns fans that was a very polite way of saying he didn't plan to play for them again.
Well, well, well…
Originally, I thought that making someone accused of sexual assault by now more than two dozen women the highest paid quarterback (by guaranteed money) in NFL History would be a very Washington Commanders thing to do. Hell, Dan Snyder would probably also have made Watson a co-manager of the Commanders' Human Resources department with that sort of behavior; this seems right up their alley.
Of course, Snider apparently had the foresight to acknowledge the fact that, especially in the 2022 social political climate, the NFL might take direct action against a player who has been accused of having sexually assaulted more than two dozen women. The Cleveland Browns, apparently, had no such foresight as they would sign Watson and guarantee all 230M of his contract.
However, maybe the Browns did have a little foresight as Watson's contract may be structured such that he ultimately gets all of that money, but was only set to be paid just over a million dollars in base salary this season.
Here's the thing: It almost makes me wonder if someone tipped Baker Mayfield on how Watson's contract was going to be structured. Think about it: If the Browns are guaranteeing all of the money anyway, then why go so low on the base salary (thus resulting in a low salary cap hit) for this season if they didn't think Watson could very well be suspended?
At the same time that these talks with Watson were ongoing, Baker Mayfield put out a statement all but politely saying that he would not be playing with the Browns' organization under any circumstances. As it turns out, he's still saying that, and still politely, but also quite firmly.
This is speculation on my part, but my thought was that the best case scenario (from the Browns' perspective going in) would be that Watson might get suspended some (or all) games this season, but they would have Mayfield to play those games. When Mayfield declared that he wouldn't be playing for the Browns this year, the Browns quickly set about trying to find a trading partner. The Colts had no interest, and though the Panthers did, they wanted the Browns to pay more of Mayfield's 2022 salary than the Browns would have liked.
The Browns, however, have ZERO leverage and are not in a position to demand anything. The only alternative they have to trading Mayfield is to simply release him, in which case, any teams interested in his services could probably get him even cheaper. If he is absolutely not going to play, but the Browns don't intend to release him, then they should really save whatever money they can.
That said, there is one possible alternative as mentioned by Brandon Perna on the Youtube channel, ThatsGoodSports. It's possible that Perna wasn't the first to come up with this idea, but that's where I first heard it, so I'm citing his video. The Browns actually have a significant amount of salary cap room, so assuming that Deshaun Watson is suspended this entire season, (give or take a few games or the rest of his life, either way) perhaps Mayfield would be willing to play if he receives a substantial raise for his services.
Here's the thing, Mayfield, legit franchise QB-caliber player or not, had a huge part in taking the Browns out of the dark ages of Hue Jackson and leading them into the playoffs. You might argue that, barring the 2020 season (though it would seem he played most of last year hurt) that his performance has been very up and down; he certainly (2020 aside) throws more interceptions than you would want out of a premiere QB, but he knows the offense.
I know Mayfield was surrounded by some darn good pieces in 2020 such that one might argue that he still underperformed a little, but the Cleveland Browns went to the playoffs. The team that had been the league's punching bag and laughingstock of failures and bad decisions for nearly fifteen years prior went to the playoffs. Isn't that a good enough starting point? Mayfield certainly had more than nothing to do with it, and here the Browns are, de facto replacing him with a guy who didn't play last season and faces more than two dozen individuals accusing him of what amounts to sexual assault.
Seriously, how would you feel if you were Baker Mayfield?
Deshaun Watson's stats are—I don't care. At a certain point, where there's smoke, there's fire.
In the meantime, there have been private settlements reached with twenty of the twenty-four accusers to have filed claims against Watson so far.
I imagine that the four cases that have not been settled are highly likely to go to court. It's one thing, in the court of public opinion, for Watson to have settled twenty of these, but it's another thing altogether if there is an actual trial and he is found at least civilly liable, after full proceedings, in any one of the others. The fact that Watson had committed at least some of these acts becomes all but undeniable, at that point.
Besides, these accusations involve a clear pattern of behavior. Essentially, Watson would try to arrange appointments with licensed massage therapists, strip down, often direct their hands (*so goes the claim—legal) to his genitalia in a manner that, taken individually, could maybe be claimed to be, 'Accidental,' except in those instances in which the therapists would verbally protest to sometimes be followed by Watson ejaculating all over the place.
And, from Baker Mayfield's standpoint, this is the guy that the Browns would rather have representing their organization. Again, how would you feel if you were Baker Mayfield?
I am not a biased party on this one. I have made fun of Mayfield at every possible opportunity, but I've got to admit that I feel some level of empathy for him here, whether or not it might seem that he was massively overrated. He's being replaced by someone who, if even a percentage of these claims are true, is a deviant pervert—at best.
Also, could you imagine even Watson's consensual sexual partners? Poor them. Unless it is the unwillingness to participate that mostly gets him off, then all indications would point to Deshaun Watson being a two pump and dump chump. He'll seemingly get off at the slightest provocation-let's be honest.
Also, these are professional licensed massage therapists who are often working out of their homes! Could you imagine being a woman trying to do your job and having someone come into your house, or place of business, and engaging in this sort of behavior? These are professionals; we're not talking about a Robert Kraft in Florida situation where you would kind of assume that the establishments are fronts for prostitution. Their profession is to take care of your muscles, not your libido.
It's really going to be tough to be an NFL fan if they only end up suspending Watson for this season. Apparently, given the structure of his contract, that seems to be the worst-case scenario that the Cleveland Browns were expecting, but we have allegations from some two dozen women that would establish a clear pattern of behavior. In my opinion, if any of these allegations, even civilly, are proven in a court of law, then Deshaun Watson need not ever play in the NFL again. Suspend him, "Indefinitely," and make it pretty clear that, 'Indefinitely," is acting as a substitute word for, 'Forever.'
If these allegations are not proven in court and also end up getting settled, then I guess I could stomach only suspending him for a year. Obviously, the court of public opinion is still going to think that he's guilty as hell, but I suppose some argument can be made for the leniency of a one-year suspension if none of these allegations are ever legally proven.
It should also be mentioned that these are just the legal claims. I don't think we will ever know how many actual women there are who had similar involvement as, almost certainly, there are some who would rather just put any incidents completely behind them and move on.
So, what do the Cleveland Browns do?
They make this guy the highest paid quarterback (by guaranteed money) of all-time. If suspended indefinitely, this will prove to be the worst decision that the current iteration of the Cleveland Browns has ever made, and boy oh boy, were there some head-scratchers before this one.
If Watson is suspended, Mayfield cannot be compelled to play for them and they don't obtain some other quarterback either in free agency, or by trade, then they will go into this 2022 season with either Jacoby Brissett or Joshua Dobbs at the helm of the offense. For his part, Brissett has some starting experience mostly consisting of a few unremarkable seasons with the Indianapolis Colts while, in contrast, Dobbs spent most of his career riding the bottom of the Pittsburgh Steelers' depth chart at the position. Neither of the two inspires confidence, but Brissett can at least be said to be roughly average backup material, based on his body of work so far.
Not good.
The Browns are reported to have made the terms of getting rid of Mayfield very clear, in that they are willing to pay as much as half of his salary for the 2022 year if they can find a trading partner. As the article mentions, however, the Browns are pretty much negotiating from a position of total desperation, so they aren't really in a position to demand much of anything.
On the other hand, if the Browns are publicly saying that they are willing to pay as much as half of Mayfield's 2022 salary, then the real signal is that is merely a starting point and they may well pay something more than that. I don't think they would lead with half if half is the absolute most they are prepared to cover.
The Browns were in discussion with the Carolina Panthers, but the Panthers eventually lost interest because they didn't think the Browns were willing to cover enough of Mayfield's salary. While Mayfield may be a decent quarterback, it's very difficult to imagine that he would propel the Panthers to being a potential playoff team, so honestly, there's very little benefit to the Panthers even if they were to land him…which is probably reflected in whatever percentage of Mayfield's contract they would be willing to pay.
Baker Mayfield showed great interest in the potential of becoming an Indianapolis Colt; however, let's just say that interest was less than reciprocated on the Colts' side of things.
The article reports that the Seahawks may also be in the mix, but once again, I don't know that adding Mayfield is enough to make the Seahawks a playoff-hopeful going into this season as the team is very much in the middle of a rebuilding process. Once again, there's really no benefit to either them or the Panthers of landing Mayfield unless they have to directly pay him exactly nothing, or something close to it. Interestingly, that's exactly what the linked article is quoting Colin Cowherd as suggesting:
"Take an L, pay Baker's salary. You paid 100 percent guaranteed of Deshaun Watson's with 24 civil lawsuits. You can't take an L with Baker? He got you to the playoffs. Baker made you newsworthy, sold jerseys, merchandise, make you a lot of money, sold a lot of tickets.
I mean, maybe the Browns are in a position to demand that the other team compensate Mayfield more than 0%. They could at least ask for $50 cash, three packs of smokes and enough gas to take the equipment bus to at least half full, right? Does the Seahawks organization have any BP gift cards laying around? They could maybe even throw in an autographed 8x10 of Head Coach Pete Carroll, if the Browns ask politely.
These developments, of course, are also a tremendous negative for Baker Mayfield–who may well end up sitting out this NFL Season. Personally, if I were an NFL team who was solid in the QB position, but thought my backup situation was a bit shaky, I'd probably offer to take Mayfield and cover perhaps 2-3 million of his salary. Of course, this is Cleveland's mess, so maybe the other NFL owners are disinclined from even partially bailing them out of it.
Brandon Perna suggested that Mayfield could always play, but for a raise and that a healthy Mayfield coming out and having a stellar year (assuming Watson is suspended) would do wonders for his future NFL prospects, but I don't know if Mayfield would ever be willing to take a snap for the organization for any amount of money.
The Browns claim that Mayfield will not be released under any circumstances, mostly because (other than the roster spot) releasing him would not benefit them at all. The Browns would still be on the hook for his entire 2022, less whatever he gets elsewhere as a free agent, but (in theory) he could be paid as low as just over a million bucks, if signed out of free agency.
At the same time, I can't fathom any reason that any teams actually interested in Mayfield would want to cover more than roughly that amount. Why would they? If Mayfield isn't going to immediately take a losing team to the point of reasonable playoff contention (and there's no reason to believe he would), then they really don't gain that much by getting him and they don't really lose that much by not getting him.
The whole Mayfield situation could be a little different if you had a team on the brink of making a serious playoff run that could get over the hump just by having a serviceable starting quarterback, but the stars have aligned such that it is not the situation for any NFL teams going into the 2022 season.
Well, that was kind of dark. Discussing Deshaun Watson certainly isn't any fun, so let's hope he is suspended indefinitely so that we never have to do it again. With that, let's move on to the teams who will be making changes at Head Coach going into the 2022 NFL campaign.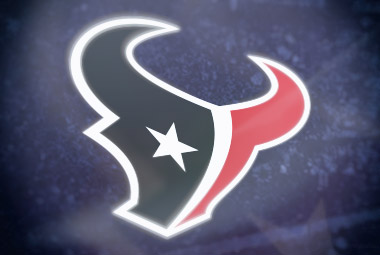 HOUSTON TEXANS
David Culley—>Lovie Smith:
This is a bit of a strange one as David Culley only coached the Texans during the 2021 NFL Season, though to an abysmal 4-13 record. In addition to the fact that Culley would only coach the team for a single season, this firing also seems strange because the Texans weren't any worse under him than they were with the 2020 tandem of Romeo Crennel and Bill O'Brien, who would combine to lead the 2020 iteration to a 4-12 record.
Actually, there was a major difference between 2020 and 2021, which is the fact that Deshaun Watson (yes, him again) actually played in 2020 and had a remarkable statistical season. The problem for Watson was the fact that the 2020 Texans had one of the worst defenses in the league (pretty much across the board) and had virtually zero rushing attack. In fact, Watson was their second-leading rusher with nearly double the number of yards on the ground as had their RB2, Duke Johnson.
The following season would see Watson refuse to play for the Texans whilst, for their part, the Texans refused to either release or trade him that season. It's actually kind of interesting to reminisce on Watson's attitude towards the team given all the stuff that we, and they, didn't know was (allegedly—legal) going on with him during his massage appointments.
The Texans would continue being one of the worst teams in the league in most statistical categories, which would now include their passing game on offense, except their pass defense was, at least, mediocre all things considered. They had the eighth-most defensive interceptions in the league, so that's something. They would be led at quarterback by the tandem of Davis Mills and Tyrod Taylor who would put up mediocre starter/decent backup and awful stats, respectively. Of course, they really didn't have all that much to work with and no rushing attack to speak of, so keeping opposing defenses honest wasn't something that was going to happen.
In terms of rushing yards (total) and rushing yards per attempt, the Texans were the very worst team in the National Football League, so that's not going to get it done with backup-caliber quarterbacks. Brandin Cooks had a fine year with just over 1,000 receiving yards and six touchdowns, but the rest of the receiving core seemed to consist of anyone who could find their way to NRG Stadium and more-or-less resembled a football player when wearing pads.
Ownership cited, "Philosophical differences," leading into the 2022 NFL Season between the team and former Head Coach David Culley, but I'm not really sure what that means. Did one side want to stop being one of the worst teams in the league, but the other side thought continuing to be dismal sounded like a better idea?
Lovie Smith is the former Head Coach of the Chicago Bears, a position that he held from 2004-2012, amassing a record of 81-63 (which is actually pretty good) with that organization. The Bears would go 11-5 during the 2010 Season, advancing to the NFC Conference Championships (after beating the Seahawks in the Divisional Round) and losing to the Green Bay Packers by a touchdown.
The Bears would fall to a record of 8-8 during the 2011 Season, but then rebounded to a record of 10-6 during the 2012 NFL Season. In many years, 10-6 would be more than enough for a team to advance to the Playoffs, but the NFC was a bit top-heavy that season, so the Bears would finish third in the division and would not qualify for a Wildcard spot. It might have all been different if they hadn't gone 0-2 against the division-rival Green Bay Packers.
Bottom line: Firing Lovie Smith was a huge mistake, and aside from an anomalous 2018 campaign, the Chicago Bears have been what I call the NFL's, "Mediocrity test," ever since. Generally speaking, if you win against the Bears, you're probably at least mediocre. If you lose to them, then your team probably kind of sucks.
You're talking about a coach who went to the NFC Championship, then went 8-8 and then rebounded with a 10-6 record, which would often be enough to advance a team to the playoffs. He did much of this with Smokin' Jay Cutler at quarterback, which is a guy I like to call the, "Android test." If you have more emotions than Jay Cutler, then you qualify as human on the emotional spectrum, if not, then you're an android.***
***That is just meant as a silly joke. While Cutler may not be the world's most openly expressive guy, he's actually extremely sarcastic and very funny.
Smith would take a year off before becoming the Head Coach of the Tampa Bay Buccaneers. Smith would lead the Buccaneers to a 8-24 record (yikes!) over his two seasons with the team.
As a result, Smith's all-time head coaching winning percentage is just over .500, as he has gone 89-87 during his head coaching stints.
It's actually kind of tough to blame Smith for the Buccaneers' performance under his watch because they were miserable the season before that. In addition, two years is hardly enough time to fully rebuild a football team, so whatever input Smith would have had in the long-term plans for the team, and whatever his plans may have been, we never really got to see them. His first season with the organization would see the offense lead by the QB tandem of Josh McCown and Mike Glennon who, at best, are serviceable backup-caliber QB's in a pinch. McCown has played for every team in the NFL (not really).
The 2015 campaign would see the offense lead by human interception factory Jameis Winston. During the first few years of his NFL Career, Jameis Winston was there to kick ass and throw picks…and he was all out of ass. More than that, he was a rookie who had it put upon him to start every game that year.
Perhaps Smith's Buccaneers termination wasn't as egregiously bad as that from the Bears, but I would still consider it unfair. The team was certainly no worse with him and, in my opinion, if you want to have a successful NFL team, it starts with being willing to commit to a coach for at least three seasons—almost regardless of how those three seasons go.
Smith would move to the college level and become the Head Coach of Illinois for several years before joining the Texans in 2021 as their defensive coordinator. I don't know what about the Texans' 2021 defense would inspire confidence (the ability to come up with interceptions aside), but I imagine that Smith has been promoted given his performance with the Bears all those years back, and perhaps, the Texans also realize that he wasn't really given a fair shot with the Buccaneers. We can only hope that they will be willing to commit to both a rebuild, and Lovie Smith as Head Coach, for more than two seasons.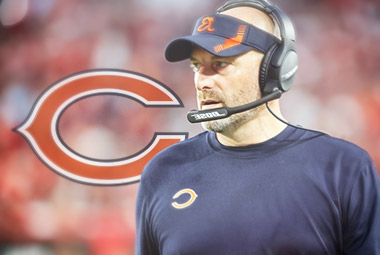 Oh, speaking of…
THE CHICAGO BEARS
Matt Nagy—>Matt Eberflus:
If the first Matt doesn't succeed, then Matt, Matt again, I suppose. Eberflus will replace Matt Nagy who has been the HC for Da' Bears for the last four seasons and amassed a record of 34-31 during that time. Like I said earlier, the Bears are the NFL's mediocrity test.
Nagy's standout season as Head Coach was, interestingly enough, his first one as the team would go 12-4 during the 2018 regular season on the strength of their league-leading (points allowed) defense. The 2018 season was also Mitch Turbisky's (it all comes back around) best statistical year and the year that Mitch had the most protection. Unfortunately, the Bears would get bounced in the Wildcard round by the Philadelphia Eagles, though the difference was only one point.
The following two seasons would see the Bears go 8-8 in the 2019 and 2020 campaigns, before dropping to a record of 6-11 in 2021. Interestingly enough, the Bears did not have MItch Trubisky in 2021, so it kind of makes one wonder.
Prior to his HC stint with the Bears, Nagy had served for three years as the quarterbacks coach for the Kansas City Chiefs, then for two years as the Chiefs' Offensive Coordinator. It's not exactly a condemnation, but the fact is that Nagy had no part whatsoever in building the Bears team that went 12-4 during his first season with the organization. Was his presence helpful in Trubisky's development? Perhaps, but he certainly wasn't responsible for putting together the core team, and especially not the defense, which was the Bears' real strength that year.
Upon his termination, Nagy set fire to the Bears locker room before leaving the facility blasting Iron Maiden at top volume. I'm kidding, of course, the dude was classy as hell in the way he took his dismissal. Nagy is going to spend the 2022 campaign back where his NFL career really took off, as he is a senior assistant and quarterbacks coach for the Kansas City Chiefs as we lead into this year's campaign. With some more experience, I would think another head coaching stint is probably in Nagy's future; the guy just turned 44 years old, after all.
Replacing Nagy will be another Matt, this time Eberflus, whose recent career experience would see him as the Defensive Coordinator of the Indianapolis Colts for the last four years. All told, the Colts have been in the top half of the league in fewest opponent points allowed (2019 aside) during that span, so we can assume that Nagy has an idea of what he is doing on defense. The Bears also have a new General Manager, and plenty of cap room over the next couple of seasons, so it will be interesting to see what they do.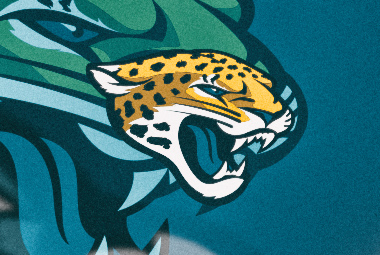 JACKSONVILLE JAGUARS
URBAN MEYER—>DOUG PEDERSON
I mean, it's not like the Jaguars could do worse than Urban Meyer.
You know how I was discussing committing to a Head Coach for at least three seasons earlier? In the case of Urban Meyer, there's a reason that there are exceptions to every rule. I think I summed it up well enough in the free agency article:
"I'm not usually a fan of the word, "Toxic," because there are different sides and perspectives to every story, after all. Furthermore, I think the word is grossly overused, as are many in today's lexicon, to basically just use the most emphatic word possible to describe seemingly any situation, however benign. That all being said, I think the use of the word is appropriate in the context of Urban Meyer's reign as king of the Jaguars. My favorite Urban Meyer story is the video of him that surfaced taking lap dances at some bar he partially owns in Ohio rather than flying back with his team after their close Week 4 loss to the Cincinnati Bengals.
If we wanted to be really charitable, perhaps we could say that Meyer already had some idea of the trajectory of the team for the remainder of the season and figured he was already going to get fired at the end of the year, if not before, anyway, so who really cares? That's obviously not the sort of attitude that gets you ahead in the world of sports, but hey, Devil's advocate."
Feel free to look up some more information on Meyer's tenure with the Jaguars' organization for yourself. If nothing else, it was at least amusing…unless you were a Jaguars player, of course. The Jaguars would go 2-11 under Meyer before dismissing him, which means that Meyer was only the coach for 66.67% of the Jaguars three wins that season. Inexplicably, the Jags would control the game throughout the season finale against the Indianapolis Colts, which kept the latter out of the playoffs.
For his part, Doug Pederson would serve as the Offensive Coordinator of the Kansas City Chiefs from 2013-2015 (the Chiefs have one hell of a coaching line!) before becoming the Head Coach of the Philadelphia Eagles from 2016-2020. On the one hand, the Eagles would carry a mediocre 42-37 regular season record during Pederson's tenure, but on the other hand, they appeared in three consecutive playoffs between 2017-2019 and won the Super Bowl in the first of those years against the New England Patriots.
In fact, the Eagles are the only team not named, "New York Giants," to win a Super Bowl against a Tom Brady led New England Patriots team, so that's quite an accomplishment.
The Eagles would ultimately decide to stick with the injury-prone Carson Wentz, rather than Super Bowl MVP Nick Foles, leading into the 2018 campaign, and the whole thing fell apart by the time 2020 arrived, with Pederson closing out his Eagles tenure with a 4-11-1 record. Wentz had an awful season that year which was mostly accountable for the fact that the Eagles were among the league's worst teams in passing offense.
In joining the Jaguars, Pederson (a former quarterback himself) will be instrumental in trying to develop sophomore quarterback Trevor Lawrence, who has a ton of raw potential. I honestly don't expect the Jaguars to be much better this season, but perhaps Pederson can develop Lawrence and the Jags can build a competitive team if Pederson is given a few years and a little bit of rope. I guess we'll see.
NEW YORK GIANTS
Joe Judge—>Brian Daboll
The fact of the matter is that the New York Giants have been an NFL basement team for about a decade, with the lone aberration year coming in 2016 when they somehow went 11-5 in the regular season before losing in the Wildcard round.
Eli Manning and Tom Coughlin won their second Super Bowl together, once again, at the expense of the New England Patriots in 2011, after, once again, backdooring their way into the Playoffs (they won their Division with a 9-7 record—gross!) before embarking on a steady decline. They rode Tom Coughlin well after the horse was dead for a few years, then followed that by riding dead horse Eli Manning for a few more.
Over the last five NFL Seasons, they are 22-59, so the worst-case scenario with this coaching switch is that the Giants' standard of, whatever the opposite of excellence is, is maintained.
For his part, Joe Judge would coach the team for two years and amass a record of 10-23, which is pretty consistent with the performance of the team for the last three years prior. Actually, a 30.3% winning percentage is a slight improvement over the 25% combining the three years before Judge's tenure.
The Giants had a terrible offense and extremely mediocre defense last year. There's really not that much to say about them. I'm not even all that sure how they won four games.
Brian Daboll was a journeyman offensive coordinator from 2009-2012 (Browns, Dolphins and, wouldn't you know it, there are the Chiefs again), became the Tight Ends' Coach for the New England Patriots for four seasons, then dropped to the college level and was Alabama's OC for a year. Daboll would return to the NFL as the OC for the Buffalo Bills in 2018 and held that position until signing as HC for the New York Giants.
As we know, the Bills have an amazing quarterback in Josh Allen, but the offensive play calling and play design has been an absolute masterpiece the last couple of years, so I think it's fair to say that Daboll has earned this shot. Daboll seems to do well in having a hand developing young quarterbacks with high upside, and as HC of the Giants, he will have another one in Daniel Jones.
I certainly don't expect much from the Giants this season, but we can hope that they will be patient with Daboll and at least allow him three years to try to develop the team into a playoff contender. After all, they were more than patient with Tom Coughlin well after his, "Best By," date had elapsed.
MINNESOTA VIKINGS
Mike Zimmer—>Kevin O'Connell
Okay, so MIke Zimmer's firing seems a bit strange on the surface. Zimmer was the Head Coach of the Minnesota Vikings for eight years, beginning with the 2014 campaign, during which time he led the team to a record of 72-56-1 in the regular season.
The Vikings would also advance to the Playoffs (and win two games) three times during that span.
For my part, I think that the Vikings have made some head-scratcher decisions at quarterback over the years, namely, I don't understand why they paid Kirk Cousins so much and hamstrung themselves in terms of salary cap. Cousins was fine, sometimes more than fine, but definitely not worth anything near what they paid him.
I suppose the other problem Zimmer had is that the Vikings were nearly .500 and weren't particularly competitive in those years that they didn't make the Playoffs. Most recently, the Vikings were sub-.500 the last two seasons going 7-9 and 8-9. A team like the New York Giants of the last several seasons (and especially their fans) would praise the heavens to enjoy that sort of mediocrity, but Minnesota would actually like to go to the Playoffs and lose (probably due to a missed chip shot field goal) at some point in the near future.
Of course, I guess it's made worse by the fact that Zimmer is a defensive guy, and the Vikings' defense was terrible last year. They were actually in the top half of the league in offensive passing and threw the fewest interceptions of any team. Other than ranking in the top half in turnovers, the defense was just really bad; they gave up a ton of yards and were safely in the bottom half of the league in points allowed.
Former journeyman backup (or third-string) quarterback Kevin O'Connell has made a decent coaching career for himself. Most recently, he was the Offensive Coordinator for the Los Angeles Rams during the 2020 and 2021 campaigns, and that offense looked pretty good those years…more than pretty good, obviously! Prior to, he served as the OC for the then Washington Redskins for a single season, who did not look so good.
O'Connell is obviously an offensively-focused guy, and the Vikings offense was already pretty darn good, so that's an interesting decision to make for HC. Ed Donatell will serve as the Defensive Coordinator for the Vikings this season, having spent the previous three seasons as DC for the Denver Broncos, who had a pretty good defense those years. I guess we'll just have to see how it goes, but I can't imagine that there would be a dropoff.
MIAMI DOLPHINS
Brian Flores—>Mike McDaniel:
Okay, so we have reached the biggest head-scratcher in terms of coach firings, haven't we? Brian Flores had been the coach of the Miami Dolphins for the last three seasons, and while his record of 24-25 over that span might not seem all that great, the Dolphins went 10-6 then 9-8 over their last two seasons, so it seemed to be going well-enough.
Additionally, the Dolphins have a young Tua Tagovaiola at quarterback, who we would expect to continue to improve but is, even entering just his third season, a serviceable NFL starting caliber quarterback.
So, what's the problem?
It's mostly rumor and conjecture, at this point, but Flores is suing the league (as well as a few teams) as I summarized thus in the free agency article:
The 2022 campaign has been an unusual one for the Miami Dolphins thus far. The first major event was the dismissal of former Head Coach, Brian Flores, which had Dolphins fans and casual observers alike kind of scratching their heads because the team, arguably, overperformed expectations.
As it turns out, the problem might be that outperformance as Flores is suing the team (and others), in part, alleging that they offered him compensation to tank games.
The cliffnotes version of this story would have it that Tom Brady was expected to eventually come and play quarterback for the Fins, but found himself in Tampa Bay instead. The plot would thicken as Brady, it has been suggested, never really intended to retire (and has since come out of retirement and will remain with the Buccaneers), but instead planned to get traded to Miami, presumably sign a new contract, become part-owner of the team and eventually former New Orleans Saints Head Coach, Sean Payton, would join the organization.
It goes without saying that Flores was not part of that plan, and among other things alleged by Flores (principally, the pay to lose accusations), he suggests that he was ousted by Miami to make room for Payton.
I guess we won't really know unless the lawsuit goes to court and facts become public, or alternatively, we see Tom Brady taking snaps for the Dolphins next year under new HC, SEan Payton (very doubtful), but some unusual combination of events, one way or another, led to the dismissal of one Brian Flores.
Brian Flores has also sued other NFL teams for, essentially, putting him in a position of being the recipient of sham interviewers (which is to say that they never planned to hire him) so that those teams would technically be in compliance with the NFL's Rooney Rule. Simply put, the Rooney Rule demands that an NFL team interview at least one minority Head Coaching candidate for an open HC position.
Even if these sham interviews did happen, my position would be that the problem is less with the individual teams and more with the NFL. After all, it's the NFL's rule, so what choice do the teams have in the matter? I think that the rule is well-intentioned, but in practice, if an NFL team has an interested coaching candidate where it's all but a matter of putting ink to contract, then it's probably a bit silly that they would be forced to interview anyone else, minority or otherwise.
Again, that's not to say that I am against inclusivity in the league—I think whoever is the best head coaching candidate should get the job, regardless of that person's race. I honestly don't think that these other teams were trying to keep minorities out, at least, not necessarily, it's just that the guy they knew they wanted happened to not be a minority.
After all, we're not talking about some kind of company that has 100 employees at a given position, but then you walk into the building, and all 100 of the employees are white. Each NFL team has exactly one Head Coach, and there are only 32 NFL teams, so it becomes something of a limited sample size sort of situation.
Going into the 2022 campaign, the NFL has declared that there MUST be at least one minority coach somewhere on every NFL offensive staff this season. Personally, I think that's perfectly within reason. There are a much larger number of offensive coaches and assistants than there are head coaches, so I don't think it's an unreasonable demand that at least one such coach (or assistant) be of a minority background. I think it's kind of sad that there MUST be such a rule, as opposed to the NFL being able to trust teams just to try to have the best possible coaching staff on their own, but I don't think it's an unreasonable rule.
This article linked uses the, "Just," verbiage that I always like so much. There are JUST five NFL Head Coaches that represent some sort of minority which, of course, is only 15% of the league's head coaches. Again, limited sample size.
In fairness, 15% is hardly representative of the ethnic distribution of the United States of America. I absolutely grant that. On the flip side of the coin, some long-term successful coaches happen to be Caucasian. Do you think the Patriots are in a hurry to fire Bill Belichick, for example?
There have also been some minority coaches who kept their jobs well after fans of those teams would have expected them to be fired. Most notably, Hue Jackson's long overdue dismissal from the Cleveland Browns and Marvin Lewis, who inexplicably remained as the Cincinnati Bengals' Head Coach for SIXTEEN YEARS, despite the fact that the team never won a Playoff game with him as HC. He had a career .518 winning percentage with the organization which, over that length of time, can only be described as, "Aggressively mediocre." Go to the Wildcard Round and lose every few years, sure, why not?
Oh, we still have to talk about Mike McDaniel, I almost forgot.
Well, until last year, he filled various roles as an offensive assistant for about fifteen years. He spent the 2021 season as the Offensive Coordinator for the San Francisco 49ers, and their offense was good, of course, it was good before he got there—so, who knows?
DENVER BRONCOS
Vic Fangio—>Nathaniel Hackett:
Okay, so the Broncos have decided to replace outgoing Head Coach Vic Fangio, who amassed a record of 19-30 with the organization, with Nathaniel Hackett. That's kind of the three years that I'd be willing to give a guy, and the Broncos went 20-28 over the three years immediately before Fangio's three-year tenure, so yeah, he's done.
Obviously, the expectation for a Head Coach, especially if given three years, is that the team should start to get better. The Denver Broncos, however, remained exactly the same.
Of course, Nathaniel Hackett might be expected to improve on the last three NFL Seasons much more quickly because, as mentioned in my free agency series of articles, they now have one of the best quarterbacks in the league in Russell Wilson.
There's really not much to say about Fangio's tenure as no one season can be argued to be that much better than any other. The Broncos were lousy, but not so lousy as to be considered abysmal. They were bad, but not awful. They have a really good pass defense and are at least average at stopping the run? That's it. They were okay as a whole; the offense was even okay; they just didn't put it together to actually win football games very often.
I imagine, "Who is Nathaniel Hackett," was a very popular search term in the Denver area for a brief time. Well, over the last six years, he spent the first three of those as Offensive Coordinator for the Jacksonville Jaguars (who were not terribly good) followed by three years as OC for the Green Bay Packers, who had a dynamic offense led by Aaron Rodgers. How much of the Packers offensive success was Hackett's doing—I guess we'll find out, although, his Broncos offense will be led by an almost equally good (especially given present ages) quarterback.
NEW ORLEANS SAINTS
Sean Payton—>Dennis Allen
Sean Payton: Heard of him? If you haven't, then I'm shocked that you read this far. 152-89 career head coaching record with the New Orleans Saints, one-time Super Bowl winner?
Of coaches with at least 100 career wins, Sean Payton is presently tied (11th) with Curly Lambeau for the 11th best winning percentage of all-time, at .631. If we ignore the number of wins, then Payton is still the 22nd winningest coach, in terms of winning percentage.
Of course, Payton has decided to retire and will be replaced by Dennis Allen. If you are inclined to believe certain rumors, the plan was for Payton to take a year off before joining Tom Brady (who would become the team's quarterback and partial owner) in Miami. Naturally, Payton denies these rumors.
Okay, so needless to say, Coach Allen has some pretty big shoes to fill. More likely than not, Payton will end up in the Hall of Fame.
Since 2015, Dennis Allen has been the Defensive Coordinator of those same New Orleans Saints, so I guess there's something to be said for organizational stability. Allen's only head coaching stint came with the Las Vegas (then Oakland) Raiders, during a run of almost three years from 2012-2014. During this time, Allen amassed a Head Coaching record of an absolutely putrid 8-28 prior to being dismissed by the Raiders four games (0-4) into the 2014 NFL Season.
Not only were these years remarkably bad, for anyone, but they, by far, represent the worst three year span that the Raiders have had since 2008.
Of course, Allen has been the DC under a coach who is a likely Hall of Famer for the last seven seasons, and he was somewhat young (and relatively inexperienced) when the Raiders named him Head Coach, so we should assume that…whatever happens with the Saints…it will be better than Allen's tenure with the Raiders.
LAS VEGAS RAIDERS
Rich Bisaccia (Interim)--->Josh McDaniels:
Okay, so this one is really bizarre to me. You have Rich Bisaccia, who filled in as interim coach when former Raiders (for the second time) Head Coach, Jon Gruden, was terminated under…let's say unusual…circumstances. Feel free to read that article for more detail, but I would also add that in his second stint as Raiders Head Coach (22-31), the Raiders didn't perform particularly well under Gruden anyway.
Admittedly, the Raiders would start the 2021 season with a record of 3-2, Gruden would be fired for reasons unrelated to on field performance (though, the termination was rightfully so), Bisaccia would come in…other things would happen involving Raiders players that year that would make Gruden's midseason dismissal trivial, by comparison…the team would somehow amass a 7-5 record under Bisaccia, go 10-7 overall, go on a four game winning streak to end the season, advance to the Playoffs, and then lose to the team that won the AFC Championship.
Um…so, what did Bisaccia do wrong, here? It seems to me that this whole thing is going pretty well, especially given some highly unusual circumstances, right?
Apparently, not well enough, as Rich Bisaccia is going into the 2022 NFL season as the Special Teams Coordinator for the Green Bay Packers.
Make this make sense.
Oh, wait, it's the Raiders. The Raiders are owned by Mark Davis. It's not supposed to make sense.
Replacing Bisaccia, for whatever reason, is Brady/Belichick coattail rider and longtime (twice) Offensive Coordinator of the New England Patriots, Josh McDaniels. McDaniels only other Head Coaching tenure with the Denver Broncos apparently went so well that they just HAD to replace an interim coach that led the team to the playoffs with him. How could you not?
Oh, wait, McDaniels was also Head Coach of the Indianapolis Colts for about four and a half minutes; the long and short of that is that he accepted the HC gig in 2018, the Colts announced him as their HC, then McDaniels changed his mind and decided to stay in New England.
Hmm…maybe he really did learn something from Belichick.
On the one hand, Belichick at least appeared at the Jets' facilities as Head Coach of the team. On the other hand, the Jets hadn't yet formally announced that he was the coach, so history didn't exactly repeat there.
McDaniels would be the Head Coach of the Denver Broncos only slightly longer. He coached for 1.75 seasons, during which time he amassed a record of 11-17 with the organization. The team went 8-8 in his first year, but he was dismissed after a 3-9 start the following season.
That said, Kyle Orton had the best pair of seasons of his career (only including ones where he started more than one game) under McDaniels, which is to say that he was very average those years.
Granted, the Broncos were average under McDaniels his first year, with the 8-8 record, but they could have just stayed with Mike Shanahan if a .500 record is what they wanted, as that was Shanahan's record over the three previous seasons, combined. (Shanahan and the Broncos were much better in the years before that).
The Broncos would finish McDaniels' second, and final, season with the team with a record of 4-12, of which, 3-9 was under McDaniels. After that, the team would make the Playoffs the next five consecutive years, (including one year with Tim Tebow as the starter) appear in two Super Bowls and win one.
I don't know. Watch the Raiders go 13-4, win the Division and at least make it to the Super Bowl and prove me entirely wrong, but I hope not.
TAMPA BAY BUCCANEERS
Bruce Arians—>Todd Bowles:
More rumors, more conjecture. In any event, the murmurings are to the effect that Tom Brady would refuse to play for the Buccaneers this season under then Head Coach, Bruce Arians.
Of course, both parties deny that.
There were also some trade rumors, in addition to the Brady to Miami next year rumor, surrounding the potential for Brady to be traded to the San Francisco 49ers.
Here's the thing: There's a fundamental problem with that rumor. In order for that rumor to even be theoretically possible, the Buccaneers would have to WANT to trade Brady, because they have the rights to him this season. In fact, even if Brady did not choose to play this season, the Buccaneers would apparently have his rights for one more season when/if he ever decided to come back.
After that, Tom Brady announced his retirement, but then he unretired about five minutes later. Shortly after this unretirement, Bruce Arians retired, but not exactly, because Arians apparently occupies a new position called, "Senior Football Consultant." There have been any number of people to weigh in on the Brady/Arians situation, with some suggesting that Brady essentially felt that Arians was too much of a part-time Head Coach, or some such.
I don't know. I don't care. I never thought I would say this, but I am officially sick of hearing about anything related to Tom Brady. The only time I have any interest in hearing about Tom Brady, from now on, is if that name is coming from an announcer during an NFL game being played on Live TV. Other than that, I can't be made to care and am exhausted by Tom Brady.
That said, I'm legitimately very happy for Todd Bowles. He seems like a really nice guy.
And, if the rumors are true that Arians no longer had it in him to have full head coaching duties, then I'm happy for him that he is still part of the organization in whatever capacity they have him handling. He's a really funny guy and gives a good interview. I especially liked the one where he said he would trade Brady to the 49ers for six first round picks, or some such. Actually, he was non-committal, but said he would think about it.
Todd Bowles was most notably the defensive coordinator for the Arizona Cardinals in the 2013 & 2014 seasons, and most recently, occupied that role with the Buccaneers from 2019-2021.
In between those stretches, Todd Bowles was the Head Coach for the, oh God, New York Jets.
Bowles would amass a Head Coaching record of 24-40 during his four seasons with the Jets. The best of those seasons was his first, though arguably with Rex Ryan's team, which went 10-6 and missed the Playoffs.
In fairness to Bowles, the Jets are abysmal, so that 24-40 over the four year stretch is arguably as well as they have done in the last decade, and certainly, better than they have done since. The Jets have gone 13-36 in the three years since Bowles was asked to find alternative employment…during which time the Tampa Bay Buccaneers' defense has been phenomenal, especially at stuffing the run and getting to opposing quarterbacks, so there you go.
Bowles has a lot to work with here, especially when you consider that the Buccaneers made the Playoffs last year (and won a game), won the Super Bowl over the Kansas City Chiefs the year before and have a fantastic quarterback who shall not be named again.
Although, Gronk retired. Either that, or Gronk is taking a break until he's in the mood to play again. Who knows? Either way, Bowles is going to have it better than he did with the Jets with a team that he's familiar with and is familiar with him. I'd expect them to make the Playoffs, at a minimum.
CONCLUSION
That does it for coaching changes and recent big news at the quarterback position. I'd like to thank you for taking the time to read if you managed to read through this whole thing, but also if you only skimmed or looked at information regarding just the teams or players you're interested in.
Barring any major developments, that'll probably be it out of me until the start of the regular season, at least, as far as the NFL goes.
Posted by
Mission146