Introduction
On Tuesday, March 9th, 2021 the Tampa Bay Buccaneers announced that they have re – signed their star veteran starting inside linebacker, Lavonte David, to a 2 – year contract extension worth up to $25 million. The head coach of the Super Bowl LV champion Tampa Bay Buccaneers, Bruce Arians, told Lavonte at their boat parade in February of 2021, "Your ass ain't going nowhere." Apparently, he was not kidding as the Tampa Bay Buccaneers have made good on their word as they have made sure to retain one of their best and most explosive defensive players in David.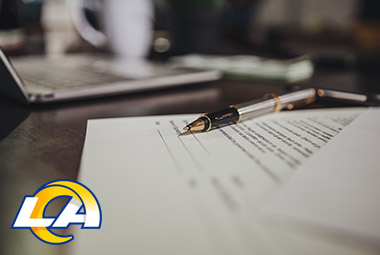 Contract Details
This is the third contract that the Tampa Bay Buccaneers have inked with their NFL Pro Bowl inside linebacker David. This new 2 – year deal valued at $25 million includes $20 million of total guaranteed money. The agreement does not contain a signing bonus or any incentives that have been disclosed to the public at the moment. Lavonte will now average an annual salary of $12,500,000.00 for each of the two upcoming seasons of the National Football League. David is now scheduled to become an unrestricted free agent once again in 2023.
Lavonte David's football Background…
…began in Miami, Florida where the fast as well as strong inside linebacker attended Northwestern High School. Lavonte was not highly recruited so he enrolled at Fort Scott Community College in Fort Scott, Kansas. David eventually transferred to the University of Nebraska to play college football for the Cornhuskers where he set the University's single – season record for tackles with 152 total tackles in just his first year with the team.
Career in the National Football League
The Tampa Bay Buccaneers selected David with the 58th overall pick in the second round of the 2012 NFL draft. In order to acquire Lavonte in this draft, they were forced to trade their third round (68th overall pick) and fourth round (126th overall pick) selections to the Houston Texans in exchange for the Houston Texans' seventh round (233rd overall pick) and second round (58th overall pick) selections. David has played his entire career in the National Football League spanning from 2012 to 2021 with the Tampa Bay Buccaneers.
Over the course of his 9 – year illustrious NFL career David has recorded an amazing 1,125 total tackles, 24 sacks, 16 fumble recoveries, 12 interceptions, 51 pass deflections, and 3 defensive touchdowns while playing the inside linebacker position with the Tampa Bay Buccaneers. Lavonte was a key component in the Tampa Bay Bucs 2020 – 2021 NFL season which resulted in them winning Super Bowl LV. Now with the majority of last years' Super Bowl champion players and coaches returning for the upcoming as well as quacking approaching 2021 – 2022 NFL season the Tampa Bay Buccaneers are looking to complete the extremely difficult task of repeating to win back – to – back Super Bowl championships. David will be a huge leader for the Bucs' defense as they have their eyes on the ultimate prize once again.
David's Career Achievements, Honors, and Awards
Super Bowl Champion (LV)
NFL Pro Bowl Selection (2015)
NFL First – Team All – Pro (2013)
2 Time NFL Second – Team All – Pro (2016, 2020)
PFWA All – Rookie Team (2012)
Big Ten Linebacker of the Year (2011)
First – Team All – Big Ten (2011)
2 Time First – Team All – American (2010, 2011)
First – Team All – Big 12 (2010)
Big 12 Defensive Newcomer of the Year (2010)
Odds to Win Super Bowl LVI
According to Intertops sportsbook these are the odds to win Super Bowl LVI as of Thursday, March 11th, 2021. Currently the Tampa Bay Buccaneers have the third best odds to win Super Bowl LVI outright out of all of the 32 franchise in the National Football League.
Team Odds
Kansas City Chiefs +450
Green Bay Packers +850
Tampa Bay Buccaneers +850
Buffalo Bills +1100
Los Angeles Rams +1200
San Francisco 49ers +1400
Baltimore Ravens +1600
New Orleans Saints +2000
Indianapolis Colts +2000
Cleveland Browns +2000
Seattle Seahawks +2000
Miami Dolphins +2500
Los Angeles Chargers +2800
Dallas Cowboys +2800
Tennessee Titans +2800
Pittsburgh Steelers +3300
Arizona Cardinals +3300
New England Patriots +4000
Minnesota Vikings +5000
Atlanta Falcons +5000
Carolina Panthers +5000
Denver Broncos +5000
Chicago Bears +6600
New York Giants +6600
Las Vegas Raiders +6600
Washington Football Team +6600
Philadelphia Eagles +8000
New York Jets +8000
Jacksonville Jaguars +10000
Cincinnati Bengals +10000
Houston Texans +15000
Detroit Lions +15000
Sources:
"Tampa Bay Buccaneers bringing back LB Lavonte David on 2-year, $25M deal, sources say", Jenna Laine, espn.com, March 9, 2021.
"Lavonte David", pro-football-reference.com, March 11, 2021.
"United States, NFL Futures, NFL 2021 / 22 Super Bowl LVI: To Win Outright", intertops.eu, March 11, 2021.
"Lavonte David", spotrac.com, March 11, 2021.
Posted by
DavidGreen