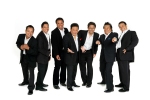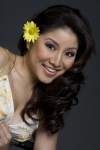 If you go to see Society of Seven, don't come thirsty. With but one cocktail waitress working the Gold Coast Showroom, your chances for scoring a drink are somewhere betwixt slim and none. And don't expect the surly bartending staff to be of any help either.
That shortcoming is a very unfortunate blight on Society of Seven's overdue return to the Strip ... or at least very close to it. The group has bounced through a series of Strip casinos: the Las Vegas Hilton, the Aladdin, Bally's and the Flamingo before dropping off the radar for a while.
Society of Seven's Gold Coast comeback is also a reinvention. An ensemble that formerly leaned heavily on physical shtick with elements of music has reversed that formula. With the not-inconsiderable help of the sassy and personable American Idol third-placer Jasmine Trias, song and dance are now at the forefront. The one pure comedy bit, a cha-cha gag that serves as the show's midpoint, isn't likely to make anyone yearn for the Society of Seven of yore. It may have been funny 50 years ago but not anymore.
The members of the group double as their own band, a small ensemble that makes a big sound. Some of that is due to over-miking of the instrumentalists - a habitual Vegas showroom failing. Why hire good singers only to drown them out?
Trias and Society of Seven are no strangers. She used to be the scheduled fill-in for Lani Misalucha, back when the group was still employed by Harrah's Entertainment. But she's no mere Misalucha-like but an accomplished and integral part of Society of Seven's musical satires. She riffs wickedly on Cher's vocal mannerisms (backed by two Society members in deliberately ridiculous "muscle man" outfits) and has Beyoncé's moves down pat.
In a Las Vegas that is struggling to reconnect with its Baby Boomer customer base, the old-school patter, politically incorrect humor and corny sight gags of Society of Seven act as reassurance, visual and vocal "comfort food." They pull off a fast-paced show with lightning-fast costume changes and very few musical numbers that overstay their welcome. (Big ups to director/arranger Pat Caddick.) If anything, the show's 75-minute running time leaves room for fuller versions of standards like "Bridge Over Troubled Water" or "This Will Be."
Trias isn't the only ensemble member who's got a flair for impersonation. Co-lead vocalist Michael Laygo's Michael Bolton is on the money and drag specialist Bert Sagum does a playfully outrageous, endlessly curtsying Little Richard. Wayne Newton, as interpreted by Hoku Low, is better than actual Wayne Newton, currently unraveling his reputation over at the Tropicana.
Jersey Boys cast members, rest easy. A Frankie Valli/Four Seasons medley is only passable. Thank God, however, that Society of Seven offers one of the few Vegas lounge acts not to rely on Rat Pack covers. That well has been plumbed a bit too often of late.
Yet another bit of mimicry found two Society of Seven members crammed into one giant mumu, with predictably disastrous - and hilarious - results. When things go wrong during Society of Seven show, so much the better. These guys have the experience and chops to roll with it.
This lack of slickness seems to lie at the heart of the group's enduring popularity. Society of Seven gives every indication that there's nowhere else they'd rather be than onstage in a showroom. For instance, when Filipino "Prince of Pop" Laygo performs a bouquet of heart-on-sleeve chart-toppers like "On the Wings of Love," schmaltz is kept at bay. Laygo's absolutely on the level, singing with smooth tone and a heartfelt intensity bordering on the operatic.
Similar praise could be lavished on Trias' solo set. In addition to a radiant tonal quality, she brings verve and a wholesome manner to the stage, and she and Laygo team up to overwhelming effect on "The Prayer." Emcee/guitarist Tony Ruivivar could be fairly described as the heat of Society of Seven and demonstrates the importance of vocal technique in his spotlight moment, "I Have Dreamed." His may not be the loveliest or biggest voice but it's employed with a veteran's savvy.
A set of "Broadway Show Stoppers" climaxes prematurely. Its first number is also the show's high point, "You Can't Stop the Beat," from Hairspray. Despite an extremely impressive display of breath control and phrasing, Laygo's "The Impossible Dream" comes off as grandstanding, while Trias tempts fate by tackling "And I Am Telling You" from Dreamgirls. That song is now synonymous with another American Idol castoff made good - Jennifer Hudson - and while Trias is hardly bad, it's a comparison she shouldn't risk. It's also such an emotionally drenched song that it gives the nominal finale, Jekyll & Hyde's "This is the Moment" - an impossible act to overtop.
The (scripted) encore is a patriotic medley dominated by Lee Greenwood's self-aggrandizing "God Bless the U.S.A." The opening-night crowd ate it up but if you're the sort who finds brassy flag-waving uncomfortable, take consolation in the fact that Greenwood-style bombast sounds more down to earth when performed in the humbler, friendlier style that is Society of Seven.
With recession-friendly ticket prices and a congenial venue, Society of Seven appears to be just what the doctor ordered. How long they stick around this time depends on whether Las Vegas visitors crave nostalgia over novelty.
societyofseven.com
3:30 and 7 p.m., Fri.-Sun.
Gold Coast Showroom
4000 W. Flamingo Rd.
251-3574
$29.95 (afternoons) and $34.95 (evenings)