Introduction
According to Wikipedia, Sunset Station is owned by Station Casinos, Inc., on 98 acres in Henderson. It opened in June of 1997 on the tail of the successes of Boulder Station and Texas Station, during the last great Las Vegas building boom. It is an upscale local's casino, primarily aimed at the over 50 demographic located in and around Henderson. The success of this model is seen in other similar casinos (Red Rock, Green Valley, M Casino, etc.). The casino includes a 21-story hotel with 527 rooms.
Sunset Station is located on the far eastern side, in Henderson, between Sunset Rd. and Warm Springs Rd., with access from Interstate 515. Heading east on Warm Springs leads to an easy entrance to the parking garage. Heading east on Sunset provides access to the front of the casino, valet parking, and front lot parking.
I drove through the parking garage then around to the front of the casino and parked in the front lot. There were plenty of spots available close to the main entrance. I noticed a lack of visible parking lot security guards in both the parking garage and front lot. There were bike racks by the movie theatre and by the front valet area.
To me, the most aesthetically appealing part of the casino is the 560 square meter stained glass ceiling above the table game area, near the casino's center. It consists of thousands of glass pieces and weighs twelve tons. Below its center is the Gaudi Bar. The area was inspired by the work of Spanish architect Antonio Gaudi and is visually stunning.
Gambling
According to the Nevada Gaming Control Board, and the casino web site, Sunset Station has 114,000 square feet of gaming space, with 53 table games and 2,435 slots. By comparison, New York New York has 84,000 square feet of gaming space, 70 table games and 1,740 slots.
The table games I found were blackjack, craps, Baccarat, Ultimate Texas Hold 'Em, Let it Ride, Three Card Poker, Mississippi Stud, Deuces Wild Hold 'Em/Fold 'Em Stud Poker, Crazy 4 Poker, Double Deck Super Fun 21, and the Wheel of Fortune. I also found the blackjack adjuncts "Lucky Lucky," "Headstart Hold 'Em" and the "Tie Bet."
I did a visual survey of the slot mixture, and estimated that over 50% of them were video poker, about 10% were keno and about 40% were traditional slots.
Blackjack
Most days, Sunset Station offers only two types of blackjack. They offer a double deck game (dealer hits on soft 17, double after split, double on anything, re-split aces) for a house edge of 0.404% and a six deck "CSM" (Continuous Shuffle Machine) with a selection of standard rules and a house edge of 0.571%.
The double deck games were much more popular than the CSM's. The double deck tables had only five player spots which is an idea I believe originated with Harrah's. Fewer spots implies more hands-per-hour, hence more total dollars wagered by each player and more income for the casino. The hands-per-hour rate was further increased by having automatic shufflers at each table.
I wanted to play a standard six deck shoe game and asked several dealers and bosses about their availability. I was told that these games are only offered on Friday and Saturday nights at the "Wicked 21" games dealt by Hooters girls (starting at 7 PM). Too bad I was there on a Monday.
The double deck games had fixed minimums of $10 to $25 and were busy during the day shift. In the evening there were plenty of seats and not many people. For example, when I checked at 7:00 PM there were 6 tables open and 7 players.
I did not observe anyone playing the blackjack side bets.
A positive: I was speaking with the pit about housing prices while playing and accidentally hit a 13 against the dealer up-card two. I got a face card and busted with a $100 bet out. The boss allowed me to "undo" the hit and told the dealer that the face card was his next card. I ended up winning the hand. I observed several instances of pit generosity towards other players during my play.
A negative: drink service was consistently slow. My first drink was retrieved by a boss after 15 minutes and a mild grumble (I was the highest bettor on the floor so they were falling all over themselves to please me). Later, I waited 20 minutes for an order of tea. In two hours, the cocktail waitress came around four times.
The dealers appeared to enjoy working at Sunset Station. They had good humor and positive interactions with the players. The pit was courteous, generous and proactive. The atmosphere (even sitting next to a smoker) was clean and fresh. The gaming area felt spacious and inviting.
Roulette
The roulette wheel was the standard double zero, for a house edge of 5.26%. There was no single zero roulette available.
Craps
The craps game allowed 10X odds. The house has an edge of 0.184% with odds on a pass bet, and an edge of 0.124% with odds on a "don't pass" bet. Hop bets paid 15-to-1 and 30-to-1.
Video Poker
Sunset Station is heaven for video poker players. There was the usual spread of odds for games in various locations of the casino. The careful video poker player will head straight to the bank of three $1 max bet 100%+ machines in front of the "Capri Italiano" restaurant, or the bank of six 100%+ machines by the Boarding Pass rewards center. Bone up on your Double Bonus Poker (10/7) or Double Double Bonus Poker (10/6).
The five cent video poker pay tables are awful so avoid them.
Curiously, I could not find a single line Jacks or Better game. I found Jacks or Better on several "Triple Play" (3 line) machines with the somewhat weak 9/5 pay table.
Following are the pay tables that were observed for some of the more popular video poker games. The percentages given are the expected returns, assuming perfect play.
800/50/25/9/5/4/3/2/1 — 98.45%
800/50/25/8/5/4/3/2/1 — 97.30%
800/50/25/7/5/4/3/2/1 — 96.15%
800/50/80/40/25/8/5/4/3/2/1 — 99.17%
800/50/80/40/25/7/5/4/3/2/1 — 98.01%
800/50/80/8/6/4/3/2/1/1 — 98.49%
800/50/80/8/5/4/3/2/1/1 — 97.40%
800/50/80/6/5/4/3/2/1/1 — 95.36%
800/200/25/15/9/4/4/3/2/1 — 98.91%
800/200/20/12/9/4/4/3/2/1 — 98.94%
800/200/25/15/10/4/3/2/2/1 — 94.82%
800/50/160/80/50/10/7/5/3/1/1 — 100.17%
800/50/160/80/50/9/6/5/3/1/1 — 97.81%
800/50/400/160/160/80/50/9/6/4/3/1/1 — 98.98%
800/50/400/160/160/80/50/9/5/4/3/1/1 — 97.87%
800/50/400/160/160/80/50/6/5/4/3/1/1 — 94.66%
The expiration on slot machine tickets is 60 days (double the state minimum 30 days).
High Limit Rooms
There was a high limit room for blackjack, but I was told it is only open on Friday and Saturday nights. There was a separate high limit room for slots. I counted 13 video poker and 5 slots in the high limit room, up to a $25 max bet. The high limit area did not have the best video poker pay tables: there were no 100%+ machines.
Sports Book
The Sunset Station sports book is large, with approximately 120 booths, 20 betting windows, 30 small screen T.V.'s and 5 big screen T.V.'s. There is a Bar/Lounge in the sports book. No smoking is allowed in line at the windows, and about ¼-th of the booths are in a non-smoking area. Race and sports tickets expire in 120 days. The sports book is conveniently located close to many low priced food outlets.
Poker
The poker room is non-smoking. It has 8 tables and 10 T.V.'s, and feels spacious and clean. Playing poker earns 600 comp points per hour. From 3AM to 9AM the player earns 1800 comp points per hour of play. I played for about 2 hours. The drink service was poor, with beverages about every 30 minutes. Food can be ordered in the poker room at reasonable prices and there are always fresh doughnuts.
I tried to use the house phone to call the front desk from the poker room (to get a late check out). The "00" I was told to use didn't work. The poker room supervisor also tried and failed. He apologized profusely (it wasn't his fault!) and thanked me for noticing. He said the information would be sent to casino operations to get the issue fixed. I used my cell phone to reach my host and was given a 1PM late check out.
Player's Club
I arrived early in the day and got a Player's Club card. The lines were Wendy's style, but that didn't matter — I walked right up, there was no line. I checked back several times during my stay and never saw a line.
At slots, the player earns one point per $1.00 played. At video poker, $4.00 equals 1 point. At bingo, $1.00 equals 5 points. 1000 points earns $1 towards food at the on-site fast food restaurants. On Wednesdays, patrons 50+ years old earn 5x points.
I was given a two-sided rack card called the "Point Redemption Menu" and another two-sided card called the "Points Earning Guide." Play and get points. Spend your points.
Cashier
The cashier has Wendy's style lines. When I was there, one window was open and five players were in line. If a few players had checks to cash then it could have been a long wait. But, seeing the line, the cashier proactively called for help and a second window opened almost immediately, so the wait to cash out was very short.
Non-Smoking Areas
There are non-smoking areas for all games. Bowling and poker are entirely non-smoking. About a fourth of the sports book is non-smoking. There is a slot area with over 100 slot/video poker games that is non-smoking. There are non-smoking blackjack tables. Every activity I checked had an area for non-smokers.
Table Game Comps
I checked the play they recorded during my first session: I was told I played 2 hours and 18 minutes and that my average bet was listed as $100. The new automated player tracking systems are great; the player can get precise information on the spot and new play information is instantly available to the Player's Club and to your host. During that session I mainly bet $75 and only bet $100 a few times. I appreciate getting a higher average than my actual play; it's great for comps.
The process of evaluating a player's average bet is not set in stone. Some casinos count doubles and splits towards the average. Others look at your first few bets. Some glance over every once in a while. Some routinely underrate your play to diminish your comps. In many cases, each boss has his own method. It's always best to ask about your rating at least once. If they hesitate, use the line "Harrah's gives me my info when I ask." It is widely known that Harrah's readily provides this information and most casinos are hungry for a piece of Harrah's market share.
After my first hour of play, the boss asked if I wanted a host and one was called for me. I asked about comps and my host told me to put everything on my room.
I played a day session and an evening session the first day and a morning session the second day. It's important to play on two consecutive days to maximize comps. I played a total of about 4 ½ hours in three sessions at an average bet of about $80. With the casino assuming a theoretical house edge of 1.0% (most casinos assume a theoretical house edge between 1.2% and 1.4% for the average player at blackjack) and at 80 hands per hour, the casino had a theoretical win of approximately (4.5)×($80)×(80)×(.01) = $288.00.
My host fully comped my room and meals, for a total comp value of approximately $95. As I later found out, I would have received more comps if I had billed more to my room, but at the very least, giving back about 33% of my theoretical loss was generous.
Hotel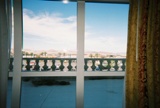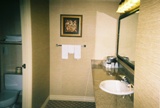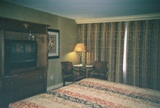 I registered online at the Sunset Station web site and clicked on a link that said "Vegas room rates from $39.99." There was an additional $14.99 convenience fee which seems very high to me. That's a 26.7% mandatory convenience surcharge. For this fee I got two free drinks at the Gaudi Bar, free local and long distance calls, wireless Internet, a daily paper, use of the fitness center, VIP at the buffet, and a 20% discount at the gift shop. I was also given a "Hotel Added Value" coupon sheet with coupons for meal specials, two free drinks, and various match play and free play coupons. Finally, because I am over 50, I was given two additional coupons for free drinks. If you're keeping score, that's six free drinks.
The bottom line is that the advertised $39.99 price, after the convenience fee and taxes, came out to $62.13.
I checked in early, around 1:30 PM. There was no line and I walked right up to the registration desk. I checked back several times during my stay and never saw a line at the registration desk. If there was a line issue, it would be handled Wendy's style: there were ropes available to be used if needed.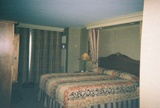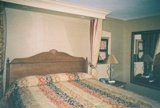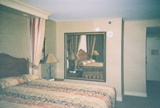 A room card was needed to operate the elevators and I noted regular and clearly visible security foot patrols inside the casino area.
The third floor room was nice for the price, about 400 square feet with no view. There was no sofa, hair dryer, desk, coffee maker, or refrigerator. The king sized bed was comfortable. The décor was faux elegant 1900's Victorian. The old-style T.V. got 24 stations with no HBO.
Pool
Although not an upscale pool, it was large, clean, and has an aesthetically pleasing design. There is plenty of space to lounge, private areas, grassy areas, huts, an outside bar, and more, but not much shade. The pool itself is entirely in the sun all day and not easily visible from the street or casino. It was 105 degrees the day I was there, and when I looked at the pool around 3 PM there were fewer than 10 people in the area.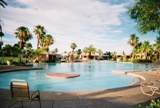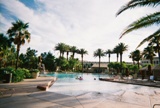 Restaurants
Restaurants at Sunset Station fall into a wide variety of categories: snack bars, fast/discount food, a buffet, low priced cafes, "upscale" Asian (Oyster Bar) and Italian (Capri Italiano Ristorante) with most entrees under $20, Hooters, and the "Sonoma Cellar Steakhouse" (e.g., $35 for a 3 course prix fix menu).
The buffet prices were $6.99 for breakfast, $8.99 for lunch, and $11.99 for dinner. The buffet lines were long, but if you stay at Sunset Station, you are given a VIP pass to the buffet.
I ate dinner at the "Oyster Bar" and had a bowl of absolutely delicious cioppino for $18 (mixed in were large Baja shrimp and fresh crab in the shell).
Entertainment
Entertainment includes "Club Madrid" with live music on Friday and Saturday nights, and the Sunset Amphitheatre (outside concerts by the pool). Unlike the strip, there are no headlining shows, but major bands play concerts about once a month. There was an upcoming "Ultimate Fighting Championship" advertised on the marquee. In the marquee's fine print it said "pay per view." The second Saturday of each month at 6PM there is a "Rockin' Poolside BBQ" with "Hot Music. Even Hotter Parties."
Movies
There is a 13 screen movie theater, with an IMAX theater. Shows start around 9AM and run all day, with the last show beginning (depending on the day) around 11 PM.
Bowling
The "Strike Zone Bowling Center" is an official PBA center and was voted the "Best Bowling Center" by the Las Vegas Review Journal's "Best of Las Vegas" poll. There are 72 lanes, leagues of all types, lessons, discounts for seniors and various groups, a pro shop, snack bar, lounge (with two pool tables), and video arcade for kids. There is a separate entrance to the bowling area from outside the casino so that kids don't have to go through the casino to get to the bowling.
Daycare / Kids
A daycare center called "Kid's Quest" is available for kids from 2 ½ years up to 12 years old. Depending on the day, the cost ranges from $6.75 to $8.00 per hour. Activities include a playground, video games, meals, karaoke and arts and crafts.
Sunset Station is a very kid friendly casino. Along with bowling, a pool, movies, and Kid's Quest, there are two separate video arcades and several kid-oriented TV stations. The Arcade/Kids area is secure and mostly separate from the main casino.
Bingo
I don't know much about bingo, so I can't comment on all the promotions, progressives, points, special sessions, and tournaments. Bingo sessions are played on the odd hours from 9AM to 11PM. The bingo room is quite large, with over 200 chairs and a large non-smoking area.
Keno
Given how spacious and abundant everything else is at Sunset Station, I expected a large keno area. I found a small keno lounge with 16 cushioned leatherette chairs which included a non-smoking section. Keno games go 24 hours a day about every 3-5 minutes. Winning tickets must be redeemed within 48 hours. The lack of keno space was more than made up by an abundance of keno slots.
Shopping
There was a decent sized gift shop but no other shopping. Sunset Station is located in a retail shopping district, so there are a wide variety of stores within easy walking distance.
Spa/Salon
There was no spa or salon at Sunset Station.
Exercise room
Located on the 2nd floor, it was well-equipped with a standard machine selection and free weights.
My review
Sunset Station has its niche; it is a family friendly local's casino with low-priced rooms, activities for everyone, with a pleasant, clean and upscale ambiance. It is clearly aimed at the 50+ demographic, but has plenty for kids and grandkids to do as well. It is not a high-roller casino and doesn't pretend. The entertainment for adults is limited. It was comfortable to play anywhere. Non-smoking areas abound. The dealers and staff were friendly and proactive. It's the corporate climate that encourages proactive responses, so kudos to Station's upper management. The low-end hotel room was sufficient but not great. The comps were generous and the food delicious. In summary, I thoroughly enjoyed my stay at Sunset Station.
Suggestions
The convenience fee ($14.99) is way too high compared to the room rates.
The comp system for slots/bingo/poker is transparent. Sunset Station could go a long way towards increasing the transparency of table games comps.
Given the size of the parking lots and other outside areas, I would like to have seen a few security guards outside the casino.
Links
Contact Information
Address: 1301 West Sunset Road, Henderson, NV 89014
Phone: 702-547-7777
Web site: sunsetstation.com
Resort and Parking Fees
| | |
| --- | --- |
| Resort fee | $13.50 |
| Parking fee | Free |
Games at Sunset Station
| Video Keno | Rank | Avg Return | Grade |
| --- | --- | --- | --- |
| Video Keno | 48 | 90.40% | C+ |