Introduction
On Tuesday, December 14th, 2021 Stephen Curry broke the all – time NBA record for the most 3 – points shots made with 2,974. The previous NBA record for that was held by Ray Allen who was in Madison Square Garden to congratulate Curry personally along with Reggie Miller who also used to possess this record at one point.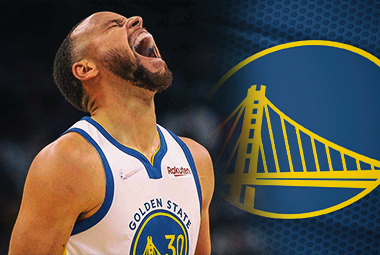 3 of Steph's 22 - points in this game against the New York Knicks gave him that title of the National Basketball Association's career leader for 3 – pointers. The Golden State Warriors ended up defeating the New York Knicks with a final score of 105 to 96 on Tuesday night as well.
The Golden State Warriors' starting point guard hit his 2,974th 3 – point shot with 7 – minutes and 33 – seconds remaining in the 1st – quarter of the ball game that concluded with a long as well as well – deserved celebration and ceremony for Curry inside the legendary and historic walls of Madison Square Garden where Steph hugged his parents, hugged his teammates, and hugged Ray Allen (whose previous record stood for 10 years).
Curry's new NBA career 3 – point record may last much longer, as he is attempting and sinking 3's better and more efficiently than anyone in basketball is or ever has. Stephen entered the game averaging a career - high 5.4 (3 – pointers) per game, and he went 5 for 14 from downtown on last Tuesday night, giving him a league - leading 145. Nobody else in the NBA has even hit the 100 - mark as action in the NBA began on Tuesday, December 14th, 2021.
His long – time teammate, Draymond Green, was seen wearing a shirt with Curry on the front after the game, and he said Curry could end up beating the record by 1,000 or more when it is all said and done. The Golden State Warriors proved why they could make Steph a 4 - time NBA champion this season with another one of their lockdown defensive efforts as they limiting the New York Knicks to just 36 % shooting while improving to the NBA's best record of 23 and 5.
Jordan Poole had 19 – total points as well as 9 - boards as he went 13 for 13 from the charity stripe in order to overcome poor game shooting from the field (3 for 11). Green put down an additional 8 – points, pulled down 11 - boards, and he dished out 7 – assists to his teammates in this Golden State Warriors dominant win.
Julius Randle scored a very solid 31 - points for New York, but the Knicks have now dropped their last 4 – contests and 7 of their last 8 games. Although the New York Knicks were playing without their young stars R. J. Barrett, Obi Toppin, and Quentin Grimes due to the NBA's health and safety protocols (COVID – 19 issues).
Curry and the Golden State Warriors were not playing particularly sharp, most likely due to the fact that they expended so much energy and emotion during the early celebration or perhaps it was because they were delayed in their arrival to New York City due to flight issues stemming from problems in Indiana, where they played Monday night and where they coming from.
Although the GSW didn't have their best stuff on Tuesday night, they made sure the struggling New York Knicks could not get anything going as they eventually pulled away following a closely – contested 1st – half of the ball game. By the time Curry made his last 3 – point shot of the evening, the Golden State Warriors went up with a score of 97 to 85 with only 2:40 left to play.
NBA Standings
As of Thursday, December 16th, 2021 the Golden State Warriors possess the best overall record in the NBA as they have gone 23 and 5 so far throughout the 2021 – 2022 NBA season. The red - hot Phoenix Suns are very close behind the Golden State Warriors as they presently have a record of 22 wins and 5 losses (.5 back of GSW). The next closest teams to the Warriors and Suns are the Utah Jazz at 20 and 7 followed by the Brooklyn Nets at 20 and 8. The Brooklyn Nets right now are the best team in the Eastern Conference of the NBA.
Basketball Background of Steph Curry
The 6- foot 3 – inch starting point guard for the Golden State Warriors was born on March 14th, 1988 in Akron, Ohio. He attended high school at Charlotte Christian, a private kindergarten through 12th grade school, located in Charlotte, North Carolina where Steph excelled at the sport of basketball while in high school Curry was named all – conference, all- state, and he helped lead his high school team to 3 conference titles as well as three state playoff appearances.
Due to the fact that his father Dell Curry played at Virginia Tech University for the Hokies, Steph wanted to play his college basketball there, but he was only offered a walk – on spot with the Virginia Tech Hokies. The young and talented Stephen ultimately decided to enroll at Davidson College in North Carolina to play his college basketball career for the Davidson Wildcats who were a division 1 team of the NCAA. Davidson heavily recruited Curry ever since he was in 10th grade.
Curry absolutely lit it up in college over the three seasons that he enjoyed playing ball with his beloved Wildcats. During his final year of basketball at the collegiate level Steph was the NCAA scoring leader, and he was deserving so named a consensus First – Team All – American. Curry forwent his senior year of NCAA college basketball eligibility to hire an agent and enter the 2009 NBA Draft.
With the 7th overall selection in the first – round of the 2009 NBA Draft the Golden State Warriors picked Stephen Curry in hopes his pure shooting ability and basketball I. Q. would help turn their NBA franchise around in the right direction. Boy were they right as Curry has just seemed to have reached his full potential over the last several seasons of the National Basketball Association. Steph has won 3 NBA titles with the Golden State Warriors, and he has been named as the NBA MVP twice as well.
Over the course of his 13 – year professional basketball career in the National Basketball Association Curry has averaged 24.3 points per game, 4.6 rebounds per game, and 6.5 assists per game. Last year during the 2020 – 2021 NBA season Steph had an absolutely phenomenal year. He averaged 32.0 points per game, 5.5 rebounds per game, and 5.8 assists per game last season.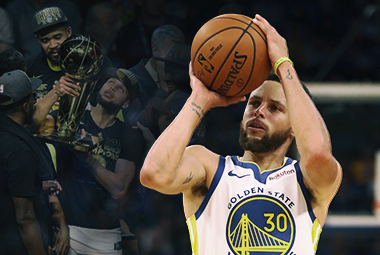 Media Statements
"If you can't do it at home, this is definitely a great Plan B," Stephen Curry stated on his record - breaking night last Tuesday.
"I thought the night was perfect," the Golden State Warriors head coach Steve Kerr proclaimed. "It just pretty much encapsulated who he is and his reaction to it was perfect."
"Steph is the best to ever shoot a basketball and we get the opportunity to go to work with him every day and it's a very special thing," the Golden State Warriors Draymond Green expressed.
Stephen Curry's Basketball Career Achievements, Honors, & Awards
3 - Time NBA Champion (2015, 2017, 2018)
2 - Time NBA Most Valuable Player (2015, 2016)
7 - Time NBA All – Star Selection (2014, 2015, 2016, 2017, 2018, 2019, 2021)
4 - Time All - NBA First Team (2015, 2016, 2019, 2021)
2 - Time All - NBA Second Team (2014, 2017)
All - NBA Third Team (2018)
2 - Time NBA Scoring Champion (2016, 2021)
NBA Steals Leader (2016)
NBA 50 – 40 – 90 Club (2016)
2 - Time NBA Three - Point Contest Champion (2015, 2021)
NBA All - Rookie First Team (2010)
NBA Sportsmanship Award (2011)
Named to the NBA 75th Anniversary Team
Consensus First - Team All - American (2009)
Consensus Second - Team All - American (2008)
NCAA Season Scoring Leader (2009)
2 - Time SoCon Player of the Year (2008, 2009)
3 - Time First - Team All - SoCon (2007, 2008, 2009)
Sources:
"Curry gets NBA record for 3-pointers, Warriors beat Knicks", espn.com, December 14, 2021.
"Stephen Curry", basketball-reference.com, December 16, 2021.
"NBA Standings 2021 - 22", espn.com, December 16, 2021.
Posted by
DavidGreen