Introduction
Primm Valley Resort is one of three casinos located in Primm, Nevada, a border town along I-15 just north of the California state line. Former names of the property include Primadonna Resort & Casino and Terrible's Primm Valley. The resort is owned by Affinity Gaming.
Primm Valley Resort is by far the best place to gamble in Primm. It spreads 15 blackjack tables. Two of these blackjack games actually pay 3-2. The bet range is $10-$500 on these tables. Players can double down on any two cards and after splitting. The other 13 tables pay 6-5 on a natural. Most use continuous shuffle machines. The dealer hits soft 17 in all blackjack games.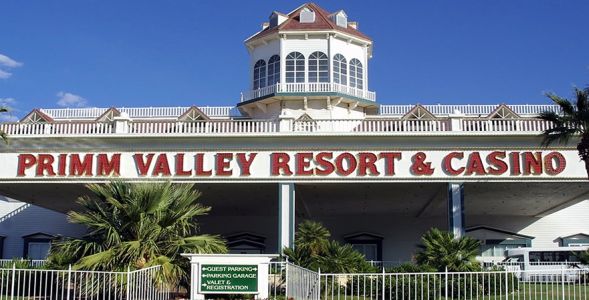 There is also a $5-$500 Face Up Blackjack table. Ties lose, except on blackjack. Blackjack pays even money. Double down after splitting is not allowed. Like the standard blackjack tables, the dealer hits soft 17 at Face Up Blackjack.
There are two $5-$500 craps tables. The odds are 3-4-5 times and the Field pays double on 12. There are three Double Zero Roulette wheels with a $4 minimum bet. There is $5-$100 Let it Ride and Three Card Poker. A Big Wheel table has a $1 minimum bet, while a single Pai Gow Poker table has $10-$500 limits.
The video poker at Primm Valley Resort is marginally better than it is at Buffalo Bill's and Whiskey Pete's, the other two casinos in Primm. Players will find 8/5 Jacks or Better and Double Double Bonus, as well as 6/5 Bonus Poker at the bar that offers a progressive jackpot on a royal flush. The best game is 9/7/5 Double Bonus on the floor, which is also networked for a progressive bonus. The players club returns $1 for every $400 wagered. This adds .25% to the video poker and slot return. All Primm resorts use the same players card.
There is a full service William Hill sports and race book at Primm Valley Resorts. It is the largest available in Primm. There are monitors at all seats in the sports book, as well as big screen televisions throughout. Mobile deposits and withdrawals are accepted at the Primm Valley sports book. The app will not work in most of Primm though as it is too close to the California border to locate correctly.
Hotel
Primm Valley is the high end hotel out of the three resorts in the small border town. The rooms are 310 square feet. Rates start at $55 during the week and $90 on weekends. Saturday nights tend to run as high as $110. Premium weekends can run into the mid $100's. Guests may choose between a single king and two queens. There is also a $6 per night resort fee.
Restaurants
Primm Valley offers the widest variety of dining options in Primm. GP's Steakhouse is the highest end dining option in Primm. It is open nightly from 5pm to 11pm. The Original Pancake House is open 24 hours a day, 7 days a week. The Back Nine serves beer and bar bites starting at 11am daily. The Country Club Buffet is open for breakfast, lunch, and dinner daily. Coffee Corner opens daily at 6am. The food court offers pizza and ice cream.
Entertainment
Primm Valley offers concerts at its 6,500-seat Star of the Desert Arena many weekends during tourist season. Primm Valley Resort offers a spa that is open Thursday through Sunday. Two golf courses and an outlet mall are within walking distance. Buffalo Bill's, located across the street, has an amusement park that is open on weekends.
A tram connects guests with all amenities within Primm. It only operates on Fridays, Saturdays, and Sundays.
Primm Valley Resort is the only property in the resort town with meeting space. Its convention center is within walking distance of the casino.
My Conclusion
If you stay in Primm, the only option for serious gamblers is Primm Valley Resorts. It is the only place to find 24 hour table games and 3-2 blackjack. It is worth the higher hotel rates. Buffalo Bill's guests can simply across the street for the better games.