Introduction
Maryland legalized full casino gambling in 2012. As of this writing in 2019, the Live is one of six Maryland casinos. The Live is located in Arundel Mills, which is a nice suburb of Baltimore, located near the Baltimore-Washington airport. It was built in the parking lot of the Arundel Mills Mall. They now have a large and free parking garage that serves both the casino and mall.
Here are some statistics about the Live, according to Wikipedia:
4,200 slots and electronic table games
189 live table games
52 poker tables
5,000 parking garage spaces
310-room 17-story hotel and conference center
By way of comparison, the MGM in Las Vegas has 2,470 slots, 178 table games, and 22 poker tables, according to our own Las Vegas hotel guide.
As you can see from these statistics, the Live is ENORMOUS. Despite it's huge size, there isn't a great deal to do besides gamble. Their web site lists 11 restaurants and signage promotes various promotions and live shows. However, as far as I know, there is no permanent show that you can see on a regular basis.
The Live is happily mostly non-smoking. I am told they have a separate Orchid Casino that does allow smoking, but it wasn't open at the time I was there early in the morning. They also have self-serve soda machines scattered about the casino. Maryland law forbids giving free alcoholic beverages. A floor supervisor told me that a draft beer costs $5 and a bottled beer costs $6.
My Visit
I visited the Live at about 8:00 AM on Thursday, April 25 (the perfect date), 2019. As you might expect early on the Thursday morning, the casino was very quiet. I would roughly estimate that 25% of tables were open and about 5% of slots were being played. I didn't have a great deal of time, so spent about 90 minutes wandering about the casino taking notes for this review. My interaction with staff was minimal.
In taking notes for video poker and video keno, I put a bill into a bar top machine, to look more like a real player and less like a spy. From previous reviews, I have learned security does not like middle-aged men walking about the casino taking notes. After I put a $100 bill in the machine I started pressing buttons to see the video poker pay tables. However, I quickly noticed that I had $98 in credits only. Perhaps I accidentally made a bet, but I thought you couldn't leave a screen mid-game. I asked the bartender about my missing $2, but she said she knew nothing about the machines and didn't gamble herself. So, I clicked the "help" light and continued taking notes. About ten minutes later no slot attendant had shown up so I clicked "cash out" and left. Two dollars wasn't worth waiting ages for.
I would like to say that a floor supervisor was nice and helpful with my questions about the blackjack rules and alcoholic drink policy. However, that was negated when I tried to leave with a plastic cup of ginger ale and a security guard bit my head off, saying "You can't leave with that!"
I might have played a little to get a better feel for the Live, but the table game minimums were very high and I had only about $100 on me at the time. All things considered, I found the Live to be very modern, clean, and enormous. However, it also came off as rather sterile and lacking in energy, but keep in mind I was there in a Thursday morning.
Big Six
The Live follows the Atlantic City rules in big six. The house edge ranges from 11.11% to 22.22%.
Blackjack
The only rule that seemed to vary from table to table was what a blackjack paid. When I was there tables with a minimum of $10 paid 6 to 5 and minimum of $25 and up paid 3 to 2. The other rules were as follows:
Eight decks
Dealer hits soft 17
Surrender allowed
Double after split allowed
Re-splitting aces not allowed
Continuous shuffler
Using my blackjack house edge calculator, the house edge on the 6-5 game is 1.91% and on the 3-2 game is 0.56%.
The Current Blackjack Newsletter reports a game where the dealer stands on a soft 17, paying 3 to 2, with a cut card, in the high limit room. All other rules being the same, that house edge would be 0.35%.
Side bets found on most tables were the In Between and Super 4.
Craps
10x odds are allowed, which is generous. The field is the stingy version, paying 2 to 1 on both the 2 and 12. Minimums were $10 and $25 at the time I was there.
Poker
The poker room is enormous. According to Wikipedia, it has 52 tables.
Slots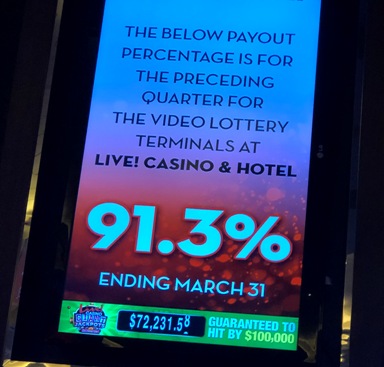 A large percentage of the casino floor space is devoted to slots. The games were very modern and popular. The expiration on slot tickets is 182 days. Digital signage in the casino indicate that the payout percentage on slots* in the previous quarter (first quarter of 2019) was 91.3%. By way of comparison, the return in Nevada for the 12-month period ending 3/31/19 was 93.14%.
*: In the industry, a "slot" is any gaming machine where the outcome is based on random numbers, as opposed to a human dealer.
Video Blackjack
The only video blackjack I found was on bar top machines, which usually have awful rules. The Live took the usual awful rules (blackjack pays even money, no doubling, and no splitting) and added insult to injury by increasing the decks from one to two (which is bad for the player). Here are the full rules:
Two decks
Dealer stands on soft 17
Blackjack pays 2 for 1 (even money)
Six card Charlie (a player six-card hand automatically wins)
No doubling or splitting allowed
That makes their video blackjack game the worst set of blackjack rules I've ever seen in the United States, with a house edge of 4.33%.
Video Keno
Much like video poker, video keno is difficult to find. I found it only on bar top games. Here are the games and pay tables I observed for a 25¢ game.
Spot Keno — 0,0,0,0,2,12,98,1450,8000 — 88.20%
Caveman (8x) — 0,0,0,1,2,5,68,200,1000 &mash; 92.20%
Cleopatra — 0,0,0,0,3,10,56,180,1000 — 90.15%
Power — 0,0,0,1,2,6,21,100,500 — 89.65%
Super — 0,0,0,0,1,6,58,850,2500 — 88.69%
Triple Power — 0,0,0,1,2,6,12,90,500 — 88.55%
Video Poker
Compared to any Nevada casino, video poker is pretty scarce at the Live casino. I noticed only one bank of machines in what is an enormous casino. Most of the games can be found on bar tops. At the machine at a bar I checked the player could bet denominations of 5¢ to $2. Here were the games and pay tables available at the $1 denomination:
I noticed a couple of other games available only at the $2 denomination, as follows:
I also checked a bank of multi-play games (3-, 5-, and 10-play). I forgot to note the denomination, but here were the games and pay tables available:
Bonus Poker (10-8-5-3-1) — 94.18%
Bonus Poker Deluxe (6-5) — 93.36%
Deuces Wild (25-15-10-4-3-2-2) — 94.82%
Double Double Bonus (6-5) — 94.66%
Jacks or Better (9-6) — 95.00%
Triple Double Bonus (7-5-4) — 94.92%
To summarize, the video poker on the main casino floor is extremely stingy. Every game was set to the lowest possible pay table that I'm aware of. Many were pay table so bad I had never encountered them before and had to run them through my video poker analyzer. In all fairness, VPfree2 indicates some better games in their high limit room, as high as Illinois Deuces, which return 98.91%. The casino is so huge that I never found said high limit room.
Other Table Games
Following are other table games available at the time of my visit:
Ultimate Texas Hold 'Em — $15 minimum
Mississippi Stud — $10 minimum
Criss Cross Poker (all tables closed at the time of my visit)
Roulette (double zero)
Baccarat (lots)
Pai gow poker — $25 minimum
The Live web site has a list of their table games.
Player Club
The Live web site indicates a long list of benefits of its six-level player reward program. However, nowhere does it mention how much play is required to earn a point and what a point may be redeemed for. VPfree2 indicates every $2 bet in video poker earn one point, but they also don't know if points are directly worth any cash back, free play, or comps.
I believe the player club to affiliated with the 13 other in the Live casino family.
Conclusion
While in awe of the enormous size of the Live, I left unimpressed. The table game minimums were high, the video poker pay tables terrible, and there seemed nothing to do but gamble. On the positive side, they have plenty of free parking, soda machines, and most importantly the main casino floor is non-smoking.
During the same trip I also visited the Horseshoe in downtown Baltimore, which I found much more lively, fun, with better video poker and lower table game minimums. The only reason I might go to the Live is if it is geographically convenient. As near as I can tell, it isn't worth traveling a long distance for.