BJ21 Relaunch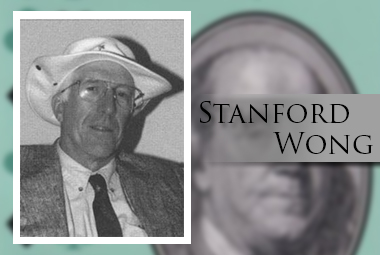 It is with great joy that I announce the official relaunch of BJ21.com, with a new modernized look and greater navigability than its previous version, as I understand it.
As everyone knows, Blackjack has never really been a focus of mine, so I cannot claim to have ever really paid all that much attention to BJ21 prior to the purchase of the site by the owner of this site, Joshua Chan. Even with that said, though, I cannot help but be impressed with the new layout of the site and plan to explore it in detail.
Even though Stanford Wong is no longer working for the site, (though Al Rogers still is) out of respect, the site remains, "Stanford Wong's BJ21." It is, after all, the house that he built, the house just happens to be sold to a new owner.
The homepage of the site consists of prevalent tabs leading to articles related to specific areas of Blackjack. The, 'Advantage Play,' section consists of relatively recent articles with a heavy focus towards bankroll requirements with some general advantage play advice (that would apply to anyone) and some psychological type articles, as well. One can assume that all of the sections will have content added and will continue to expand, but the articles already there are certainly worth a read.
The, 'Blackjack,' section does what it says on the box and contains articles that are exclusively about blackjack. Again, the relaunch of the site comes with some relatively recent articles (for all of the tabs) which would give anyone interested in blackjack a solid afternoon of reading material.
The, 'Card Counting,' section is an excellent one stop shop for anyone interested in the rudiments of counting cards. I would suggest that any individual interested in card counting would do well to stop by that section and read those articles prior to asking anything on the forums. Not only, as a beginner, will you likely get the answers to the questions that you were probably going to ask, but it will give you a basic platform from which you can generate more meaningful specific questions. In other words, I would consider those articles something of a prerequisite to even be able to meaningfully discuss counting cards. As I've stated, Blackjack is hardly a focus of mine and I am already keenly aware of the information in those articles.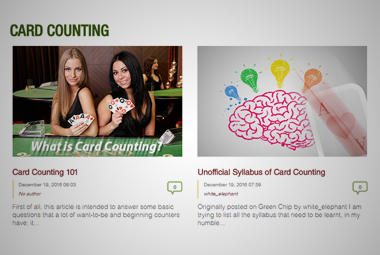 The, 'Bankroll,' section currently only consists of two articles, but it also happens to have one of my favorites on the site: Playing with Borrowed Money, by Yancy. In that article, Yancy answers the question, "Have you ever borrowed money to finance your gambling," with a resounding yes, but in this case, it all paid off in the end. Yancy went from a substantial risk-of-ruin to a risk-of-ruin (now) of almost zero and it all started with a loan. I don't want to give away too much, so let me just suggest that everyone interested read the article. Here's a direct link.
The, 'Casino Employees,' section, naturally, focuses on articles written or pertaining to casino employees. Even if you're one of those who looks at the casino itself, as well as all of its employees, as, 'The enemy,' it still wouldn't hurt your cause at all to be able to think how they do. The articles in this section will be geared towards that end, and whether you are an aspiring blackjack AP or not, certainly make for some interesting reading.
The, "Further Study," section seems to largely consist of articles that meet the criteria of multiple previous sections, in essence, they mostly cover more than one of the previous general topics simultaneously. My favorite (so far) in that section is Loving and Hating Blackjack by Columbo, which basically is a combination of personal experience, information and just a little bit of biting sarcasm and acerbic wit thrown in for good measure. Excellent article!
The, 'Patron Abuse,' section covers links to media reporting of abuse of casino players as it happens. We can assume that Al Rogers will be ever on the lookout for more cases and will link us to them as they arise, so this is definitely a very useful section for prospective and current AP's to check every now and then for new information. Hell, maybe it will even be a good place for Bob Nersesian to peek in from time to time.
The, 'More,' section is simply a section with a handful of sub-tabs that do not necessarily apply to Blackjack, but apply to other areas of gambling and/or advantage play. The main focus of the site is Blackjack, of course, so where Blackjack may be a minor focus over here or on the Odds site, everything else is essentially a minor focus on BJ21.
In the top right of the main page, there are a few other tabs which enable one to subscribe to the site, post on the free forum, or become a Green Chip Member of the site. Green Chip membership is a paid membership that enables the user to get access to other areas of the site that would not otherwise be available. These areas of the site contain all sorts of useful information to current and aspiring card counters and other AP's as well as historical information that has been shared in that regard. One must be logged in to obtain a Green Chip membership or to order Current Blackjack News, so if you click on either of those things, you'll be taken to a login screen. Obviously, you're going to need to register before you do anything with that. Basic registration is, of course, free and your information will be kept confidential.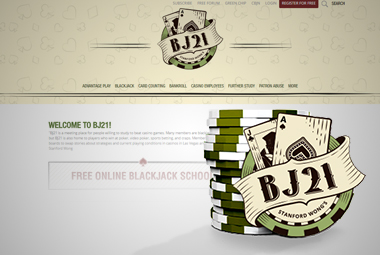 For those of you concerned with sharing information for fear of being outed, don't be. Joshua Chan, the current owner of both this site and that would never do such a thing to anyone, least of all, Blackjack AP's. Remember that Mr. Chan got his start by APing blackjack, namely online blackjack, so he would never take or allow to be taken any action that could potentially place blackjack AP's in jeopardy.
At the bottom of the page is a link to a section of the site called, 'Blackjack School,' which provides a smorgasbord of information and tutorials to help the aspiring card counter. While those just reading recreationally will gloss over it, or perhaps open up a section or two out of mild curiosity, this section is a wealth of information for anyone serious about learning the game and how to beat it.
Anyway, the site is definitely worth a look and that much better for having Mr. Chan in control of it. There have been, and will be, serious improvements in both site design and content as there have been with all sites owned by Mr. Chan. As a worst case scenario, someone without much interest in Blackjack, or only somewhat curious, will have an afternoon's worth of informative and entertaining writing with which to whittle a day by. For those truly serious about the game, even with or without the green chip membership, the site will prove to be a valuable resource that you will visit again and again.
Posted by
Mission146