Introduction
On Monday, January 11, 2021 the number one ranked University of Alabama Crimson Tide took on the number three seed Ohio State University Buckeyes in the 2020 – 2021 College Football Playoff National Championship Game presented by AT&T. Alabama ended up destroying Ohio state with a final score of 52 to 24. This ball game was only close during the first quarter or so before the Crimson Tide pulled away with their superior offense.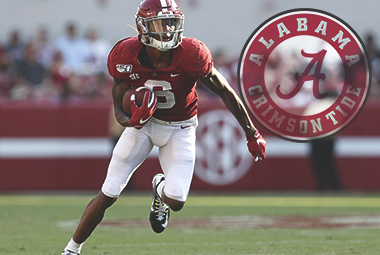 DeVonta Smith
The biggest weapon that the Alabama Crimson Tide utilized on the offensive side of the football throughout the 2020 – 2021 NCAA college football season was their small but fast wide receiver, DeVonta Smith. Not only did he win the Heisman Trophy this year, but Smith also was named the most outstanding offensive player of this NCAA College Football National Championship Game. DeVonta miraculously was able to compile 215 yards off of 12 receptions as well as 3 touchdowns in just the first half of this highly anticipated match up.
Unfortunately, Smith injured his fingers early on in the third quarter of the National Championship Game and was unable to return to football action on Monday, but he put up record setting numbers in the first half of the title game while cementing his legacy at the University of Alabama forever. There is no doubt that he will be heavily considered for a top selection in the 2021 NFL draft as he possesses all the necessary skills, but the only question regarding Smith is his small size as well as his ability to remain healthy in the hard hitting and grueling National Football League.
Mac Jones
The starting quarterback for the Alabama Crimson Tide, Mac Jones, had an unbelievable performance in the 2020 – 2021 College Football Playoff National Championship Game. He posted a CFP record of 464 yards while completing 36 of his 45 pass attempts for 5 touchdowns. Jones may not be as athletic as other quarterbacks entering the 2021 NFL draft such as Trevor Lawrence or Justin Fields, but he is a much more cerebral player. Mac reads his progressions well, and he seems to be a step ahead of the defense he is throwing against.
Najee Harris
Najee Harris racked up a total of 158 yards from scrimmage on his 29 touches during this college football finale. Harris scored 3 touchdowns this game which set his season total at 30 touchdowns and is good enough for the SEC record. Najee looks like a man amongst boys, and I look forward to watching him on Sundays while playing in the National Football League.
Nick Saban
The head coach of the Crimson Tide, Nick Saban, has now won 6 National Championships over the course of his last 12 years at the hem coaching in Tuscaloosa, Alabama. When you combine that with his previous National Championship that he won years back at LSU he now has 7 NCAA College Football titles breaking a tie with Alabama great Paul "Bear" Bryant for the most by a major college coach as Bryant had 6 championships. Saban should now be considered the best college football coach of all time, and he is not done by any means.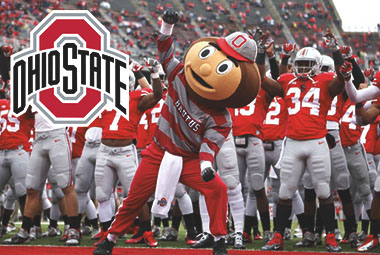 The Ohio State Buckeyes
The Ohio State University Buckeyes gave it their best effort, but they were simply overmatched, outcoached, and overall too beat up to last with the Alabama Crimson Tide during the course of this CFP National Championship Game. The OSU starting quarterback, Justin Fields, endured a massive hit to his side during the CFP Semifinal Game against the Clemson Tigers. Fields displayed enormous tenacity by the way he finished that game leading his team to victory, but he seemed to slightly off after taking a few hits in the final versus Alabama.
On top of that the Buckeyes starting running back, Trey Sermon, was injured and lost for the game on the first drive. The Ohio State Buckeyes did have a great season although they played about half the amount of games that Bama did due to the COVID – 19 pandemic. I highly doubt that any other college football team would have been able to slow down the Crimson Tide's explosive as well as extremely impressive offense in the National Championship Game.
Media Statements
"I think we're the best team to ever play," the University of Alabama Crimson Tide's starting quarterback, Mac Jones, emotionally expressed.
"To me this is the ultimate team," the head coach of the University of Alabama Crimson Tide, Nick Saban, stated. "There is more togetherness on this team than on almost any team we've ever had. They've had to overcome and to persevere so much through this season, and they have done it magnificently."
"I was able to be out there," the starting quarterback of the Ohio State University Buckeyes, Justin Fields, said.
"I think there's a feeling of, if you don't score you're going to get behind and then the pressure mounts," the Ohio State University Buckeyes' head coach, Ryan Day, explained.
"Everybody is so together," says the University of Alabama Crimson Tide's wide receiver, DeVonta Smith. "People last year said the dynasty was over. We don't stop. We just keep reloading."
"To me this team accomplished more than almost any team," Saban relayed. "No disrespect to other teams we had but this team won 11 SEC games. No other team has done that. They won the SEC and went undefeated in the SEC and then they beat two great teams in the playoffs with no break. I think there's going to be quite a bit to write about the legacy of this team."
"Heaven knows what he would have done if he played the whole game," Saban contemplates.
"We all had a mission trying to end things the right way," says Smith. "We all went to work and it ended the way we wanted."
Sources:
"No. 1 Alabama wins national title 52-24 over No. 3 Ohio St", espn.com, January 11, 2021.
"2020 Alabama Crimson Tide Stats", sports-reference.com, January 13, 2021.
"Alabama Crimson Tide School History", sports-reference.com, January 13, 2021.
"2020 Ohio State Buckeyes Stats", sports-reference.com, January 13, 2021.
"Ohio State Buckeyes School History", sports-reference.com, January 13, 2021.
Posted by
DavidGreen