Introduction
On Tuesday, March 15th, 2022 the Green Bay Packers have announced that they have reached an agreement with Aaron Rodgers and his agent on a new blockbuster NFL contract extension that will most likely keep Aaron in Green Bay with the Packers for at least the next 2 - upcoming seasons of the National Football League.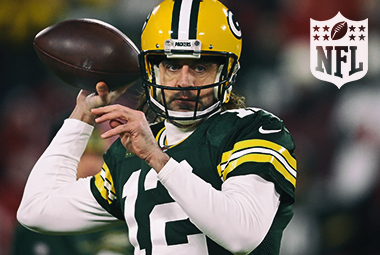 This new and exciting deal that Rodgers just signed with the Green Bay Packers basically includes $150 million of guaranteed money over the course of the next 3 - years with 2 - voidable years (2025 & 2026) to help with salary - cap issues and / or purposes.
Rodgers, who is currently 38 years old, was previously on the Green Bay Packers' books for an extremely large salary - cap hit of $46,144,156, but fortunately for the Green Bay Packers now with the restructuring of Aaron's contract extension that huge and seemingly in surmountable number will be condensed by about $18 million.
The reigning 2 - time MVP of the National football League is scheduled to earn $41.95 million this upcoming 2022 - 2023 NFL season, which is in the form of total guaranteed money via a $40.8 million roster bonus (which will be looked at like a signing bonus for salary - cap purposes) as well as a base salary of only $1.15 million (once again for salary - cap purposes).
Aaron's 2023 pay of $59.465 million is fully guaranteed too. In 2024, his $49.25 million is guaranteed only against injury at the time of signing. This means that all of the approximate $150 million over the upcoming 3 - NFL seasons is fully fucking guaranteed money for Mr. Rodgers.
If Aaron decided to play just 1 - season and then go into retirement, he gets released, or is traded in 2023, the Green Bay Packers would have to soak up a minimum of $68 million in dead money (and possibly up to $99.8 million if that occurred before June 1) which is just another sign that the superstar QB expects to play or has committed to playing at least 2 more seasons in the National Football League. In 2024, the dead money may possibly be minimized to as low as $27.6 million.
Done Deal
A staff member of the Green Bay Packers' medical team took a flight to visit Rodgers over the past weekend to give Aaron the physical that is standard procedure prior to any NFL contract being signed. Once that physical was concluded, the new contract extension between Rodgers and the Green Bay Packers was as good as done.
Initially the Green Bay Packers were $21.2 million over the salary - cap prior to Rodgers' new deal splashing the franchise's books, but now after that nifty restructuring of his contract the Green Bay Packers are fairly close to sitting under the salary - cap, which they have to be by Wednesday, March 16th, 2022 at 4:00 p. m. ET according to the guidelines of the National Football League.
They will still have to make several more moves in order to satisfy this league standard, but releasing their place kicker and good personal friend of Rodgers, Mason Crosby, is not expected to be one of those necessary moves that will have to be made very soon here.
Aaron's return to the only NFL franchise that he has ever played for in the Green Bay Packers now places their backup QB, Jordan Love, on the hot seat. In fact, he might be let go sometime soon especially after his rookie NFL contract expires.
The Green Bay Packers general manager, Brian Gutekunst, decided to draft Love during the 2020 NFL Draft which really pissed Rodgers off, and that originally began all the turmoil between their elite superstar future hall of fame quarterback and the organization a couple of years ago. Not too long following the Green Bay Packers selecting Jordan Love, Rodgers echoed his desire to not only play into his 40's, but for him to do it in Green Bay with the Packers.
Rodgers previously revealed when the Green Bay Packers selected Jordan Love during the 2020 NFL Draft by stating, "May not be a reality at this point (playing into his 40's with the Green Bay Packers). I'm just not sure how that all works together at this point." He was obviously not happy with his franchise taking a possible replacement for him.
What followed that incident was a bunch of nonsense including an offseason - long boycott in which Rodgers missed mandatory workouts, organized team activities, and even minicamp during which Rodgers was so frustrated with the Green Bay Packers that he told some individuals in the organization that he won't ever play for them again.
Upon his ultimate return to the franchise right in the nick of time on the eve of training camp, Aaron managed to sign a restructured contract which abolished the final year of his agreement, for the 2023 - 2024 NFL season, that only made it much easier for him to divorce from the Packers following the last football season. Rodgers loves having the Green Bay Packers by the balls, and he has possessed that for the last few years as the Packers know they would be awful without him running their offense.
Rodgers broke Brett Favre's franchise record of 442 - career touchdown passes last season, finishing the year with 449 TD's. Rodgers now has a chance to break several more of Favre's other franchise records over the course of the next year or two, including Brett's record for career passing yards. Only time will tell.
Football Career Achievements, Honors, & Awards
Super Bowl Champion (XLV)
Super Bowl MVP (XLV)
4 - Time NFL Most Valuable Player Award (2011, 2014, 2020, 2021)
4 - Time First - Team NFL All - Pro (2011, 2014, 2020, 2021)
Second - Team NFL All - Pro (2012)
10 - Time NFL Pro Bowl Selection (2009, 2011, 2012, 2014, 2015, 2016, 2018, 2019, 2020, 2021)
4 - Time NFL Passer Rating Leader (2011, 2012, 2020, 2021)
2 - Time NFL Passing Touchdowns Leader (2016, 2020)
NFL Completion Percentage Leader (2020)
NFL 2010's All - Decade Team
Bart Starr Award (2014)
Associated Press Athlete of the Year (2011)
Bert Bell Award (2011)
NFL Records
Highest Passer Rating in a Season with 122.5 in 2011
Lowest Interception Percentage in a Season with 0.3 % in 2018
Most Consecutive Passes without an Interception with 402
Fastest NFL Quarterback to 400 Career Passing Touchdowns with 193 games
Lowest Career Interceptions Percentage with 1.3 %
Best Career Touchdown to Interception Ratio with 4.83
Sources:
"Aaron Rodgers' extension with Green Bay Packers includes $150 million over first three years", Rob Demovsky, espn.com, March 15, 2022.
"Aaron Rodgers", pro-football-reference.com, March 15, 2022.
Posted by
DavidGreen