Introduction
To this point, I have written about a few of the promotions offered by our advertisers here on WizardofVegas.com, and while these are Wizard of Odds APPROVED casinos, there are a number of others that we certify to be fair casinos and will mediate any dispute that you first try to resolve yourself. For your convenience, a list of all such casinos has been placed on a WizardofOdds.com page, "Getting Started with Online Gambling:"
The most formulaic way to look over these promotions is by simply going down the alphabatized list, but on some occasions, more than one casino will be lumped into the same article if there is only one promotion per casino, or if they are all something simple, such as no deposit bonuses.
The first set of promotions we're going to look at are from 32Red Casino. Unfortunately, 32Red (as you can see) is not a, "US Friendly," casino, so these promotions will be for individuals living outside of the United States. The first type of promotion is a promotion for a, "No Deposit Bonus," of 10 Euros. We strongly recommend No Deposit Bonuses for new players to online casinos (in general) because it gives the player the opportunity to try out the games and see if there is anything they like, all at no financial risk to themselves.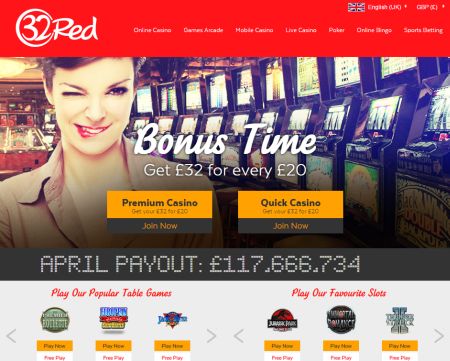 As with most No Deposit Bonuses, there is a maximum withdrawal amount attached to this one, and that amount is 100 Euros. This may seem stingy, but a Bonus withdrawal of 100 (10x the amount of the Bonus) is not a terribly uncommon one, and again, it makes perfect sense that the casino may not want to risk paying out a huge jackpot to someone who had no intention to deposit money in the first place.
It is also important to note that 32Red is affiliated with Nedplay Casino, Golden Lounge Casino and Dash Casino, and the player is only permitted to take one New Player Bonus from any one of these four casinos, the promotions at the other three will appear at the end of this article.
For the No Deposit Bonus, the playthrough requirement for Slots and Video Keno is a fairly liberal 50x, requiring only 500 in total bets. This might be somewhat good value for the player because the player can get the play over with quickly, regardless of how it turns out. The Microgaming Software Keno doesn't have the highest house edge in the world, but even knowing nothing about the slots, I think the slots might be a player's best chance if they only want to deal with a 500 unit wagering requirement. The reason why is because the low(ish) house edge of the Microgaming Keno is largely due to fractional pays that would be losses in most brick & mortar casinos as well as increased weighting towards lower pays. While a player could very reasonably get 500 units in bets through and book a win, (the lowest expected loss on 500 bet is $25.50 on the thirteen-spot) it is highly unlikely that a player will be able to win $100.
The playthrough requirement for Video Poker would be 5,000, so a player could also play Jacks or Better with an expected loss of 23 on 5000 in bets and hope to run fairly well on straight flushes, four-of-a-kinds, or to hit a Royal.
Ultimately, because 32Red has chosen not only to restrict the maximum cashable bonus to 100, but then also to restrict the max betting allowed, I don't see this promotion as being valuable other than the possibility of getting something for nothing. Compared to other online promotions, this isn't terribly aggressive and I cannot figure out a way by which the player is expected to win with the extremely restrictive max bets. Perhaps a player could try to nail a single number at Roulette and then use two-spot Keno to hopefully grind out the play-through requirement and log a win.
Finally, there is another Bonus in which a player can deposit 50 and receive 160 in Bonus Funds. Unfortunately, this Bonus is not terribly interesting, either. If it can be played at an advantage at all, the advantage would not even remotely be worth the time the player would have to invest. The bonus itself is not cashable, and wagers are restricted to 6.25 units per bet, making a quick doubling of the bonus amount impossible.
Nedplay Casino
Having visited the Nedplay Casino website, it appears that there is a 100% Match Bonus of up to $100 for first time players. Once again, this promotion suffers from the same weaknesses as the 32Red match offer in that there is a maximum bet of 6.25 on everything. Even more unfortunately is the fact that the 32Red Bonus amounts to 320% Match Bonus while this is a straight 100%, both casinos use Microgaming Software and have the same games, so the 32Red Bonus is actually better than this one.
Golden Lounge Casino
This casino is also offering a 100% Match Bonus on $100, but it also follows it up with a 25% up to $50 and a 50% up to $50 Bonus. Once again, the games and software are the same, the bonus is not cashable and the 6.25 Maximum Wager remains in place. As a result, this is also not a strong promotion for the player and the 32Red promotion is better simply because the player is getting a larger Match Percentage than this casino offers.
Dash Casino
Dash Casino is also offering a 100% Match Bonus, which is not cashable, and otherwise has the same terms as the other promotions above. For this reason, the promotions at any of the aforementioned casinos are superior to the ones at Dash Casino.
Recommendation
Personally, I would recommend simply playing the No Deposit Bonus at 32Red and betting somewhat high at Keno in an attempt to multiply the $10, and then try to grind out the playthrough requirements on a low house edge game in the event of a decent hit. All of the promotions on this (WizardofVegas) site I have looked at so far are stronger than any of these promotions. Also, the verbiage of 32Red seems to suggest that a player is allowed to use the Match Bonus even after he has done the No Deposit Bonus, provided he uses the Match Bonus at 32Red.
Again, I don't really know whether the Match Bonus presents an advantage in and of itself at any of these casinos due to the low 6.25 Unit Maximum Bet during the time the Bonus is being played. If there is an advantage to be had, the cash value is probably simply not worth the time. Interestingly, however, the value would be maximized (in terms of percentage) by depositing the lowest amount possible and using the 6.25 Max Bet to try to hit a single number at Roulette and then grinding out the rest of the play on something else. It's small, but it's something. For a player that has exhausted all New Member bonuses everywhere else, one of these Match Bonuses may be worth a try.
Posted by
Mission146