Introduction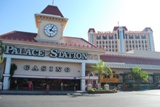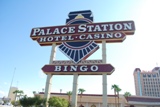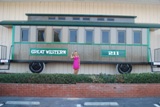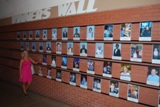 Palace Station is an gargantuan casino complex just west of the Las Vegas strip. It opened in 1975 as the Bingo Palace, and was the first casino specifically targeting the locals market. (For comparison, Sam's Town opened in 1979). It was the first outlet in the now enormous family of Station Casinos. The chain is owned by the Fertitta family — the company recently went through a lengthy bankrupcty, but the family was allowed to retain control of most of the casinos. The property mostly appeals to locals, as well as value-minded vistors. It has some of the most affordable hotel rooms in Las Vegas.
According the Nevada Gaming Control Board, Palace Station has 51 table games and 1605 slot machines. There is also a race book, a sports book, a keno lounge, and a bingo hall. The hotel has 1030 rooms.
For true crime fans, this is also where the infamous OJ Simpson sports memorabilia robbery occured in 2007. You can even see the room where the incident took place. (Room 1203). Enjoy!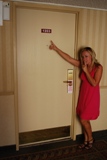 Location/Transportation
Palace Station is located just west of the 1-15 on Sahara Avenue. This is significantly off-strip. It is not really possible, nor would it be pleasant, to walk to the strip from the hotel — you would have to cross the 1-15 and the traffic volume is high. Palace Station does offer a shuttle to the strip, which lets passengers off by the Fashion Show Mall. I did not ride the shuttle, but it departs every one and one-half to two hours during the day/evening. I think that is too infrequent.
By car, you can access the property from Sahara Boulevard directly, or by turning left on Rancho as soon as you exit the 1-15 North. There are three turning lanes after the I-15, and traffic can be chaotic, but rest assured you will be able to access the property from either street. There is a large parking garage at the rear of the property, as well as plenty of surface parking. This being Vegas, there is also a free valet by the hotel entrance, and by the casino entrance as well.
There is a sizeable truck parking lot at the rear of the property.
Hotel
I booked one night's stay through the Palace Station website at $19.99 for a weekday night. This rate was for the Courtyard rooms. Upon check in, I was asked if I wanted to upgrade to the Tower rooms for $10.00 more, which I accepted.
The Courtyard rooms are located in small, two story motel-style buildings surrounding a pool adjacent to the casino. They are older style rooms with dated furnishings, similar to the Manor rooms at Circus Circus, the Garden rooms at Tropicana, and the Capri rooms at Imperial Palace. These are some of the last vintage Vegas motel rooms, and if you do not need the latest and greatest, I think they offer good value. If you can get a room close to the the casino, you will have the shortest walk to the gaming area and restaurants of any of the hotel rooms.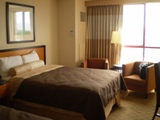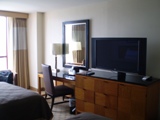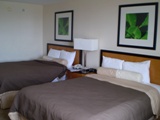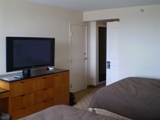 On the flipside, the tower rooms are significantly nicer, and have newer features like flat-screen TV's (courtyard has tubes), an upgraded bedding package, and more modern furnishings and decor. There is no denying these rooms are small, however. I could hear my neighbors early in the morning. One of the best features is the fantastic view of the Strip. You can see every property from the Wynn down to Paris and beyond. If you can swing it, I would request a Strip view if you decide to stay at Palace Station.
Amenities include Tarocco-branded tolietries: condiitioning shampoo, moisturizer, and soap — with Sicilian orange extract, iron/ironing board, and in-room safe with an electronic lock. There is no refrigerator or minibar. There is also no coffeemaker. Room service was available, and a copy of the Review-Journal was delivered every morning outside the door, which I thought was a nice touch.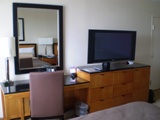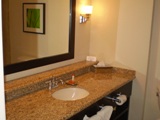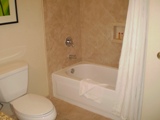 Palace Station charges a "resort fee" of $16.79 ($14.99 plus tax) per night. According to a sign at check-in, this includes: shuttle to the Las Vegas Strip, airport shuttle transportation, pool access, high-speed internet in every room, unlimited local and domestic long-distance calls, gym access, complimentary copy and fax service, and an on-site notary Monday-Friday. By way of comparison, The Venetian's resort fee is $17 a night, and Caesars/Harrah's properties do not charge a resort fee at all. I find resort fees extremely disingenuous. It allows hotels to get their rates listed at the top of the discounting websites as the cheapest rate, and then they add the resort fee which is almost as much as the cost of the room itself. I will say it was nice to have wireless internet, but many hotels include this in the regular rate. Including the resort fee and the upgrade, the total cost of my room was $50.38, including tax.
Palace Station has a small pool by the Courtyard rooms. There is not much landscaping, but they do offer food service though use of a phone next to the pool where you can call a server and order food. There are two changing rooms. There is a small hot tub as well. Also in the courtyard annex is a gym, with a couple elliptical machines, treadmills, stationary bicycles, and a set of dumbells. There is a beauty salon/babershop nearby the pool.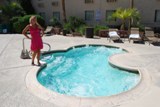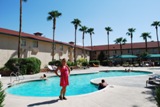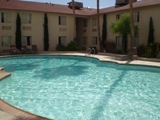 I can't say I had any problems with the room, as the bedding was very comfortable, with high thread-count sheets, and a nice comforter. The termperature is electronically controlled, and I was able to get the room nice and frigid at night, which is the way I like it.
Restaurants/Dining
For a locals' casino, Palace Station offers a multitude of dining options. They entail:
Cabo (Mexican).
Broiler (Steakhouse).
Pasta Palace (Italian).
Feast Buffet.
Starbucks.
Jack's (Irish pub).
Grand Cafe (coffee shop).
Food Express (Chinese).
Oyster Bar.
To give some examples of prices, steaks at The Broiler ranged from $26-$34, and the Pasta Palace was offering make-your-own pasta for $8.99. The Grand Cafe had an Angus burger for $5.99 and a 2-egg skillet anytime for $3.99. The Buffet was $5/$7/$10 for breakfast/lunch/dinner if you had a players card. At the oyster bar, 1/2 dozen oysters was $11.99 and a dozen was $16.99. Anytime you can get oysters for less than $2, I think it is a good deal. I noticed a lot of baccarat players dining on Chinese food from Food Express tableside while gaming. I have to confess it looked pretty good.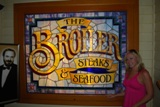 For dinner, I ate at Cabo, and sat at the bar. I had a mojito, a shrimp cocktail, and ceviche. The food was just okay. The mojito did not have fresh mint, and I believe it was made with some sort of mix. I had the same problem with a Margarita I ordered later while gaming at the tables. The shrimp cocktail was prepared Mexican style, but it was not nearly spicy enough, and they didn't use enough cilantro. (To be fair, I know a lot of people find cilantro repugnant, but I love it). The ceviche was an insult to ceviches everywhere. Having been to Peru, where you can get great ceviche, this was nowhere close. They used cocktail shrimp, and it didn't have any bite to it. I may have been too critical, however, since my tab was only $3, and the service was excellent. The bartender was especially friendly; she had been working at the property for ten years.
After a night of gambling, I was peckish and couldn't find anything in the casino that appealed to me. Thankfully, there is an In-N-Out Burger a short walk away on Sahara. Las Vegans don't know how good they have it with In-N-Out. I ordered a single cheeseburger, animal-style, and it was excellent. To me, the proximity of In-N-Out Burger is a major plus for Palace Station. On the way back, I stopped in a Dotty's Casino. I have become addicted to their 16 oz. Starbucks canned mochas, which they will comp even if you play just a little. I won $1.25, and got my mocha. On the way out, I commented to the clerk on a sign they had on their billboard saying "Lost Shit-Tzu." I said some people might find that offensive, and that the correct spelling is "Shih-Tzu." She looked at me like I was crazy, and said, "But she lost her dog." I always have such interesting encounters with Las Vegans...
For breakfast, I ate at the Feast Buffet. It was fine, especially for $5 with the players card. They had a made-to-order omelette station, and a lot of egg dishes, but nothing particularly fancy. I liked their fresh Eggs Benedict, and the salmon quiche was a nice bit of culinary flair. Service was fast and friendly, and I was in and out in less than twenty minutes.
Casino/Players Club
According to the Palace Station website, "When it comes to Las Vegas casinos, not all gaming is alike." I would edit that to say that at Station Casinos, it most definitely is. You can pretty much find the exact same mix of games at any of the Station properties, and Palace is no exception. For their players club, Stations uses the Boarding Pass (or "My card", as they have branded it now) at all of their casinos, (but not the Fiestas or the Wildfires, which use the Amigo card and the Wild card, respectively). The card is good for 0.1% back in free slot play, whether you play video poker or slots. (For the math geeks: $1 coin-in equals 1 point, and 1,000 points equals $1 of free play -- hey, even I can do that math!) To use your points at the restaurants or gift shop, you have to reedeem 600 points, so you are getting an effective 40% discount over "cash." You can also use your Station points (but cannot earn them or use them for freeplay) at the Fiesta outlets. Finally, you can earn points for race, sports, and bingo play. It is $1 per point for these activities.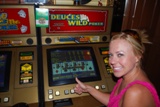 For table players, it was unclear how many points you earned for your play. I saw nothing about it in the promotional literature, and the players club just told me to hand over my card to be rated. I often find table players are treated as second-class citizens in the gaming world, and Stations reflects this. When I played tables, they didn't even ask for my card to be rated most of the time. Like most casinos, Stations values the slots player above all else.
The best video poker game available at Palace Station is Deuces Wild at a payback of 100.76%. That's right -- a slot machine that actually pays you to play. However, Palace Station only has this game in the 5¢ denomination, while other properties have it at 25¢. WIth optimal play and average speed, a skilled player can expect to make about $1.40 an hour on this machine. For the length of my stay, I almost never saw anybody playing this game, even though the machines are clearly marked with signs that say "100% payback." I guess people would rather zone out in front of Jungle Larry slots. Sometimes the collective mindset of gamblers confounds me. By the way, you only earn one-fourth as many points if you play the 100% machines at Stations, for a rebate of 0.025% in free play. So, if you play this machine for four hours, you will have earned $0.18 in free play. Sign me up, boss!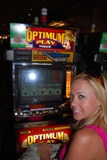 Table games are the usual mix of regular games, with a larger than normal amount of baccarat because of the large Asian population located nearby in Chinatown. There were two midi-baccarat tables (players may handle the cards) at $25 with the ridiculous amount of action typical of go-for-broke Asian gamblers. Pai Gow Poker was available at three tables, including one at $5, with the Fortune sidebet. There were two craps tables at $5 with 10-times odds. Blackjack was $5-$25, with the standard double deck Vegas rules (0.45% house edge). There were also two Roulette tables ($1 chips/$5 minimum), and a Let it Ride and a Three Card Poker table (normal rules). Finally, there was a Pai Gow Tiles table with a minimum of $10. For Pai Gow enthusiasts, this is the lowest minimum you can play tiles at in Las Vegas.
There is a large race book located in the back of the casino, which is separate from the equally large sports book. The sports book offered 20-cent lines on baseball, and tickets expired after 120 days. The results were posted on large whiteboards that attendant would slide down the wall to write on. I thought this was charmingly old-fashioned, kind of like those flipping deparature signs you see at some train stations. I didn't check out the race book, but it looked pleasant, and the chairs were comfortable.
There is also a small Keno lounge, and a Bingo Hall. There is self-serve coffee in both locations, which is nice. The Bingo Hall is nothing fancy -- like the rest of the casino, it is designed solely for gambling, with very little flair. That is another problem I had with the casino; for some reason I thought it would be very large and airy, but it was stuffy with drop ceilings and low light. Unfortunately, this is "traditional" casino design that casino architects are only recently starting to reject. Palace Station could use some updates. Finally, I would be remiss if I didn't mention the smoke. Most Las Vegas casinos have about 40-50% ratio of smokers to non-smokers. In Palace Station, I would say it is closer to 70%. It was oftentimes impossible to avoid the smoke. If smoking bothers you, I would advise you to avoid Palace Station. There was no non-smoking area that I saw apart from the poker room (which offered two games of 2-4 and 4-8 limit Texas Hold 'Em on my visit).
My own gambling
My own gambling this visit entailed some interesting ups and downs. As a Pai Gow fan, I was most excited about playing the Pai Gow tiles game for $10, and bought in for $100, hoping to last for a nice long session. My first hand was a win when my Gong-High Eight beat the dealer's Nine-Low Eight. (This probably means nothing to most people, suffice it to say it was a close win). The second hand was a toughie, and I asked the dealer how I should set my hand. I think it was between a 9-4 or 7-6. She mumbled something about "house way," and they immediately adopted a million-mile stare ahead into nothingness. I have never seen a more unresponsive dealer. I was shocked, and a bit suprised, so I colored up after two hands. The other Chinese player didn't seem to mind, but I like a little back-and-forth when I play table games. Unfortunately, I have to give this particular Pai Gow dealer a failing grade.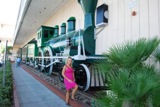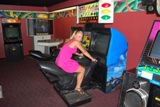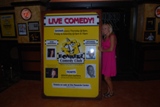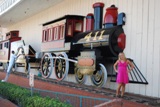 I wanted to play low limit baccarat next, but there were too many smokers, so I chose $5 double deck blackjack. The game was unremarkable. I doubled down, split, and hit for the 45 minutes with a succession of dealers who ranged from slightly friendly extroverts to laconic brick walls. Cocktail service was extremely frequent, but since I don't drink much, I didn't really pay much attention. Finally, after one particularly bored dealer gave me a hit after I clearly tucked my cards, I colored up and left.
I also played the Deuces Wild video poker sporadically the length of my visit, but couldn't seem to catch a win.
Frustrated with my gambling experience so far, I decided to do something I've never done before: play bingo. Palace Station runs a session every two hours in its massive bingo hall, and I signed up for the 5 P.M. session. Following the Wizard's advice, I asked for the cheapest card with no cash ball, rainbows or countdowns (what the heck are those, anyway?) The bingo staff were all very friendly and helpful, sold me a $21 pack, and set me up with a portable computer instead of the paper cards. I liked the computer because it filled in your numbers for you instead of having to deal with the dabuer and the newsprint, althought I can understand why some people find that method appealing.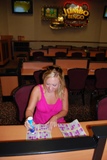 The game play was surprisingly fun. I enjoyed watching the computer show the progress of each card towards the various bingos, and I quickly figured out what a "double hardway" was (hint: it doesn't involve crap bets). The machine did practically everything for you, and even let you know when you were one number away from winning on any of your cards by making a beeping noise. I was "cased" (one ball away before someone beat me) a couple times on the regular bingo games and couldn't seem to catch a win, until . . .
The last game of the session started, which was a "coverall." Obviously, in this game you have to cover all the numbers on your bingo card, including the free space. As the bingo balls came out of the hopper, I was hitting a bunch of numbers on one particular card, and was feeling good about my chances. Then I just stopped hitting. I felt like my chances had slipped away, and started putting on my hat and collecting my things, anticipating the winner to raise his or her hand and call "bingo" at any moment. All of a sudden, I got a quick succession of hits and the machine "beeped' to let me know I was one number away from the overall win. In the space of about 5 seconds, I looked for the number I needed to win (G-49), up to the big board, back to my machine, and then heard the bingo caller announce, "Gee, Forty-Nine." Yesssssss! I let out probably the most enthusiastic "Bingo!" the room had heard in a while. The attendant came by and paid me $375, and I was so excited I forgot to tip. (I later tipped).
This was by far the most exciting win I've had gambling. I had to go the room afterwards to compose myself. The adrenalin was too much. So, kudos to Palace Station for providing me with my fantastic introduction to bingo. Even though I will probably not become a regular player, it was a fun (not to mention profitable) gambling experience.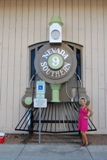 Contact Information
Address: 2411 West Sahara Avenue, Las Vegas, NV 89102
Phone: 702-367-2411
Web site: palacestation.com
Resort and Parking Fees
| | |
| --- | --- |
| Resort fee | $13.50 |
| Parking fee | Free |
Games at Palace Station
| Video Keno | Rank | Avg Return | Grade |
| --- | --- | --- | --- |
| Video Keno | 20 | 91.78% | B |