INTRODUCTION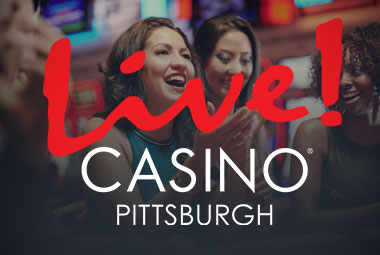 In the early part of June, 2021, I had the opportunity to stop in at the relatively new Live! Casino Pittsburgh for a look around. While some of the offerings were not open at the time of my visit, (early afternoon on a Monday) I was able to chat up a few staff members (who are all very friendly) in order to fill in the blanks.
Owner: Cordish Companies
Name: Live! Casino Pittsburgh
Location: Westmoreland Mall (5256 US-30, Greensburg, PA 15601)
Opened: November, 24th, 2020 (Opening Delayed due to Covid-19)
Casino Floor Square Footage: ~50,000
Table Games: 30
Slots + Video Poker: 750-800
While the casino is called Live! Casino Pittsburgh, that's just because Pittsburgh is the closest major city to the facility. Depending on how much one likes to drive, one might not even consider this casino anywhere near Pittsburgh.
This property is located about an hour Southwest of North Shore Pittsburgh, (where Rivers Casino Pittsburgh is located) an hour east and slightly north of Meadows Casino (Washington, PA), an hour ten almost due north of Lady Luck Casino Nemacolin (Farmington, PA) and about an hour 45 northeast of Rocky Gap Casino (Flintstone, Maryland).
Their direct website can be found here.
While I'm sure that the locals in the small towns surrounding the area are happy, given the proximity of other regional casinos (and how full or not they tend to be) it's difficult to tell whether or not there was any real need for this casino, though competition tends to be a good thing for players. They might also be able to pull some visitors from Ligonier, Somerset, Johnstown and a few other places east.
While I mean no offense to this casino, if one were equidistant from any of the other casinos listed above, except arguably Lady Luck Nemacolin (depending on the vibe that you want), then I could not imagine not going to one of those other casinos instead.
Perhaps realizing this, it is clear that Cordish Companies made an effort to focus on the inclusion of some non-gambling amenities which, in addition to the mall itself, might draw some family visitors to the property.
Non-Gambling Amenities
I entered the casino from the top floor of the establishment and was surprised to find that there were no identification checks, but as it turns out, that's because there are only a few sports betting kiosks and machines (with someone stationed nearby to check ID) on the top floor.
The first thing that I noticed to the left of the entryway were four bowling lanes as well as three Ski-Ball machines. Other games located elsewhere include an air hockey table, a foosball table and a shufflepuck game. Additionally, this floor is home to a golf simulator.
Here are the prices (that I could find) for these amenities:
Air Hockey/Shufflepuck/Foosball: $4.72/30 min. (Each)
Bowling: $25 player/hour (Non-Peak), $45 player/hour (Peak)
Golf Simulator: $14.15/30 min.
Basketball (Ticket Game): $1.00
On this floor is also a restaurant and pub known as PBR, which had recently opened, but was not open at the time I was there. They are currently listed as being open from 7:00p-2:00a Thursday through Saturday.
I was able to access a menu for the establishment and found that the prices and offerings seemed relatively similar to something like Applebee's, perhaps $1 more per item, at worst. However, they do charge a 2%, "Facilities Fee," on top of every check, whatever the hell that's supposed to be for.
I was asked and was told that there is live entertainment on Fridays and Saturdays, which, most often, comes in the form of a live band. Additionally, I was informed that they will sometimes be open on Sundays for UFC events. For the time being, I would go ahead and call in advance if you plan to go on a Sunday as being open Sundays is not mentioned on their website.
The other thing on this floor is a small area with ten sports betting kiosks, so there is an ID check in order to go to that area. I'm sure people hanging out upstairs will appreciate the convenience, but it honestly seems a bit silly to have to staff someone to check ID's there when it is the only area on the entire floor you'd have to be an adult to get to.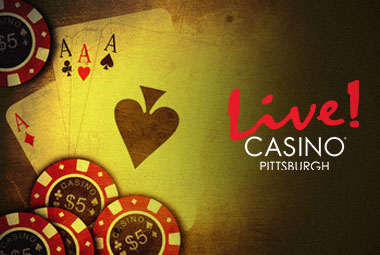 Other Restaurants
I covered PBR above in non-gambling amenities because that restaurant would not have any age restrictions, so this section will entail the two restaurants that are on the first floor of the establishment.
Sports and Social Steel City
The website describes this place thus:
Sports & Social Steel City is a one-of-a-kind sports bar, gaming parlor, and social lounge in the Live! Casino Pittsburgh. Sports & Social serves made-from-scratch American Classic items perfect for sharing and pairing with a cold beer or a signature cocktail. Sure to fit any goer's palette!
You always have to love the use of the buzzwords, "One of a kind," given that this sports bar is little different from other casino sports bars that you will find elsewhere in the country. This sportsbar will be to your right entering the casino from outside of the mall (or garage) and then it will be all the way to what would be the back, from your perspective, and on the left if you enter from the mall itself.
Technically, all of the other entertainment options listed in the amenities section belong to this establishment, rather than PBR, so this is a two-level dining establishment. Prices are not shown on their online menus, but you can go check those out if you want to see what they have. Once again, prices are comparable to your usual sit down American food sports bar restaurant.
Those under 18 must be accompanied by an adult until 9:00p.m. (second floor) and after 9:00p.m., the entire establishment is 21+ only. If you're traveling with those younger, make sure that you arrive with plenty of time for them to eat.
Guy Fieri's American Kitchen + Bar
Their website has this to say:
Primetime Emmy award winner, Guy Fieri, brings his latest restaurant to Westmoreland Live! Casino. Take a trip into Flavortown with Guy's American Kitchen + Bar! This casual dining experience features "Real Deal" Guy signature recipes from award winning burgers, championship BBQ, and serious Big Eat dishes. Guy's scratch made recipes extend out into the bar with "Off da Hook" hand crafted cocktails and craft beers.
Essentially, it's just another American food restaurant, so this casino (and even the entire mall) isn't really the place to go for diverse culinary options. In fairness, that's pretty much true of all of the casinos in this region with Rivers Pittsburgh barely qualifying as an exception.
This restaurant is open seven days per week and serves breakfast from 9:00a-11:00a daily.
Hotels
This casino is not home to a hotel.
However, if you wanted to go to this casino and stay for the better part of the night (though I have no idea why you would ever want to do that) there are three hotels within two miles of the place including Hampton Inn, Rodeway Inn and Red Roof Inn; the latter two listed are within one mile of the hotel.
If you do choose to stay, the area seems big enough that getting either a Lyft or Uber shouldn't be a problem, and personally, I wouldn't call this area unwalkable, especially if you're going to stay at one of the two closest hotels.
GAMBLING OPTIONS
Of course, we don't go to casinos located in third-rate malls for the amenities, we go there to gamble! Let's see if there's anything in that realm to fuss about:
Table Games
In addition to a few tables in the high-limit room, the main gambling floor features upwards of 25 table games that are set up in kind of a cross pattern with a bank of large slot machines right in the middle of all of them. Why? No idea.
I was not there during a busy time, but fortunately, I was able to speak to a pit supervisor who was able to give me an idea of what Table Minimums and Maximums are on weekends, so let's check out the games and the betting limits:
| Game | Number Tables | Min-Max (Slow) | Min-Max (Peak) |
| --- | --- | --- | --- |
| Blackjack | 10 (Main Floor) | $10-$1000 | $25-$2500 |
| Baccarat | 3 (Main Floor) | $25-$2500 | $50-$5000 |
| Blackjack (High-Limit) | 2 (High Limit) | $50-$5000 (If Open) | $100-$10000 |
| Baccarat (High Limit) | 2 (High Limit) | $50-$5000 (If Open) | $100-$10000 |
| Roulette | 2 | $10-$100 | $25-$250 |
| Craps | 2 | $10-$1000 | $25-$2500 |
| Spanish 21 | 1 | $15 (Max Unknown) | $25 (Max Unknown) |
| Three-Card Poker | 2 | $10-$500 | $15 (Max Unknown) |
| Mississippi Stud | 2 | $10-$100 | (Unknown) |
| Ultimate Texas Hold 'Em | 1 | $10-$100 | $15-$1500 |
| Let it Ride | 1 | $10-$100 | (Unknown) |
| Criss Cross Poker | 1 | Unknown | Unknown |
| Pai-Gow Poker | 1 | Unknown | Unknown |
During the late morning and early afternoon hours of a Monday, available games were Baccarat, Blackjack, Craps, Roulette, Ultimate Texas Hold 'Em and one table of Mississippi Stud.
Blackjack Rules:
Blackjack Pays 3:2
Dealer Stands All 17's
Six or Eight Decks
Double on Anything
Split (At Least Once)
Split Aces-Yes, Hit Split Aces-No, Resplit Aces-No
Double After Split-Yes
Their rules say that the number of times one may resplit can vary depending on the table. With optimal strategy and assuming only splitting to two hands, the house edge with optimal strategy is under one half of one percent regardless of number of decks.
Other than that, the Table Games would be better off isolated as opposed to the way that it is now. The casino is already too noisy, even if you're just there to play slots or video poker, so now you add to the ridiculously loud music the fact that slot players are going to be moving to and fro around you (depending on where you are), back and forth from the bars, the table games are kind of close to the main entrance...I couldn't imagine wanting to play Table Games here.
If it had been up to me, I'd have put all of the Table Games on the mall side entrance because you could maybe quiet the music down over there and I think it makes for a fun optic for the mall patrons and might draw people inside.
VIDEO POKER
This casino was home to a few video poker variations such as Ultimate X, Hot Roll, Spin Poker and Super Times Pay, but I only took note of the paytables for a sample of single-line games.
Basically, the paytables for the bar near the exterior mall entrance and the main floor are the same for single line, however, the sports betting bar has better paytables on two or three of the machines (but not all of them) over there. With that, let's take a look at what's available:
| Game | Location | Paytable | Percentage |
| --- | --- | --- | --- |
| Jacks or Better | Bar and Elsewhere | 7-5 (Quarters + $0.50) | 96.15% |
| Jacks or Better | Bar and Elsewhere | 8-5 Dollars | 97.3% |
| Jacks or Better | Sportsbook Bar Area | 9-5 | 98.45% |
| | | | |
| Bonus Poker | Bar and Elsewhere | 10-8-6-3-1-1 (Quarters + $0.50) | 95.78% |
| Bonus Poker | Bar and Elsewhere | 6-5 (Dollars) | 96.87% |
| Bonus Poker | Sportsbook Bar | 7-5 | 98.01% |
| | | | |
| Double Bonus | Bar and Elsewhere | 9/6/4 (Quarters) | 96.38% |
| Double Bonus | Bar and Elsewhere | 9/6/5 (Dollars) | 97.81% |
| Double Bonus | Sportsbook Bar | 9/7/5 | 99.11% |
| | | | |
| Double Double Bonus | Bar and Elsewhere | 6-5 (Quarters) | 94.66% |
| Double Double Bonus | Bar and Elsewhere | 9/5 (Dollars) | 97.87% |
| Double Double Bonus | Sportsbook Bar | 9/6 | 98.98% |
| | | | |
| Deuces Wild | Bar and Elsewhere | 12-9-4-4-3-2-1 (Quarters) | 97.06% |
| Deuces Wild | Bar and Elsewhere | 12-10-4-4-3-2-1 (Dollars) | 97.58% |
| | | | |
| Bonus Poker Deluxe | Bar and Elsewhere | 7-5 (Quarters) | 96.25% |
| Bonus Poker Deluxe | Bar and Elsewhere | 8/5 (Dollars) | 97.40% |
| Bonus Poker Deluxe | Sportsbook Bar | 8/6 | 98.49% |
| | | | |
| Triple Double Bonus | Bar and Elsewhere | 8/5 (Quarters) | 95.97% |
| Triple Double Bonus | Bar and Elsewhere | 9/5 (Dollars) | 97.02% |
| Triple Double Bonus | Sportsbook Bar | 9/6 | 98.14% |
| | | | |
| Triple Triple Bonus | Bar and Elsewhere | 6/5 (Quarters) | 95.44% |
| Triple Triple Bonus | Bar and Elsewhere | 8/5 (Dollars) | 97.55% |
| Triple Triple Bonus | Sportsbook Bar | 9/5 | 98.61% |
Four additional Video Poker notes:
These listings do not include all games on all devices, but rather, are a sampling.
These notes reflect the time of my visit and are in no way, shape or form meant as a guarantee, promise or suggestion that any of the above paytables (particularly the good ones) will be available at the time of your visit.
With apologies, Deuces Wild had a different (and better) paytable on a few of the sportsbook machines, but I can no longer read what I wrote down.
I would respectfully request that this information NOT be republished on VPFree2, unless you at least go to Live! Casino Pittsburgh and see these games for yourself. I can't stop you, but this is the information that I found and I am choosing not to put it on there.
VIDEO POKER NOTES
Given the area, these Video Poker games (at least the sportsbook bar ones) are highly competitive. You can only rarely find 98% and even low 99% games in the area, but that usually is some variant game that you can play with or without the variant. The 99.11% Double Bonus game is nearly unrivaled as I am only aware of a few other machines on the Western half of the state with any 99%+ games whatsoever...and even one of those might be gone.
Anyway, the 98%+ paytables are only found in the sportsbook bar, and even then, don't appear to be on every machine at that bar. The paytables on the rest of the floor all suck, and quarter single-line players are especially getting killed---factoring in mistakes, they'd probably be no worse off than just to play a quarter denomination slot machine.
VIDEO KENO
Only the denomination matters for my sample of Video Keno games as they seemed to be the same paytables (assuming same denomination) at all of the bars. I doubt anyone reading this plays Video Keno, but if you do, please be courteous and play it at the Guy Fieri bar area instead of the Sportsbook Bar area that way you're not taking up one of the good video poker machines.
I took a sample of Pick-Four, Pick-Seven and Pick-Ten for both quarters and dollars:
| Picks | Quarters | Dollars |
| --- | --- | --- |
| Pick 4 | 0-0-2-5-77 (87.74%) | 0-0-2-5-91 (92.03%) |
| Pick 7 | 0-0-0-1-2-21-335-7000 (87.68%) | 0-0-0-1-2-21-400-7000 (92.44%) |
| Pick 10 | 0-0-0-0-0-5-21-142-1000-4000-10000 (88.80%) | 0-0-0-0-0-5-24-142-1000-4500-10000 (92.55%) |
If that holds across all Keno Games and variants, and I'm not saying it does, it seems they are shooting for 87.5%-89% on quarters and between 92-93% on dollars.
SLOTS
They have some. Most of the titles are relatively new, but as some readers are likely aware, most, 'Banking,' slots do not get approved in the State of Pennsylvania as the actions of one player are technically not supposed to impact the expected return of a future player. I'm not sure how they get away with Ultimate X with that being the case, but I'm glad they do.
Anyway, there are no slots here that would be of much interest to advantage players, except for perhaps a few Elephant Kings---which you might as well check if you're going to be checking Ultimate X anyway.
Actually, the Ultimate X machines are also very few in number, so if you're going to have some machine advantage play angle, it would need to have something to do with outside of the machines themselves or you are just wasting your time.
OTHER OBSERVATIONS
My visit to Live! Pittsburgh Casino will likely be my first and last and the same can be said for my visit to Westmoreland Mall---it sucks. It's clean enough and aesthetically okay (if not bland), but it's really just nothing more than a small and local mall. Personally, I'll be surprised if this mall is still around in ten years, though the casino might be. I hope they prove me wrong, but I don't see the appeal.
The music in this casino is ridiculously loud.
The slot volumes must be defaulted to the loudest possible setting, because they contributed to the overall ridiculous noise level---and I've been to a ton of casinos.
Every staff person I spoke to (security and table games staff) were all very nice.
CONCLUSION AND SCORE
The Live! Pittsburgh Casino is aesthetically nice enough, which is to say that it's clean---but it better be, because it's practically new. The main casino floor does not seem to have any prevailing theme that I noticed and probably doesn't need one.
Similar to Maryland Live! (which this is really just a small version of), the music and slots levels are jacked all the way up to deafening, making it very difficult to hear the person next to you regardless of where you are on the casino floor. There's absolutely no reason for such a small casino to have such ridiculous noise levels, and especially not early on a Monday afternoon. One main difference between this casino and Maryland Live! Is that this one at least has a few decent video poker games.
Given the poor score that this casino is about to receive, I want to again emphasize how nice the staff at the property was in answering any questions that I had. The floor supervisor was a little off put by me wanting to know weekend table minimums and maximums, at first, but warmed up after I explained I was writing a review. He still seemed somewhat busy, which is why I didn't go through every single game with him.
Technically, there are three dining options, but all three are just American food, so no variety there.
Bowling might be a bit expensive compared to any other bowling alley I've seen in my life, but the prices for the other games seem fairly reasonable. That will at least give the kids something to do while the parents head down to the casino, though I suppose at least one adult is supposed to stay upstairs and supervise any minors.
It's not that the casino is a bad one, I just don't see how it's meant to appeal to anyone from more than a half hour away, other than mall goers, I suppose. They have two or three bar tops with better video poker than you will find (especially all on one machine) than any casino in the area, but I don't see any possible appeal for the overall property.
For example, if I lived in a place that split the difference between here and Lady Luck Nemacolin, then I'd go to Lady Luck as it's smaller, quieter and had cheaper table games as of the last time I was there. If I wanted to make a casual casino visit, I could live right next to Live! Pittsburgh and would drive to either Rivers Pittsburgh or The Meadows anyway. There's simply no reason to go here, video poker aside (and however long that lasts), as opposed to any other area casino.
OVERALL SCORE: 3 out of 10
Resort and Parking Fees
| | |
| --- | --- |
| Resort fee | $13.50 |
| Parking fee | Free |