Hotel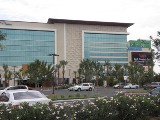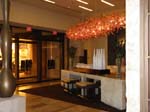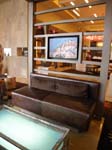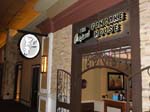 Station Casinos' newest Las Vegas addition, Aliante Station Hotel and Casino in North Las Vegas, opened on November 11, 2008. Located in the northwest/north central part of the valley, it is a noticeable distance (20 minute drive to the Stratosphere in perfect traffic) from the action of the strip. It's a great option if you want a resort feel and some casino action but don't want to deal with the hustle and bustle of the resort corridor.
I spent a comfortable, pleasing night at Aliante on Sunday, June 1, 2009. The room ran me $89, with an additional amenities charge of $14.99 and local taxes. The amenities included a beautiful pool, access to the fitness center, unlimited local and 800 calls, morning paper, shoeshine service and wi-fi Internet.
My room was cozy, well appointed, clean and contemporary. The calming, serene muted orange and brown décor in the room, as well as through out the property, reminded me of a desert sunset. Inside the room, I found a spa-like bathroom with a soaking tub and spacious shower. The bed was plush and welcoming, and it was perfectly positioned for viewing the wall-mounted, large, flat screen HD TV. There was also a cozy chair and table, a desk and office chair, and a bench – seating for 4 if you need it.
My 5th floor view was to the east, over the parking garage and toward the mountains. For a strip view, you have to spring for a suite.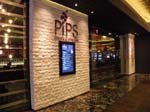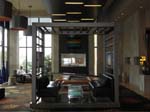 All of Aliante's rooms sport a feature I haven't seen in a hotel before: a doorbell. We called down to get some extra cups. After a little wait, we heard a 'ding dong.' My husband and I curiously looked at each other. Took us a couple seconds to realize that 'ding dong' was the arrival of our cups. Pretty cool. We were not as impressed with the ice machine, though, as it may be the slowest dispensing ice machine west of the Mississippi. Apparently they are trying to discourage guests from filling their coolers. We were not deterred, however. We waited it out.
We were also a little disappointed with the service level at Aliante. Some of the employees we encountered seemed less than interested in pleasing us, unwilling to put forth an effort. There were some exceptions, but most of the staff ignored us when they crossed our path. I've gotten used to the 10 and 5 rule most establishments in Vegas employ – make eye contact with guests when you are within 10 feet of them, and acknowledge them at 5 feet. I felt let down.
Restaurants
Aliante has a fine variety of restaurants. Here's what you'll find:
MRKT Sea & Land
PIPS Cucina & Wine Bar
TGI Fridays
Original Pancake House
Camacho's
Feast Buffet
A Food Court that includes Villa Pizza and Pasta, Dunkin Donuts, Panda Express, Johnny Rockets, Capriotti's Sandwich Shop and Rubio's Fresh Mexican Grill.
The Aliante's website restaurant page has PDF menus for most of the establishments.
During my visit, I tried PIPS Cucina & Wine Bar for dinner and Original Pancake House for breakfast. I also grabbed a cup of joe from Dunkin Donuts.
PIPS Cucina & Wine Bar
Wine is a big focus at PIPS, and the selection is impressive. I enjoyed a 3-ounce pour of pinot noir – they offer 1-, 3- and 5-ounce pours from an Enomatic preservation system and dispensary, so you can sample many or savor one. The food is of high caliber – higher than you expect to find in this family-focused part of town. I selected a refreshing, delectable ahi tuna and eggplant carpaccio appetizer and a rich, al dente ravioli with shaved truffle. The portions were small but satisfying, especially give the richness of my main dish. The prices could be seen as high considering the northwest valley location but are consistent with the quality, caliber and creativity of the food – expect to spend more than $100 for dinner for two.
We had no trouble getting a table on a Friday night without a reservation, but the restaurant recommends reservations. While you're there, you will probably receive a personal, tableside visit from the very gregarious owner Rino Armeni. He clearly loves meeting the people who dine at his establishment.
Original Pancake House
A Vegas chain, Original Pancake House seems to have found a niche in off-strip casinos. They're known for good food and huge portions. I had scrambled eggs with ham and a side of potato pancakes. The highlight was surely the potato pancakes, which were crisp and salty and perfectly paired with sweet, chunky applesauce. I'm a fan of the coffee, too.
Pool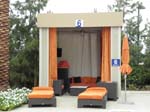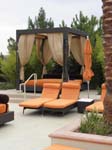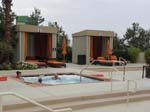 I really enjoyed Aliante's pool and spa area. It's located right next to the 215 beltway, but due to some sturdy soundproofing walls, reasonably plush vegetation (by desert standards), and a strong sound system delivering music at a manageable decibel, you wouldn't know it. The pool is good sized and has shallow areas on the east and west ends perfect for kids at play or adults who want to lounge with a cocktail. Above-surface jets keep the water circulating and give you something fun to swim through.
Around the pool are various seating options. Cushy lounge chairs with oversized umbrellas are free for guests, while a posh canopy bed will run you $50 for the day and a cozy, private cabana garners $150. The cabana includes a refrigerator stocked with water and soft drinks, a ceiling fan and a flat screen TV.
Just a few steps from the pool and hot tub, you'll find a cute little poolside bar. Wait staff ferry drinks to the cabanas, canopy beds and lounge chairs as well.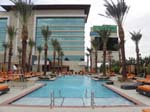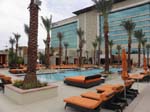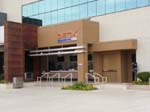 Entertainment
Shows: The property's website lists upcoming concerts and events, and their Access Showroom boasts ongoing entertainment.
Clubs: ETA is the Aliante's lounge/club and is located in the center of the casino. There is a DJ on Friday and Saturday nights.
Bowling: No
Cinema: Yes — Regal Aliante Stadium 16 & IMAX
Bingo: Yes
Shopping: Gift shop near the hotel registration desk
Golf: Walking distance to Aliante Country Club
Spa: No
Childcare: No
Odds and Ends
I noticed two obnoxiously bright blue, oversized SUVs in front of the hotel, presumably for transporting whales around town. The average guest is probably going to have to pay big bucks for a shuttle or taxi to transport them to and from the airport and the strip. A rental car may be a good idea.
My Conclusions
In all, the Aliante is a nice property with clean rooms, good restaurants and decent amenities. It's its own little resort island in the north valley, though. You are far from the action, and after a day or two, you may run out of things to do on property.
It's my opinion they need to instill a greater commitment to customer service in their employees if they want to exceed expectations and ensure repeat business. They need to find a way to make the guest feel special. At times, I felt like I was bothering the staff I came in contact with.
Getting There
From South 15/Airport: Take I-15 North to I-215 West, Exit right at Aliante Parkway
Links
Acknowledgement
The Wizard would like to thank K.M. for this review.
Contact Information
Address: 7300 Aliante Parkway, North Las Vegas, NV 89084
Phone: 702-697-7777
Web site: aliantecasinohotel.com
Resort and Parking Fees
| | |
| --- | --- |
| Resort fee | $13.50 |
| Parking fee | Free |