Introduction
After last year's early departure from the men's NCAA Tournament as the only number 1 seed to lose to a number 16 seed ever, the University of Virginia made history once again this year by winning the tournament. Last season the Virginia Cavaliers lost embarrassingly in the first round of March Madness to the University of Maryland, Baltimore County (UMBC) by the score of 74 – 54.
They got a good scare again in their first game of the tournament this season when Virginia (once again a number 1 seed) went down to Gardner-Webb (a number 16 seed) by 14 points early in the match up, but the Cavaliers rallied back to win.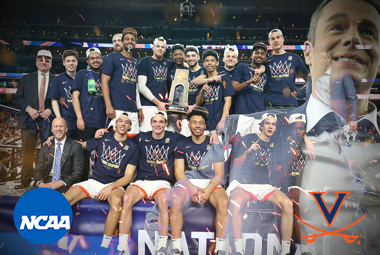 On Monday April 8th, 2019 Virginia played the Texas Tech Red Raiders in the national championship game in Minneapolis, MN. It was a hard fought battle of 2 very good defensive college basketball teams. The contest went in to overtime where the Cavaliers eventually ran away with the game by the final score of 85 – 77.
This was Virginia's first ever NCAA men's basketball national championship. After the game many of the players and coaches from UVA reflected on last year's disappointing end to their season, and how they bounced back to win it all in 2019.
Player and Coach Reactions
"We did something unbelievable," Cavaliers forward Mamadi Diakite said after Monday's win. "We just made history."
"You can't go through the stuff that no one's experienced," Bennett said after Monday's win. "Again, it's a game. We talked about it, but they had to deal with things, their own stuff inside and the opinion of others, and just come together and tighten in a way; and they went after it in terms of developing their own game and then how they played."
"I mean, what do you say? It happens," said Justin Anderson, a former Virginia star who now plays with the Atlanta Hawks. "Their story is better now. Their story is better."
"It's amazing, man," said Malcolm Brogdon, former Virginia star and current Milwaukee Bucks standout. "These guys work hard, man. Coach Bennett, after that loss last year, I knew he'd bounce back. But man, this is outstanding. His faith is unbelievable. Everybody has losses and sometimes they're worse than others, but you can always bounce back. These guys are incredibly resilient."
"Forget last year. This is everything you dream of since you're a little kid," Jerome said. "I'm not even thinking about UMBC right now. I'm just thinking this is a dream come true, and it's even more than that, because you never even imagine you'll be able to spend a year with people you actually love, your teammates and your coaches. Not a lot of people get along like we do, so to share this moment with them is unbelievable."
UVA Team Dynamics
The 2018 / 2019 Virginia Cavaliers are a very disciplined team. They are well coached, and they found a way to beat very tough competition throughout the tournament such as Purdue and Auburn. Virginia made big shots when the game was on the line, and they never gave up when things were looking bad for them. In one word the Cavaliers are resilient.
Source:
"Virginia's redemption was one year, 23 days in the making", Myron Medcalf, espn.com, April 9, 2019
Posted by
DavidGreen