Let's See How These Offers Look…
Featured advertisers had stayed the same for so many months that I'm not sure if I missed the two that we'll discuss this week when writing this.
Or alternatively, if they have just been added within the last week.
Either way, Red Stag Casino and Win A Day are relatively new featured casinos, so the time has come to take a look at the new Member offers, Terms & Conditions and how the casino operates generally to determine whether or not there is an advantage to be had or if it is a good place to play.
As we discovered last week, neither SlotoCash casino nor Lucky Creek Casino had any sort of promotion that could be beaten with table games because table games could either not be played, or the verbiage of the Terms & Conditions was such that I would not want to try to advantage play at those casinos.
We also discovered that, mainly due to slow payouts, Lucky Creek Casino is NOT a WizardofOdds APPROVED casino, though Sloto Cash is. Remember, when a casino is Wizard of Odds APPROVED, anyone who joins the casino by way of one of our affiliate links either here or on the Wizard of Odds site is protected by the, "Wizard Guarantee." The guarantee is such that, if you have any legitimate issue with the casino and have signed up using one of our affiliate links, then the Wizard will act as an intermediary between yourself and the house to try to bring the issue to resolution.
Remember, if you have violated the Terms & Conditions, then there is nothing that the Wizard can do for you, so please make sure to read and understand those. Secondly, as a courtesy, we ask that you try to resolve the issue with the casino yourself first and only invoke the guarantee if that has reached a dead end or you are not happy with the casino's proposed resolution.
While I would tend, were I a recreational online player, to stick to Wizard of Odds APPROVED casinos, we found that both casinos from last week have pretty good reputations and players should be able to feel safe and secure playing there. Those casinos should be avoided by advantage players, especially Sloto Cash, as advantage play seems to be against the rules...as I understand them. For recreational players, though, either casino is a good choice for slots. For Table Games, stick to Sloto Cash if you want to play with any kind of Bonus, Lucky Creek won't allow you to play table games on a bonus.
This week, let's start with Win A Day!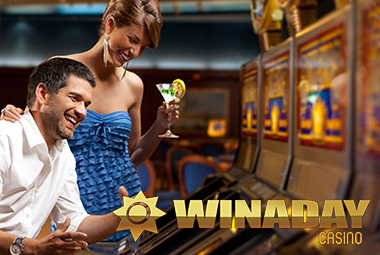 Win A Day Casino
The first thing that should be mentioned is that Win A Day Casino is explicitly NOT Wizard of Odds Approved because it has been found to use non-random software when it comes to the awarding of a certain jackpot on slots and table games. The jackpot was admitted NOT to be random by Win A Day themselves, so there is no doubt about that.
Furthermore, the jackpot mechanism also had an unintended effect on some of the games. For example, a player made 1,156 bets on a single number in Roulette and never won, which the Wizard puts at roughly 1 in 57 trillion.
Win A Day has since addressed the issue of that jackpot, and as a result, have been moved from the Blacklist to the Wizard's gray list.
Unfortunately, it's going to take Win A Day a long streak of excellent customer service and perfectly random software before they will even be in consideration for removal from the gray list.
In terms of User Scores, Win A Day actually scores very well across our family of websites with the Wizard of Odds site being the lone exception. It would average a 4.55, but the 2.6 score from Wizard of Odds users pulls it down to a 3.9, overall.
In terms of addressing the issue, Win A Day merely decided to give affected players a Bonus which came with a playthrough requirement whereas Wizard stated (and I agree) that they should have been offered a full refund.
The problem is not that there is a randomly awarded jackpot, just for the record. A randomly awarded jackpot that exists outside of the randomness of the, "Base Game," is just fine. For instance, let's say there was a $1,000 jackpot for every $1,000,000 in total bet on the site and the player who crosses that $1,000,000 mark gets the jackpot. That would be perfectly fine. Of course, it would not be in any way based on the base game and would not have an affect on the base game. Though Win A Day claimed it was in error, the jackpot mechanism discovered in 2012 definitely impacted the randomness of the base games.
The offer of a bonus with a playthrough is also unacceptable. It required the players to expose the amount bonused to the house edge on games that they no longer had any reason to believe were random. Granted, it would not be wrong for Win A Day to give an option of taking some sort of conciliatory bonus, but the other choice should have been a full restoration of any affected player's deposits back into that player's balance with no need for a playthrough. Better yet, refund any lost monies and give them a bonus on top of that to thank them for sticking around.
In terms of the user reviews on LCB, I scanned through the ones from so far this year and found what seems to be a few consistent threads:
Many users enjoy the fact that Win A Day and sister casino, SlotLand, have some original slot machines (due to their original software) that cannot be found anywhere else. They also like the site wide Progressive that is available through the slot games.
Players like the fact that Win A Day has high maximum cash out limits, that way the players can get any winnings out all at once.
Players dislike the fact that they will get E-Mail offers from Win A Day with Bonus Codes that cannot be redeemed. In addition to the fact that some of the codes cannot be redeemed, it seems that customer support often has no idea why the player would receive such an offer in the first place. It would obviously be pretty annoying to think that you were going to get a bonus only to find that it's not valid.
Finally, regardless of method of payment (including prepaid cards) many players have found that their transactions are declined with methods of payment that work at other online casinos. This could be due to problems with Win A Day's payment processor that don't exist with the other payment processors, but still, they need to get that figured out. Can't play if you can't deposit.
Some of the players who were unable to deposit tried to take advantage of No-Deposit Bonuses, unfortunately, a deposit must be made (at some point) in order to be able to withdraw those winnings. Since the deposits wouldn't be accepted (for whatever reason) the winnings could not be paid out to the players.
Given these complaints, I decided to see how Win A Day is scoring for this year on LCB User Reviews as compared to lifetime and found (after throwing out 0.1's and 5's) that the average for this year is 3.758333-. After adding 0.1's and 5's back in, the overall score is basically unchanged at 3.7625. In other words, they are trending very badly for this year to date as opposed to their numbers in previous years. That also makes sense because the Odds site reports LCB as having Win a Day at 4.6, but LCB reports itself as having them at 4.5 in user scores.
Win a Day is the true sister casino to SlotLand in that Win A Day has been around since 2007, which is ten years fewer than the sister Internet casino.
The Wizard of Odds, as well as the User Reviews, point out that the Bonuses offered by the casino are fairly liberal, but that's pretty easy to do if you are running suspect software. Again, Win A Day has not yet recovered enough in the eyes of the Wizard to be removed from the Gray List, much less become a Wizard of Odds APPROVED casino.
For that reason, I would not personally play at Win A Day casino unless I found a bonus to be eminently beatable. Some bonuses are so juicy that, even with gaffed software, they would still be beatable. Some are so good that they could be beaten on just about any random slot machine, in terms of expectation. For recreational players, though, this casino would not be my first choice. The only thing I can say in their defense is that they state that payouts all take place on Wednesdays and they have otherwise not been accused of no-paying players who have successfully completed a deposit.
To their credit, Win A Day does have a page that focuses on problem gambling avoidance including:
Gambling should be done in moderation and treated as entertainment and not as a means to make money
Avoid chasing losses
Keep track of the time and money you spend while gambling, establish limits
Balance your activities throughout the day to not let gambling interfere with your daily responsibilities
Only gamble when you are sure you can cover any losses
Should you feel that you need a break from gambling, exclude yourself from playing
Those are obviously some pretty good general rules, and Win A Day also gives players who may be worried about their gambling levels to self-exclude or to commit other actions to moderate their gambling. One of these is the ability to customize your deposit limits as a player, so that you cannot deposit more than a certain amount into the casino at any one time.
Finally, Win A Day links to Gamblers Anonymous as well as a few other sites, and also posts the typical Gambler's Anonymous questions on their own site to help players decide whether or not they are gambling too frequently or losing too much.
For those reasons, I will tip my cap to Win A Day for at least being more proactive than other online casinos when it comes to trying to prevent problem gambling. In terms of their verbiage, at least, it seems that Win A Day truly just wants customers who are playing for fun. Is it just lip service? Maybe. But, it's better lip service than most other casinos (including Brick & Mortar) give it.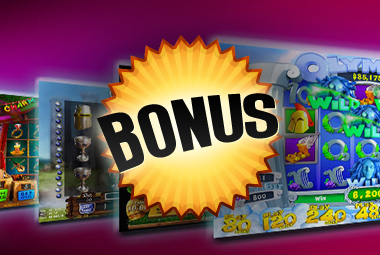 Win A Day Bonus
Win A Day offers one of the stranger bonuses that I have seen with a deposit match bonus up to $500 that takes place across a player's first five deposits.
The match consists of a 100% match on the first deposit, a 25% match on the second through fourth deposits, and finally, an 85% (?) match on the fifth deposit.
Definitely one of the more bizarre bonus structures I have ever heard of.
Interestingly enough, the casino wants you to redeem the Bonuses prior to making your deposit in order to get them and the Wagering Requirements are 10x the Bonus + Deposit. Honestly, depositing any amount, getting a 100% Match and only having to run the total through ten times sounds almost too good to be true regardless of the games being offered (based on standard online RTP's) so let's figure out what the catch is, here:
In fact,, the first thing the bonus terms state is that the bonus must be redeemed prior to making a deposit:
1. In order to claim a bonus, Players must redeem a bonus code before making a deposit. If the bonus code does not redeem for any reason, Players may contact Customer Support for assistance.
The next Bonus Term also bears mentioning because it is not necessarily explicitly stated in many online casinos, but if you request a withdrawal without completing the playthrough requirements on the Bonus, then you will forfeit your bonus, any winnings from that bonus and any monies from your deposit that may have been lost.
2. If a Player redeems a bonus code, it is the Player's responsibility to ensure that all bonus terms and playthrough requirements are met in order to act upon an offer, otherwise the casino reserves the right to cancel the bonus. Canceling of a bonus results in all bonus money and winnings being removed from the Player's account and the deposit or part of the deposit that is left over will remain in the Player's cash balance.
If whether or not you have completed a bonus is not on your player page, that information can probably be determined by contacting LIve Support and asking them. As always, when the conversation is complete, I recommend having an E-Mail transcript sent to you so that you can verify that an agent said you have completed the requirements in the event of a dispute.
Here we go, the vague notion of, "Bonus Abuse," that we all knew was coming:
7. The welcome bonuses are only available to new members who have not played at this site before and are valid for 1 year only. Win A Day reserves the right to deny or remove any bonus or withdrawal if the Player owns (or has previously owned) another Win A Day account, is found to abuse any promotion or for suspected fraudulent behavior.
Of course, Win A Day (as well as others) have not designed to specifically mention what might constitute abusing a promotion, so the mere act of playing at an advantage might be enough for them to decide that it has been abused.
I think that I may have also found the problem with players being unable to redeem E-Mail bonuses, whatever Win A Day means by, "Immediately," that's when Bonuses tailored for individual players must be redeemed by:
9. Players must redeem cashback bonuses, daily draw wins, comp points conversions, tournament wins and any individual bonus offers/compensation immediately, such bonuses/wins cannot be accumulated. In the event that a Player is found to accumulate said bonuses Win A Day reserves the right to cancel such bonuses.
Who is to say how long constitutes, "Immediately?" Essentially, a player might only have a few hours from the time that an E-Mail is sent for the bonus to be active, or perhaps it's a day. Another thing is that Win A Day does not allow back to back No Deposit Bonuses to be redeemed without a deposit in between, so it's quite possible that players are still getting E-Mails for additional Bonus Chips, Free Spins or No-Deposit Bonuses that they are actually not eligible to receive. This is especially possible if the E-Mails are extremely automated without people occasionally checking the parameters of who gets them.
Of course, the agents should be able to determine that and recent complaints have stated that the agents have not known why the players could not redeem the bonuses, so it's really hard to say.
The one thing that I will give this casino, in terms of Bonuses, is that they are very upfront and simple with what the wagering requirements are:
2. Wagering requirements applicable to bonuses are defined on the promotions page or are specified during promotional offers. For example: If a $100 bonus has a 15x wager requirement, then the Player must wager $100 X 15 = $1,500 before a withdrawal can be made.
Different games played contribute a different percentage toward fulfilling wagering requirements from bonuses. The respective percentages are as follows:
a. Slot machines count 100% towards wagering requirements
b. Video Poker games count 20% towards wagering requirements
c. Keno counts 50% towards wagering requirements
d. Roulette games count 1% towards wagering requirements. Further, if you bet less than $1, the bet won't count towards the wagering requirements.
Therefore, when it comes to the 10x wagering requirements, slot machines would require $1,000 on slots against a $100 bonus, $5,000 on Video Poker and $2,000 on Keno. Roulette, of course, would be $100,000.
It makes sense for Roulette to be so high so that players cannot get ahead and then, "Opposite bet," to guarantee a win, but I wouldn't do that anyway, as such betting might fall under Win A Day's definition of, "Promotion Abuse."
It has been suggested that Win A Day and SlotLand's proprietary slot machines could theoretically have lower RTP's (greater house edges) than those that are found at other online casinos. While I have no idea whether or not that is true, it would explain the casino's ability to offer bonuses with such liberal playthrough requirements. Even when it comes to online slots, a 10x playthrough requirement is essentially insanely low.
One other one (unrelated to Bonuses) that must be mentioned is to make sure to playthrough anything you deposit at least once, otherwise, you will be subject to a 30% fee if you attempt to cash out:
From the general terms and conditions:
6. By depositing money into your Win A Day account, you agree not to make any chargebacks or reversals. Players further agree to wager the deposit at least once, if a player does not meet this condition and requests a withdrawal, Win A Day will consider this behavior as an attempt at money laundering and/or bonus abuse. A withdrawal made from such a deposit will result in a 30% processing fee that will be applied to the withdrawn amount and the player account will be suspended.
Given the nature of the proprietary software and issues with non-randomness in the past, as well as how vague some of the Bonus Terms seem to be, I'm afraid that I must say I would not personally play at Win A Day casino. The only way that I would consider it is if I had burnt out any potentially lucrative bonuses everywhere else online and Win A Day was all that I had left available to me. In that event, the only thing that I can favorably point out is that Win A Day FedEx's checks to players processed every Wednesday and do not have any history of No-Pays to speak of for players who have made deposits.
In the FAQ's, for those of you wondering about the returns, Win A Day claims a 98% RTP on the slot machines:
The payback of our slot machines is 98%. This means we give back 98% of all the money put into our machines, giving our players longer playing time and bigger wins!
You guys heard of the Brooklyn Bridge? Yeah, I own it. Make an offer.
That's all I have on Win A Day, based on the 98% slot return that they claim without qualifiers of any kind, the deposit bonus should be eminently beatable. They make no mention of whether or not the bonus amount is removed prior to making a withdrawal, so who the Hell knows?
Basically, everything that they have in the terms is extremely vague and ambiguous, so I would not personally feel comfortable playing there unless it was with money I expected to lose anyway. Furthermore, when a website has had any questions at all, at any time, about the fairness and randomness of the software, that's going to give me pause. That's why it's so important for an online casino to protect its reputation by using random and non-pirated software, anytime a casino behaves unfairly it's a black mark against them that will not soon be forgotten.
As far as strictly recreational players are concerned, I don't know. If you want to, I guess. I don't know that I buy the notion that ALL of their slots categorically return 98%, which is what they seem to be very strongly implying, so do whatever you want. I'm not going to recommend this casino at all, though. There are much better ones out there for whom I think the software is trustworthy.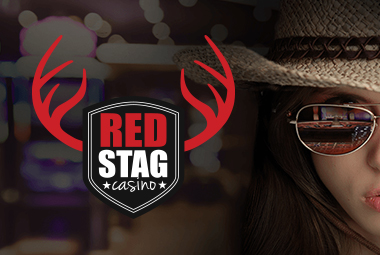 Red Stag Casino
Where the Hell do some of these names come from?
Regardless of who decides the names for these casinos, we do have the good fortune to be talking about a Wizard of Odds APPROVED casino with this one. For that fact alone, I would automatically recommend it over the Win A Day casino for recreational players. As mentioned before, if you sign up for this casino through our affiliate link and experience an issue with the casino for which you cannot reach a mutually agreeable resolution, the Wizard will act as an intermediary between yourself and the casino in an effort to resolve the issue.
Naturally, you have to click through one of our affiliate links and sign up for the casino via that channel in order for the guarantee to apply. If you sign up via some other source, then the guarantee is irrelevant to you.
Interestingly enough, this casino scores a 3.5 on Wizard of Odds, which is better than the previous Win A Day scored, but it scores worse on CasinoListings.com and the same on LCB. It could just come down to limited sample size, I suppose.
One thing that I immediately dislike about the casino is a minimum withdrawal of $150 in order to be able to withdraw your money, which is greater than that of most casinos. That fact is somewhat offset by the fact that this minimum withdrawal is directly stated in the casino's Terms & Conditions, so it's no big secret. Most casinos have a minimum withdrawal ranging from $25-$100, though.
Red Stag is powered by the same software, and belongs to the same family of casinos as Slot 'O Cash and Desert Nights casinos, the former of which was looked at in last week's write up on our new featured casinos. We should also mention that Baccarat, Roulette and Craps do not contribute in any way to the playthrough requirements for any of the bonuses, probably mostly due to the possibility of low variance opposite betting on those games.
User scores and reviews on LCB for this year so far have been largely positive highlighting an excellent selection of games and great WGS software. Additionally, players have mentioned that the site offers many Free Roll Tournaments as well as the occasional free chips and No-Deposit Bonuses.
This has been partially offset by complaints of accounts becoming, "Inactive," for the reason of not making any recent deposits, but that is pretty standard operating procedure. The idea of free roll tournaments, and the like, is to reward those players who deposit in the casino with some frequency, so it should come as no surprise that players who exclusively and only take advantage of any freebies will eventually be flagged as, "Inactive."
Either way, the recent scores on LCB point to a very strong casino product of which players have a generally favorable opinion. The excellent customer service and support, as well as ease of cashing out winnings has been mentioned in multiple reviews. Of the few negative reviews that have come this year, I suspect that they have come as a result of either not reading or understanding the Terms & Conditions, but we will check out those Terms just to be sure.
The family of casinos is brought to you by DeckMedia, which generally consists of Wizard of Odds APPROVED casinos, so there should be little problem in playing there if you are a depositing player. Remember, any problems that you may have with the casino that are not resolved to your satisfaction can be brought to the Wizard if you sign up for the casino by way of our affiliate link.
The casino has a variety of playing options that, in sum, should be convenient for just about any player. In addition to a downloadable casino product, there is also an Instant Play casino (for fun or real money) that is available directly through the site. Red Stag also has a mobile compatible casino for many of the games that are offered.
Wizard has also found that this casino is more secure than most due to the 128-bit SSL encryption technology that scrambles a player's information such as to make it unreadable to any third parties. Thus, in terms of player safety, it doesn't get much better than Red Stag.
The casino has only been around since 2015, so it is quite telling that it has performed admirably enough to receive a Wizard of Odds approval already, but that might have as much to do with the strong family of casinos that it is a part of than anything else.
As with other casinos in the family, Red Stag is powered by the venerable WGS Technology software, which has also been thoroughly reviewed by Wizard.
While you should stay away from the actual, "Perfect Pairs," side bet, the game upon which the side bet is offered is actually the best Blackjack game on WGS software, with a RTP of 99.64% which is to say a house edge of 0.36%. That house edge is quite liberal, even by online Blackjack standards.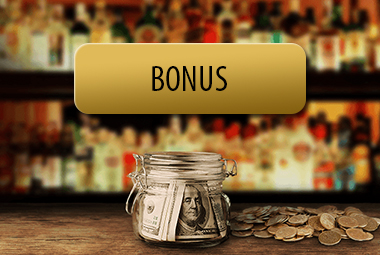 In addition to the fact that Craps is not a qualifying game for bonus playthrough, players should also avoid any casinos that offer this software if Craps is their game of choice because the software only allows for 1x Odds. Even factoring in Odds, these conservative (and almost unheard of) poor Odds offerings don't even cut the combined house edge in half (obviously) perhaps making this one of the worst Craps games on the Internet. In fact, I've never even heard of a land-based casino that fails to allow at least 2x Odds.
The Video Keno is pretty middle-of-the-road with exception to the Pick-7 and Pick-13 games which return 96.35% and 96.54%, respectively. Those two returns are outstanding, even by online casino standards. Unfortunately, the games cannot be played for fun without creating an account, which I am not going to do, because I might decide to play a bonus at Red Stag one day if there is one offered that is good enough. Unfortunately, that also means that I cannot look at the specific paytables for those Keno games. I would suspect that, as with many other online casino games, they are pretty bottom-heavy, and thus, low Variance compared to what you may be used to in brick-and-mortar casinos. While low variance casino will likely extend your playtime given a certain deposit amount, it does make it more difficult to win any meaningful sum of money.
The site also features Wizard's own Mulligan Poker, which comes with a low element of risk of 2.38% given Optimal Strategy, which is really easy. In fairness, it should be mentioned that Mulligan Poker is nowhere close to being the lowest percentage game in terms of house edge, but it is a lot of fun to play!
The casino offers a few games that are exclusive to WGS Technologies in addition to Mulligan Poker, such as Poker Dice and Bingo Bucks (as well as a few others) but they are best avoided as the house edges on those are worse than the better returning Video Keno paytables.
In terms of Video Poker, while the software does offer five games with returns of over 99%, the offerings are still pretty unimpressive with nothing special. The best game is 9/6 Jacks or Better with a return of 99.54%, while the second best game is 99.26% Aces and Faces followed by 99.17% Bonus Poker. Again, these games aren't awful, but nor are they anything special by online casino standards.
Red Stag Casino is currently offering a bonus of $2,500 (up to, of course) along with Free Spins in what they term a, "Welcome Pack," so let's take a look at that:
| | | | | |
| --- | --- | --- | --- | --- |
| 1st | 275% | 100 Spins | Dolphin Reef | $550.00 |
| 2nd | 175% | 100 Spins | Fat Cat | $350.00 |
| 3rd | 100% | 50 Spins | Funky Chicken | $200.00 |
| 4th | 175% | 50 Spins | Cool Bananas | $350.00 |
| 5th | 100% | 25 Spins | City of Gold | $200.00 |
| 6th | 150% | 25 Spins | Cherry Blossoms | $300.00 |
| 7th | 275% | 150 Spins | King Tiger | $550.00 |
Above is a table taken from the Red Stag website explaining how the $2,500 Bonus works, which is actually a new member bonus that takes place across the first seven deposits.
Based on the Max Bonus and the Bonus Percentages, I have come up with the actual cash deposit that is necessary to maximize each bonus, which I will now include in a separate column:
| | | | | | |
| --- | --- | --- | --- | --- | --- |
| 1st | 275% | 100 Spins | Dolphin Reef | $550.00 | $200 |
| 2nd | 175% | 100 Spins | Fat Cat | $350.00 | $200 |
| 3rd | 100% | 50 Spins | Funky Chicken | $200.00 | $200 |
| 4th | 175% | 50 Spins | Cool Bananas | $350.00 | $200 |
| 5th | 100% | 25 Spins | City of Gold | $200.00 | $200 |
| 6th | 150% | 25 Spins | Cherry Blossoms | $300.00 | $200 |
| 7th | 275% | 150 Spins | King Tiger | $550.00 | $200 |
As you can see, the maximum deposit you would want to make to fully maximize the value of each bonus (assuming it is positive at all) is $200 per deposit. As far as the value of the free spins on the slot games in question, I am unaware of what the return is for those specific games, and am therefore unable to ascribe a value to those. I will say that any winnings from free spins are also generally treated as bonus bucks and have a corresponding playthrough amount, as such, but whether or not that actually helps the player, I don't know.
With all of that out of the way, let's take a look at the Bonus Terms as well as General Terms:
The first thing that should be mentioned is that players need to opt out of bonuses prior to making a deposit, or the bonus will automatically be applied to the deposit in question. For those of you who would rather have the ability to cash out anytime you want without taking a bonus, or for those of you who do not feel the bonus would help you, that's an important thing to keep in mind. When making a deposit, if this applies to you, go to Live Chat first and make clear that you do not want any bonuses.
According to the Promotions page for Red Stag, the bonuses are subject to 30x playthrough requirements, but that page does not establish whether that is just on the bonus amount itself, or if it is also on the deposit. Either way, if a bonus is $550, that would result in the need to run through at least $16,500 coin-in (if the deposit doesn't also need to go through 30x) which, at 4% hold on slots (we'll assume) would result in an expected loss of $660, which is more than the bonus amount.
One term that seems somewhat unique to me is that players cannot claim any other bonuses if they have a withdrawal pending, apparently regardless of whether or not the player makes a new deposit:
Players with one or more pending withdrawals currently in their account are not eligible to receive any bonuses, promotional or otherwise, until such withdrawals are either processed or cancelled. Abuse of this policy, as defined by the casino, may result in cancellation of the player's winnings.
I am aware that money actually in a player's balance cannot constitute a new deposit in the sense that a bonus cannot be claimed on funds already in the casino, but it seems strange not to allow a bonus to be applied to a new deposit if a withdrawal is pending. One would think, if nothing else, that the casino would want the player to make the deposit as quickly as the player would like to. Granted, the player could then theoretically cancel the withdrawal request, but just make the policy that the withdrawal request cannot be cancelled, not that the player needs to wait to be paid.
Another thing that I would avoid is playing at any sort of shared or public Internet connection, which is something I would avoid anyway, but especially because:
Only one Real Account is allowed per player, household, address, e-mail address, credit card number, bank account, and environments where computers are shared (university, fraternity, school, public library, workplace, etc)
YUCK!!! No thanks on the mobile casino, I guess, might accidentally end up playing off of the same IP as someone else…
The next term states that the Wagering requirement is generally either 20x or 40x, unless otherwise stated, and it is being otherwise stated as 30x for the Welcome Bonus. However, it does appear that the wagering requirement applies to both the bonus and deposit:
All bonuses at Red Stag Casino have a minimum play-through requirement associated with them. Referred to as the 'Wagering Requirement', this is the minimum that you will need to wager after receiving a bonus before you will be permitted to withdraw any winnings from the casino. Unless otherwise mentioned, players are required to wager their purchases and play bonus 20 times.
Players from United Kingdom are required to wager their purchase and play bonus 40 times.
Going with the special 30x number for the Welcome Bonus, and I would reverify that via Live Chat and get a copy of the transcript just to be safe, that would mean that the first deposit + bonus of $750 total would come with a wagering requirement of $22,500 and an expected loss of $900 given a 4% hold on slots. In other words, not at all advantageous without some kind of bet structuring, and to recommend that, I would have to know a lot more about the specific slot offerings than I do...which is nothing.
The wagering requirements for Video Poker and Blackjack are 10% of normal being counted, so on our $22,500 example, it would then be $225,000 instead. Given the House Edge of 0.36% on that Perfect Pairs game (the Video Poker is irrelevant because it is worse) the expected loss would be $810 on your balance of $750. It's a good bonus in that it gives the player some play time, but it cannot be beaten with flat betting. Perhaps some bet structuring, as long as we don't find that the terms disallow that.
Fortunately, all of the table games except those disallowed (Baccarat, Roulette, Craps) count 35% towards the Wagering Requirements, which actually isn't that bad. That would mean that Table Games have a wagering requirement of $64,286 against an initial player balance of $750. In terms of Element of Risk, Mulligan Poker seems to be the best, "Other Table Game," that is allowed with an EoR of 2.38% based on a player's expected total bet. Unfortunately, that still reflects an expected loss of $1,530, which means that that game cannot beat the bonus with flat betting alone.
The long and short of it is that the bonuses (assuming flat betting) are really not structured to accomplish much other than increasing a player's play time. The player is still expected to lose, overall. In fact, NOT taking the bonus (if flat betting) is arguably better because you can expose fewer bets to the house edge, meaning a lower total, and you are still able to cash out anytime you want.
No wonder they want you to take the bonus!!!
Finally, unlike other online casinos that force you to carry playthrough to the next bonus, this one does not. For example, if you had playthrough of $120,000 to complete a bonus, but only got through $70,000 before you lost both your bonus and initial deposit, some casinos are such that you have to finish the playthrough on your next Bonus + Deposit, or even just on the Deposit, before you can claim the next bonus.
Red Stag, fortunately, does not do that. However, before taking another bonus, you must make sure that the balance of your account is less than $1, or you will be subject to forfeiture of any bonuses or winnings due to having taken multiple bonuses at the same time. Only playing your total balance down to less than $1 ends the bonus you are on in terms of the playthrough requirements:
If your combined Bonus Account and Real Account balance is less than $1.00, any Wagering Requirements that were associated with your account are removed. In order to prevent legacy Wagering Requirements being applied, we recommend that you do not accept additional bonuses if your account balance is higher than this minimum.
"Legacy Wagering Requirements," is a new term to me, but I take it to mean having the current wagering requirements that are incomplete applied to a new bonus.
When it comes to the forbidden games of Roulette, Craps and Baccarat, it is important to remember that those games DO NOT contribute to wagering requirements. More importantly, any winnings that come about as a result of playing those games while on a bonus will be forfeited:
Roulette, Craps and Baccarat play with bonus funds is forbidden. Players who use bonus funds for wagers on any of these games will not be eligible for any future bonus considerations, Additionally, any winnings from bonus wagers placed on these games will be confiscated. Further, all losses incurred while playing said games will be non-refundable.
They REALLY don't want you playing those. Unfortunately, that also means any notion of bet structuring on relatively low house edge but high variance bets on those games essentially to build an insurmountable bankroll and thereby, "Grind out," the playthrough to a profit is also out. I would hope that the casino literally does not allow you to play the games on bonus money, even if you try, but it's hard to say.
Unfortunately, any notion of bet structuring at all is also out as the maximum wager while playing on a bonus is $10.00:
The maximum permitted value of any single wager placed, on any game, using bonus funds is $10.00.
Any bets you place will be taken from your bonus balance, if there are sufficient funds. If you win the bet, your stake will be returned to your bonus balance and winnings over and above the bet amount will be paid into your real chip balance as cash. Bonus funds cannot be withdrawn from the casino.
Which means that the playthrough on Blackjack, in addition to not being profitable, will also take approximately half of your entire life if you make the full deposit to maximize the bonus. I exaggerate, of course, but tens of thousands of hands just to be able to withdraw your money (If you're lucky enough to have any left) on a game that you are STILL expected to lose is pretty steep.
It is also important to note that the bonus is a, "Phantom Bonus," but fortunately, it appears that all winning bets go directly to your cash balance. In other words, while it is all but guaranteed that your actual Bonus money will not survive the playthrough requirements (due to the fact that you are not going to win literally almost every single trial) the bonus doesn't end up being any kind of cash out penalty in the end. In fact, on a 1x playthrough basis, the expected amount of the Bonus to make it to your real money account, eventually, is basically just 100% of the bonus less the house edge of the game. That's not to say that you will complete the playthrough requirements with your cash balance, because you probably won't.
Let's have fun with some more bizarre terms:
Unless otherwise stated, players' maximum cash-out on winnings coming from free money offers, Martini Weekly cash back, Bi-Monthly free bonus, free spins and free tournament entry is $150. Any remaining balance will be removed from the account.
Deposit bonuses must be claimed by the player via the cashier or from our representatives when credits are purchased, or before the player start playing with their initial deposit. Requests for the bonus once players have started wagering their initial deposit will be refused, and any winnings may be removed.
The first of the two terms makes sense, but I would make sure not to use any of those promotions unless I had very close to nothing in my account. It does say, "Any remaining balance," and while one would generally take that to mean any remaining balance that was won by way of the bonus, it does not say that specifically, so I am going to play it really safe and have nearly nothing in there in the first place if I do one of those free bonuses.
The second italicized paragraph immediately above is extremely bizarre, because Red Stag states that you have to contact support BEFORE making a deposit or the bonus will automatically be applied. WHICH FRIGGIN' ONE IS IT!!!???
Seriously, let's compare:
Your seven deposit bonuses are completely automatic with your deposit in the cashier.
Deposit bonuses must be claimed by the player via the cashier or from our representatives when credits are purchased, or before the player start playing with their initial deposit. Requests for the bonus once players have started wagering their initial deposit will be refused, and any winnings may be removed.
Seriously, which damn one is it??? Do the bonuses need to be claimed, or are they automatic? The website literally says two 100% diametrically opposed opposite things! They are also suggesting that any winnings may be removed if you play the bonus without first claiming it, even though the site says it is automatic elsewhere.
AGAIN, WHICH ONE IS IT!!!???
Here is my advice on this: If you do not want the bonus, tell LIve Chat you do not want the Bonus before making a deposit, then make your deposit, and before playing, tell Live Chat that you don't want the bonus AGAIN!!! Get E-Mail transcripts of both conversations.
If you do want the bonus, then tell Live Chat you want the bonus before making a deposit, then make your deposit, and before playing, tell Live Chat that you want the bonus AGAIN!!! Get E-Mail transcripts of both conversations.
That should pretty much cover you, whether you want the bonus or not, even though the Terms and Conditions of the Bonus Rules and the Welcome Bonus page say two totally different things.
It's probably just an oversight, but you don't want to forfeit bonus winnings, or alternatively, be subject to playthrough requirements that you don't want because of an oversight.
I don't know how you would go about refusing such a difficult to beat (if at all possible) Promotion, but if you do, then your withdrawals might be refused:
Bonuses may be refused at the discretion of the management if abuse of promotions is suspected. All withdrawals will be audited and refused where there is suspected fraud at the casino management's discretion.
I don't know why. With a Max Bonus Bet of $10.00, they should allow Craps, Roulette and Baccarat with it counting 5% towards Wagering Requirements and give you a written freaking invitation to opposite bet to your heart's content!
The casino does offer some Free Bonuses that come with a one-time withdrawal allowance of $150 if you win, (with anything else being forfeited) and those can come by way of Free Spins or tournaments which then have a 40x playthrough requirement on slots only, unless otherwise specified. It appears that you can win one of those and cash out $150, once, without ever making a deposit, but I'd contact Live Support and ask them just to be sure.
Do you know I haven't even made it to the regular Terms & Conditions, yet? Oh well. At least the Bonus Terms are specific, with exception to the self-contradictory one.
Unless you're a recreational player, the Terms & Conditions basically suck as they are very similar to the Slot 'O Cash casino. Let's do the cliffnotes version:
No Professional play. (Don't even know how you would do that)
If you are found cheating, doing professional play, abusing bonuses or blah blah blah the casino has the right to publicize your information, including identity and E-Mail address, and share it with other casinos, banks and your credit card company...as if the latter two entities would even really care at all.
Conclusion
The first of the new featured advertisers is Win A Day Casino who I cannot personally recommend for advantage players or recreational players because I do not believe that I trust the software to be random given their past performance and the fact that they are on the Wizard of Odds Gray List of casinos.
Furthermore, I also don't like the vagueness of Win A Day's Terms and Conditions and would spend a considerable amount of time discussing the matter with Live Chat and getting more specific answers if I was going to play there at all.
The one thing that I will say about Win A Day is that they have some of the most liberal bonus terms that I have ever seen from any online casino, the only problem is that I don't know whether those terms are even enough to make playing there advantageous. There is also the fact that they are not Wizard of Odds APPROVED, so in the event of a dispute with the casino, I'd basically have to work with LCB, the licensing jurisdiction or otherwise be on my own.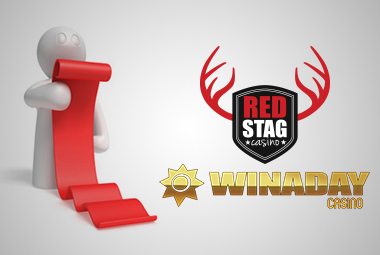 When it comes to Red Stag Casino, they operate on phenomenal WGS Technologies Software, so there is no going wrong with that. Furthermore, they also do a great job encrypting and protecting player information, unless they decide that you have cheated them in some way, in which case, they reserve the right to share it with anybody who they can think of.
When it comes to Red Stag Casino, I'm afraid that I don't know enough about the Keno or Slot games (because I cannot see Keno paytables without creating an account) to be able to determine whether or not the bonus can be played at an advantage. However, with the $10 Max Bet imposed upon players playing with a bonus, I'm going to shoot from the hip and suggest that I think it probably cannot. If it can, it would be due to trying to Max Bet Keno at $10 to hit a huge payout and then grind out the remaining playthrough on something else. However, the weighting of the Keno game is likely bottom-weighted making that tactic unlikely.
Besides that, because of the restrictive wagering maximums that Red Stag imposes upon its players, I don't think that the Keno game would offer the necessary Variance that would result in a profit expectation. Again, I could be wrong (haven't seen the paytable) but a $10 bet isn't very much and a lot of it is going to come down to the 6/7 pay or 7/7 pay on a Seven-Spot card, for example.
Much like the Wizard, unfortunately, I have nothing to offer when it comes to slots.
I do find it strange that games such as Baccarat, Roulette and Craps are forbidden because they can certainly not be flat bet at $10 with an expectation of profit, even with the higher variance bets. Maybe a single-number on Roulette, but if there would be an edge at all with a $10 Max Bet, it would be extremely small and not worth doing.
In my opinion, since the casino obviously knows what it is doing in terms of not offering easily beatable Bonuses, they should try to structure the Bonus such that players can play whatever they want. For example, on Craps, Baccarat and Roulette, have the bets only count 1% towards the wagering requirements and maybe even reduce Blackjack to 5%, or something like that. I don't think anybody serious about winning is trying to play these bonuses anyway, and it's pretty clear that there is no advantage to be had with flat betting, (regardless of the bonus level) so just let the players play whatever they like. The odds on Craps are 1x, for God's sake!
The one thing that I will say about Red Stag is that, given the customer service and extreme lengths to protect the players, it is a terrific casino for recreational players. The bonuses are also pretty strong for players who want to take a shot at a big win, (i.e. those for whom $10 would normally be a HUGE bet) as well as players who enjoy bonuses that are not structured to do much except increase your play time.
With that, though, I must say that even slot players are not getting much out of these bonuses except a likelihood of increased play time. Given the kind of coin-in that has to be played (based on Deposit + Bonus) and the fact that it is a sticky bonus to complete the Wagering Requirements, I think that slot players are quite possibly mathematically better off to make a deposit and NOT take a bonus. The reason why is that the deposit only needs to be played through once so, if the player does get lucky and hit something, they do not need to continue to expose bets to the house edge. The reason this casino can offer the bonuses it does is because the total amount (deposit + bonus) is being exposed to the house edge so many times.
For that reason, if you're a recreational player, I say just to avoid the bonuses and try your luck.
Until a certain point, Red Stag seems to be pretty liberal about allowing players to participate in Free Roll games, Tournaments and to get Free Spins. Granted, the winnings therefrom are subject to a 40x playthrough requirement and the maximum (and only) amount that can be withdrawn from those is $150, because the minimum withdrawal in general is also $150. However, it's still a pretty good deal, risk nothing other than your time and possibly win $150.
I can't say that I would consider that sort of thing worth my time, but if you have nothing else to do…
Posted by
Mission146