My father's report from the equator
My father is literally a Ph.D. rocket scientist from Yale and Cal Tech. He doesn't tolerate scientific sloppiness easily. Here is a excerpt from a recent trip report he sent from Ecuador, at the so-called equator. I think this would help explain to anybody who cares why I am like I am.
Quote: My Dad

In the afternoon we paid $20 each for a trip to what was supposed to be a "middle of the world" government-built tourist attraction with a big monument and exhibits on the equator. They did not go there. We did get to the equator, about 15 miles from here, but the place they took us was a sham tourist trap with misinformation about where the equator is (200 feet off), how "wide" it is, and what happens there about water going down drains and balancing eggs on a nail and walking a straight line blindfolded. (Who can?) I told the tour guide (privately) that we were being lied to and that I am an astronomer/physicist and can recognize fakery. I also had a GPS with me with 10 foot accuracy. I quit the guided tour and waited in the bus for the snake oil show to end. At least I got to use a rest room. About 1/4 of the group liked it and 1/2 did not realize it was a sham. I did not ask for a refund, but the tour guide will be dealt with appropriately at tip and report card time. I cannot afford to make enemies at this stage of the tour. We will be walking on the first of four Galapagos Islands Wednesday afternoon,
Here was my follow-up question: "At the equator did they mention the
http://en.wikipedia.org/wiki/Coriolis_effect
' rel='nofollow' target='_blank'>Coriolis effect? In particular, if the rotation of the water when you flush the toilet is correlated to the hemisphere you are in. "
Quote: My Dad

They made a big deal of the Coriolis effect, and carried out a totally rigged demonstration. The effect is millions of times too small to be effective on the scale of a bathtub. The direction the water swirls depends upon how the tub was filled and if the water was stirred, even if it has been left tio settle for days. Mosat of the people believed it. it was like a magic show. I was really pissed off. Christa and I will tell you mopre about it later. Their equator location was also about 400 feet off. My GPS is accurate to 25 feet. New ones are better than that.
Comments
NFL picks week 10
Last week I went 2-2-1. My overall record is now 17-18-1. ROI is -7.0%.

Week 10 picks:

Cin +7.5 -115
Hou +1 105
Chi +1 -105
KC -1 -105
Phil -3 -115
NFL picks week 9
Last week I went 4-1, bringing up my season record to 15-16-0. ROI is -7.3%.

Week 9 picks:

Buf +3 -115
Car +6.5 -110
TB +9 -110
Det +4 -110
Mia +5 -110
Comments
Glad to see someone else thinks Buffalo is a good pick. For -115 you would think they would give you +3.5.



BTW: What stats do you use most when picking a game, other than favoring underdogs?
Answered question above by PM. Trust me, it is nothing brilliant.
I stink at poker part II
After my last rant about how I stink at poker I took a break from it for a while. Recently I came back, just playing the 50¢/$1 game at Bodog. However, this evening I couldn't get any other players, but there was a game $1/$2 game going so I joined that.

There was the kind of player there who I've seen many times before. Basically the player who raises 90% of the time. Maybe he would back down to a check-raise with garbage, but otherwise he just raised, raised, raised -- all night long.

With this kind of player I lower my standards, and will call with a middle pair, or basically any hand well above the median. However, this guy just kept catching the right cards over and over. If I had a straight, he would catch a flush on the river. If I had a set of aces, he would catch a straight along the way.

Anyway, this guy gave me a royal spanking for two straight hours before I just now gave up and waived the white flag. Do I stink or what? I think a robot that was programmed to raise 100% of the time could beat me. I get scared out 80% of the time, and the other 20%, where I should be recouping, I take one bad beat after another. It wasn't just me. There were two other players there, at separate times, who seemed to play "by the book." The first one was cussing out the lucky raiser, and the second was ranting about how the game was fixed.

There is just something not right with my game, and I can't put my finger on it. If I had any sense I would just quit the game. I can see a bad player getting lucky, but for two straight hours in a fast game, it is just hard to take.
Comments
License plate spotting
I saw this beauty at the Red Rock parking lot recently. I think this is the second time only I have seen a Puerto Rico license plate on the road.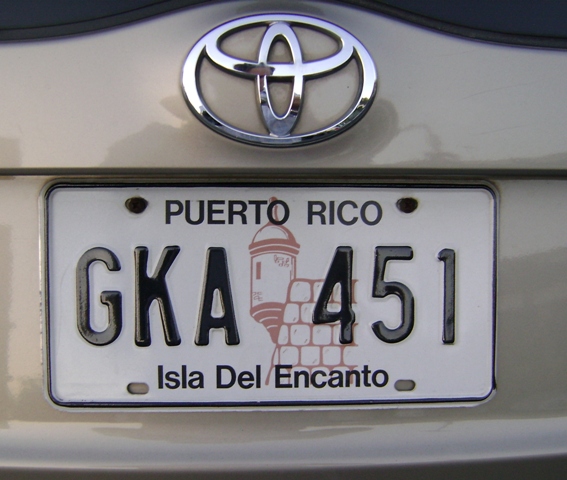 Comments
you'd think more people would just drive over! [g]

Did the plate get to remain there after the picture, collector?
"Did the plate get to remain there after the picture, collector?"



Of course. I have one in my own collection, which I can look at any time. They go on eBay for about $50.