Exploitable Loss Rebate
An observation, and, I suppose a request for help and opinions.

My main online casinos gives me a 5% loss rebate, paid once per month. Which is nice. But I think they may have given me a +EV situation. Here's why I think this.

Today I got a £54 loss rebate. No wagering requirement! Nice. Thank you. Why? I didn't lose!

This month, I played most days. Typically I bought in for £50, £100 or £200 per day, which I either lost or doubled or better. At least one day I turned £200 into £800 and at least a couple of times I turned £300 or more into nothing. Swings and roundabouts. Anyway, over the last 30 days, I deposited £5100 and cashed out £5700 for a net profit of £600 (rough figures)
So clearly I was not eligible for a loss rebate???
But I received one, of £54. So at 5%, they reckon I lost £1020 over the month. But taking the 30 days as a whole, I won!
I conclude that they must, therefore be setting aside my loss rebate individually every day!. Days where I lose, I get a rebate credited and days where I win, I get nothing. It's a reasonable estimate that the sum of the losses on my losing days would indeed be about £1000.
This surprises me. If I were the casino, I would assess my profit or loss, just once, covering the 30 day period. Thus I would not have given any rebate. Doing it on 30 individual 24 hour periods, they are giving me 5% on ROUGHLY 15 days and 0% on 15 days. Or, on average they are giving me 2.5% of my buy-ins!

So.... +Ev scenario...... Rough, back of the envelope estimate....
Each day, credit my account with say £1,000.
Make one low edge wager at roughly even money. Say one hand of Blackjack at 0.4% house edge.
If it's a push, rebet till I win or lose.
Underlying EV over the 30 day month = 30 X 1,000 X -0.004 = -120

*Ignoring blackjacks or splits or doubles, for the moment I would lose on average 16 days (53%) and win on average 14 days.

Loss rebate 16 x 1,000 X 0.05 = £800
Subtract the £120 I lose to the house edge and I have +EV of £680 per month.

There is a downside: Variance
Overall Standard Deviation =sqroot(30) x 1.14 x 1000 = £6244
So each month I have +EV of £680 +/- £6244 to one standard deviation.

Now. That's one way of doing it. Variance is high, so it comes at a big risk. Let's consider what happens if we try to maximise EV....

Similar situation, but lets say, we aspire to lose on 29 days of the month and win back all of those losses on the 30th day ( not necessarily the last day.) We need to engineer a session wager that pays 30 for 1. Easy enough to do. I could, have a daily win goal of 29,000 profit using the most aggressive 'All in' positive progression: Wager 1,000, win, wager 2,000, win. wager 4,000, win, wager 8,000 win, wager 16,000 win, wager 13,000 win. If that last wager loses, just keep max wagering in the same way, till I profit 29,000 or lose 1,000. Obviously, on average I lose 29 days out of 30. Ignoring the possible ebb and flow if I lose that last wager, my average daily wager would be sum(1000+2000/2+4000/4+8000/8+16000/16+ 13000/32) = £5406
Overall Standard deviation for the month would be sqroot(30) x 1.14 x 5406 = 33,750
Loss rebate value = 29 x 1,000 x 0.05 = 1450
Clearly much more risky but almost twice as valuable in rebates.

Each day I would expose an average of £5406 to the house edge, with a bit more if there was any ebbing and flowing for the last few wagers. House edge cost 30 x 5406 x 0.004=1297. AH.! That didn't cost in! I need to revisit this. Consult some proper Advantage players or mathematicians.

Thank you anyway, Online casino.

* ensuring I have enough reserve funds to cover any splits or doubles is a given.
Comments
Assuming the casino is offering only -EV gaming, isnít 5% less of that -EV still -EV? Good luck devising a system of wagering that is not subject to that.
BleedingChipsSlowly,



5% of the money lost would ideally exceed the -EV of the bets being made.



For example, if you were to make a $1,000 Pass Line bet on Craps, then your negative EV would be:



(1000 * .4929) - (1000 * .5071) = -$14.20



However, the casino is giving you $50 on the losses back in the event that you lose the first bet. Being an online casino, I should assume that this must be played through once to be withdrawable, but maybe not.



If the casino did return the $50 as cash withdrawable, then effectively, a player would only stand to lose $950 if the bet is lost, ergo:



(1000 * .4929) - (950 * .5071) = $11.155



Thus, the expectation of the overall proposition becomes positive, despite the fact that Craps still has a House Edge.



Anyway, different rebates and rules associated therewith call for different ways to play them, but that's a simple illustration meant to reflect, in the simplest terms, why rebates can sometimes result in a positive expectation.



Another thing that we will notice is that the value is only technically REALIZED upon a loss. For that reason:



.05 * .5071 = .025355



(14.20+11.155)/1000 = 0.025355



In other words, the effective change in value is 2.5355% to the good and the player's expectation (in this example) of winning $11.155 reflects a 1.1155% overall advantage.
Now 30!!! More Winning Sessions
Time once more for a little trip report from the last week or so. Online wagering. Low LOW stakes.
Here I present the course of my online bankroll for the period 5 Nov to 14 Nov.
This comprised
15
30 consecutive winning sessions. I start with a zero account balance and I'll confess now the first winning session was actually just break even. But It felt like a win after being heavily down.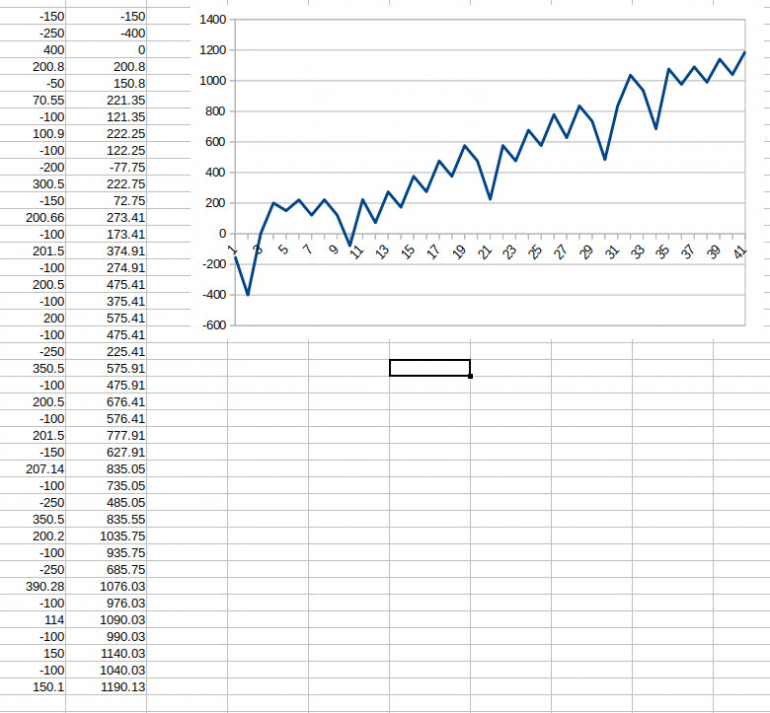 Note how I did what I refer to as Marty at the buy-in level: When i lost £100 buy-in, I would buy in with £250 with which to claw it back. Had I lost that £250, I'd have had to buy in bigger again, say £400. I was lucky. That didn't happen in this interval. Not to say what happened just before $;o) Some times I initially bought in with £150 or even £250
Within each session, I wagered as the mood took me. Typically 2,4,6,10,15,30 progressive.
Progressives are just a fun way to lose money.
Session #1: I credited £150 and lost it. Credited £250 and clawed back to a balance of 400 : Breakeven Cash out.
Session #2: Credited £0 but was awarded £25 freeplay. Played it up to £200.08: I call that a win. Cash out.
Session #3: Credited £50 Played it up to £70.55: Another win. Cash out.
Session #4: Credited £100 Played it up to £100.90: Another win of just £0.90. Still a win. Cash out.
Session #5: Credited £100 Lost it. Credited £200 Played it up to £300.50: Another win of just £0.50. Cash out.
Session #6: Credited £150 Played it up to £200.66: Another win. Cash out.
Session #7: Credited £100 Played it up to £201.50: Another win. Cash out.
Session #8: Credited £100 Played it up to £200.50: Another win. Cash out.
Session #9: Credited £100 Played it up to £200: Another win. Cash out.
Session #10: Credited £100 Lost it. Credited £250 Played it up to £350.50: Another £0.50 win. Cash out.
Session #11: Credited £100 Played it up to £200.50: Another nice win. Cash out.
Session #12: Credited £100 Played it up to £201.50: Another nice win. Cash out.
Session #13: Credited £150 Played it up to £207.14: Another win. Cash out.
Session #14: Credited £100 Lost it. Credited $250. Played it up to £350.50: Another £0.50 win. Cash out.
Session #15: Awarded £50 free play. Played it up to £200.20: Another win. Cash out.
So, over these 15 sessions I profited £1035.75
[To be updated]
There were a few similar winning sessions before this period, but one biggish loser, so I only start this report where I can show consecutive winners.
That's the power of selective reporting.
Most sessions were played at low stakes RNG AC Blackjack. Typical wagers £2 to £20 with some neg progressive wagering. I know. Not exactly high rolling.
Session 2 I played a carney game. First two wagers were very lucky in that I got a multiplayer which brought me to £175. There was £750 wagering requirement, So I covered every slot and let it auto play at £6 per spin. That took me straight up to £200.80 with the help of some multipliers.
Session 15 I played a carney game. First two wagers I parlayed up to £190. There was £1500 wagering requirement, So I covered every slot and let it auto play at £10 per spin. That left me with £145 balance which i took over £200 with AC Blackjack.
Comments
Never Argue With A Fool
..., onlookers may not be able to tell the difference." ― Mark Twain

Or is it...
"Never argue with an idiot they'll drag you down to their level and beat you through experience." -- Mark Twain

Anyway. this amused me from 05:10 and 07:50 especially

Comments
for the video, where he went wrong was worrying with a budget to start with. Just tell your wife 'we're broke' once in a while and that might slow her down a bit.



at least this guy was operating when there were no credit cards
The Earth Is Flat
... Obviously, except for islands and mountains and a few dips and hollows.
It is, and I NEED you naysayers to prove it's not, once and for all. Why won't they or can't they prove it?
Some say the Earth is roughly a globe, but like most things in science, new theories often come along to replace the established scientific opinions, all the time. Just like it used to believed that the sun revolved around the earth, that theory has now been debunked. The earth, has now been proven to revolve about the moon roughly once every 28 days and the sun rotates around the moon in a precisely defined, complex non-circular path. Other theories come up as science progresses and it's now claimed that the sun and all our local planets revolve around something in the Milky Way galaxy. See how science evolves as old ideas are proved wrong? Incidentally, if the earth is in the milky way, how come we can see the Milky Way from the outside? See how easily these naysayers so called 'theories' collapse when we question them. That's how science advances!
Now, naysayers come up with all sorts of evidence for their 'theories' but these 'theories' only apply in the realms of maths and physics and cannot be shown to apply to everything in the real universe.
Naysayers come up with formulae and so called 'evidence', but believers are right to question this 'evidence': Photo's of the earth taken from the moon seem to show the earth as blue and round, but that's easily refuted since the whole idea of there ever being a camera on the moon, let alone a man is already widely debunked. Plus, if the earth is blue and white, how come it was grey and green in the Universal Studios trailers? So called naysayers never explain that paradox. Ask yourself why! Is it just a cover up fabricated in movie studios?
And anyway, even if there was a way of photographing the earth from space, it's only a 2 d image. So maybe the earth is a flat disk. But these naysayers just dismiss this possibility out of hand and deride the believers. The naysayers can be quite insulting and rather than present their 'proof', they attack and deride the believers. They talk about space stations and satellites orbiting the earth, but when observed through simple telescopes, by earth-bound believers, they are seen to fly horizontally across the sky until they reach the edge of the earth and then go out of sight as they flip over to the other side of the earth disk and again fly flat over that side. Some satellites are so called geostationary and just hover stationary over one place. Naysayers explain how that can happen with your precious 'round earth theory'? Still I digress.
Naysayers come up with all sorts of 'formulae' that they say show that they are right, but they cannot prove the earth is a globe by drilling a tunnel through the centre. Have they tried? If not, why not. It's as though these naysayers just cannot get the budget to test their theories. And even if they could, that wouldn't prove that the earth is not a simple disk. So, naysayers, where is the real proof that backs up your so called 'evidence'. I don't claim to be a super mathematical genius, so prove it to me in real world, laymans' terms without trying to baffle me with science. Or aren't you naysayers as clever as you claim?
There are several believers that have built websites that prove the earth is flat and they just get constantly attacked and derided by the naysayers. Ask yourself why? Is it about money or mineral rights? These naysayers certainly seem to have a lot of money to make their case, but nobody asks themselves why??? Follow the money, I say. Find out what the naysayers are hiding.
If these naysayers are so clever, how come they can't explain their opinions and 'theories' without referring to certain pet formulae and other debunked or un-proved theories? They don't even stick to the same so called 'proof' but just line up 'evidence' upon 'evidence', as if that proves anything! We believers are right to ask questions and this forum would be a better place if it could have a sub-forum where these debunked so called 'scientific' naysayers could be challenged. It would need to be properly moderated, because these naysayers can be quite insulting.
I accept that it's the policy of this forum to support the 'round earth theory' and believers just get told basically to be quiet and go away. when believers ask further questions they get insulted and derided and even suspended. That's not fair. Those naysayers are the ones that should be suspended for their insults. I've had to resort to blocking some of these naysayers.
Some references for further study
https://mindblastingabraham.wordpress.com/2017/06/14/the-flat-earth-logic/
* Note it confusingly calls the naysayers 'BLIND BELIEVERS Ė of Greek Mythology based wing of [Modern Science'
http://www.flatearthlogic.net/
"Only believe in what you, yourself can prove"
200 proofs the earth is not a spinning ball
Comments
My Freeplay Trip Report
Last of the high rollers !!! A trip report worthy of Nathan!
Today I logged onto my online casino and found a random
£100 of slots freeplay,
on selected slots 30x wagering requirements. BORING. I don't care much for slots. I wasn't expecting to cash anything out from that.
So I selected a game. 'Rainbow Riches' and let it auto-spin a while at £2..... Very soon, I hit a £400 win, and when my balance reached £500 I switched to £5 per spin.
I left it running in the background as I got on with some chores. At one point, I looked in and had a '15 free spins' round... Which won more and more and
still more
free spins. In fact that round gave 60 free spins which seriously boosted my balance to up over £1,800.
I checked remaining WR and had about £2200 to go. So I cranked it up to £10 a spin and let it get on with it. I expected to maybe cash out at least about £500. As it transpired I reached the end of Wagering requirements with a balance of just over £1,350. With hindsight, it had been a bit harsh on me in that I'd lost about about £450 from coin in of that approx £2200 It seems that game gives most of the returns in 'big wins' and I had few or no big wins in that final phase.
Now, feeling flush with free cash, I messed about with RNG blackjack for a while, and though I ebbed and flowed ( mostly ebbed) I finally cashed out proper my final balance of £1050, for no particular reason. KerChing!
Oh hum. Roll on next freeplay bonus.
Comments