Introduction
SLS Las Vegas is owned by SBE Entertainment. The casino is located in the former shell of Sahara, a Rat Pack era hotel that originally opened in 1951. There are several features throughout the property that pay respect to Sahara, including carpeting and pictures on the wall. The hotel towers, front desk, and parking decks are among the parts of Sahara that still remain from the original structure.
The resort is located on the north end of the Las Vegas Strip. It is the northern most stop on the Las Vegas Monorail. The only casino within a five minute walking distance is Stratosphere.
The SLS brand is a chain of boutique hotels located in high end markets. SLS stands for style, luxury, and service.
SLS Las Vegas opened on August 23, 2014. It has 85,000 square feet of gaming space. Gaming is secondary to its main business of offering a resort experience. SLS Las Vegas offers 1,720 hotel rooms.
While SLS Las Vegas offers gaming, its main focus is entertainment. There are eight restaurants, two nightclubs, and a day club.
SLS Las Vegas Casino
The casino games offered at SLS Las Vegas are above average, especially for the Las Vegas Strip. There are five $5 craps tables that offer 10 times odds. The Field pays triple on 12. There are 13 $10 blackjack six-deck tables that offer double down on any two cards and after splitting. A six-deck table in high limit has a $100 minimum and stands on all 17's. There is a $25-$2,000 double deck blackjack game that allows double down after splitting. The dealer hits all 17's. There are four $10-$1,000 Blackjack Switch tables. A party pit hosts eight 6-5 blackjack tables.
SLS Las Vegas is the cheapest place to play baccarat on the Strip. The five tables on the main floor have a bet range of $10-$5,000. High limit baccarat is $100-$10,000. There are three $10-$5,000 Pai Gow Poker tables.
There are eight double zero roulette tables. The bet limits are $5 to $200.
There are plenty of house-banked poker games. These include Ultimate Texas Hold'em, Three Card Poker, Crazy4Poker, Let it Ride, and Casino War. Bet limits are $5-$500 for these games, except Casino War, which has a $10 minimum bet.
SLS Las Vegas opened with a section of great video poker. These games – Double Joker Wild, 15/11 Deuces Wild, and 10/6 Double Double Bonus Poker – returned right around 100% to players. SLS Las Vegas pulled these machines. The best games now are 8/5 Bonus Poker and 9/7/5 Double Bonus Poker. These start at the $.25 denomination for multi play and $1 for a single hand.
Hotel at SLS Las Vegas
The hotel rooms at SLS Las Vegas were ambitiously priced for its grand opening. The rates have come back down to earth. Rates start at $69 per night on weeknights and $119 on weekends for the standard 393-square foot rooms that come with one king or two doubles. The rates double for the Lux King and King Suite rooms, although the rooms are only 100 square feet larger. The King Executive Suite is an average of $400 per night. All rooms also have a $29 per night resort fee that includes wireless internet and pool access.
Restaurants at SLS Las Vegas
The dining options at SLS Las Vegas have shrunk since the launch. The star of the current offerings is Bazaar Meat by Jose Andres. Like the name suggests, it offers a wide variety of unique carnivorous options. Katsuya and Ku Noodle cover the Asian options at SLS. 800 Degrees is a casual pizza joint. Other casual options include Northside Café and The Perq.
Entertainment
The day and nightclub scene at SLS Las Vegas revolve around two clubs. Foxtail is the day club. Guests enjoy a party scene around the iconic Sahara pool, transformed into the modern day club scene from its earlier glory days. Foxtail also offers a nightclub that opens for special events. The Sayers Club spreads live bands nearly every night of the week. The Center Bar and Money Bar offer traditional Las Vegas lounges.
The Rock in Rio grounds are located directly across Las Vegas Blvd. This festival is held every two years. The outdoor amphitheater also hosts large concerts.
Parking
SLS Las Vegas uses the two former Sahara parking decks. One has access from Las Vegas Blvd. The other is available from Paradise Rd. The Las Vegas Monorail also runs to SLS Las Vegas.
My Conclusion
SLS Las Vegas is a great place to play craps, baccarat, Pai Gow Poker, and blackjack. The day and nightlife are also above average, as are a few of the restaurants. The hotel prices have come down to the point that SLS Las Vegas has become a viable option for Las Vegas tourists, especially with the easy access provided by the Las Vegas Monorail.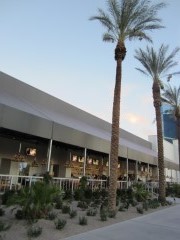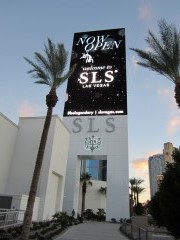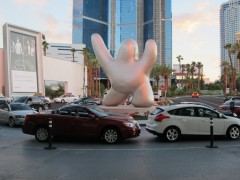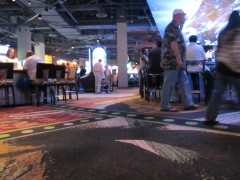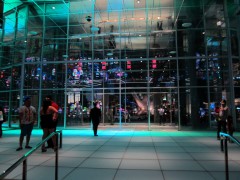 The following table shows their blackjack offerings at the SLS.
SLS Blackjack
Decks
BJ Pays
Soft 17
Double after Split
Surrender
Resplit Aces
Minimum Bet
House Edge
2
1.5
Stand
Yes
No
No
$25
0.26%
6
1.5
Hit
Yes
Yes
Yes
$5
0.48%
6
1.5
Stand
Yes
Yes
Yes
$100
0.28%
The following table shows the video poker available at a randomly selected $1 Game King machine. I am not claiming better games are not available.
Contact Information
Address: 2535 Las Vegas Boulevard, Las Vegas, NV 89109
Phone: 855-761-7757
Web site: slslasvegas.com
Resort and Parking Fees
| | |
| --- | --- |
| Resort fee | $13.50 |
| Parking fee | Free |
Games at SLS Las Vegas
| Blackjack | Location | Decks | Min | Max | Soft 17 | DA | DAS | RSA | Surr | Tables | CSM | Party Pit | 6/5 BJ | Video | H. Edge |
| --- | --- | --- | --- | --- | --- | --- | --- | --- | --- | --- | --- | --- | --- | --- | --- |
| Blackjack | Strip | 1 | 10 | 2000 | H | Yes | No | No | No | 5 | No | No | Yes | No | 1.55422 |
| Blackjack | Strip | 6 | 10 | 2000 | H | Yes | Yes | Yes | Yes | 7 | No | No | Yes | No | 1.84232 |
| Blackjack | Strip | 6 | 10 | 2000 | H | Yes | Yes | Yes | Yes | 9 | No | No | No | No | 0.48263 |
| Blackjack | Strip | 6 | 100 | 5000 | S | Yes | Yes | Yes | Yes | 3 | No | No | No | No | 0.28507 |
| Baccarat | # of Tables | Min Bet | Max Bet |
| --- | --- | --- | --- |
| Baccarat | 10 | 10 | 10000 |
| Craps | # of Tables | Min Bet | Max Bet | Odds | Field12 | Video |
| --- | --- | --- | --- | --- | --- | --- |
| Craps | 4 | 5 | 5000 | 10 x | Triple | No |
| Craps | 1 | 3 | 500 | 2x | Double | Yes |
| Roulette | # of Tables | Min Bet | Max Bet | Rules | Video |
| --- | --- | --- | --- | --- | --- |
| Roulette | 9 | 5 | 200 | 00 | No |
| Roulette | 1 | 3 | 100 | 00 | Yes |
| Video Keno | Rank | Avg Return | Grade |
| --- | --- | --- | --- |
| Video Keno | 33 | 91.12% | B- |