Introduction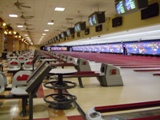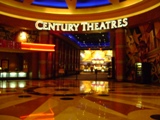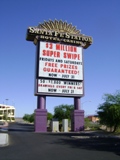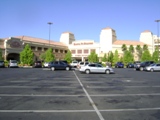 Santa Fe Station exemplifies the trend of "locals casinos whose themes have nothing to do with their names." I think of Santa Fe and what comes to mind is Hopi art, green Hatch chili, and the beauty of red rock mesas. Apparently what Stations thinks of is half-price bowling, Fatburger, and heavy metal tribute bands. Okay, there is some disconnect there, but if the product is good, I think I can live with it.
Santa Fe Station was built as an independent casino called just Santa Fe. Stations Casinos bought it in 2000 and integrated it into their Borg Collective of locals casinos, upgrading it in 2004 and 2007. It is still one of the better locals joints and I would rank it on par with places like Aliante Station or Sunset Station. The only major drawback is the hotel, which does not live up to the rest of the property.
Even with all that, I enjoyed my time there, as I think any visitor would who for some odd reason decides to spend their vacation fifteen miles from the Strip in the exurbs of North Las Vegas. Still, the fact remains that this property is targeted towards locals almost exclusively.
Location/Transportation
Santa Fe Station is located on Rancho and Lone Mountain Roads in northwest Las Vegas, right where Rancho intersects with US-95. This is not really convenient to anything, and it is almost impossible to get to Santa Fe Station without a car. You can take the 105 Rancho bus from downtown and get off at Lone Mountain. Be aware that not all 105 buses run all the way to Santa Fe Station, and you have to walk quite a bit from where the bus stops to get to the casino. The 127 Rainbow bus stops right outside the casino.
If you have a car, the easiest way to get there is to take US-95 north to Rancho. The entrance to the casino is right after the exit ramp. There is construction going on, but it's almost impossible to miss the casino visible right from the freeway.
Hotel
They don't even try, really. It's safe to say Wynn casino designer Roger Thomas was not consulted in these room designs. There are some nice touches like the wrought ironwork on the beds, and a charming hanging lamp, but otherwise you might as well be in an Extended Stay hotel in Naperville, Illinois. The rooms also have the smallest bathrooms I've ever seen in my life. There was literally barely room enough for one person to squeeze in, and no shelf space at all to put my toiletries. Seriously, Santa Fe? I'm a guy -- my toiletries collection is not even that extensive.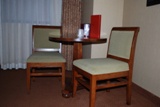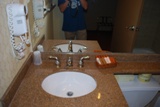 There are exactly 200 rooms in the hotel, and they are shunted off to a darkened corner of the casino with two elevators for access. To get to the pool, you have to go to the first floor, walk through an area where employees hang out and smoke, go outside, and wind your way around the outside of the building to a locked gate where the pool entrance is. Sorry, I didn't go swimming, but I think there was a hot tub. The pool was deserted except for a security guard when I was there. Oh yeah, there is a water feature. Woo.
In-room amenities include a hair dryer and an iron/ironing board. There is no safe, refrigerator, or coffee maker. Toiletries are the usual Tarocco brand. The TV is pretty pathetic -- just a basic, small cathode ray tube. My view overlooked the parking lot.
Check-in was very quick and easy, and it is a short walk from the check-in to the rooms. If nothing else, these Station casinos are good for fast check-in. ('Cause nobody's ever there!) The room cost for one weekday night was $40 including taxes and a $14.55 resort fee. The resort fee includes in-room wireless internet, daily copy of the Las Vegas newspaper, free local and toll-free calls, fax and copy service, and a discount in the gift shop. You also get a coupon for a free grande Starbucks coffee each day of your stay, which is a $2.00 value, and nice to get, since there are no coffeemakers in the rooms.
Restaurants/Dining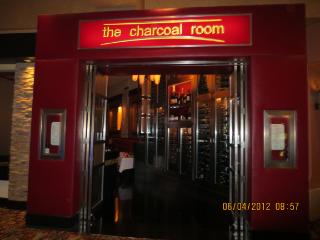 Santa Fe Station decides to break from the norm and offer a Burmese restaurant, a vegetarian falafel stand, a gluten-free pastry shop, and a Greek-Hawaiian fusion open kitchen. Not! They have all the usual casino fare, with the quick service restaurants located in the food court:
Feast Buffet.
Starbucks.
The Grand Café
Villa Pizza
Charcoal Room (Steakhouse)
Cabo (Tex-Mex)
Fatburger
Wing Stop
Johnny Rockets (Burgers)
Capriotti's (Sandwiches)
Panda Express
I ate at the Feast Buffet twice, and at Wing Stop. I wanted to try the Charcoal Room, but I missed happy hour and after doing so many of these reviews, I refuse to pay full price for anything in a casino. I have good things about the restaurant though, and you can't say no to their bartenders: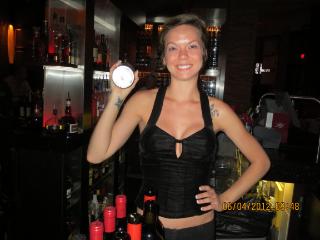 I ate at Wing Stop after one particularly disastrous gambling session. I had already busted out my bankroll gambling at Texas Station, but had built it back up to about $600 on video poker, which I again busted out playing my first night at Santa Fe. Despondent about my losses, I looked for a quick service grease fix. I have a Las Vegas local friend who I am certain enjoys wings more than anyone else in the universe, and he always raves about Wing Stop, so I headed off there to drown my sorrows in barbeque sauce. I got ten cajun wings for $6.99, and damn, were they tasty. I took them up to my room and devoured them messily while I contemplated my busted-ness.
The next morning in a slightly clearer mental state, I went to the Feast Buffet for breakfast. I was not surprised to find the usual fare, and filled up on their better-than-average salad bar with spinach, romaine lettuce, and fresh veggies. Once again the Feast Buffet breakfast failed to disappoint. I came back later with a friend for their dinner buffet, and I was shocked at the quality. This has to be one of the better buffets in town, with a huge variety of items, most of them very good. I thought it was just as good as some of the super buffets on the Strip, and certainly better than the other locals' casino buffets. I especially liked their barbequed char siu pork -- delicious! For $10, I don't think you can do better.
As far as their other restaurants, Cabo is Tex-Mex with specials like a $9.99 fajitas+margarita deal, and the Grand Cafe is a coffee shop with decent food. The Charcoal Room looks to be a better-than-average steakhouse in a really nice room with a creative menu and some cool specials like scallops and duck. If I had a comp, I would give it a shot, and it would be good even for a fancy locals' night out.
Entertainment
There is a bowling alley, a 16-screen Century Theatres, a Kids Quest center, and a showroom called Chrome where acts like cover bands perform in addition to a few touring acts like Stanley Clarke. You have to buy tickets to see the bigger shows, but for the local acts you can get in with just a drink or cover charge. You can also see the stage from the bar inside the casino if you turn your head at the right angle.
4949 lounge (first person to guess where they got the name gets a prize from Wizard of Vegas) is a pretty superb round bar in the center of the casino that would not be out of place in a swankier place like the Palms or Cosmo. It was never "buzzing" when I was there, but they did have some good drink specials like all you can drink wine for $20 on Thursdays, and karaoke on Mondays. There is video poker at the bar.
Revolver is a nightclub going for the country/rock vibe (think more Kid Rock and less Lil' Wayne). They are open Wednesday through Saturday, with line dancing lessons on Wednesday, Friday and Saturday. Thursday is "Military Appreciation" night with free bottle service for returning/deploying troops (Nellis Air Force Base is not far away). Revolver won a contest for "Las Vegas's Sexiest Server." When I saw the picture on the advertising posters for the club, I was convinced they were using a model. All I can say is: Yowza!
Casino/Players Club
According the Nevada Gaming Control Board, Santa Fe Station has 156,401 square feet of gaming space. That's HUGE, and in fact, Santa Fe Station is the second largest casino in the state of Nevada. (The only one bigger is Mandalay Bay). In case you were wondering, they are bigger than MGM Grand by 378 square feet. Needless to say, you can get lost here. On the other hand, you're never at a loss for gaming options, with just about every slot and table game available on the casino floor.
The slot club here is the Boarding Pass, which returns $0.03 for every $1.00 wagered in slots or video poker. That's a 0.30% rebate, which is better than most joints in town, especially those on the Strip. There are also frequent multiple points days (at least once a month), when you get even more points. You earn points for race, sports, and bingo play. Poker room comps are calculated separately. You can redeem your points on a 100=$1 basis at all restaurants (including the food court), for room nights, and for cashback or freeplay. Two players may link their play on a single account to earn status points faster. To be honest, I don't think Stations offers as good benefits on their upper-tier cards as compared to other casino chains like Caesars.
This trip, I was determined to find out how table games players earn points, so I asked a pit boss in the craps pit. What he said surprised me. He said, "You could wager a million dollars here and never earn a single point. What you need to do is ask for a comp based on your rating." This confirmed my suspicion that table games players don't receive any points. It does seem relatively easy to get a comp based on rated play, however.
Santa Fe Station has a really nice poker room and race and sports book. All the race/sports carrels have individual TV's, and there are big screens to watch the game. There is also a section with comfy chairs, and a VIP area with booths next to the bar. Definitely one of the nicer books to place a sports bet and watch the game. The poker room had about 5 or 6 tables going at once, and offered 2-4 and 4-6 limit Hold 'Em, and 1-2 no limit Hold 'Em. There is also a bingo room with sessions every two hours. Fresh brewed coffee, tea, and filtered water is available in the poker room.
The best video poker game is Deuces Wild at the $0.25 denomination with a payback of 100.76% with optimal play. As at every Stations casino, you earn 1/4th the cashback on these "optimal" machines, but hey, as long as I am being paid to gamble, I can live with that.
Table game rules are as follows:
Blackjack

Plenty of tables. The minimums are $5-$25. The game is a double deck pitch game, dealer hits soft 17, resplit aces allowed, no surrender for a house edge of 0.40%. Santa Fe offers the Pair Square and Copy Cat side bets, as well as the Hit-n-Run progressive side bet with a jackpot if the dealer draws eight cards.

Avoid the one table where blackjack pays 6:5, a real travesty for the player. If players boycott it, maybe they will get rid of it.

Pai Gow Poker

Six low baccarat-style tables. $5 minimums. Fortune and Emperor's side bets.

Craps

$5 minimums at all times with 10x odds. Field pays triple on 12, hard and easy hops pay 30-1 and 15-1, respectively.

There is also a Aruze "Shoot-to-Win" bubble craps game that is a electronic version of regular craps, with bubble dice that players roll by pressing a button. The minimum wager on this game is $1, and you can take up to 5 times odds. The maximum total action is $250. Be aware that cashback is earned at 1/4th the rate on this game (you can still insert your players card for points).

Roulette

$4 minimum inside/outside. $0.50 chips available. 0/00 American-style wheel.

There is also an electronic version of roulette called "Organic Roulette." This is a physical wheel, but wagers and payouts are done by individual electronic touch screen. The minimum bet on this game is $3-$300, and the rules are the same as the normal wheel game (0/00).

Ultimate Texas Hold 'Em

Two tables. $5 minimum. The "Trips" side bet paytable pays 5 units for a straight, for a 1.9% house edge. If they wish, players may play the side bet exclusively without risking anything on the main game. The progressive jackpot side bet pays out if the player gets a royal flush using all seven cards (around $4,000 for a $1 bet).
Baccarat

Five low tables. $10 minimums at most times. Dragon bonus side bet.
Crazy Four Poker

Normal rules.
Super Fun 21

Normal rules.
Three Card Poker

$5 minimums. Pair Plus paytable pays 3 for a flush.
My own gambling
I had a good experience gambling at Santa Fe Station. While the casino is rather dark, they've done a good job with the renovations and expansions, and it is a pleasant place to play with good ventilation. A word should be said about the beverage service: these are some of the sexiest waitresses and waitress uniforms in the Las Vegas Valley -- a definite plus if you are of that persuasion. The best way to describe them would be a red bordello outfit. While playing, I always ask for a dark beer, and here they kept bringing me Märzen, by Gordon Biersch, which was scrumptious. So they have good taste in beer, too.
I mostly stuck to the full-pay deuces wild video poker, with diversions to bubble craps and blackjack. I had a volatile session on video poker, but pretty much finished even. Bubble craps was a hoot. I played both days, and the table was filled with regulars. There was one black guy who wore headphones most of the time, an older guy with a composition book who was "charting" the table playing a dooey-don't system, and a couple other oddballs. I enjoyed the camaraderie at the table (as well as the pace of the game), and we went on some good rolls. The guy with the composition book was convinced the dice had a "computer chip" in them, but he went on a 44-roll hand, the best roll I've seen in a long while. I had all the numbers covered with $1 come bets and $5 odds (never pressed), so I won a couple hundred dollars off his roll. If only live crap tables treated me that well -- computer chip indeed!
I played blackjack later with a friend. This was his first time playing blackjack, and Santa Fe was a good place to ease him into the game Of course, he refused to hit 15, and for some reason occasionally hit 14 against a 2, but of course he still won. (Maybe I should play stupid more often). After about two hours of $5-$15 play, he asked the pit for a cigarette comp, which they obliged. This was a generous comp with a value of $9.00 based on the retail price, and is one I would take advantage often if I were a smoker. The other players were the usual locals who insisted we were playing a "team" game and got mad when I hit on 12 or doubled soft 19. Like the Wizard says, "As long as I win..."
I did not ask for any comps after my stay since I didn't feel I put in enough play, but I did use some slot points towards the buffet. If you play heavily, it is probably worth asking the pit or a host about comps.
Conclusion
Santa Fe Station caters to locals, with very few visitors expected. It could be a good last-resort hotel option, but I wouldn't choose it as a destination. Try the Strip or some of the nicer off-Strip properties, or better yet, go to the real Santa Fe, New Mexico for some authentic culture.
Pros: Good gambling offerings, good food options, nice casino.
Cons: Mediocre hotel and pool, location out in the sticks, poor theming.
Contact Information
Address: 4949 North Rancho Drive, Las Vegas, NV 89130
Phone: 702-658-4900
Web site: santafestationlasvegas.com
Resort and Parking Fees
| | |
| --- | --- |
| Resort fee | $13.50 |
| Parking fee | Free |
Games at Santa Fe Station
| Blackjack | Location | Decks | Min | Max | Soft 17 | DA | DAS | RSA | Surr | Tables | CSM | Party Pit | 6/5 BJ | Video | H. Edge |
| --- | --- | --- | --- | --- | --- | --- | --- | --- | --- | --- | --- | --- | --- | --- | --- |
| Blackjack | Off-Strip | 1 | 5 | 1000 | H | Yes | No | No | No | 2 | No | No | Yes | No | 1.69824 |
| Blackjack | Off-Strip | 2 | 5 | 1000 | H | Yes | Yes | No | No | 12 | No | No | No | No | 0.45688 |
| Blackjack | Off-Strip | 6 | 10 | 2000 | H | Yes | Yes | No | Yes | 2 | No | No | No | No | 0.55051 |