Introduction
The Hooters casino is a small to medium-sized casino within easy walking distance of the Strip. The former name of the property was the San Remo. True to the restaurants by the same name, the entire Hooters Casino and Hotel property is decorated in white and orange, with lots of neon signs and hardwood. The casino is successful at replicating the fun, yet tacky, atmosphere that exists at Hooters restaurants all over the world. You can't take any business too seriously that is dedicated to the love of boobs (the owl thing is fooling no one). I checked into Hooters for one night on July 15, 2009. The following is my review.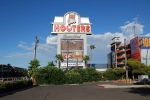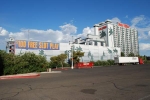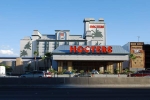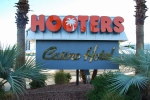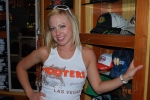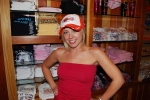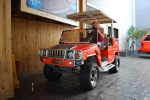 Location
Hooters is located just east of the Tropicana Hotel/Casino on Tropicana Boulevard. Across the street is the MGM Grand. It would take about five minutes to walk from Hooters' front door to the intersection of Tropicana and the Strip. There is also a crosswalk from Hooters to the loading/unloading area of the MGM Grand. The airport, UNLV, and all south-strip properties are within a short drive, and in many cases, a reasonable walk, of Hooters.
Gambling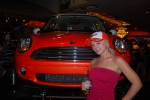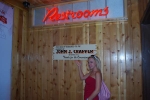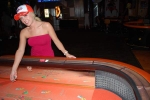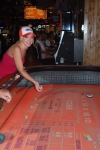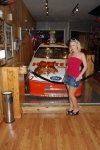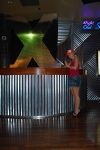 According to the 2009 American Casino Guide, Hooters has 27,546 square feet of casino space. By way of comparison, the MGM has almost six times as much at 156,023. According to the Nevada Gaming Control Board, Hooters has 25 table games and 2 poker tables, which is also what I counted, and 616 slots. By way of comparison, the MGM Grand has 178 table games, 22 poker tables, and 2,470 slots. The table games I found were as follows:
Blackjack: 15
Craps: 2
Roulette: 2
Super Fun 21: 1
Pai gow poker: 1
Let it Ride: 1
Big Six: 1
Three Card Poker: 1
Live poker: 2
Some of the dealers there could use some training in customer service. Two of the four dealers I encountered did not thank me for tipping. These same two dealers were sourpusses the entire time I was at the table. While one of said dealers was at the table, I was playing with what I think is the worst blackjack player I have ever seen. Among his many mistakes were hitting a hard 17, hitting 12 to 16 against 5 or 6, and, my favorite bad play, hitting a soft 20. Normally dealers will warn players against doing anything really stupid, but when this particular player hit his soft 20, the dealer gave him a card without a word, as if it happens all the time, or she couldn't care less. In my opinion, this was taking unfair advantage.
Here are the specific game rules when I was there.
Blackjack
Hooters has a lousy selection of blackjack. It would not surprise me if they have the highest ratio (at 40%) of the despicable 6 to 5 paying blackjack games in the city. Their advertising boasts of $3 minimum blackjack, which is true, but it is on tables with absolutely terrible rules.
The following table from the Current Blackjack Newsletter shows the rules for Hooters blackjack at the time I was there. However, when I was there, I could not find the double-deck game listed. Perhaps it only operates during peak times.
Hooters Blackjack
Game
Decks
Soft 17
DAS
Surrender
RSA
DR
BJ Pays
Tables
Minimum
Maximum
H. Edge
6-5
1
Hit
No
No
No
10
1.2
5
$10
$500
1.84%
BJ
2
Hit
Yes
No
No
None
1.5
1
$10
$1000
0.40%
SF21
2
Hit
No
No
No
None
1.25
1
$10
$1000
1.24%
BJ
6
Hit
Yes
No
Yes
None
1.5
2
$10
$1000
0.56%
BJ
6
Hit
Yes
No
Yes
None
1.5
6
$10
$1000
0.56%
6-5
6
Hit
No
No
No
None
1.2
1
$3
$500
2.12%
Craps
Hooters is surprisingly generous with the odds in craps, at 10X. The field is the stingy variety, paying 2 to 1 on the 12. Hop bets pay the usual 15 and 30 to 1.
Roulette
Both roulette wheels are double zero, for a house edge of 5.26%.
Poker
I can't say Hooters has a poker "room." It is more like a roped off area with two tables near the player club. They open up for play at noon. The rake is 10% up to a maximum of $4.
Sports Book
The sports book is a Leroy's franchise, which you commonly find in smaller casinos. I forgot to take notes, but I recall it offered two betting windows and a few chairs. To actually watch sports there is a sports bar nearby.
The baseball lines are 10 points apart, for example +160 and -170. Parlays and teasers pay as follows.
Hooters Parlays & Teasers
Picks
Parlay
Teaser
2
13 to 5
10 to 12
3
6
1.6
4
11
3
5
22
4.5
6
44
7
7
88
9
8
195
12
Sports tickets are valid for 120 days, which is better or equal to most places.
Video Poker
I checked several machines at random, and I found the pay tables to be horrible. Here are the games on one machine, chosen at random.
However, vpFREE2 indicates some strong pay tables, which were not included in my random sampling, as follows.
Slot tickets are valid for 90 days.
Player Club
For slot play, each $3 bet earns one point. 100 points can be redeemed for $1 in free play or casino purchases, including purchases in the gift shop, which equates to a rebate of 0.33%.
Table players also earn the same points based on their play. I don't know the conversion for every game, but by their own records (I asked), I played blackjack for 3 hours and 13 minutes at an average bet of $50. Assuming one hand per minute, which is a common industry assumption, I bet a total of 193 × 50 = $9,650. I was told I earned 3,216 points, so I also earned one point for every $3 bet for the same 0.33% rebate.
The line at the player club desk is Wendy's style, meaning one line to multiple windows, as it should be.
Promotions
Like most casinos, Hooters offers an incentive for new memberships to their player club, known as the "Owl Rewards Club." When I was there, they were running a "$100 in free play" campaign. They had a billboard about it outside the casino, a big sign on the side of the building, additional signage all over the casino, and ads in tourist guides. After I signed up and played it, I have to call them out on what I feel is deceptive advertising.
What happens is you go to a roped off area and present your voucher to the promotion employee. She then takes the voucher and puts a $100 bill directly into one of about 20 dedicated $5 2-coin slot machines. These are legitimate slot machines, not the promotional kind that return 15% of money bet, like the ones Bob Stupak was famous for with his "free vacation" deal. However, somebody taped over the top two awards and replaced them with $1,000 for the top prize and $100 for the second-highest prize. With the Red White and Blue slot machine, for example, these would have normally paid $25,000 and $3,000. There was also a rule that 1,700 in total credits earned $50. At $10 a bet, the player got to play 10 times with their $100 free play. In my rough estimation, I calculate the value of this offer is about $5, depending on which machine is chosen.
What is stopping the next casino from offering "$5,000 in free play" by giving the player one spin on a $5,000 machine (they have one at the Wynn), and if you hit the jackpot, they give you a hot dog? In my opinion, the truth in advertising standard in Nevada (if there is one) is much too lax. Should I ever be in charge of the Gaming Control Board, things will be different.
In addition to the "$100 in free play," Hooters also gives $5 in real slot credits and a ticket to see the Todd Paul show. All together it is a pretty generous offer for a player card sign-up, compared to other casinos. However, I could imagine people driving all the way to Hooters to get something worth close to $100 and feeling like they fell for a bait and switch trick.
Comps
As I wrote above, the casino had me playing blackjack for 193 minutes at a $50 average bet. I would put the average higher, but I guess nobody was watching when I was betting more. Before leaving, I redeemed 3,200 of my 3,216 points for $32 in free play. In addition, I asked if I could get my room or room charges comped. It never hurts to ask for stuff in Vegas, because it is often successful.
However, this time they said "no." It was not because I already earned and collected $32 in free play. The reason I was told no was that they have a firm requirement of four hours of play to get anything. So I was 47 minutes short. I was tempted to play another 47 minutes, but at 9:00 in the morning there were no legitimate blackjack tables open, just the 6 to 5 paying sucker games.
Normally I don't address the cocktail service in my reviews. However, it is worth mentioning that Hooters' drinks are served in plastic cups. Maybe I'm too spoiled, but there is something just not right about drinking wine out of a plastic cup. Still, at Hooters, somehow, it just isn't as out of place as it would be at any other casino.
Cashier
As I recall, there was one line per window at the cashier. However, there was never any waiting while I was there, so it didn't matter.
Non-Smoking Areas
As far as I could tell, the entire casino permits smoking. Usually in Las Vegas poker rooms are non-smoking, but I was told they permit it, although the person I asked didn't sound sure. The Las Vegas Advisor indicates one of the two poker tables is non-smoking.
Hotel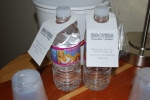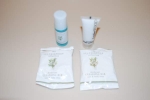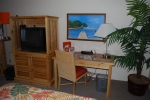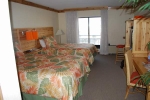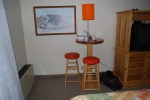 According to the 2009 American Casino Guide, Hooters has 694 rooms. By way of comparison, the MGM has 5,005.
When I stayed there, my "Ocean View" room in the high rise was $41.65, which included a $5.60 "resort fee" and did not include the 12% Nevada hotel tax. I'm going to state the obvious here: there was no view of the ocean, just some surfboards by the elevators. The only thing the so-called resort fee included that you normally don't expect to get is free local and toll-free phone calls. Rooms in the low-rise building by the pool were a little cheaper.
Even the hotel rooms are decorated in the Hooters' signature orange and white, with most of the furniture made out of pine. As the pictures show, it was a basic, no-frills room. With the exception of the windows, I found the room to be clean, and it seemed everything was in working order. I just had to take a picture of how filthy the window was. I took another picture with the window open, as a basis of comparison. You can also see my pictures of the room itself.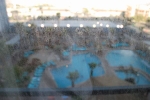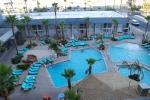 Pool
Hooters offers a respectable-sized pool for a hotel of its size. There are actually three pools plus two spas. Surrounding the pools are about 50 lounge chairs, around a dozen palm trees, a small sand area, and a waterfall. The waterfall was not working when I was taking pictures with Lisa, but it was flowing when I returned a week later for my stay. "Nipper's" outdoor bar is near by for drinks, but it was closed when I was taking pictures.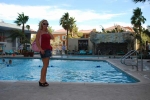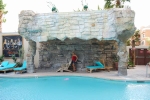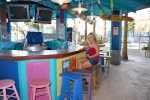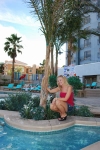 Parking Garage
Hooters gets a grade of D- for their parking garage. It is spiral in design, so you can't cut right to the upper floors. The parking spaces are tiny, the ceiling is low, and the entire structure is dimly lit. There was a sign saying the elevators (plural) were out of order, but one of the two still worked. I was there on a 110-degree afternoon, crammed into the one working elevator with no air conditioning, along with several other people and their luggage. It was not a pleasant beginning to my stay. When leaving, the button to the third level was broken, so I went to fourth and walked down from there.
Restaurants
Following are the dining options:
Hooters Restaurant: This is the same food, typified by Buffalo wings and beer, found at every other Hooters restaurant in the world. I must admit that I kind of like it. A friend of mine says she craved Hooters' wings and tequila when she was pregnant. She decided to enjoy the wings but pass on the tequila. Lisa, the model pictured, loves their deep-fried pickles.
Dan Marino's 24 Hour Dining: This is your basic casino café. When I was there, they offered a 25-cent wing promotion between midnight and 6 AM. Here are some of their regular prices:
Prime Rib (with mashed potatoes and corn on the cob): $9.95. Add a salad for $2.50.
Classic Marino Burger (with choice of potato): $9.95
Three egg omelet (with fried potatoes and toast): $9.95
Coffee: $2.50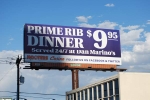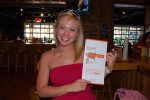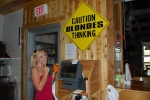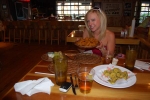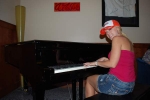 Entertainment
Hooters was running two shows when I was there, which is impressive for a casino of its size.
Men of X: This looks a Chippendale's type of show. Sorry, I don't know anything about it.
Todd Paul Show: I was given a free ticket to this show when I signed up for the player club, so I went. This is basically a down to earth long-haired guy doing a variety of street entertainment, including magic, juggling, music and comedy. My favorite part was when he debunked the magic trick where the magician makes a beer bottle disappear in a paper bag. Another good moment was when a woman in the audience yelled out, "I want my money back." Todd's rejoinder was, "Shut up bitch, you know you came in here on a coupon." Much of the show is devoted to the magic trick of stabbing an audience-chosen card with a sword (he got the wrong card), and riding a giraffe unicycle, both of which I've seen before and are overdue to be retired.
Summary
The clientele at Hooters was too lowbrow for my taste. Still, for a Wednesday night, the place was quite crowded, and most people seemed to be enjoying themselves. I questioned a player from Ireland I sat next to about his experiences, and he gave Hooters high marks, saying the service was good for low-betting players. However, for me, they were cutting too many corners, and it wasn't my kind of crowd. For the same money, I think there are nicer places to stay. However, I have to admit, if you like the Hooters restaurants, you probably will like the casino. I could give lots of suggestions for improvement, but here are the major ones.
Do something about the dealers who are not offering half way decent customer service.
Have at least some tables with good blackjack rules, even at a high minimum.
Change the wording on the "$100 free play promotion" to something more truthful.
Serve drinks in real glasses.
Clean the hotel windows.
Links
Acknowledgement
I'd like to thank Lisa Furman for modeling in the pictures. Lisa invites you to visit her page at ModelMayhem.com
Contact Information
Address: 115 East Tropicana Avenue, Las Vegas, NV 89109
Phone: 866-584-6687
Web site: hooterscasinohotel.com
Resort and Parking Fees
| | |
| --- | --- |
| Resort fee | $13.50 |
| Parking fee | Free |
Games at Hooters
| Video Keno | Rank | Avg Return | Grade |
| --- | --- | --- | --- |
| Video Keno | 11 | 92.30% | B+ |