Addendum
I had the opportunity to stay at The D again on 4/14/2014 and 4/15/2014 and would like to update this Review to reflect this stay.

During my stay over these two days (and my breakfast on 4/18/2014) the service was absolutely perfect. There was not one person in this casino who wasn't smiling, and you could tell that the entire service staff takes great pride in not only their jobs, but also takes great enjoyment in the property, and most importantly, the customers.

I arrived at The D on 4/14/2014 at approximately 9:30a.m. intending to leave my large suitcase with the desk until check-in time, with no delay or hesitation, the young lady at the front desk found me an available room corresponding to my room request and assigned it to me. The service continued to be amazing from there.

The cocktail waitresses on the Vintage Vegas floor (only place I played) were swift and charismatic...and you have got to love those high boots. On Tuesday night, there was an excellent bartender named Diego at the Vue bar who really brought the fun as I drank with an off-duty Party Pit dealer and her boyfriend with Diego practicing his flair moves all the while. Guest services was very kind in offering me a late check-out of up to 1:30p.m., even though I had called and requested it only five minutes prior to check-out time. The Live Keno staff were again extremely friendly, as was the gentleman at the William Hill sports book.

In terms of the food, The D Grill dished out a positively divine Spinach and Wild Mushroom omelet complete with hash browns, Rye toast and excellent coffee. The service at the D Grill was, again, beyond compare. I would advise that anyone go to the D Grill, whether you are staying Downtown or not, it is simply one of the best values in all of Vegas. The wait staff is very knowledgeable about the food they offer and will always give a helpful suggestion. You will be attended to and pampered as though you are in a $50/plate restaurant while the D Grill costs only a bit more than a Denny's.

In terms of room cleanliness, The D has either improved dramatically or my room in December (with egregious housekeeping oversights) was a fluke. The only areas one could complain about in this room were the dust behind the TV, light dust on the windowsill, and the fact that they STILL are not cleaning those HVAC filters. Not only does it help the air quality in the room, but an HVAC unit with a clean filter cools the room faster and saves on electric costs. In terms of time cost, you simply take a room garbage can, fill it with hot water, submerge the filter and wipe it with a cloth while underwater. After that, you dry it with a hand towel. It takes one minute, per room, every two weeks and makes a huge difference in the efficiency of the air conditioner.

Having now stayed at The Four Queens, Downtown Grand and Cannery, I'm starting to understand how this works. The D is simply meant to be a bargain hotel, as is Four Queens, but whatever the price difference, stay at The D. Trust me on this one. Downtown Grand, on the other hand, has rooms that are positively immaculate, but is it worth the price difference?

I don't think so, because between the dancing dealers, the great (and economical) food options, the shows, Vintage Vegas, amazing service and Table Games that can't be found anywhere else on Earth (two, anyway) you cannot beat The D for value, no matter how hard you try.

I will stand behind my words in December because those were my impressions at the time, but I plan to re-score The D at the bottom of this Review.

Introduction
The Hotel and Casino now known as The D is owned by Derek and Greg Stephens (Derek is majority owner) and was previously operated as Fitzgerald's, and originally as Sundance. The Sundance opened in 1980 and was in a state of limbo from 1983-1987 due to allegations of skimming, so management was surrendered to Jackie Gaughan in 1984, and Gaughan continued to operate it as Sundance until 1987. In 1987, Sundance was sold to Lincoln Management Group, who would rebrand the casino as Fitzgerald's and later rename themselves Fitzgeralds Gaming.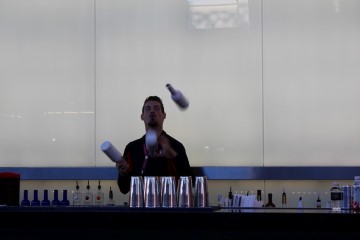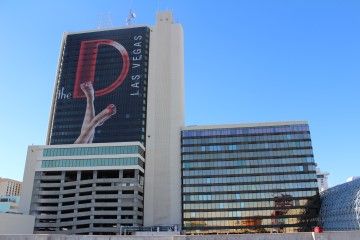 In 2001, Fitzgerald's (along with two other Fitzgerald's casinos) were bought by The Majestic Star Casino LLC. Don Barden owned The Majestic Star Casino LLC, and after his death, Fitzgerald's was sold to brothers Derek and Greg Stephens who re-modeled and re-branded the casino as The D "Short for Downtown," in Fall of 2012. The entire casino and hotel was re-modeled, with exception to the second floor known as, "Vintage Vegas," which the brothers (who also have a controlling interest in the Golden Gate Casino) intended as a throwback to, "Old Vegas."

Fitzgerald's was, and The D remains, the tallest building in Downtown Las Vegas, and is tied for 39th tallest building in the city.

LOCATION
The D is located at the SouthEast Corner of Fremont Street and Third Street. It is the Easternmost of the major Downtown properties which make up those under the Fremont Street Experience. The D is conveniently located in the midst of the Fremont Street pedestrian mall, and also conveniently near the Four Queens Hotel and Casino, which had (at the time I was there) substantially better New Member offers and better Coupons.
HOTEL
According to their own website, The D stands 34 stories tall and has, "638 Deluxe Rooms," while I am not in a position to dispute The D on room count, mainly because I had no intention of going through and counting them individually, I do take some issue with them referring to all of the rooms as, "Deluxe." At a minimum, during the dates of 12/18/13-12/23/13, Room 402 was anything but.

The cost of the room would have been anywhere from $22-$29 plus tax had I been paying for each night, the night that I did pay for was $29 + Tax and my last four nights were comped. There is also a $20 resort fee, per night, so please keep that in mind when booking rooms.

Also, if you are comped at The D, you are not really comped. If you do not pay the resort fee, you will be charged for Local Calls, toll-free calls, and Wireless Internet, should you want to use the Wireless. At a wireless Internet daily rate of $7.99, that is over 15% of the cost of the room anyway!!!

My first interaction with Guest Services at The D, as expected, was upon checking into the hotel. I had made multiple calls to Guest Services prior to checking in, but those were mostly for the purposes of verifying (and re-verifying) my reservations. On all of these phone calls, The Guest Services Agent at The D made it a point to mention that specific room types are a REQUEST and that room types are not guaranteed when you come to the hotel.

I thought that this was a strange policy, but then decided, Vegas is the type of place where you might be more likely to have guests that choose to stay longer, unexpectedly. As a hotel manager, my policy is generally that a guest who unexpectedly needs to stay longer may themselves have to switch rooms if the room has been booked by someone else, in advance, although I understand that these decisions may be based on gambling-action in Las Vegas, so a different guest may be effectively more important than I am, which is not so much the case at the hotel I manage.

In any event, I arrived to check into my room, and stated to Guest Services that we had two rooms booked for the same room type, one was for the Wednesday only (King, Smoking) and the other was for Thursday-Sunday (King, Smoking) the first was in my wife's name, while the second was in my name.

I requested that we be able to keep the same room assignment, and the following interaction occurred:

"Sir, I apologize, but is it going to be necessary that you have a smoking room, if you are going to keep the same room the whole time?"

"Are there smoking rooms available for both days?"

"I might have to, let me look at something, is a smoking room more important than not switching rooms?"

"I would say that a smoking room takes precedence over not switching rooms. If you need to put me in a non-smoking room tonight, that's fine, but I might be a bit annoyed if I don't get a smoking room for Thursday through Sunday night. So, I'll switch, but only if the non-smoking room is one night only."

"No, wait, I found something. It looks like I can get you in a Corner King room, instead."

"Very good, so that's a smoking room and we can remain in it, the whole time?"

"Yes, Room 402, here are your keys."

I shook the Guest Services Agent's hand and palmed her a $10 tip, technically we had gotten a free upgrade as their Corner King rooms include a faux-leather sofa and are more spacious. The Guest Services agent handed me my keys as well as two $5.00 Off coupons for The D Grill, located on the second floor.

The front desk area is close enough to the elevators from the parking garage that it is not too difficult to find. Overall, our guest services agent was very polite, but check in could have been a lot quicker if she'd just had Room 402 already set to go when we got there.

There were four small elevators (Maximum 10 Occupants, according to signage) that serve the entire hotel and casino. Despite the fact that this was, "Dead week," in Vegas, there were occasionally long waits for the elevator, exceeding three minutes, but the elevators were pretty quick once they got to you...although...I never went higher than the Fourth Floor.

The room was about the size that an individual would expect for a decent Limited Service hotel. The room came equipped with a 32" LCD HDTV, although there were only about ten channels, refrigerator with the door built into the dresser (standard Kings and Two Beds do not have these) and iron and ironing board, Soaps, Lotion and Shampoo from Bath & Body Works (The Rainkissed scented shampoo is very nice), nice thick towels, Serta Mattress, and a comfortable faux-leather couch just below the window.

The view from the fourth floor was poor, we could see the top half of the Plaza and that was about it.

The room included a $10 coupon off of a show and two $5 off coupons to The D Grill.

The room had a cool red & black color scheme with the focal point of the wall opposite the window being a print of a giant Martini glass with The D dice being shot into the drink and used as cubes.

Unfortunately, while the room was superficially nice, superficially is where it ends.

The cleanliness of Room 402 was, at best, abysmal. The areas in which the room was initially dirty, are as follows:

Excusable
Dust on the outside of air conditioner.
Pack of Crackers left in nightstand drawer
Inexcusable
The sheets hadn't been changed and had hair on them.
There was clumped up toothpaste in the bowl of the sink that the housekeeper hadn't bothered to scrape off.
There was urine crusted on the base of the toilet.
There was soap scum in the bathtub such that it was evident that the bathtub had been, "Cleaned," with nothing but a cloth and water for a matter of months.
There was dust encrusted on the bathroom air vent, which had not been wiped off for a matter of weeks. I was able to gather nearly a centimeter of this dust with my index finger.
The floors had not been vacuumed very well, and had some crumbs and scraps of paper from something.
The air conditioner (HVAC) filters had not been cleaned for a matter of weeks or months, and were thickly crusted with dust. I originally blamed the Vegas air for my congestive problems, but upon inspecting the filters on my final day there, I think I have a new culprit.
There was a stain on the faux leather couch, a white stain, some sort of liquid, and I am sure I don't want to know what...

We declined stay-over service (Do Not Disturb) for the first few days because we intuitively figured there wouldn't really be a point. Ultimately, circumstances were such that, on Saturday night, I spoke to the hotel manager and he sent the housekeepers on a special task, after 8:00p.m., to clean my room. He was thoroughly embarrassed.

They failed. He's about to be even more embarrassed.

(He is a very nice guy, though.)

Okay, so the housekeepers managed to clean out the toothpaste, but the bathroom vent, HVAC filters, soap scum, urine on the base of the toilet and stain on the couch were all completely ignored!!! They even threw away my D Grill coupons.

The one thing that they did that I thought was unusual was to neatly stack all of my paperwork, with exception to throwing away my D Grill coupons. I thought this was really strange because I've always trained housekeepers not to mess with paperwork or personal effects.

They changed the sheets and did a nice job on the bed.

It's pretty embarrassing because, at odd hours, when you get sent on a special assignment from the MANAGER of your hotel to clean a room, you'd think you'd take it seriously. Fine-Tooth comb sort of thing.

Not this time.

Other than the clean sheets and taking care of the toothpaste, the room was no better or worse than when we first checked into it.

I will admit a bit of subterfuge in not telling the Manager everything that was wrong, (such as the bathroom vent) but I couldn't just hand it to the housekeepers on a silver platter, had to see what they could or would do on their own.

Very, very poorly done, in terms of cleanliness.

The Wireless Internet service was spotty, at best, they had a, "Premium," package for which you could pay more, so that must be what you must do if you want it to work consistently.
PARKING GARAGE
The D has a fairly narrow parking garage for which one must get parking validated in the casino at the Player's Club or have a room key in order not to pay for parking. It's not worth the hassle to park there unless you are planning on dining there or doing a substantial amount of your play there, anyway. If you're not going to be in there very long, there are plenty of places Downtown with free parking in which you don't have to bother with validation.
POOL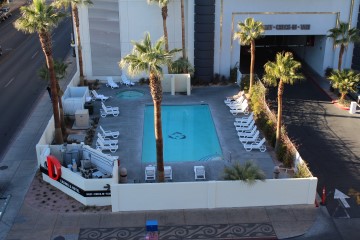 The pool was not open as it was December.
RESTAURANTS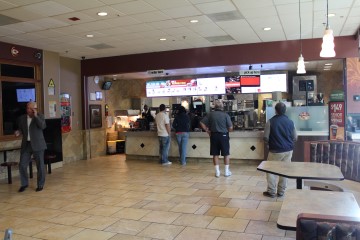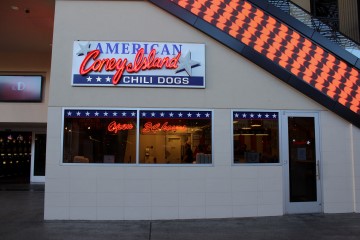 The D is host to four different restaurants:
American Coney Island: I did not eat at American Coney Island, personally, but it's an economical choice, and if you've been to Detroit, you've probably been to American Coney Island. Interestingly, the location at The D Casino is American Coney Island's first outside of the State of Michigan. It's open 24/7 and located near The D Bar.
Andiamo's Steakhouse: Another restaurant I did not get to experience this time around is Andiamo's Steakhouse. Mainly, I did not eat at the Andiamo Steakhouse, because I don't like steak, but they seem to focus on doing Italian and American, and having surveyed a group of five, the average score was 8 with a low of 6.
McDonald's: If there's one restaurant whose reputation precedes this review, it is certainly McDonald's. Hate it, like it, only in desperation or eat it daily, no matter who you are there's nothing I can tell you about McDonald's that you don't already know. The only exception to that is that McDonald's often becomes merely, "Food," at The D, because there is nothing fast about it, at times. I've waited up to six minutes for two cups of coffee and have witnessed them (with a line of fifteen people) just start a new batch of fries when they ran out of them in the bin.

It's not the best run, but it's still dirt cheap, and let's face it: If you're eating there, you're probably drunk, one of the homeless on Fremont Street who worked up enough money to get something, or you lost a ton at the Craps table.
The D Grill: I personally ate at the D Grill, and the experience was fantastic!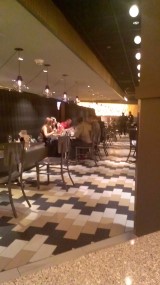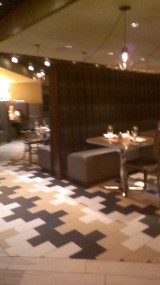 The first thing I want to do is give our waiter, Wickham, and beverage attendant, Brook, a special nod in this Review. I have never received such caring and attentive service at any restaurant in my entire life. Wickham needs to be moved to Management as soon as practicable and Brook needs to be upgraded to waiter, and an eye should be kept on Brook for potential management.

Brook is non-stop going from table-to-table checking the beverage levels, I don't believe my coffee ever hit the 3/4 cup mark.

Wickham is knowledgeable about all of the offerings of the restaurant, when my wife's selected dressing for her salad was not available, Wickham explained that all of the dressings are made from scratch and fresh, so therefore, not only is the process time consuming, but the chef wants to also make sure he is putting out only the highest quality dressing...

And it was.

Everything was.

The D Grill very intelligently focuses on only doing a few things, with an offering of less than twenty entrees, but on doing them extremely well. My wife had the Shrimp Fettuccini Alfredo, which she declared divine, except one of the three Jumbo Shrimp was slightly underdone. I had the Wild Mushroom Burger served with a generous stack of fries that were crispy on the outside, light and airy on the inside, and not at all oily.

I ordered the Wild Mushroom Burger well done, and it was pulled off, somehow, while retaining all of the juiciness of the beef. The burger was presented with the top bun off, and a nice stack of fresh onion, sliced tomato, impossibly fresh and green lettuce and a crisp sweet pickle to be added at my discretion.

There could have been more mushrooms on the burger, but then, I could have probably asked for more.

Again, words hardly exist to do justice to the impossibly good service provided by Wickham and Brook. If The D Grill is smart, they will keep Wickham happy and move him up through the ranks...YOU NEED TO KEEP THIS GUY!!!

OVERALL: Overall, The D offers a range of restaurants for those who want to eat fast (or on a budget) as well as those who want to sit down and have a casual, but very nice, dining experience. From the Michigan favorite to the Golden Arches to gourmet Steaks and Burgers, there should be something for everyone at The D.
ENTERTAINMENT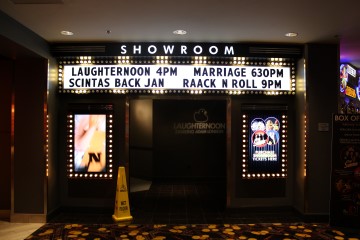 There were four shows to choose from at The D during my time there, except there were only three.
The Scintas: This show is scheduled to be back in January, I have a report that one (or more) of the actors is ill. This is comedy with a large focus on impressions, and I have it from a few people who have seen it that's it's basically pretty funny.

Laughternoon with Adam London: Adam London is a magician who mixes comedy in with his act and his tricks and jokes often play off of one another. If you ever go see this show, you might present him with a rubber duck, (he collects them and uses them for tons of his tricks) but I didn't know that at the time.

Marriage Can Be Murder: I did not see this, the review may be dated, but here is a review by David McKee, http://wizardofvegas.com/show/marriage-can-be-murder the Review is four years old, from when Fitzgerald's carried the show, so I wouldn't be surprised if the food is at least better now.

Raack and Roll: Topless review, no interest. I wouldn't know what I was looking for compared to other topless reviews, as I've never seen any.
BARS & COCKTAILS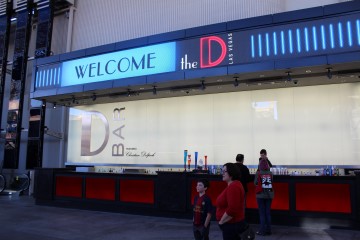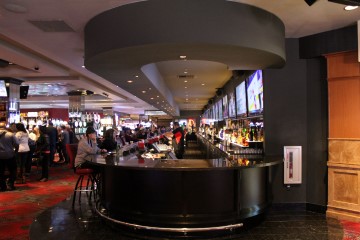 The bars at the D include the Long Bar, Vue Bar and the D Bar.

The D Bar is located outside and features scantily clad girls dancing as well as a very excellent, "Flair," bartender. He very rarely has a drop, and when he does, it's only because he attempted an impossibly difficult maneuver, which he manages to convert on the following try ... ALWAYS.

I'm not paying the drink prices there, and the girls are a non-mover very common in Vegas, but it's free just to stand and watch. I tipped the flair bartender, though I didn't order anything.

Cocktail Service is significantly better on the Vintage Vegas floor of The D than anywhere else in the establishment. The average wait time for her to come around is 8-10 minutes, and the mixed drinks are made with a bit of pep to them. They don't care what machine you are playing or how much you are betting, the drinks are comped, period.

Cocktail service is much slower on the first floor of the D with a wait of twenty minutes, on average, before you get served. The only exception to this is a lovely African-American woman, perhaps in her late-twenties, who is typically on the Vintage Vegas floor who recognized and took quick care of me. I should have remembered her name, but she is quite tall, perhaps 5'11".

The Longbar lives up to its name and reputation as being the longest bar in Vegas. There are quite a few big screen TV's behind the Longbar, but aside from that, it's nothing special...just a bar that happens to be long. Service is quick with 2-4 bartenders (depending on how crowded it is) and drinks are free if you are playing machines.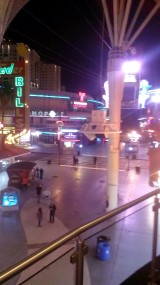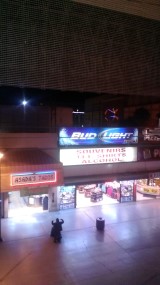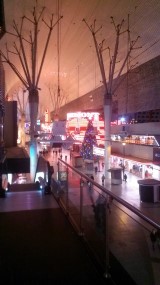 The Vue bar offers an excellent view of Fremont Street Experience, there are machines at the bars and drinks are free based on how much you are betting. The only other place that paid attention to bet amounts was El Cortez.
CASINO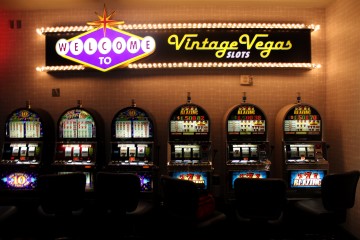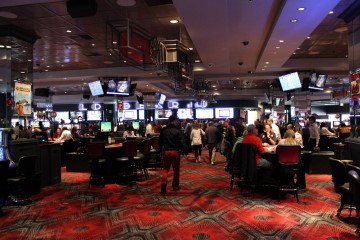 The D does not seem much bigger or smaller than any of the other downtown casinos in overall gaming space. I would suggest that the only one that really seems to differ greatly in size is the Golden Gate, which seems much smaller than the rest.

There is a small section left of the Main Entrance to the casino that offers table games, with the, "Long Bar," being on the right. The only exceptions are a separate high-limit room that stands up slightly higher and is located to the left of the regular pit, approaching the pit from the main entrance. It seems that Blackjack and Baccarat are the only games offered in high limit, the other exception is the Big Six Wheel, which is located just to the left of the Main Entrance and across from McDonald's.

The main Tables area is pretty cramped, especially in the middle of the main three rows of table games, you can probably only walk two wide in any of the rows including the space between the tables and high limit room, the space between two rows of tables in the middle and the space between some slot machines and tables at the far side of the pit. Just past the far side of the pit, a cashier's station can be found on the left with the elevator to Vintage Vegas just before that.

The Table Games are as follows:
Ultimate Texas Hold 'EM: $5-$50
Three-Card Poker: $5-$200
Craps: $5-$5000*** (10x Odds, Downtown Standard)
Let It Ride: $5-$200
Pai-Gow Mania: $10-$2000
Deuces Wild Hold 'Em Fold 'Em: $5-$50, Max Pay 25K
Roulette: $5-$5000*** ($200 Straight Number Limit, $2500 2:1 Limit, Double-Zero)
Free Bet Blackjack: $5-$2500
Blackjack: $5-$2500, 3 to 2, Double after split allowed, Double-on-Anything, No re-splitting aces, No Surrender, double-deck and six-deck.
High Limit Blackjack: $25-$5000
Baccarat: $50-$5000. Banker bet with 4% commission. The Wizard says this is the best baccarat bet in Vegas, perhaps the world.
Big Six: $1-$50
***The Craps and Roulette minimums are based on how many people are playing, apparently, and were $10 for a two-hour period on Sunday only. On Wednesday-Sunday night, I never saw them higher than $5 other than this one occasion. Blackjack was available paying the correct 3-2, even on a $5 minimum game.

The Dancing Dealers (Party Pit) come out in the late-afternoon hours to the early a.m. hours, except Big Six almost always seems to have one. The Dancing Dealers really need to take some tips from those at the Golden Gate sister property, the Golden Gate dancing dealers are always moving, or at least smiling if standing still, looking like they are having a good time.

The Dancing Dealers at the D, on the other hand, are only about 50% dancing or smiling. If nobody is playing at their table, many of them stand motionless or only with a small amount of side-to-side movement with expressions ranging from slight boredom to abject misery...Regular dealers look more into it at other casinos than some of the so-called, "Party," dealers.

Whether or not the Dancing Dealers are particularly into it that night, The D offers a wide range of games and a good gamble with the Downtown standard Craps Odds and decent Blackjack rules.

POKER

I do not believe the D has poker, I never saw it and I don't see anything about poker on their website or Bravo Poker Live.

SPORTS BETTING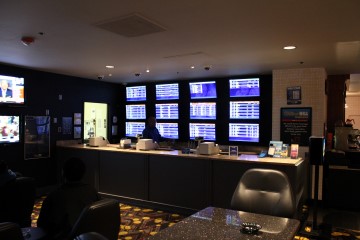 Vintage Vegas room offers the William Hill Sportsbook and live Keno, I managed to make a few bets on Round Robin parlay cards, totaling hundreds of dollars, at the William Hill with no trouble whatsoever.

VIDEO POKER, SLOTS AND SIGMA DERBY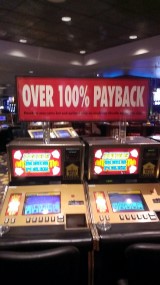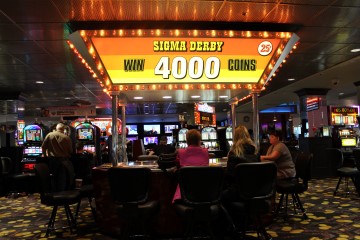 The machines upstairs are phenomenal including a 101.6% nickel Loose Deuces machine that is so old that you cannot make holds, or do anything else, by touching the screen. May it live forever!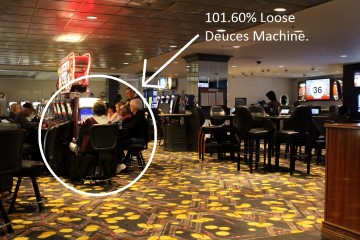 The photo above shows exactly where the Loose Deuces game is on the second floor. You can see the keno lounge in the background.

VPFree2 also lists:
99.73 NSUD (Confirmed)
99.45 Bonus Deuces (Confirmed)
99.17 Bonus Poker (Confirmed)
99.11 Double Bonus (Confirmed)
98.49% Bonus Deluxe (Forgot to Confirm)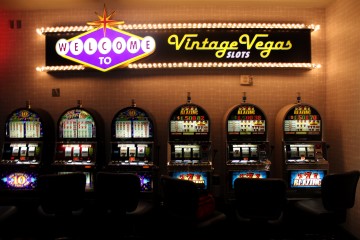 Vintage Vegas is the coolest room in Downtown Vegas consisting largely of low-denomination machines that will drop actual coins on any win of $50 or less, after I hit my first Wild Royal on Joker Poker an attendant came and gave me a great, "Pro-Tip," just to add money to the machine and put it over $50, if I'd prefer a handpay. Vintage Vegas also offers a heavily advertised 100.17% returning Double Bonus and 100%+ Double-Double Bonus game for quarters.

Cocktail service, again, is available for anyone betting $0.05, or more, on any of the machines, and the service is quick in Vintage Vegas. The drinks are free, regardless of bet size.

There are even cheaper games at the D, including a penny Keno game downstairs, two machines, near the gift shop.

The D has one of the only two Sigma Derby games in Vegas, and the only one with the proper signage, according to The Wizard of Odds. The Expected Return for each $0.25 bet is God-awful, but there is great time value and drinks are still comped.

I couldn't find anything on the D's website stating how many slots and video poker games there are, combined, but I would say it is probably a few over 500...wasn't going to count them...inclusive to many Quick Hits games, nearly 100 total Video Poker/Video Keno machines, new games such as Wheel of Fortune and Rock Around the Clock, Sex and the City, Alice in Wonderland, and many single-line games like Double Diamonds, Five Times Pays and Ten Times Pay that people would expect...in varying denominations.

Many of the newer machines are very high quality and allow you to change the denomination you are playing, in game, which is not a feature I have often seen on slot machines, though common on Video Poker machines, such as Game King.

LIVE KENO

The Live Keno claims to offer strong value, such as the $0.40/card, "Simply The Best Special Rate Ever," the returns are as follows, and a minimum of $4.00 total dollars must be wagered:
1 Spot: 87.5%
2 Spot: 81.2%
3 Spot: 83.3%
4 Spot: 81.9%
5 Spot: 82.0%
6 Spot: 82.0%
7 Spot: 84.7%
8 Spot: 78.6%
9 Spot: 80.0%
10 Spot: 79.5%
11 Spot: 80.0%
12 Spot: 79.1%
13 Spot: 79.3%
14 Spot: 80.0%
15 Spot: 79.9%
The games are heavily weighted towards having some sort of return, for instance, on the 13-15 spots, the only losers are catching 3 or 4 balls, while something like two balls, on the thirteen spot, returns have the bet.

The returns are bad, but pretty strong for Live Keno as I understand it. I played 10 $0.40 games on a fourteen-spot (Hadn't ran the numbers) for exploratory purposes, and found that there is a scheduled wait time between games of three minutes (so the $4.00 is guaranteed to last a half hour) and cocktail waitress service is still provided while playing Keno, so there's a ton of value there and the Expected Loss per hour is perhaps less than Video Keno, depending on how fast one is playing!!!

Good deal, D, good deal.

Also, if only one or two players are playing, the Keno girls will occasionally ask if you want the wait time cut in half, and if so, will go ahead and turn the hopper on at 1:30.

My fourteen-spot returned $3.60 of $4.00 bet, the Keno girls were really friendly, and the play REALLY was just for the purposes of this Review, so I tipped the entire win.

I will probably play the $0.40 cards again next time I go, perhaps a seven-spot (one spot offers a better return, but the amount won is meaningless to anybody) because it has one of the better paytables and the possibility to hit a decent win. Again, drinks will be served by the cocktail waitresses the entire time you are playing live Keno, regardless of wager, so while Video Poker (100%+ on many machines) is the best choice, this might lose less per hour than Video Keno if you're just playing for the drinks.
PLAYER'S CLUB
The D has a very simple and straightforward player's club called, "Club D," with only two tiers, silver and black. You start off at silver, and if you become black, you receive preferred seating for entertainment events and preferred reservations at the steakhouse.

Casino Player Magazine voted Club D the best Downtown Vegas player's club for 2013.

The D is currently offering new Club D Members $3.00 Free Play for signing up and an additional $5.00 Free Play upon hitting fifty points and for every fifty points earned in the first three days.

The D's system is that a player earns one point for every $5 slots coin-in and one point for every $10 coin-in in Video Poker. For every 500 points earned ($5000 VP coin-in or $2500 slots coin-in) the player will receive $5.00 cash back. This may not seem great, but it is excellent for the video poker player consider The D offers many machines in which the player is at a mathematical advantage with Optimal strategy.
LINES
Mcdonald's, and that's about it. I don't believe I'd ever had more than one person in front of me anywhere else I went over the course of six days and five nights. Again, this McDonald's must just be, "Food," because you can forget about fast.
MY OWN GAMBLING
I played the Tables very little. I made two $5 Pass Line bets at Craps, established two points, and sevened-out both times with 2x Odds for a total loss of $30.
I played the Loose Deuces machines and Joker Poker in Vintage Vegas extensively, these two games combined to account for at least 90% of my play at The D. Cocktail Service is very timely in Vintage Vegas.
I also played a bit of Caveman Keno in Vintage Vegas, between that and standard Video Keno, that would probably be about 8% of my play.
Aside from Craps, I played Sigma Derby for about twenty minutes while waiting to go to dinner. I also played ten games of Live Keno strictly for the purposes of this review, I was mainly interested in whether or not cocktail waitresses still served Live Keno players for free...they do.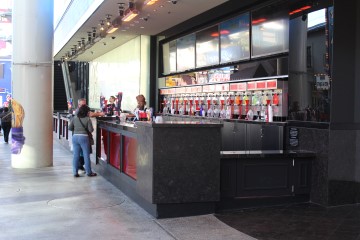 SUMMARY & SCORES
Guest Services scores 9/10. I had a few problems in my December stay, but I swear that everyone on that entire property makes even the lowest level gambler feel like a high-roller on my recent stay. You can tell that the service staff love their jobs and that property, as well they should.
Accommodations & Amenities scores an 8/10, coming in early, staying late? The D absolutely does not care and will do everything they can for you. It's a true 24/7 operation and they are always ready to take care of their guests. I still feel local calls should be free, though. I also believe comped rooms should have free wireless Internet access.
Room Cleanliness scores an 8.5/10 this time around. The room is very nice, the Martini Glass with D Dice pictures are just cool, the theme and color scheme of the room is ultra-modern, the TV's are great and there were no cleaning oversights that anyone without a background in hotels would really notice and/or care about. The HVAC filter thing is really more of a minor health thing, in my view. Air quality and all. I really hope they get those on some sort of cleaning schedule, probably would have scored 9.5/10, if so. I don't worry too much about light dust on the back of the TV or windowsill.
Food & Beverage is getting bumped to a 9/10, the food selection is still not diverse, but the D Grill has been fabulous twice in a sample size of two. It is every bit the food quality and service that one would expect from a restaurant four times the price, and the aesthetics of it are just uber-cool. Service is excellent, and it has my nod as the best restaurant (for value) Downtown. Magnolia's is great, and I'll certainly eat there again, but it's not The D Grill.
Entertainment still gets an 8/10, and my opinion on that is still unqualified.
Gaming gets a 9/10 for the same reasons as before, nothing has changed with respect to gaming.
Overall, The D scores a 51.5/60 or 8.58, overall and is the highest scoring casino of any I have reviewed besting Downtown Grand and Cannery. I've also stayed at Four Queens, and while I did not review that property, I can assure the reader that the Four Queens score for room cleanliness alone would make it mathematically impossible for it to score better than The D.

Good rooms, great values, the BEST service and a tremendous time. The D's motto is, "Long on fun, short on ordinary," but that's only half right, there is nothing ordinary about the value, games and service you will enjoy at The D.
Contact Information
Address: 301 Fremont Street, Las Vegas, NV 89101
Phone: 800-274-5825
Web site: thed.com/
Links
Resort and Parking Fees
| | |
| --- | --- |
| Resort fee | $13.50 |
| Parking fee | Free |
Games at The D
| Blackjack | Location | Decks | Min | Max | Soft 17 | DA | DAS | RSA | Surr | Tables | CSM | Party Pit | 6/5 BJ | Video | H. Edge |
| --- | --- | --- | --- | --- | --- | --- | --- | --- | --- | --- | --- | --- | --- | --- | --- |
| Blackjack | Downtown | 2 | 5 | 5000 | H | Yes | Yes | No | No | 1 | No | Yes | No | No | 0.45688 |
| Blackjack | Downtown | 6 | 5 | 5000 | H | Yes | Yes | No | No | 7 | No | Yes | No | No | 0.63873 |
| Baccarat | # of Tables | Min Bet | Max Bet |
| --- | --- | --- | --- |
| Baccarat | 1 | 25 | 5000 |
| Craps | # of Tables | Min Bet | Max Bet | Odds | Field12 | Video |
| --- | --- | --- | --- | --- | --- | --- |
| Craps | 2 | 5 | 5000 | 10 x | Triple | No |
| Roulette | # of Tables | Min Bet | Max Bet | Rules | Video |
| --- | --- | --- | --- | --- | --- |
| Roulette | 2 | 10 | 200 | 00 | No |
| Video Keno | Rank | Avg Return | Grade |
| --- | --- | --- | --- |
| Video Keno | 40 | 90.87% | B- |