DJTeddyBear
Joined:
Nov 2, 2009
Threads: 174

Posts: 10029
As I mentioned in another thread, I went to the Meadowlands yesterday to see how they're handling SB prob bets in their first time out. My initial impression was a mixed review.
I got there around 8:00 Sunday night. It looked like there were 50 people, with a capacity of about 125. No lines at the tellers. The place seemed disorganized. There were racks of betting sheets in several places. But the three sheets I took required me to go to three different rack locations to get all three of the
SuperBowl
NFL Championship sheets. That's right. Just three pages.
While they have a simple way to make a variety of the most popular bets, the total number of prob bets was rather limited.
The first two pages are 'quick pick' pages. Simply check off the bet and amount, kinda like a lotto ticket. Page three are other bets that are done the traditional way, where you go to the teller and provide the bet number listed. But you'll note that some of the bets on that page have no bet number.
You'll also note that some popular bets are not listed at all.
So I went to a teller and specifically asked if I could make a bet on a safety or overtime. That teller, even asking for assistance, could not find those bets.
As you can see, their sports book is run by FanDuel. There's a website listed on the bottom for more odds. I went there, but saw no method of betting the safety or overtime. There was convoluted method of of getting the overtime bet, but it was combined with hafltime lead. I.E. You could bet for either team or a draw at the half and fulltime. 9 Betting options. You want no overtime? Bet Rams and Draw, and Patriots and Draw, and Draw and Draw. Three bets and you have it covered.
For the record, those bets, as well as scoreless quarter and two point conversion are the bets I typically make with Mike. All unavailable at the Meadowlands.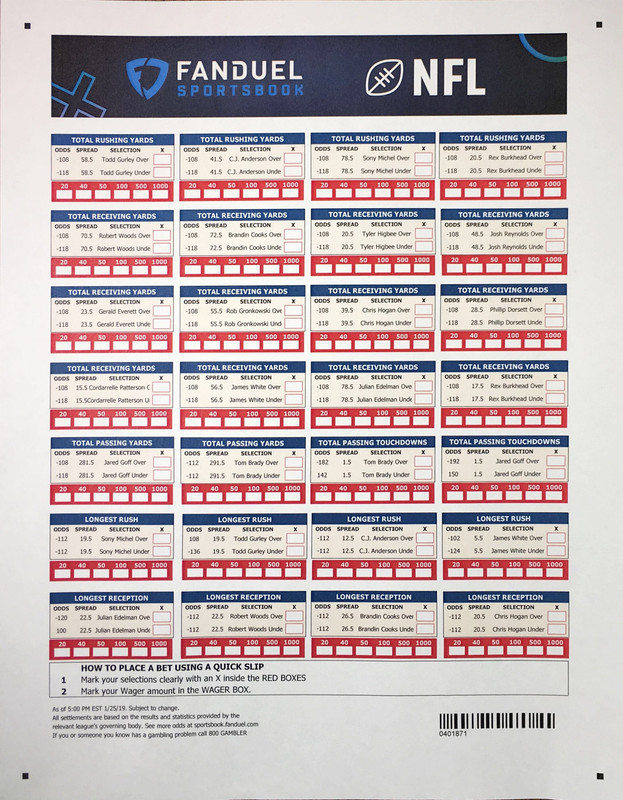 Superstitions are silly, childish, irrational rituals, born out of fear of the unknown. But how much does it cost to knock on wood? 😁 Note that the same could be said for Religion. I.E. Religion is nothing more than organized superstition. 🤗