Finding the Game for You
For an inexperienced player walking into a casino's bank of Video Poker machines, selecting the, 'Right,' game can often prove to be a daunting task. For this series of Articles, we are going to examine the plethora of available Video Poker offerings to get you started on finding the game for you.
This Article is not going to take House Edge into consideration and will discuss changes to strategy to as brief an extent as possible. If one (or more) of these games seem interesting, then detailed Rules and often expert analyses can be found on the Video Poker page at Wizardofodds.com
For the purposes of this Article, I'm going to offer summarizations and my opinions with respect to choosing one game as opposed to another.
Single-line Games
The best place to start is to explore some single-line Variants of Video Poker. The reason for this is because all other Video Poker games can cite single-line Jacks or Better as a root game.
Jacks or Better does what it says in the box, the goal of this game is to achieve a final hand of a Pair or Jacks (you guessed it!) or Better. This comparably simple game is perhaps one of the Video Poker offerings with an also comparably low Variance. (Read: swings)
This is an excellent game, as with other low Variance games, for a player who wishes to emphasize time on device. Even betting $1.25 per hand, it is not extremely rare for the unimpressive sum of $100 to last multiple hours. That is especially true with good pay schedules.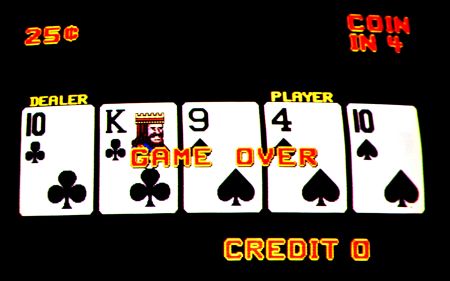 Bonus and Friends
The most direct spin-off of Jacks or Better is Bonus Poker. With most Bonus Poker games, the pays start at Jacks or Better while Two Pair still pays two-for-one. As compared to Jacks or Better, Bonus Poker tends to pay less for Flushes and Full Houses, but pays more for, 'Premium' Four-of-a-Kinds such as Aces and 2's-4's.
This game can be found at almost any casino that has Video Poker to begin with, and the Variance is not much greater than Jacks or Better while the Optimal playing strategy is extremely similar. The reduced pays on Full Houses and/or Flushes will chip away a little more at a player who fails to hit the Expected percentage of Quads, but it is barely noticeable.
From Bonus Poker stems Bonus Poker Deluxe in which Two Pair generally pays 1-for1, but all Quads pay 80-for-1. This game will actually seem like a huge step up in Variance compared to the aforementioned games, and the impact of the reduced Two Pair pays can be felt pretty hard if the player fails to hit the Expected number of Quads.
From Bonus Poker Deluxe stems other Variants such as Double Bonus, Double Double Bonus and Triple Double Bonus. These games not only pay less on Two Pair, but also offer bonuses on specific Quads, such as Quad Aces with a 2,3,4 kicker.
Strategy changes on these games can often include throwing away a dealt Full House that contains Premium Trips and/or a Kicker. The more, "Double or Triple," in the game title, the greater the Variance. If you want to hit big and run with no concern for time on device, one of these games could be for you.
Triple-Double Bonus is the most extreme example as Three-of-a-Kind goes from returning triple your bet to returning Double your bet. The effects of not hitting the Expected amount of Quads will likely not be more devastating than on this Variant. If you play this, may God be with you.
The positive aspect is that there are two ways to get paid Royal Flush money, one is Quad Aces with a 2,3,4 while another is, obviously, an actual Royal Flush.
Wild Card Games
The most commonly played game involving one or more Wild Cards is Deuces Wild, which can come in many forms. There are so many different paytables for this game that a player must be careful in determining the right schedule to balance big hit rate and time on device.
The most common example is the Quads v. Full House payouts which most commonly go 4-4, but can also be 5-3 or 4-3. The 4-4 payouts games will generally have reduced Variance compared to the others and are probably the most common.
There are also Bonus Variants of Deuces Wild in which Premium Five-of-a-Kinds or Quad Deuces with a Kicker have a greater return than normal. Just remember a good rule of thumb: The more individual hands listed on a pay schedule, generally, the greater the Variance of the game.
That brings us to Joker Poker which can be played with one or two Jokers. Further, the single Joker version might pay a Royal equivalent for a Five-of-a-Kind, but the Natural Royal (no Joker) often does not pay the Royal equivalent.
Furthermore, in that increased Quins version, the starting break even hand is usually Two Pair whereas it is typically Kings or Better or Aces or Better in, "Normal," Joker Poker.
Double Joker Poker is a somewhat rare game compared to others, so I would recommend searching VPFree2.com for casinos in your area that may carry that game at a decent paytable.
There is also a game called Deuces Wild Joker Poker that does what it says on the box with huge pays for Four Deuces or Quad Deuces with a Joker.
That will get us started with single-line games lacking a special feature. There are a few others, such as Aces and Eights or Aces and Faces, but multi-line Variants and games with special features are rarely, if ever, offered in those Base Games.
Of the above, I like Joker Poker (Kings or Better), Good Old Fashioned Bonus Poker and Jacks or Better in that order. I guess I'm just a low Variance guy.
My favorite aspect of Jokers is a Straight Flush still pays 50-for-1 on most games, which results in an aggressive strategy going for both those and Royals/Wild Royals.
I will freely admit Jacks or Better is often a tad boring because of so few high paying hands.
Of the others, I hate Deuces, any other Bonus Variant except Bonus Poker Deluxe, and any other Jokers game.
Posted by
Mission146