Introduction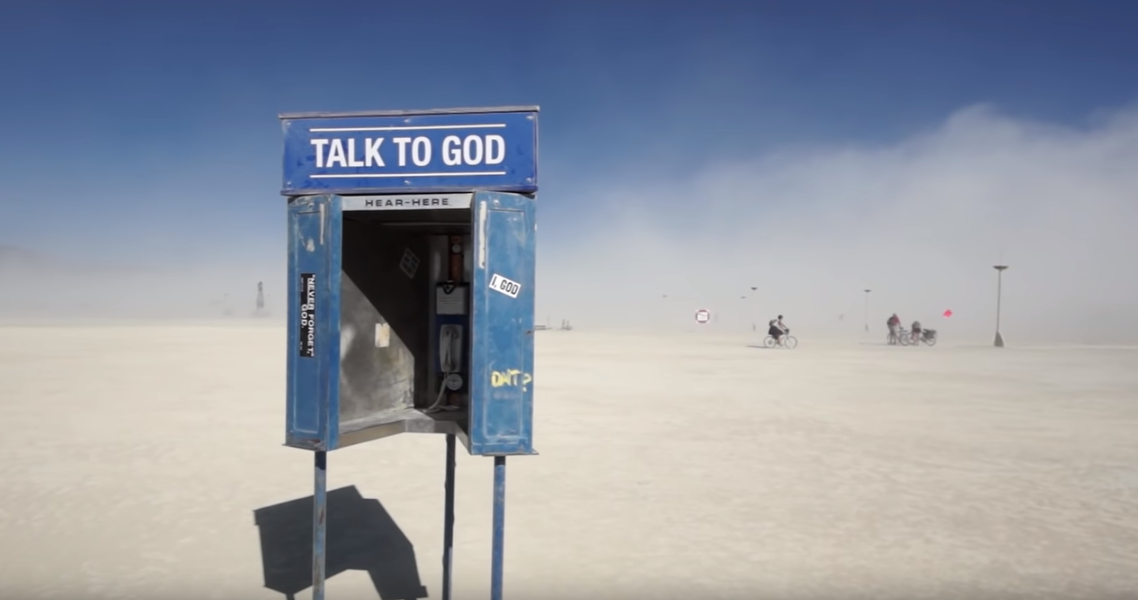 At about 11:00 PM on Friday at Burning Man, I was on the Playa, near the Esplanade, with about an hour to kill before what was supposed to be the starting time (midnight) of a drone show. I noticed a phone booth that said "TALK TO GOD" on the top. So, I stood in a line of about five people to talk to god. As one person hung up and walked away I asked, "What did god say?" She replied it was too personal to share. So I said, "Can you at least tell me whether god is male or female?" She said god's voice was female. Somebody else overheard this, who had evidently already had his turn, and commented, "With me, god was male."

However, the line was moving slowly and I saw a human being sitting alone nearby at a stand that simply said "advice," like Lucy's psychiatric help for five cents booth, except this one was free. So, I asked the guy sitting there for some advice. He babbled something that didn't help me at all, so I asked if I should be more specific. He said, and I'm paraphrasing, "Yeah, that would help." Then I asked him a question that is too personal to repeat here. His advice was, and again I'm paraphrasing, to follow my heart and to heck with the consequences on others.

With no one else waiting, some small chat ensued and he offered me a drink. I confessed I forgot a cup (you should always carry around one at Burning Man). To make a long story short, he said he needed to take a piss and if I would watch the stand he would return with a drink for both of us. I said "You can count on me," and he went off.

A couple minutes later, a few guys showed up and asked questions like, "What should I do tonight?" and "What do you recommend to do here?" I explained I'm a noob to BM, but I tried to promote the drone show, which, to be honest, was not that great.
,
After those instant-gratification questions, a young woman of about 25 asked me, "What is the quickest way to enlightenment?" I tried to offer my two cents, but I don't think it was worth even one cent. I'm nowhere close to finding enlightenment, so what do I know? Then again, I don't think it can be found. If you want to really press me for my opinion about the big picture, it is that there is no meaning of life and that the best we can do is to distract ourselves from facing the abyss. However, I didn't want to depress her, so I said a few miscellaneous things and then the guy who was supposed to be answering these questions came back. I handed the question to him and he also just babbled something off the top of his head. I think the girl left unimpressed with both us.

After all of this, there was just one guy talking to god, so I formed a new line. After the guy was done I asked him what god said. He didn't come back with a clear answer. Instead, he mumbled something about not being able to explain it.

Then I picked up the phone. God came on a few minutes later. I said "Are you there god? It's me, Mike." I hope you guys get the reference, but god didn't seem to. Anyway, I went right into the big questions like, "What is the meaning of life?" and "Which religion comes closest to the real truth?" God just gave some ambiguous answers that seemed to be Jesus-like parables at the time. I walked away feeling confused and unfulfilled.

When I hung up the phone, I saw another guy standing, waiting for his turn. He asked me what I asked the previous guy, "What did god say?" I told him god was rather vague and I needed time to process the interaction. He thanked me for my honesty. As I went back to my bike, he picked up the receiver.

A week later, as I went back over the evening for about the 20th time, I came to the assumption that perhaps god was just reading off of a list of fortune cookie like statements that one could read a lot into but at the core are pretty empty. None of god's answers specifically reflected what I asked.

In the end, I think it was a good joke, at least in my case. You had me there. Meanwhile, I'll keep searching.
Acknowledgements
The phone booth image was taken from the video BURNING MAN 2018. You can see it at the 0:13 point.