Introduction
Originally, I had intended for Steeler Talk to be a weekly sports article for the WoV Sports section as I like to dapple in a little NFL writing and the owners of the site don't seem to mind.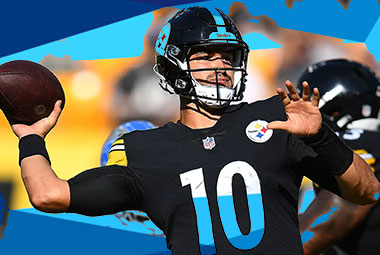 Of course, I didn't realize that the Steelers were going to suck quite this badly, so because of that, I almost fail to see the purpose of a weekly column for a team that is almost certainly not going to be competing for a Playoff spot.
This is kind of the issue that the writers and the radio guys seem to have with another Pittsburgh team who has perpetually sucked, that being the Pittsburgh Pirates. Can you imagine trying to fill air time, or fill an article, discussing a team who would go on to lose 100 games in the 2022 MLB Regular Season? Not an enviable task!
Of course, a radio station can't exactly close up shop just because it happens to be located in a city with an absolutely hopeless baseball team, so they go on the air and make variations of the same fundamental complaint (mostly pertaining to Pirates' owner, Bob Nutting) every single day.
Fortunately, I do have a choice. With that, since the Steelers suck, I figured I would turn my attention to other things, opting instead for a midseason report to catch up and then another report at the end of the season, unless they miraculously turn it around and look like they will be competitive this season. While I am absolutely not expecting them to do so, I guess it is fair to point out that the back half of their schedule seems easier than the front half.
So…what happened? While I was never highly optimistic about the Steelers' Super Bowl prospects (which is now just a laughable sentence on its own) this year, I never thought it would be this bad. From my Week 3 article:
I believe their bye week comes in Week 9, so I think that you might see Pickett come in if the Steelers have maybe five losses by that point, and definitely if they are 2-6, or God forbid, 1-7. The Jets come to town next week, so I would seriously hope they come out of that game with a 2-2 record, but then they have some serious problems after that. Here is the schedule leading into the bye week:
Week 4 (10/2): New York Jets
Week 5 (10/9): at Buffalo
Week 6 (10/16): Tampa Bay
Week 7 (10/23): at Miami
Week 8 (10/30): at Philadelphia
Okay, so the Jets aside, can we find two wins here? If the first two weeks are any indication, and this does not count as me talking AGAINST Tom Brady, (as I want to be the only person on this planet who called for him to not, "Fall Off a Cliff," like this loud-mouthed idiot spent about ten years doing and being wrong) but if Brady's performance doesn't improve (even though I expect it will) that could be a win. It would have to be, like, 10-3 or 10-7, or something.
In the meantime, T.J. Watt could be healthy for the trip to Miami, and should be healthy by the time the Steelers visit the City of Brotherly Love, (HA!) so I think the defense will look much better as a result, and the Steelers should have a chance in those games.
Okay, so you hope to beat the Jets, which they had BETTER do, and then somehow sneak into the Bye Week having gone 2-2 after that for a 4-4 overall record and you're in the mix. If that happens, then I don't think you move off of Trubisky, though I am sure any number of the talking heads will still be calling for them to do so.
In any event, everything about this ended up being either wrong, hopelessly optimistic, or both. Let's see just how bad at this I am:
WRONG & HOPELESSLY OPTIMISTIC: The first thing that was both hopelessly optimistic AND wrong is that I had assumed that we would not see Kenny Pickett (barring injury to Trubisky) until such time that the Steelers had given up on the season should they find themselves with a 2-6 or 1-7 record after Week 8. In reality, they pulled Trubisky from the Jets game at halftime and went with Pickett, but more on that in a bit.
WRONG: The next area where I was wrong is that, later in that Week 3 article, I would predict that the Steelers would defeat the New York Jets by a score of 17-14, but the Steelers would go on to lose that game 24-20.
Granted, that's not a huge miss on my part since I was predicting that the game would be close, one way or another, but pretty much that entire article was written on the assumption that they MUST win that game against the Jets, or the season would be all but finished anyway.
WRONG, BUT RIGHT: I identified the home game against the Tampa Bay Buccaneers as a reasonable opportunity for Pittsburgh to get a win and pointed out that Brady hadn't been having a great year so far. The Steelers did emerge with a 20-18 victory (their only win in that stretch), and Brady had an extremely pedestrian game, but there was more scoring than I expected. If you had told me (leading up to Week 4) that 38 total points would be scored in the Steelers/Buccaneers game, then I would have guessed the Bucs must have won 28-10.
VERY WRONG: As mentioned, the Steelers gave the people what they wanted, by moving off of Trubisky and to Pickett after the half in that home loss to the New York Jets, which signals to me that they have given up on the season. Every game that Pickett starts, I become more confident that the Steelers have simply accepted that this will be HC Mike Tomlin's first NFL Season with a losing record.
WHAT THE PEOPLE WANTED
The first half of the New York Jets game would see Mitch Trubisky post up less than stellar numbers as he would get gobbled up in the backfield thrice, throw an interception and go 7-for-13 for a total of 84 yards and zero touchdowns.
Whilst not ideal, Trubisky had faced relentless pressure from the Jets and the mid first quarter interception was on a pass that receiver Diontae Johnson should have had, but it went right through his outstretched hands and into the hands of Lamarcus "Right Place, Right Time," Joyner.
Evidently, coaching staff had seen enough and went with Kenny Pickett to start the third quarter. While Pickett was able to punch it in with his legs twice AND had more yards per attempt than Trubisky (10-for-13 for 120 yards) the fact that all three of his incompletions found their way into New York Jet hands more than makes up for that.
The first interception was a pass to Chase Claypool which Claypool had a chance at, but was still a floater thrown into double coverage—no getting around that.
The second pick was a short pass intended for Pat Freiermuth on the Steelers second-to-last possession of the game. Freiermuth would end up tipping this high pass into the air and it found its way to Michael Carter of the Jets. Pickett ended up getting rid of this ball in the face of relentless pressure, but it was (arguably) catchable, so I wouldn't call this an egregiously bad interception. That's not to say it was fluky, though, because it wasn't.
The last play of the game would be the Jets' final opportunity to Pick It, which they did, but that was just a run-of-the-mill, "Anybody's ball," Hail Mary into the endzone as time expired. I almost wish those didn't count as interceptions, but that's what it is on the stat line.
I have no desire to go through and chronicle Pickett's play for every single game, but we will do an overall QB comparison for both his and Trubisky's body of work for the Steelers this season a bit later on.
The only other game we will specifically discuss is that 20-18 winning effort against the Tampa Bay Buccaneers. Those looking at the stats will see that Pickett's record as a starter is 2-3, and already includes an undeserved win, as Mitch Trubisky should have been declared the winning quarterback that day.
Kenny Pickett must have decided that he wanted the Steelers to have a chance of beating the Tampa Bay Buccaneers, so as a result, he would exit the game in the third quarter with a concussion. To that point, Pickett had gone 11-for-18 for 67 yards, which is barely over 3.5 yards per attempt. He did have a passing TD, though.
Mitch Trubisky came in and, arguably, looked the best that he has ever looked in a Steelers uniform. He would go 9-for-12 for 144 yards, a touchdown, and lead the Steelers to victory from the 12-13 Steelers' advantage at the time he entered the game.
The Steelers' first offensive possession of the fourth quarter would see Mitch Trubisky lead a three and a half minute drive culminating in a six yard TD strike to Chase Claypool.
Brady and the Buccaneers would respond with a touchdown of their own, but would fail a two-point conversion that would have otherwise tied the game at 20-all.
Trubisky's best performance was arguably in the final drive of the game. The first series of Downs would see Trubisky facing down a 3rd&15 that came about as a result of a low snap that Trubisky was able to beat the defender to (after it bounced along past him) and would see Trubisky make a heads-up play to just dive and try to secure the football rather than attempting to scoop it up and make something happen.
The following play would see Trubisky connect with Chase Claypool for 17 yards on a gorgeous ball thrown just shy of the sticks. Trubisky threw this one into pretty heavy coverage, but this ball was an absolute dot. I wouldn't say Claypool was the only one who could get it, as it definitely would have been picked off had it sailed past Claypool, but you really couldn't have asked for Trubisky to deliver a better ball on that one.
Speaking of great balls, on the following set of downs, Trubisky would find himself facing another third and long situation, 3rd&11 this time, but he would again find Chase Claypool for a 26 yard completion near the left sideline that absolutely could not have been caught by anyone except Chase Claypool.
Trubisky then called his own number the next two plays, which led to a new set of downs, and that's your ballgame, folks!
The Steelers decided to go with Trubisky the following week against Miami, in a 24-14 winning effort.
…not so much.
Beyond all comprehension, the Steelers opted to go back to Pickett the following week, who…perhaps predictably, threw one touchdown against three interceptions in a 16-10 loss.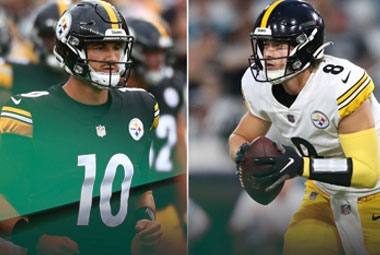 TRUBISKY V. PICKETT
That's when I knew the Steelers had given up.
Let's be honest: We all know that Pittsburgh isn't going to spin it that way publicly, but there is no way they could possibly believe that Pickett gives the team a better chance to win than Trubisky.
The original benching of Trubisky for Pickett back in Week 4 against the Jets? I would call that benching questionable, (the pick was NOT Trubisky's fault), but understandable.
The game's not going well. The offense really hasn't been doing anything. Let's go ahead and see what we have in this Pickett kid and maybe he'll come in and set the world on fire.
The only thing he set on fire was the stat line for the opposing defense.
But, when they went with Pickett for the game against the Dolphins, I knew that they had unofficially given up on this season.
I should also say that I understand them giving up on the season. The 2022 Pittsburgh Steelers, in no world, were ever going to win a Super Bowl. In fact, I would say that the best the organization could have ever hoped for was to go something like 9-8, maybe backdoor into a Wildcard spot, and hope that their losing effort in the Wildcard round wasn't too much of a blowout.
But, damnit, Trubisky had a 142.4 QB RATE against the Buccaneers…he played out of his mind that fourth quarter.
I accept that the Steelers do not perceive, and never really did, Mitch Trubisky as their long-term answer at the quarterback position. It's a little bit difficult for me to accept, because I don't understand why you wouldn't want to have a fundamentally reliable starting QB who can run a little and is safe with the ball, but we all know that they didn't grab Pickett in the first round NOT planning for him to be the long-term guy.
So, I understand. Going, at best, 9-7 and hoping you don't get demolished in the Wildcard Round too embarrassingly (as they did against the Chiefs in 2021) isn't exactly a high ceiling. With that, I do see the logic in getting Pickett some NFL starter experience, hope he learns some stuff, maybe get some pieces in the draft and try it again next year.
But, it seems really early to go ahead and call it a season, imo.
The Steelers emerged from the Buccaneers game 2-4…and Trubisky's play dragged the Steelers, perhaps kicking and screaming, to that victory. By the time the Steelers entered the bye week at 2-6, there had still been only one quarterback on their team to walk off the field victorious—Mitch Trubisky.
Well, Pickett and the Steelers managed to beat the equally hapless New Orleans Saints by a score of 20-10 after the bye week, but this season is already lost.
Okay, let's do a QB comparison:
Kenny Pickett: Hot Garbage.
Mitch Trubisky: Better Than Hot Garbage.
Seriously, Kenny Pickett (so far) is 130-195 (66.7%) for 1,161 yards, two touchdowns, eight interceptions and a QB RATE of 68.8. That is absolute trash for a stat line. That's awful. This is not the sort of stat line you'd want to see from a third-string QB.
More than that, Pickett has produced 6.0 yards per attempt and only 8.9 yards per completion. Even though he completes a higher percentage of his passes than Trubisky has this season, those completions barely manage to advance the Steelers' position on the field and Pickett has STILL managed to throw eight picks.
Hell, even if you gave Pickett his three rushing touchdowns (he is better as a pure runner than Trubisky) that would still be five touchdowns against eight interceptions.
If this is the long-term answer, then all I can say is it's a weird question being asked, but Pickett needs to improve in a serious hurry.
Contrast that with Mitch Trubisky who, at 78-for-128 (60.9%) and 797 yards, completes a lower percentage of his passes, but the ball actually goes somewhere as Trubisky averages 6.2 yards per attempt and 10.2 per completion. Trubisky's three touchdowns in five appearances (four starts and, effectively, just under 4.5 games) aren't breaking any scoreboards, but he's also only thrown two picks, including one that wasn't at all his fault. His QB RATE of 80.1 so far this year is very much backup caliber. Right or wrong, that's what he is right now, so I suppose he's at least meeting backup expectations.
DISCLAIMER
I just want to throw in a quick disclaimer that when I call Kenny Pickett's play, "Hot Garbage," I'm not implying that I could do better. I'd hope it would be obvious from context, but I mean his play, so far, has been Hot Garbage in the context of an NFL Starting QB.
To that point, if Pickett was the starting QB going into the season, for any other team in the league, and had played like this in this stretch, he would be benched.
Perhaps there are one or two starting QB's who are arguably worse, but those guys also don't have Mitch Trubisky sitting behind them.
And, again, it's not as though I can do better. I think it's quite a stupid argument that people shouldn't be allowed to be harshly critical of NFL QB's unless they can do better because the NFL is a product that exists for the entertainment of the consumer, so certainly the consumer should be free to comment about it.
Make no mistake, if Kenny Pickett were, unequivocally, the worst quarterback in the NFL…he'd still easily be one of the best couple hundred QB's in the entire world.
GOING FORWARD
I wouldn't mind being wrong, but I can find the Steelers three, and if I am boundlessly optimistic, maybe four more wins. That would put them at 7-10 to end the season and would actually see them go a respectable 5-4 after the bye, but mostly only because they get some trash teams this side of the off week.
The Steelers-independent records of their first eight opponents is 38-28, and of their remaining eight opponents, as they sit at 3-6, is 31-41-1, so you go from ten games over to ten games under .500. Here is the Steelers' remaining schedule and my predictions:
Cincinnati: Loss
@ Indianapolis: Win
@ Atlanta: Loss
Baltimore: Loss
@ Carolina: Win
Las Vegas: Win
@ Baltimore: Loss
Cleveland: Loss
I suppose four wins isn't THAT optimistic. If I had to guess, I think the Steelers will win either the Cleveland game or the Atlanta game, but I can't force myself to pick them to win one of those individually.
Anyway, barring something unforeseen, that's where we are going to leave it until the end of the season. It doesn't seem that they are moving off of Pickett, whose play I don't expect to meaningfully improve, but I guess we'll see.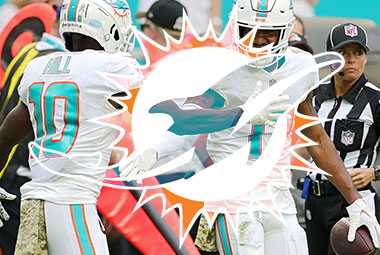 MIDSEASON VITRIOL (QUICK TAKES)
Miami Dolphins (7-3): Was Brian Flores able to settle his lawsuit out of court? If Miami wins 10+ games, and it very much looks like they will, and especially if they win the AFC East, it's going to be hard to argue that Flores' dismissal was palpably unfair. Still a head-scratcher, sure, but it looks like someone is coming in Year 1 and doing better.
New York Jets (6-3): I think I need to reread the Book of Revelations. I don't remember it saying anything about the Jets having a winning percentage of .667 as a harbinger of the End Times, but it really seems like it should be. From 2016-2021, they went 27-70!
Buffalo Bills (6-3): It's interesting. The Bills at 6-3 was overachieving in 2017, but this season, underachieving. They've had a tough schedule, though. Losses are to the surprisingly decent Jets, surging Dolphins and an all-time classic game against the Vikings in Week 9. They beat the Chiefs and most pundits would have agreed that the Bills or Chiefs potential road to the Super Bowl involves going through the other in the Playoffs, at some point.
New England Patriots: (5-4): How the mighty have fallen. Still, when the lowest man on the Divisional totem pole has a winning record, that's a sign of a tough division. The AFC East is a combined 19-8 in non-division games.
Kansas City Chiefs (7-2): The Chiefs just doing what the Chiefs do. Playing the hapless Raiders so close and losing to the Colts is a bit worrisome as it shows that K.C. is capable of dropping a game to basically anyone. Dropping games is no bueno in the playoffs.
Los Angeles Chargers (5-4): Don't let the record fool you. These guys got blown out by the Jaguars and the 37-23 loss to the Seahawks wasn't half as competitive as even that final score would indicate. If they do anything at all, it will only be because they have a fairly weak schedule.
Denver Broncos (3-6): Maybe it's on Wilson's teammates for not knowing the Seahawks' audibles. In fairness, Wilson hasn't been as putrid as some would make it sound, but he certainly hasn't been very good.
Las Vegas Raiders (2-7): (Deep Breath) Ahahahahahahahahahaha!!! You love to see it! I'm convinced that Mark Davis just hates coaches that take his team to the Playoffs. If Davis wasn't going to give Rich Bisaccia a contract, the least he could have done was make a play to sign Jeff Saturday! I bet the Colts feel like they dodged a bullet.
Baltimore Ravens (6-3): Aggressively better than average, but 2012 aside, never quite good enough. They've come on in the last few weeks and have an easy schedule the rest of the way out, so I think they will probably win the Division and should get a wildcard spot even if not.
Cincinnati Bengals (5-4): They have a positive points differential and only lost ugly to the Browns (score-wise), but unfortunately for the Bengals, the backend of the 2022 schedule is stacked. It's going to be tough to imagine them even making the Playoffs, much less successfully defending their AFC Championship.
Cleveland Browns (3-6): At least the NFL world partially makes sense again. Even if Watson comes in late in the season and lights the world on fire, I don't see it being enough to get the Browns into the Playoffs. The backend of their schedule is also not easy. Brissett has been better than expected and even looks pretty good at times.
Pittsburgh Steelers (3-6): The schedule gets easier from here, but I don't expect much improvement at the QB position, barring injury. When Kenny throws, there's a good chance the defense will pick it.
Tennessee Titans (7-3): Losing to the Giants in Week 1 followed by getting blown out by the Bills had fans worried, but fans didn't realize (and I certainly didn't) that the Giants are actually quite good this year. The Titans have an easy schedule for the back half in a soft division, so I would expect them to run away with this division.
Indianapolis Colts (4-5-1): As of this writing, Jeff Saturday is the only unbeaten Head Coach in the NFL! Bill Cowher calls the Saturday hire, "A disgrace to the coaching profession," but maybe coaching just isn't that hard of a profession. Maybe Saturday is just a natural. I guess we'll see.
Jacksonville Jaguars (3-7): The Jacksonville Jaguars are an NFL team that exists. Would you believe they have a positive points differential? The Jags are good at playing close games, but terrible at actually winning them.
Houston Texans (1-7-1): I didn't expect the, '1's.'
Philadelphia Eagles (8-1): What is there to say? The Eagles are awesome this season. I think they'll win at least 13 games, unless they can secure home field throughout the playoffs with fewer than that. They'd have the tiebreaker over the Vikings.
New York Giants (7-2): I have no words. The world has ceased to make any sense.
Dallas Cowboys (6-3): They have a fairly easy last eight games of the season with the Vikings (Week 10), Eagles (Week 16) and Titans (Week 17) being the really tough games. Oh, wait; they have the Giants in Week 12…I keep forgetting that the Giants are good now. I could see three teams from this Division making the Playoffs.
Washington Commanders (5-5): Don't read too much into it. Other than the win against the Eagles, most of this is just from beating up on the worst teams in the league. The back half of the schedule will be much tougher for them.
Seattle Seahawks: (6-4): Geno Smith looks like that other quarterback for the Seahawks used to look…what was his name, Russell-something? I'm legitimately happy for Geno as, prior to this season, I wouldn't even have guessed that he was still in the league. I suppose the Seahawks thought they had something in him when they didn't reach for Baker Mayfield in the preseason—that's why they are the pros and I'm just an idiot who writes NFL articles sometimes.
San Francisco 49ers (5-4): The Chiefs aside, the 49ers losses are NOT indicative of a good team. They've had an easy front end schedule and the back end doesn't look much harder. They might take the Division or squeeze into a WC spot if they can beat the Cardinals twice as well as beat the Seahawks again.
Arizona Cardinals (4-6): They manage to win against the league's worst teams…sometimes. The schedule gets tougher from here and it's difficult to imagine the Cards winning even three more games of their last seven. They gave Kyler Murray some serious dough for competent backup caliber play.
Los Angeles Rams (3-6): In a world that makes no sense, we present the defending Super Bowl champions. The back half of the schedule is a little softer, but they only seem to be able to beat the league's basement dwellers, so I wouldn't expect a miraculous resurgence.
Minnesota Vikings (8-1): The Vikings have been excellent and beat the Bills in an all-time classic! I have no idea how the season will end for them, but it will almost certainly involve Greg Joseph missing a Field Goal.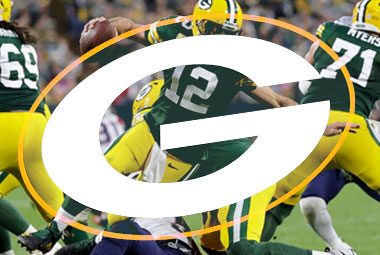 Green Bay Packers (4-7): Not everyone gets to go out on top. It looks like Rodgers might not go out in the top half—especially not with what's left on the schedule.
Detroit Lions (3-6): Expected. The win against the 5-5 Commanders is the only dub they've gotten outside of their own division, which is putrid, Vikings aside.
Chicago Bears (3-7): No, no, no. You can't be the league's perpetual mediocrity test at 3-7. Especially when your schedule does NOT get easier from here.
Tampa Bay Buccaneers (5-5): Say what you want, but Brady has been extremely safe with the ball and…no, that's it; Brady has been extremely safe with the ball. It wouldn't be the first time that the goose jumps off of the serving platter and wins a Super Bowl just when you think the dang thing is finally cooked, though. Defense wins championships, as they say. Fairly easy schedule from here, too.
Atlanta Falcons (4-6): The Falcons have a pretty easy back half of the schedule, so the Week 18 game where Tampa Bay comes to town might decide who wins the division.
Carolina Panthers (3-7): Expected.
New Orleans Saints: (3-7): Beating them is a breeze given the lack of Brees.
CONCLUSION
It looks like the Steelers (barring injury) are going to stick with Kenny Pickett, hope he continues to develop (which would mean developing at all) and are hoping for better things next season.
I steadfastly believe that Mitch Trubisky gives them the best chance of winning, which is why they started the season with him and I also think Trubisky proved that when he filled in for an injured Pickett in the game against the Tampa Bay Buccaneers—putting on a master class in the fourth quarter.
Evidently, the team seems to have abandoned its usual philosophy of just trying to win NOW and is instead planning for the future. A future, they can only hope, that doesn't involve Kenny Pickett playing the way he has played so far.
I also want to make it clear that I don't dislike Pickett and hope that he finds his way. May he develop into an absolute stud and be the Steelers' guy for the next fifteen years! It just doesn't look that way so far. I'm also of the opinion that even if your ceiling is to squeak into the Wildcard Round of the Playoffs where you will almost inevitably lose, that you should always at least try to meet your ceiling. Something else about, "A chip and a chair," but the Steelers have instead left the table and are just posting blinds this season until their stack is depleted.
The people and the talking heads got what they wanted. I've not heard the talking heads admit to being wrong yet, but I will: I was wrong to believe the Steelers would not give up so early in the season.
Posted by
Mission146