Additional Observations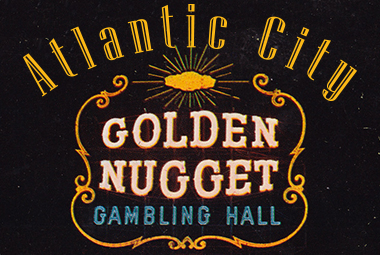 Recently, I completed a four-day trip to Atlantic City during which I had the pleasure of taking my kids to the ocean for the first time. Needless to say, they enjoyed it pretty thoroughly. We stayed at the Golden Nugget for which I am going to write a lengthy review that I will link to in the comments section of this article when it is up. In the meantime, though, I do have a number of other things that I noticed about Atlantic City that I thought I would share:
1.) The Golden Nugget is a Surprisingly Good Place to Stay with Kids
We were booked for four nights at the Golden Nugget in Atlantic City and I was informed on the phone (having requested two beds) that room types were not guaranteed. Having arrived at 8:30p.m., I thought that they would definitely have a room with two beds clean, but alas, they did not. Fortunately, the room we were assigned had a king size bed as well as a sectional large enough to comfortably sleep two small (eight and five) children.
Furthermore, all of their rooms come with a fridge, so if you don't want to necessarily shell out for every single meal, you can bring some beverages and Lunchables or deli meat and cheese, or something of the like and have somewhere to store it all. While casino rooms generally seem to be improving in this regard, it remains true that many casinos do not offer refrigerators in all rooms, so that is a nicety that we were glad to have available to us.
The H2O rooftop pool, located on the sixth floor, is also great for children. There is plenty of walking space surrounding the pool, so there is almost no risk of unintentionally falling in. Furthermore, there is also a relatively large sitting pool with loungers that can effectively double as a baby pool. They have four hot tubs, but as I discovered, kids under twelve are not allowed in regardless of whether or not they have parental accompaniment.
On the fifth floor roof, from which people using the pool area can simply take the stairs up and down, there is a volleyball net, corn hole games and an oversized beer pong type game that people use larger balls and garbage cans to play.
Additionally, on the second floor on the way to the parking garage, they have an arcade with a wide variety of games for which tickets (some machines dispense them fairly liberally, particularly the Video Poker game) can be obtained for prizes. The kids loved that, as well.
Finally, the vast majority of the restaurants in the Golden Nugget are accessible without going onto the casino floor. Too often eateries in casinos, especially the buffet, are inaccessible without going onto the casino floor, and as a result, kids effectively can't eat there. The Golden Nugget is supremely well-designed in this regard with the majority of the eateries surrounding the casino floor in an almost three-quarter circle, making everything not just accessible, but also easy to find.
2.) Don't Walk with Food!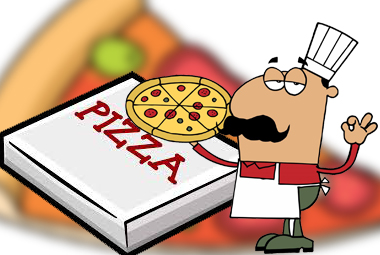 We enjoyed a few Interesting occurrences involving walking with food during our trip. The first one was, on the second night of our stay, I went to a place called Chelsea II to pick up a couple of pizzas and a salad. (I highly recommend Chelsea, by the way, even though their pizza is thin crust and I vastly prefer deep dish)
I parked on Atlantic Avenue, perhaps a third of a mile from the establishment, and set off to pick up the food. I must not have been dressed well enough because I encountered no issues on the way to the pizza shop and I did not encounter any issues as I stood outside of the shop and smoked a mini-cigar while waiting for the pizza to get finished. However, when I left the location to return to my car with the food, I had four different people ask me to give them a dollar, (apparently, now that I have pizza, I must have money) as well as one other person ask me for a slice of pizza. I was a little worried that someone might try to get cute, so I made it a point to carry the food in a way that at least kept my right arm free in case I needed it.
The next situation involving walking with food was on the Boardwalk when my girlfriend got to enjoy the experience of having a seagull swoop down at her and steal a bite of her ice cream. Of course, she threw it away, but that caused my son to panic and force his ice cream on her because he didn't want a seagull swooping down at him...in the meantime...the seagulls, strangely, left my pizza completely unmolested.
3.) Great Food Prices!
I wish I could remember the name of the place, but if you go onto the Boardwalk via the Trump Taj Mahal, the first partially enclosed food stand on the right has some amazing prices! My personal favorite is an epic-sized slice of pizza (two plates) for six-something dollars. Once again, while I tend to be partial to deep dish pizzas, this thin-crust sliced was positively delicious with a great crunch to it, yet the interior of the crust was perfectly soft! Well done!
4.) Same People, Same Places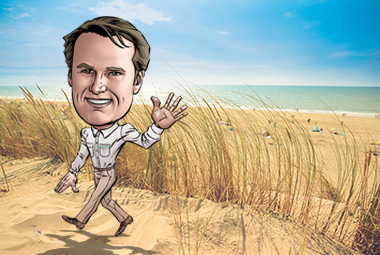 I'm starting to think that a few people pay rent on their Boardwalk seats. Three days in a row we went to the beach, and three days in a row there was the same somewhat dirty-looking old guy on the same exact seat in the same exact spot, doing nothing. He wasn't begging, he wasn't singing, he wasn't playing an instrument; he was just sitting there staring at who knows what. He didn't seem to move. I went back to that spot later on one evening to find him gone, so apparently he leaves sometimes.
There is also an African-American woman who seems to park herself on the same bench, perhaps in front of or just past Resorts, and she sings a bunch of Folk or Religious songs for whatever people want to tip her for doing so. I suppose that's not entirely unusual in and of itself, I just found it interesting that she doesn't seem to move around at all.
5.) Great Drivability
We were there on a Sunday-Wednesday, so the lack of traffic may have been somewhat due to it being during the week, but I found Atlantic City to be immensely drivable. That's not just because of the lack of traffic, but it is also due to the fact that the layout makes it incredibly easy to get from one casino to another regardless of whether the casino of departure or arrival is on the Boardwalk or the Marina. I'm pretty confident this statement is true because my sense of direction (other than N-S-E-W) is nothing short of embarrassingly poor, yet I knew how to get everywhere after being there only once.
6.) Horrible Parking Garages!
I did not have the opportunity to go to every casino in Atlantic City during my visits there, actually, I'll retract that and say I did go to all of them, but not to all of the parking garages. I parked in four different self-parking garages, and I'll rate them from worst to best:
Bally's/Caesar's: I think it was technically Caesar's garage, though I can't be sure. In any event, the garage is shared with some sort of urgent care or hospital, but they are on opposite sides of one another. In addition to that, it is difficult to tell what side you are actually parked on until you get to the elevators (there will be a sign there) because you get turned around and around so much. Even though it said I was in Caesar's garage, somehow I ended up walking straight into Bally's Wild Wild West Casino (don't know how) and from there I had a Hell of a time making my way to the Boardwalk to walk to Tropicana.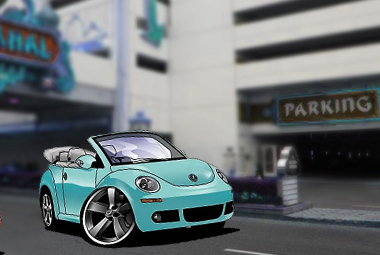 The Trump Taj Mahal: It's not so much that the self-parking itself is bad or terribly confusing, it's simply that it is a bit of a trek to get to the actual casino from it. Originally, I tried going through the elevators inside and walking from there to some other set of elevators and eventually to the casino, but those elevators didn't seem to have anything to do with the actual casino. The final time I parked there, I found that one can exit from the second floor essentially straight into the parking garage, but from there, I had to walk all over the place to find the section (1i) in which my car was located.
The only thing that prevents The Taj from having the worst parking garage is that it is both not difficult to find the exit, furthermore, it is not difficult to find one's way back into the garage if one simply goes outside and approaches the self-park (on foot) via the walkway. As many people probably know, The Taj is not the busiest place in the world right now, so you can usually park on the first level of the garage, often in the 1h section.
Harrah's: I don't remember anything about the Harrah's garage being particularly easy or difficult, so I'll put it here.
Golden Nugget: Not only does Golden Nugget have the best designed parking garage (my opinion) of the four that I parked in Atlantic City, but they also have one of the better ones I've seen in my life. The entrance to the garage results in looping around all of the floors as one looks for a spot, which goes around the same way on every single floor, and then there is a single exit chute that winds around towards one of the ends and is a common exit. Other than the exit, the entire garage seems meant to be one way, at least right now, because they seem to be doing construction on the side away from the elevators on most of the floors. The construction actually has the unintended consequence of minimizing congestion, making it even easier to navigate through the garage at a reasonable speed.
7.) Annoying Lifeguards
First of all, let me say that I appreciate the presence of the lifeguards, have respect for them and what they do, and understand that prevention is the best policy. The best day a lifeguard can have is when he doesn't have to get in the water to save someone.
With that out of the way, many of these lifeguards were extremely frustrating with respect to handling crowd control. One day, it seemed like they were constantly blowing their whistles and moving everyone around, so you couldn't even really get into the groove of swimming, or hunting for seashells, letting waves hit you or anything along those lines without being relocated. Furthermore, on one of the days, they said not to get into the water below your waist, but I kept getting whistled and waved back in for being, 'Too deep,' even though it's just a simple matter of me be taller than most people. I also like to go as deep as allowed because digging around with your feet when you find some sediment seems to be the way to find the biggest and uncracked seashells, which I was trying to collect for the kids.
8.) Friendly People!?
While I understand that the majority of Atlantic City visitors are not actually from New Jersey, New Jersey has long had a reputation of being filled with rude and inconsiderate people. I'm pleased to say that my experience in Atlantic City was almost the exact opposite of that.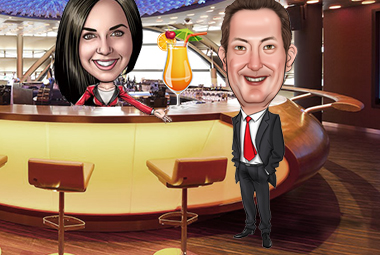 First of all, the service at just about every casino, in every department, was exemplary, in my opinion. The only person that I encountered that I didn't care too much for was the Player Services representative at Resorts because she kept trying to rush me along after I had signed up for the card despite the fact that I had a few questions for her. It's not as though there was some huge line behind me, either, there were perhaps two people behind me and we completed the getting the card part of the exchange in almost only thirty seconds.
Other than that, the service was unbelievably good, and I would suggest, just about on par with Las Vegas. I was particularly impressed with two different cocktail waitresses, one at Resorts and the other at Golden Nugget. The one at Golden Nugget impressed me because she said she was just going to bring me a Heineken every other time she made a round, and just to tell her if I wanted to slow down or when I was all done for the night. Of course, I continued to tip her a single on every one of them, but her attentiveness and not needing to be flagged down and asked for what she already knew I wanted was quite nice. The cocktail waitress at Resorts impressed me because I had ordered only two Heinekens within a one hour period because I needed to concentrate on what I was doing and was not going to take any chances on catching a buzz. The impressive part came when, four hours later and in a different section, she remembered me and asked, 'Heineken?' when I waved at her.
Beyond that, the gentleman who seems to either be the proprietor or manager of Chelsea II pizza was fun to talk to and he told me all about how they got rid of the power outlets because of too many, 'Hoodlums,' sitting around making people afraid to come in. As soon as he got rid of the chargers, they all stopped coming. I told him that he should have kept the outlets but just required a total of $5 an hour in purchases for being there, which would just be a slice and a drink per hour, perfectly reasonable. He said he'd actually consider that.
Other than those people, just random people that I encountered in the Golden Nugget, Trump Taj Mahal and Resorts seemed eager to chat. Most of the people playing machines around me talked me up for seemingly no reason, which is a pleasant change of pace from most casinos in which people seem much more than content to keep to themselves.
9.) Lack of Bars?
I didn't actually have any plans on going into a bar, but just out of curiosity, I drove around Atlantic City (and paid attention on my walk to Chelsea II) to see how many there were. Other than strip clubs, though, I don't recall really seeing too many bars. There appeared to be plenty of liquor and beer stores all over the place, but very few, if any, actual sit down bars.
It almost makes me wonder if even the residents of Atlantic City tends to go to one casino or another when they want to drink, but that would definitely be different than Vegas, which has plenty of non-casino bars. Of course, the bars around Las Vegas are allowed to have bartop video poker games, so perhaps that is the difference.
10.) GREAT Diners!
There are some fabulous diners around Atlantic City, and the two that I went to both had a 50's-type design. The first night that we came in, we stopped at the Silver Coin Diner in Hammonton, New Jersey, which is located on White Horse Pike.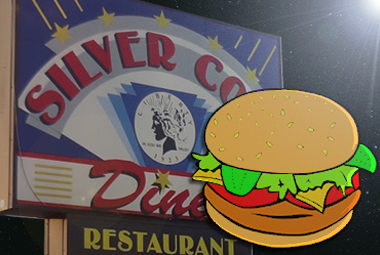 Initially, I was a little alarmed by the sheer size of the menu, because it usually isn't a good sign when a menu spans several pages and has more than seventy different entrees/sandwiches. That generally means that they have a lot to offer, but they're not particularly good at making any of it. That was definitely not the case at the Silver Coin whereupon I enjoyed a bison burger and fries, my girlfriend had some sort of other burger that I can't remember, my son had turkey, stuffing and fries and my daughter had a hot dog. Granted, burgers aren't too difficult to cook, but both of ours were excellent. I don't recommend the turkey, though, it just tasted like Banquet meal turkey. When I combine the price of the diner, the quality of the food, the varied selection and the aesthetic appeal, I'm inclined to give it about an 8/10.
The other diner was one at which we stopped for breakfast on the way back, and that was the Harbor Diner in Egg Harbor Township, New Jersey, just a few miles down 30 West from Atlantic City. The service at this diner was excellent, I had a very well-prepared and evenly distributed gyro omelette, my girlfriend and son both had a waffle (extremely light and fluffy, but with a nice crisp on the outside though not burnt) and two fried eggs, while my daughter just had some eggs and sausage. The service at the diner was fantastic, and the proprietor (after I had mentioned the Silver Coin and how much I like New Jersey diners) wanted to know which I preferred, but I told him I couldn't answer because I had breakfast at one and dinner at the other. I would still score this diner as a 9/10, which is a higher score than The Silver Coin, but it could theoretically go either down or up were I to eat dinner there.
Conclusion
Those are my ten somewhat random musings from my most recent trip to Atlantic City. Has anyone else seen the somewhat ruddy old guy or the singing lady on the bench? Do you have any other diners in or around Atlantic City that you would highly recommend to me? Are there any other oddities that I may have missed? Please leave a comment and let me know, and as always, thanks for reading!
Posted by
Mission146