I don't always watch documentaries, but when I do, I prefer they be about gambling.
When those documentaries are about gambling, they are often the most fun if the specific subject is a man who is absolutely one of the best, 'Readers,' of other Poker Players to ever live. In this case, that man is, "Kid Poker," Daniel Negreanu.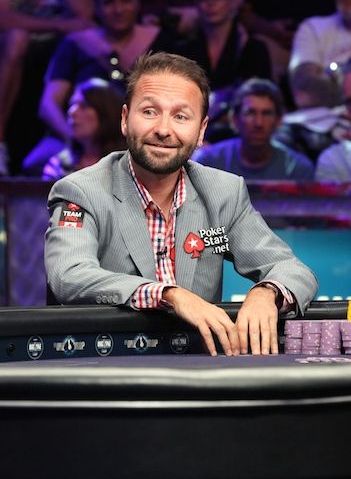 For those of you who routinely watch (or have watched) many televised Poker Tournaments or Cash Games, you'll already know that Negreanu's abilities fall somewhere between, "Baffling," and, "God-like," and probably tend towards the latter description just a little bit. Negreanu is a guy who, when faced with a big situation, will not only make the right decision, (or, in rare circumstances, the wrong one just because he wants to force an opponent to show his/her cards) but also explain the decision and, 'Call out,' what the opponent has in his/her hand. He is usually right and has been openly described as, 'Sick,' by too many players to even bother to count.
What is it about Daniel Negreanu that gives him the ability to read players the way he does? I don't know, and unfortunately, the documentary doesn't do anything to describe it. Whatever it is, I seriously doubt if, by and large, it is even a learnable trait...I think that it is something that has to be somehow inherent. I'm not suggesting that it is impossible to become better at reading players than you are right now, regardless of where your skill level is, or if you even play Poker, but there is something about Negreanu that takes this ability from, 'Skillful,' to, 'Uncanny,' something that I am fairly convinced cannot actually be taught.
The Documentary opens up with some general comments about Daniel Negreanu from fellow Professional Poker Players as well as friends and a few family members. One of his brothers is featured a good bit throughout the documentary and he shares some valuable insight on Daniel Negreanu's formative years...both in life and in the realm of Poker. At the conclusion of this segment we hear from Daniel about his Hall of Fame induction and he tells us that, while a joyous occasion for him, his induction into the Professional Poker Hall of Fame was, 'Expected.'
While such an, 'Expectation,' might seem arrogant on its face, it really isn't in the case of Daniel Negreanu; to admit to anything less than an absolute expectation that he would be inducted to the HoF as soon as possible for this winner of six World Series of Poker bracelets, two World Poker Tour Titles and who has appeared at countless Final Tables would be nothing more than false modesty. However, we do learn that Negreanu can have something of an arrogant streak, from time to time, and that such has occasionally gotten him in trouble.
Of course, I'm getting a bit ahead of myself: After the Introductory series of statements has concluded, we get into the upbringing of Negreanu and hear a good bit about his parents and family life. In fact, this doesn't really mix in with poker until he is in his late teens and takes up a good 25% (or maybe it just seemed like that) of the documentary. It turns out that Negreanu was raised by two extremely loving parents, who he loved in turn, and grew up very well in a solidly middle-class family. We learn that, 'Danny,' was a bit of a non-conformist in his youth and that he did not necessarily place a high value on education...except when it came to educating himself on becoming a better poker player. At first, while his Dad was all for his pursuits on the felt, his mother was originally against it and came around. I'm not going to go into much detail on that other than to say that Negreanu's mother was a substantial source of support throughout the first many years of Negreanu's career and that portion of the documentary is as much worth watching as any other. Touching, in fact.
When we do finally get into the blossoming seeds that would turn into a brilliant flower of a career (that is not yet anywhere near over, I might add) we are taken through Negreanu's journey from home games to club games and charitable Poker events. Negreanu would experience early successes at these playing levels that he (as one would expect) would translate well into forays into Las Vegas, unfortunately, the first several of Negreanu's trips to Vegas would lead to him flying right back to Canada...in one case, almost immediately...to re-establish his bankroll. Daniel treats this part of his career with a cheerful disposition laughing at his approach to the game at the time, as anyone who has watched him knows, he has one of the most seemingly carefree attitudes of any of the professionals out there.
Eventually, Negreanu came to the realization, after one particularly bad session, that, 'I was the sucker,' after he had busted out and later returned to the Poker room to watch and everyone had left the table. At that point, he learned that he would have to play with some discipline as he had a habit of playing far above his bankroll, and arguably, his skill level.
Negreanu's first World Series of Poker bracelet would come in a 1998 Pot Limit Hold 'Em event that he described himself as almost not entering. Fellow professional and son of legendary poker player Doyle Brunson, Todd Brunson, saw potential in Negreanu and bought a stake in him in the tournament after he himself busted out. This would lead to a friendship with Jennifer Harman who was tasked with collecting Brunson's share of the winnings after Negreanu was knocked out of the tournament, except he didn't get knocked out...he won!
Jennifer Harman would then go on to be something of a mentor to Negreanu and is arguably the person most responsible for convincing him to take a more disciplined approach to playing within his bankroll and selecting games properly. Negreanu would watch from afar as Harman played in some of the largest cash games, and although he wanted to get in on the action, Harman was generally successful in keeping him from doing so until Negreanu's bankroll and skill level justified playing at those kinds of stakes.
The remainder of the documentary focuses on Negreanu's relationship with his mother, her passing and what it mean to him, as well as Negreanu's career throughout the 2000's and into today. This focus does not only involve what takes place on the felt, but often off of it, as Negreanu is quite a philanthropist and has found himself in the position of being an ambassador of sorts for the game. While this is all quite interesting, there is really not much to say about it that would not ruin the experience of actually watching the documentary, so I am going to stay away from details on those segments of the documentary.
With respect to Negreanu's actual game and playing style, there is a small segment of the documentary that focuses on his uncanny ability to read other players, however, not much insight is offered on how he actually pulls that off. It is true that one does not watch this documentary expecting it to be a tutorial or instructional video, however, I did expect that the documentary would focus just a little bit more on Negreanu's abilities and playing style.
Overall, the documentary is definitely a worthwhile watch, especially in the event that one has a few hours available to him/her and nothing else to do. The only aspect in which the documentary might be slightly lacking is that I think it could have focused a little bit more on Negreanu's actual game and skills as that is just as relevant as his background and early years. Furthermore, given that Negreanu did not experience too much hardship in terms of his family life, that section of the documentary might drag on just a little bit for some people.
I would ultimately rank this documentary as a 7/10, but keep in mind that is coming from someone with an interest in Poker and tremendous respect and admiration for Negreanu's abilities and general demeanor. For those who are interested in Poker, but don't care one way or another about Negreanu personally, I would suggest that it is still a worthwhile watch, but such people might find that it drags on a bit in certain segments. For those who are not interested in Poker, unfortunately, I would conclude that this documentary is not going to change that lack of interest one way or another.
Posted by
Mission146