Borgata!
We're down here visiting with family. I hit a $500 spin with my free slot play, and haven't fallen below the line since; up another $100 at Let it Ride (with the best bonus payout in the US), sat down and hit two three-of-a-kinds in the first three hands @ Four Card Poker, played up and down since... right now heading down to breakfast, looking at $720 in chips and a $150 slot ticket. Comped rooms in The Water Club, damn these are the nicest showers ever.

We're going over to the boardwalk and Revel after dining. We're more casual, entertainment gamblers than hard core; I'll try and look at it from that perspective, see if I can round out their story. It will still be myopic, but a whole lot of myopic views can combine to give a pretty good picture. So, data point.
Comments
I'm glad things are going well so far! What machine did you hit the $500 on?

enjoy revel... it's such a beautiful casino with clean air and gorgeous views. may i recommend the taco truck? it's delicious.
$5 WoF. Basically won at everything I tried for 2 days, until PGP this afternoon, lost $280 before getting my first white chip. Then after dinner, won at everything again until midnight, and blew $600 in the $25 WoF, taking a chance that I usually wouldn't take. Finishe out up $1400, betting mostly $10 at tables and $2-$3 at slots. Tired, gotta drive back tomorrow, I'll write more then.
Going to Vegas in October.
No, not for the HBC. We'll be staying at The Wynn, Oct 21st through 24th. Looking forward to meeting some folks, if we can get away from some of the scheduled events. I think we'll have Monday night free. Sunday and Tuesday are banquets, Wednesday is getaway day.
Atlantis, last couple days
You ever have someone say, "Teach me how to play ______?" Well, our traveling companions wanted me to show them how to play craps, blackjack, and anything else I knew. So I proceeded to show them how to lose $300 in 10 minutes at craps, another $200 at bj over one $25 shoe, and $100 in four hands at 3 Card Poker, before they said they might want to think a little bit about this gambling thing.
I got stung pretty good that night, Tuesday. I got about $300 of it back, but then lost that and another $200, all at bj, before calling it a night around 2AM. Down $800 for the day.
Then Wednesday, I had a turn of luck; not enough to break even, but enough to have fun. Mrs had played enough slots on my room key (doubles as casino card) to get $50 of free play. It had to be in a $1 machine, so I put it in the WoF and hit for $70. I then went to a $1 In The Money and hit for $132. With that stake, I went to 3 Card ($10) and got some nice hands, a nice run of straights and flushes (not every hand, of course, but a nice run), and took $400 over to Ultimate Texas Holdem. There, at $10, I played up and down, up and down, as high as $600 and as low as $140, and then I hit JJJJ, and later I hit a straight on the flop, and then later a full house on the flop. The table got hot as hell; everyone was hitting hands all over. I am proud to say that I played proper strategy on the hole cards; as much as it bothered me to do it, I tossed $40 out there on Q-8, K-5, and all aces and pairs. I won my share, once picking up a full house on the turn/river, but usually just getting the higher pair out of it. "A little plus a little plus a little is a lot," my friend Dave Sipus used to say, and at 1AM I had my $800 from Tuesday back in my pocket, and I called it a night.
This morning, before the bus left for the airport, I picked up another $100 at UTH. Figuring in slot wins and losses while sitting next to Mrs that I didn't write about, the net for the 4 days was down about $450. That's not the same as up about $450, but all the bills are getting paid this month, so everything works out.
Casino aside, Atlantis is a great place, especially for families. There are dozens of things for the kids. Ours are grown, but others we spoke with told us that they come to Atlantis often. Food in the resort and around Nassau is excellent, the weather wasn't all that great this week but it's usually excellent, the people are friendly and service is not typical island "irie, soon come", but rather British-efficient.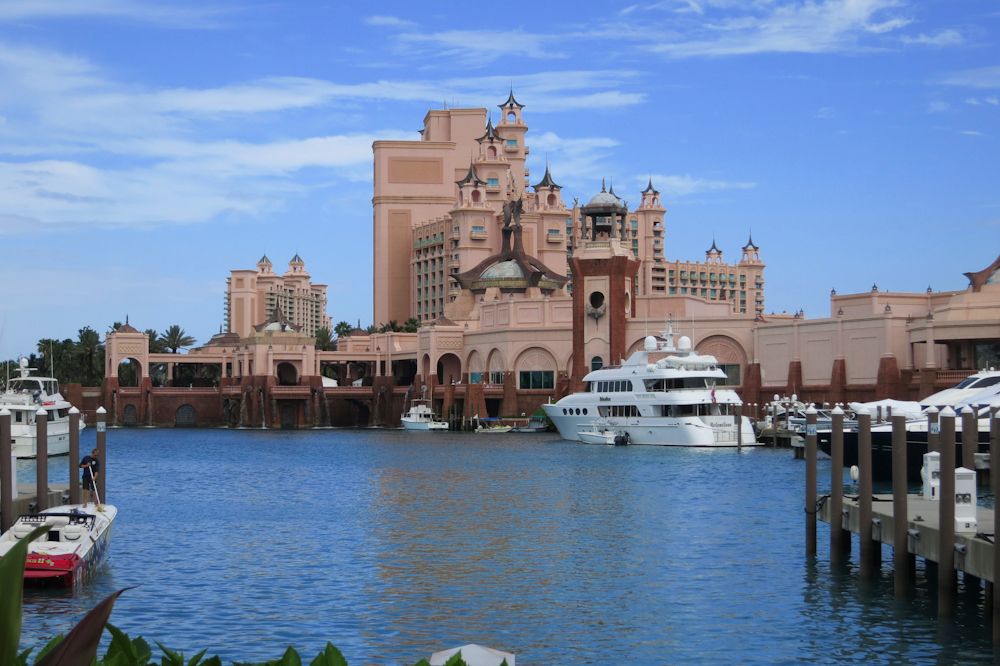 Comments
You could have eased your friends in more slowly. They are probably scarred for life :)



Nothing like a hot UTH table. Fun when everyone is winning.
More on Atlantis
BJ Rules seem to be decent: 6 decks, double after split, surrenders, etc. I thought it would be tight because of no competition, but the casino isn't the main draw here... it's more an "extra playground", like, "Oh, there's this, too!" Staff is really friendly and professional.

We spent all day at a private island beach party, which was a true blast. We'll gamble tonight after dinner.

Here's a great thing about the resort's hospitality: the beds have 3 pillows... one soft, one medium, and one hard. What a simple thing to get right!
Comments
Ahhhh, crap. Got smoked, everything I touched turned to dirt. $10 Craps, lost a fast 100. $10 3 Card, same, $25 BJ same, sat next to Mrs at the slots, lost another $100 (but slow). She won another $200, though. Counting the money I dropped in machunes passing time, I'm down $200.
First day at Atlantis
The casino is a bit sedate, but nice. It's small. We played slots for an hour and surprise, I'm up 150 and Mrs is up 250. I did mine at low stakes penny slots; two big hits of 65 and 80. Mrs did hers by accidentally hitting "MAX BET" and getting a medium hit on a 27 dollar bet, haha!

Table rules look OK, 3 Card is 40-30-6-4-1, I didn't check BJ yet, they have UTH.
Comments