Atlantis Day 6
All good things come to an end, I write from my back porch in Pennsylvania.
Day 6 started with an inventory: for the entire trip I was down only $53. Not too damn bad!
We decided to spend the day at the pools, so we put on our suits and headed down to get some breakfast. During breakfast the skies opened up with hella rain, but eventually it cleared up and we went down to The Royal Baths pool, which really isn't anything special other than being a nice big pool in The Bahamas, which I guess is pretty special.
Yep. It was pretty special. Sun, water, nothing to do and all the day to do it.
We had dinner at Seafire Steakhouse, which isn't the best restaurant in Atlantis but who cares. It was a great meal. Cocktails, wine, salads, appetizers, steaks, lobster tails, desserts. It was wonderful!
We rolled ourselves back toward the casino. After a week, everyone at the table was familiar with everyone else, and we all said hello.
And I got smoked. Just completely smoked. I bought in with $650 and lost $500 in however many hands it took, without winning anything. I'd say what cards I got, but it didn't matter. If I bet 4x, nothing developed. If I got dealt 6-3 offsuit, nothing paired, or maybe the 6 paired and got beat by paired 8s. Perfect strategy at a closely played game doesn't mean victory, or even near victory. At one point the cards turned a bit, and I was close to $500. But then I got 5 hands in a row where the strategy called for 4x, and on each one I got nothing. Stoogatz. The guy to my left went to the bathroom, came back, and looked and said, "What happened to all your chips?" It happened that fast.
It was around 10PM. I took my $150ish over to Let It Ride. I sat down at the same time as another guy was filling out a marker for $2000. For Let It Ride. $2000. Let that sink in before I add... he didn't know how to play. He was betting $140 per spot, at Let It Ride, and asking what to do with his cards. And his first hand was J-J-x, and a J came up on the board. Sheesh. He was a nice fellow, maybe mid 60s with the look of a plastic surgeon. Just hangin' with us ploppies. Across the way a loud guy fell off his stool. He was at a blackjack table. Drunk as hell, with a big stack of purples and grays ($2500), betting $2000 per hand on 2 spots. Security came... and lifted him back onto the stool, where he laughed and kept playing. Someone at our table said something, and someone else said that he was worth more to the casino than this whole side of the pit.
The family came over and I played out my white chips. It was time, we were done. We went to the bar and sat and talked, sighing, this was it. We were done. I lost almost $900 in two hours, after playing within $50 of even over five days! But it was a great trip anyhow. We had fun in the sun, we ate some excellent meals, we had fun in the water, we had fun in the casino.
Everyone else went back to the rooms, and I sought out a casino host to see how I was rated, and see if I could get some consideration for our bill. I stood outside the glass doors and watched for about 20 minutes while some college kid got denied casino credit. I felt kind of bad, but not really. It looked like he was trying to get an advance on a credit card or something. I dunno. <soup nazi>NO CREDIT FOR YOU!</soup nazi> I sat with Ms Johnson and discovered that it took $50/hand and 4 hours per night to get rated, and I'd only played $35/hand. I started to make my case that I played more than that, but I didn't have figures and she had to go by what her staff said. In the end, she conceded me $100 off the bill, and I thanked her. We chatted most pleasantly for another 5 minutes or so, and parted cordially, and when I got the folio discovered that she had taken 10% off! Ms Johnson, thank you! It was more than I could have expected, given the circumstances.
There is more in a thread in the "Gripes" part of the forum,
it really isn't a gripe but that seemed like the right place to put it.
Saturday we rose early and had the breakfast buffet.
OH. A word about the Atlantis buffets. That word is "DON'T." Atlantis isn't really a casino. It is a family resort that has a casino. The buffet isn't like a Vegas buffet that pulls in players. It is like an average AC buffet, at sit down dinner prices. Breakfast is $28, dinner is $59. Plus mandatory 15% gratuity. The Atlantis buffet is a place to feed the kids without having to have them order from a menu. It is a stop on the family dining plan. At least the staff is all over the place, taking plates and filling coffee cups. The only excellent part of either buffet is the pastries and desserts. The rest of it is forgettable.
The bus to the airport was scheduled for 11AM. 11 came... went... 11:15... 11:20... 11:35... it said right on the pickup ticket to make sure to leave for the airport 3 hours in advance of the flight, in order to clear security and customs, and that was it that just passed. A Dan Knowles Tours representative tried to keep everyone calm: "Hey, at least you're still on the island!" but some of us have been through customs in The Bahamas before, and it can take well over an hour if the line is long. Finally the bus showed up at 11:45. It was a real clusterf, the driver was tossing luggage in the back, a passenger had to open the doors for people to get in... One of the bellmen told me, in an aside, that what happened to us was typical. If you go to Atlantis, DO NOT use Dan Knowles Tours for transportation. Majestic Tours bus was right on time, Taxis are cheaper and more reliable.
That's it. Customs wasn't crowded, thank goodness. Plane, flight, transfer, plane, land, home. Looking to do it again soon.
Comments
Fun report, Mosca. Sounds like you had a good time. I'm going to Cusco, Peru in three weeks -- you may have inspired me to write a trip report. (They do have a casino there!)
hey, my daughter lived in Puno a few years ago, and spent some time in Cusco. She says it is a beautiful town, with a lot of history. Enjoy yourself! You might want to take a side trip to Lake Titicaca, that is also a strange and wonderful place. She says Peru and Peruvians are very nice, but somewhat rustic outside of places like Lima.
Atlantis day 5
Sitting in our swimsuits in Plato's watching it rain, typing on my phone. Yesterday we were going to go to the pools, but it clouded over so we went to the casino during the day, and played slots. Between the two of us we lost $300, but I did build a $127 burger (don't ask. It's a slot thing.) $100 of that was hers. We went back to the room and rested, I read some (
Stolen Seasons
, about minor league baseball). The kids went to Fish Fry in Nassau and we went back to the tables and machines. I lost my first six hands of UTH in spectacular fashion, stuff like holding two pair 7s and 4s, and dealer holding QQ tripping the Q on the board, or.dealer having two diamonds in the hole to flush my pocket aces that had been tripped on the flop. When I finally won a hand the table gave a cheer... and then I proceeded to rip through a great 90 minutes of cards. Q-8 through A-x won like it was supposed to, but also x-x kept turning into straights and two pairs. By dinnertime I was up $550, putting me ahead for the trip by about $200 (I think, my log is upstairs in the room.)
We went to dinner at Johnny Rockets ($77 worth of burgers and shakes, stuff is outrageous here) and went to the Jokers Wild comedy club, which was about what you'd expect for Thursday night at the beginning of the slow season. There were some good laughs from some seasoned pros making the best of a small crowd that paid $20 a head.
Nothing good ever seems to come from going back to the tables when it's almost time to stop. I lost $350 in about an hour. Lots of x-x hands that went nowhere, and when they went somewhere they didn't go far enough; four clubs on the board, I had the 3 and dealer had the 9. Stuff like that. Oh, well.
The rain stopped. Hitting the pool. Seafire Steakhouse tonight, they have a Wagyu strip steak. If it's around $100 I'm ordering it, but I bet it's closer to $200. Report coming later.
Comments
as I wrote for your Day1:



food-

don't they make you buy a dinner package of $200/day at Atlantis? (breakfast/lunch/dinner)
$77 for Johnny ROckets…? is it Kobe beef???
The dining plan is optional at $139 per person. The $77 was for four at Johnny Rocket's, which isn't cheap but includes tip. Tip is not included in the dining plan. We ate for considerably less than $139 per day. The only huge bill was the last night at Seafire Steakhouse, which included cocktails, wine, dessert, lobster, and prime steaks. The Wagyu 14oz strip was $62. It wasn't Wagyu. It was pretty good though. I didn't argue the extra $10, I didn't want to embarrass my guests, I just didn't leave an extra gratuity.
Atlantis Day 4
A quick inventory this morning revealed that I'm down $100. I must have missed a slot play somewhere, because I'm sure about the tables.

Slept in, finally got over the "hotel sleep" hump and was out like a light. Got down to breakfast by lunchtime, so had a light lunch, and we spent the day in the pools again. Awww.

For dinner we went into Nassau and ate at Montague Gardens, which was very nice, and reasonable after 3 days in Atlantis. They pick you up at the hotel and take you back. With appetizer, wine, salad, dessert, and tip, out the door at $150. Not bad for four adults.

UTH played well. I was at a lively table with some executives on a junket from River City Casino in St Louis, two women and a man, who were a lot of fun, and everyone was doing nicely. I left the table up about $450.

I should know better than to play slots next to Mrs Mosca. Really. I must not like my money. I lost a couple hundred while she won $400. Everything she touched turned into bells and lights, everything I touched turned into blanks.

At 11:20 she wanted to go to the room, but I wanted to play a bit more, so we agreed to play until midnight. I sat down at a 3CP, and after one hand they changed decks. With 10 minutes to go I started betting green to compress my chances, with no luck: a string of card salads ruined my chances. I lost back the $450 I'd won, within $3. So, even for the day, down about $100 after four days.
Comments
Atlantis Day 3
Where the merde hits the fan, you might say.

UTH is a cruel, cruel mistress when the cards run cold. I held my own for quite a while, but finally fate got me. The worst hands are the medium small pairs, like 5-5 and 6-6. Twice I held sixes, and both times the board came up with higher pairs, once jacks and nines, the other tens and sevens. The dealer took me down with the kicker both times. Otherwise it was A-K not making anything, or folding hands like 6-3 or 5-2. I lost about $200.

I tried the $5 WoF. Bad idea. I would have loved to have hit it, though. -$200.

3CP pays 40-30-6-4-1 for the Pairs Plus bet! First hand, I hit a flush and felt pretty smug. But the dealer was a jerk, she had no personality at all. I left up about $150, after 5 hands.

The slots took me down pretty good after that. On the last play, a 25 cent WoF. I hit a spin and the "triple pointer", where you get three pay spaces on the wheel, and I hit the 1000 and two little spaces for $285. I called it quits then, about 1AM. Down about $500 for the night, and about even for the trip.
Comments
Time to go hit the baccarat tables. I didn't notice them until I had already blown my BR on the frozen craps tables.
Don't you pretty much just sit there and watch? I used to know it, but I haven't played in years. I dunno. You know me, Gordy, I like the big hits.
Atlantis Day 2
We spent the day exploring the pools and the water park. It was a perfect Bahamian day, low 80s with light cirrus clouds and a nice breeze.
I got some good use out of the new waterproof camera, an Olympus TG-850. I though for a while about bringing the fancy camera, but I decided I didn't want to spend my vacation fretting over photography, worrying about getting sand and water in $5000 worth of gear, carrying it around, and constantly checking to make sure it wasn't getting stolen. The TG-850 has a great range of "nanny settings", where you tell it what you are doing and it takes care of the rest. Here is the view from our room: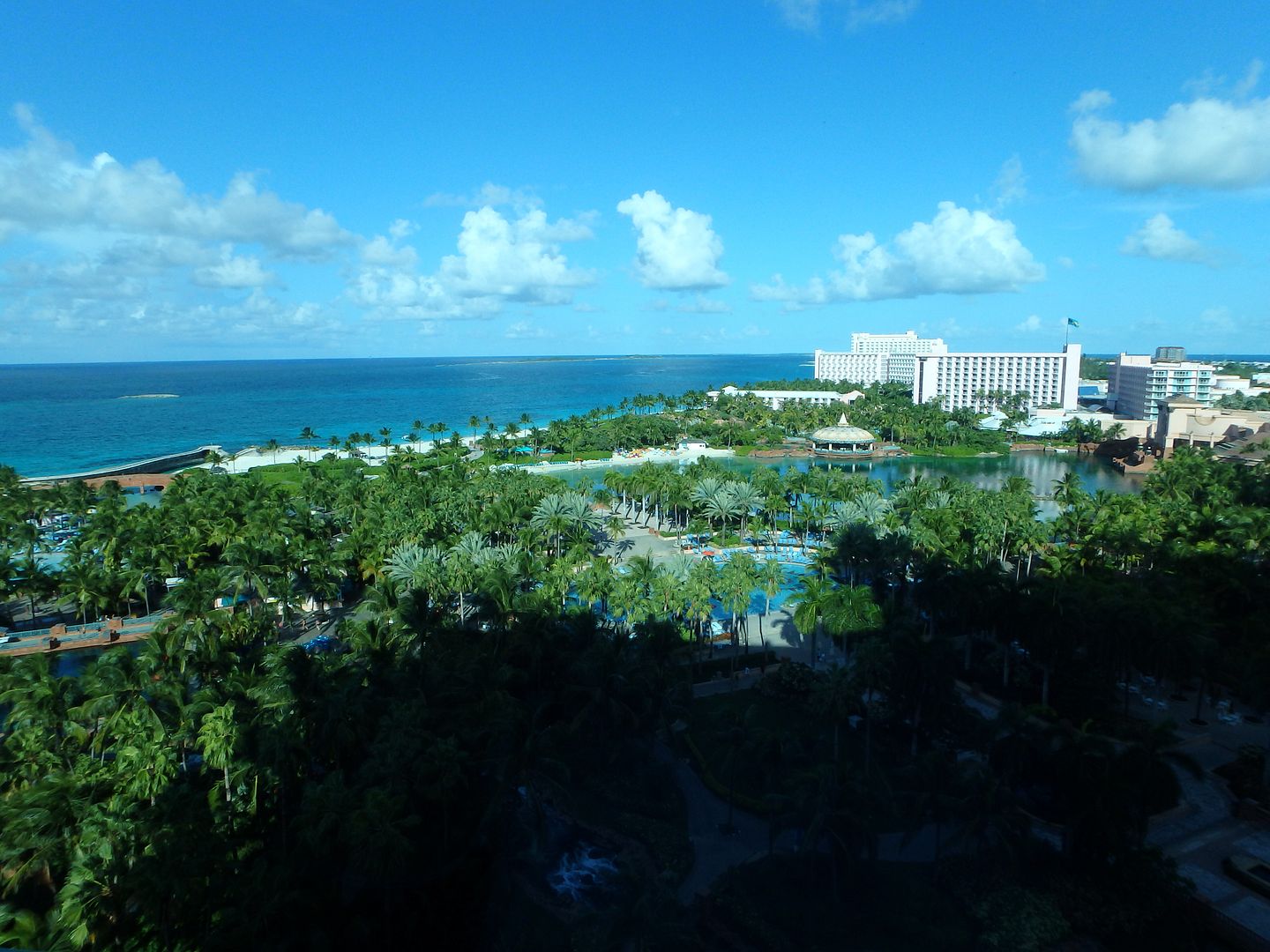 I could have told it to even out that shadow, but screw it. I'm on vacation, I just want people to see the nice view.
After dinner I sat down at UTH again, and while I didn't hit anything huge, I did have some decent luck, putting up $40 on a lot of K-J, A-4, Q-9, and getting paid on them. At one point I hit 6 in a row. But luck eventually turned, and I cashed out up about $150.
Went to a WoF slot and lost $50.
Went to Roulette and lost $100. I tried, but I just don't like that game. It's so... random. Without any way to imagine that it's different, like with cards. I was playing 21 (Roberto Clemente) and 22 (Andrew McCutchen) along with enough random plays to make $15 per spin. Some numbers hit, most didn't, and that was that. 21 and 22 might not hit for six days, and they might hit 10 times each in the next hour. There's no way to see them as "lucky", because they aren't. The layout and the wheel are illusions that don't hide anything, the odds are naked. (21 and 22 were not lucky, and did not hit.)
Went to Let It Ride because... I don't know, I must not like my money very much. Several times I was down to thinking "last two hands," but each time I got a nice hit, and near the end of about an hour of table time drew JJx, and the first card flipped was another J, so I got to sit there and think, "J! J! J! Or x, that would work too!" But it was a different x. Whatever, I wound up even at exactly 10:30, with Mrs Mosca waiting behind me because that was when I said we would meet.
Unfortunately Mrs Mosca talked me into putting my $50 slot ticket into a machine on the way out of the casino. So instead of playing even for the night, I wound up down $50. Ah, gambling! I wouldn't be pissed about it if I won.
Comments
That's the casino that got me started; how that happened isn't what you might think. I went to Paradise Island in late 80s or somesuch but I had no inclination to gamble in the casino. It was a case of not knowing a thing about it, hadn't even walked into one before. I kicked myself later, pondering that there were times I was bored with this and that, and knew a little bit about Craps, that it was close to a fair game if you avoid sucker bets. So I vowed not to be so stupid in future. [cf "the fatal glass of beer" <g>] But I have never gambled in that casino "that got me started"



Did the casino seem to be full? people enjoying themselves?
The casino wasn't full OG, but the busy season just ended. Lots of folks from South America here, many from Argentina and Chile. Our daugher's boyfriend is Chilean, and he recognizes the dialects; we'll pass someone and he'll say, "They're from Linares." Or, "Argentineans." Chileans seem to be the Australians of Latin America, everyone seems to like them.



We went to Blue Lagoon today, a private island about 25 minutes by boat. The last time we were there, we were with about 500 people and it still felt private... this time there were maybe 100, and about 75 of them left on the 2PM boat back to the cruise ships. So we were on a beach with one other couple. Now THAT was private.



We're going to hit the casino around 8-9 tonight. Seriously, no one knows how to play UTH. No one bets the first time with less than maybe A-K, or really about J-J or better; everyone checks to the last round, then bets, even with garbage. The guy next to me raised with a hand of 2-2-A, because "I had an Ace kicker." Well geez buddy, the dealer had four to an outside straight on the board, plus could have paired any other card to beat you. Plus you peeked at my hand and knew I had one of the deuces! (The dealer had the straight.)



Whatever, I don't try to enlighten anyone at that game because they all think I'm crazy, and anyhow, "All the money is in the Trips bet." Sure. I'm the crazy one.