Introduction
The Tuscany is a medium-sized casino near but not on Las Vegas Blvd./the strip. It caters to locals and long-term and/or value-minded visitors. I checked in for one night on July 8, 2009. The following is my review.
Location
The Tuscany is located on Flamingo Boulevard, a block east of the Strip. It would take about 15 minutes to walk to Bally's. It is very convenient to the airport and UNLV.
Casino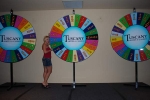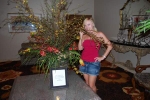 According to the 2009 American Casino Guide, the Tuscany has 54,066 square feet of casino space. By way of comparison, the MGM has almost three times as much at 156,023. According to the Nevada Gaming Control Board, the Tuscany has 12 table games, which is also what I counted, and 1,000 slots. By way of comparison, the MGM Grand has 178 table games and 2,470 slots. The table games I found were as follows:
Blackjack: 8
Craps: 2
Roulette: 1
Super Fun 21: 1
Live poker: 7
There are always all kinds of promotions going on at the Tuscany. The astute player should keep an eye on them. Since I moved to Las Vegas, they did at least two fantastic promotions that caught my attention. One was paying a $100 bonus when the player received four to a royal flush on the draw in video poker. The other was paying double on any slot jackpot from $1,200 to $2,000. Both of these, especially the latter, resulted in gigantic player advantages. Evidently, no former students of my Gaming Math class at UNLV work in the promotions department. Here are the rules when I was there.
Blackjack
All the blackjack tables had the following rules:
Six decks
Dealer hits soft 17
Double any two cards
Double after split allowed
Surrender allowed
Re-splitting aces allowed
According to my blackjack house edge calculator, the house edge under these rules is 0.54%. The limits were $3 or $5, depending on the particular table, to $500. There was also a single-deck Super Fun 21 table, with a house edge of 1.16%.
Craps
The usual 3-4-5X odds are offered, for a combined house edge of 0.37%, between the pass and the odds. The field pays 3 to 1 on the 12, and hop bets pay 15 and 30 to 1.
Roulette
You'll find one double-zero wheel, for a house edge of 5.26%.
Poker
The Tuscany has a nice quiet poker room with no smoking allowed. The rake is 10% up to a maximum of $4. When I was there, a promotion was going on where you received a complimentary invitation to a poker tournament with a four of a kind, including a pocket pair.
Sports Book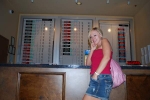 The Tuscany has five of two Cal Neva franchises in the Las Vegas are. The other is at the Four Queens, Binion's, Stetson's, and the Valle Verde. The Cal Neva gets my highest respect for sports betting. Not only do they take high limits, but they also offer bets on unusual things. For example, when I was there, they had 2.5 run lines in baseball. Nobody else does that. During the last Super Bowl, they took $2,000 bets on props, while most casinos only took $500 and the Paris only took $100. Sports tickets are valid for an entire year, while most other places are only 30, 60, or 120 days. The baseball money lines are 10 points apart, for example +140 and -150. Here is what they pay on NFL parlays and 6-point teasers, which are very generous.
Tuscany Parlays & Teasers
Picks
Parlay
Teaser
2
13 to 5
10 to 11
3
6
8 to 5
4
11
13 to 5
5
22
4
6
47
6
6
92
8
6
180
10
The sports book itself is small and no-frills. It has 16 seats plus four spots at a table with monitors. There are six small screens to watch the games. To the Cal Neva sports book, I say "bravo!" It is nice to see a place that isn't afraid to offer a good bet and accept a large amount.
Video Poker
When I moved to Las Vegas in 2001, the Tuscany was one of the best casinos in town for video poker. However, it has gone down in that area. According to vpFREE2, the best games are:
Slot tickets are valid for 60 days.
Player Club
I last played at the Tuscany about five years ago. When I asked for a replacement player club card, they couldn't find a record of me, so they signed me up as a new member. This entitled me to their fun book for new players. The coupons I recall receiving (sorry I lost them) were:
Free gift. This turned out to be a choice between a deck of cards or a pair of dice.
$5 match play.
Voucher for $10 comp to Marilyn's Café upon earning 500 points, which requires betting $500 through the machines.
For slot play, each $1 bet earns one point. 1000 points can be redeemed for $1 in cash or free play, which equates to a rebate of 0.1%. When I was there, Wednesdays were 5X point days.
Table players also earn comps based on their play. Unlike the guessing game at most casinos, the Tuscany player may inquire exactly what his comp balance is, and he may use it anywhere in the casino, including the gift shop. Not many casinos allow this. The gift shop had some decent things too, like wine and artwork, if you had a lot of comp dollars to spend. Comp balances are good for 18 months. Based on my experience, each hour of play at blackjack will earn about 32 cents times whatever your average bet is.
The line at the player club desk is Wendy's style, meaning one line to multiple windows, as it should be.
Comps
I played blackjack for two hours at an average bet of $100. My loss was about $800. When I was ready to leave, I hoped to get my $39 room comped. I was told my comp balance was $63.24, but it needed to be at least $65 to be applied towards a room. So, I went to the gift store and used my comp points for six bottles of wine and some cheap sunglasses. The house edge under their blackjack rules is 0.54%, with correct basic strategy. Assuming 60 hands per hour, which is an industry average, my expected loss was 2 × 60 × $100 × 0.0054 = $64.80. So it was almost like gambling for free. I buy a lot of wine anyway (too much), so it was not inconvenient to have to spend my comps in the gift store.
Cashier
As I recall, there was one line per window at the cashier. However, there was never any waiting while I was there, so it didn't matter.
Non-Smoking Areas
The only part of the casino friendly to non-smokers is the poker room.
Hotel
Unlike most Las Vegas hotels, where it takes ages to get from your car to your room, the Tuscany is set up motel-style. It covers a huge area, with lots of separate three story-buildings with plenty of parking between the buildings. As a result, you can park near your room. There is also a pool, fitness center, laundry room, and plenty of landscaping. The pool is rather small, but it's in an attractive meandering shape, and there is plenty of space to lounge around. It is close to a coffee shop for snacks and non-alcoholic beverages. When I stayed there on a Wednesday night, my room was $39 plus a 12% Nevada room tax (the tax rate had just gone up). There was no waiting at the hotel reception. I was told that a second night would only cost $22. I forgot to bring my measuring tape, but the rooms are about twice the size of a normal hotel room. My basic room featured a kitchen, table, couch, bed and large bathroom.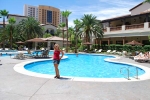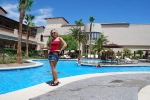 At only $39, I had my doubts about the cleanliness and appearance of the room, but both were fine. It wasn't up to Venetian standards, but the furnishings were practical, and it was cleaned well. The mattress was not pillow top, did not have a fitted sheet, and was a bit soft for my taste, but I've slept on much worse. The cost for in-room Internet is $13.99 for one day, $11.89 per day for three days, or $11.19 per day for five days. However, you can access the Internet for free via WiFi at the banquet area, the hotel lobby, the Piazza Lounge, and the Beachfront Cafe. This is a favorite trick of my father's to avoid paying Internet fees, at any hotel he can. Sorry, I forgot to note the cost of local/toll-free calls.
Editor's note: As of March 2010, the cost is $1.00 for each local and (normally) toll-free call. The cost of long distance calls is higher and more vague; the exact wording from the in-room guide is as follows: "Long distance calls will be charged a minimum of $7.00 for the first minute. Rates will be charged the AT&T rates plus a surcharge."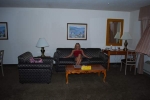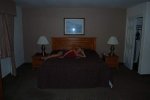 As is common in Vegas, I received a coupon book upon check in. Unfortunately, I lost them, but here is what I recall. Anything I forgot was probably not that good.
30% off at the Tuscany Gardens restaurant
2 to 1 drinks at the bar.
2 for 1 entrée at Marilyn's Café.
$2 off the service fee at the "1/2 Price Show Tickets" outlet.
Editor's note: As of March 2010, the coupons given upon check-in are: buy-one-get-one-free pizza; buy-one-get-one-free entree at Marilyn's Cafe or the Cantina; two $5 table game match play coupons; $20 off a bill of $40 or more (or $10 off a bill of $20 or more if eating solo) at Tuscany Gardens; two coupons for a free drink (beer, house wine, or well drink) at any casino bar except Piazza; and $2 off the service charge for show tickets.
Given the location, low rates, convenient parking and large rooms, the Tuscany would be an ideal place to stay for an extended stay, like a week or more. I think lots of construction workers do just that, as I saw tons of them in the morning, looking like they were leaving for work.
Restaurants
Following are the dining options:
Tuscany Gardens: Italian
Cantina: Mexican
Marilyn's Café: Basic café
My only experience is with Marilyn's. They offer a large variety at reasonable prices. I ordered an omelet, with grits and toast, which was fine and the service was fast. Once, years ago, I ordered something for dinner at the same cafe, I think the meat loaf, and the waitress remarked, "Wow, nobody has ordered that in months."
Entertainment
There is a nightclub with live music and dancing. They also have a "1/2 Price Show Tickets" outlet. I purchased two tickets to Tony & Tina's Wedding there (which plays at the Planet Hollywood), but I only got about 1/3 off.
Summary
I have said for years that the Tuscany is very underrated and one of the best values in Las Vegas. For the visitor on a budget of about $100-$200 a day, the Tuscany would make an outstanding choice. There was never a wait for anything when I was there, and the service ranged from good to excellent. Here are my few ideas for improvement:
Bring back some good video poker games, with returns above 99.5%.
There is no special table with good rules for high-limit blackjack. It would be nice to see a double-deck game, or a shoe game where the dealer stands on soft 17.
Designate some of the slot space as non-smoking.
Acknowledgement
I'd like to thank Lisa Furman for modeling in the pictures. Lisa invites you to visit her page at ModelMayhem.com
Contact Information
Address: 255 East Flamingo Road, Las Vegas, NV 89169
Phone: 702-893-8933
Web site: tuscanylv.com
Resort and Parking Fees
| | |
| --- | --- |
| Resort fee | $13.50 |
| Parking fee | Free |
Games at Tuscany
| Video Keno | Rank | Avg Return | Grade |
| --- | --- | --- | --- |
| Video Keno | 30 | 91.27% | B- |