Introduction/History
Hacienda is a small, independent casino hotel located just outside Boulder City next to the Hoover Dam and Lake Mead. It is the first opportunity for gambling/lodging once you cross over the Arizona border on the Mike O'Callaghan-Pat Tillman Memorial Bridge. So if you can't wait until Las Vegas to scratch your gambling itch, the Hacienda will fill that need.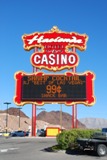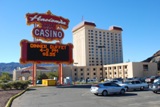 The Hacienda is a replacement for the Gold Strike Hotel and Casino, which burned down in 1998. The current hotel tower and another hotel wing survived. The casino reopened as the Hacienda shortly thereafter. (There is another Gold Strike hotel in Jean, Nevada.) The owners bought the rights to the name of the former Hacienda hotel, which used to sit on the Las Vegas Strip where Mandalay Bay is now. Is that confusing enough?
Interestingly, Boulder City is one of the few cities in Nevada where gambling is outlawed (by order of the city council). However, The Hacienda is not located within Boulder City proper; instead, it is on a small parcel of privately-owned land within the Lake Mead National Recreation Area.
According to the Nevada Gaming Control Board, the Hacienda has 390 slots and 11 table game.
Location/Transportation
Driving from Arizona, the Hacienda is the first casino you will encounter. I confess I have a soft spot for the Hacienda, as it was the first Nevada casino I ever visited, and also where I first played craps.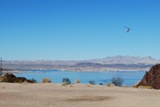 Coming from Las Vegas, it is about a 30-40 minute drive from the Strip, depending on traffic. There are some chokepoints around Boulder City, but otherwise it is a nice drive. The Hoover Dam is literally yards away, and the casino overlooks Lake Mead. The Colorado River Canyon is right nearby, too, so there are a lot of outdoor activities within shouting distance if you want to do something beside gamble.
Hotel
The hotel is not the Hacienda's strong selling point. These are below-average rooms. I booked a weekend night at $49.99 plus tax, which came out to $55.00 with tax. There is no resort fee.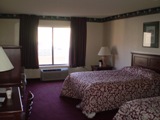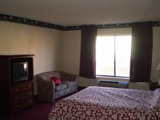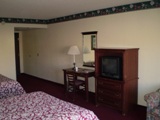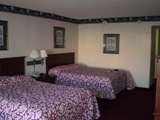 Going up to my room on the third floor of the tower, it was clear that the hotel needed updates. The elevators were old and beat up, and the hallways were dingy with many dings and scratches. Everything was kind of beat down. The rooms were not much nicer. There were two double beds, a desk with many scratches, and a couch that looked like it had seen much better days. The TV was a small tube, with about 14 channels.
The bathroom was poor. There was no soap or toiletries provided; instead, both the sink and the shower have the kind of soap dispenser you usually see in public restrooms. These dispensed a small amount of foaming hand soap, which was pretty ineffective for washing anything other than the tips of your fingers. There was no tub, only a shower that seemed to be almost flush with the bathroom floor. The water pressure in the shower was also weak.
The beds were fine; actually, the sheets were very soft, and clean. But that was really the only agreeable part of the room. There was a small single-cup coffee maker on the bedside table (why they put it there I don't know. Midnight coffee cravings?), and there was no refrigerator, safe or iron.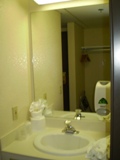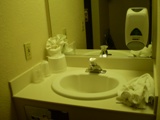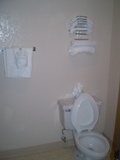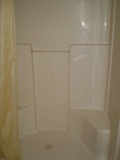 I am not picky about hotel rooms, but I can't in good conscience recommended the Hacienda if you want a quality hotel experience. For the price they charge, I don't think the rooms are worth it. They did have a sign advertising free rooms for truckers, so at least if you are a hauler, you will be able to crash for free.
There is a nice pool at the rear of the property, nestled in between the boulders above Lake Mead. It seemed nice and clean, although I didn't go swimming. Lake Mead is of course, just a few miles away, and a lot of people had their boats and coolers with them for a day at the lake.
Restaurants/Dining
Dining at the Hacienda is not a gourmet experience. In fact, it is about as standard as you can get. There is one steakhouse, a combination buffet/coffee shop, and a "food court" consisting of a donut shop and a snack bar.
The steakhouse, creatively titled the "Hacienda Steakhouse" is open seven days a week. I did not eat there, but they had some attractively priced specials.
The food court has a snack bar, Banditos, and a donut stand, Donuts 'n' More. Bandito's advertises a shrimp cocktail for $1. Supposedly at one time readers of the Review-Journal voted it the Best Shrimp Cocktail in Las Vegas. I would tend to disagree. The shrimp is salad shrimp, resting of a bed of shredded lettuce. You do not get as much shrimp as you usually would. That said, some places in town have raised the price of their shrimp cocktail to $2, so a $1 shrimp cocktail could be seen as a relative bargain. Donuts 'n' More serves Krispy Kreme donuts. Service here was friendly, and the coffee is fresh and hot.
In a cost-saving move, the Hacienda combines their buffet and café into the same space. I ate at the café for a late night/early morning breakfast at 2:30 A.M. I got the "night owl special," which included eggs, hashbrowns, toast, and choice of meat for $0.99. I may have been very hungry, but the food was excellent, and you couldn't beat the price. They had a couple other specials for a few dollars more like ham steak and prime rib. One of my favorite things about Las Vegas is dirt-cheap graveyard specials, so I was happy to take advantage.
For lunch, I had the buffet on a player's club comp. It was below average. The regular price is $7.99, and I would not pay that price for it, especially when you can get a better buffet at the Stations or Fiesta casinos down the road. They cut all the usual corners, like having pre-cut items and iceberg lettuce on the salad bar, no guacamole in the Mexican area, and a poor selection of desserts. Nothing really stood out as particularly tasty, and options were limited. I would rate the Hacienda on the low end of the spectrum for Vegas buffets.
Casino/Players Club
The casino at the Hacienda is small and you can see it from end to end quite easily. There is a small table games pit prominently placed in the center. There is no discernable theme or décor, but white seems to be the prevalent color.
For slots and video poker players, Club Matador offers 0.25% cashback for your play. The players club told me points and comps never expire, which was nice to hear. The best video poker game is Full Pay Jokers Wild, at 100.65% payback. It is rare to find such a high-paying poker machine in Las Vegas, so I salute the Hacienda for offering such a game. However, the strategy for the game is difficult. The next best game is Deuces Wild at 99.72% payback, but it is only loaded on a few machines near the sports book.
There is a small Leroy's sports book that was only open limited hours. There wasn't any place to watch the game, just a counter to place your bets.
There is no bingo, but there is a poker table that seemed to have a game going every night. Sorry, I didn't check what the game was, but I assume it was Texas Hold 'Em.
The table games pit offers 4-5 tables of blackjack, one table of craps, one table of roulette, and one table of three card poker. The craps table has a minimum of $1 with double odds. (Full double odds if you bet $2; i.e., you may take odds of $5 on a point of 6 or 8). Roulette is double zero. I didn't check the paytable for three card poker.
The blackjack rules at Hacienda are extremely player-favorable. These might be the most generous rules in all of Nevada. They are single-deck, dealer hits soft 17, no surrender, resplit aces allowed, player may double after split, and no cut card. For the basic strategy player, the Wizard says this equates to a house edge of 0.02%. So it is almost like gambling for free. For those who wish to try card counting at Hacienda, I wouldn't recommend it, as the dealer almost never deals more than two rounds, regardless of the number of players. I did goad one dealer into dealing extra rounds, but since I wasn't spreading my bets, it really didn't matter. I would also assume they are quick to back off counters.
Other activities
On my previous visits to Hacienda, they had a first-run movie theatre upstairs with two screens, where you could watch recent releases at a very reasonable price. But on the visit, the movie theatre was closed, and staff didn't know when (or if) it would reopen. I would guess it is a loss leader for the casino, but it was a nice amenity. There is a free movie about the building of the Hoover Dam that plays constantly in small room off the casino floor.
Outside there is a helicopter pad, and you can ride a helicopter over the Hoover Dam and Bridge. The cost is $49. Not for me, but if you find it exciting to ride in a chopper, the view is probably amazing.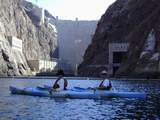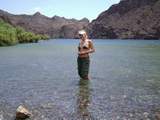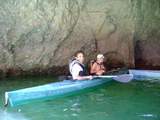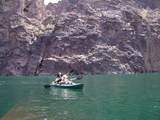 There is a counter for booking kayak and rafting trips down the Colorado River inside the casino. When I came to Las Vegas with my parents, we tried to book a trip with a different company for a kayak trip, but it didn't work out. The Wizard, though, recommends taking a kayak tour through the Black Canyon. His model Lisa wrote a good article about it, titled Hoover Dam Bypass Bridge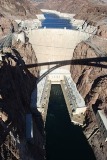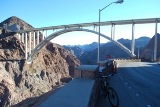 Just nearby is Lake Mead National Recreation Area, the Hoover Dam, and the new bridge, with all the related tourist attractions therein. A popular new thing to do is walk across the bypass bridge, which has a great view of the dam. The Wizard wrote an article about it titled Glitz to Natural BlissHaving done this, I can tell you the view is spectacular. Another thing to do — recommended to me by a fellow blackjack player who worked building the bridge — is to view the bridge from the dam itself. It certainly gives you a perspective for the engineering work that went into building such a magnificent span.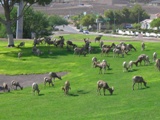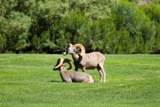 A lesser-known attraction, but highly recommended by myself, is to stop in the park in Boulder City on the way to the casino where a bunch of Bighorn Sheep hang out. There are often tons of them just relaxing and grazing in the park, and you can get up to them as close as you dare. This is one of the best "free attractions" in Las Vegas in my opinion. It is just very cool to see the animals up close. To get to the park, turn left off US-93 just opposite the road that comes down from Boulder City, next to an abandoned gas station. The park is called Hemenway Park. There is a small parking lot. Don't miss it!
My own gambling
My own gambling consisted of blackjack and video poker. I estimate I played blackjack for a total of six hours, at an average bet of $10-$25. Thankfully, I won, which seems rare in my play these days. I would not hesitate to say this is one of the most pleasurable blackjack games I've played in a long time. For one thing, the table is set low to the ground, so you can sit at a normal posture without hanging off a stool. Second, I have to give a shout out to the dealers for being extremely friendly, and dealing a loose, fun game. Nobody was bitching about losing, or getting angry at someone else's play — people were just there to have fun. Finally, nobody was smoking when I was there. With all that in addition to the liberal rules, I can't help but heap praise on Hacienda's blackjack game. The Wizard says that the house edge of the Hacienda's single-deck game is the lowest anywhere in the United States and Canada.
At the end of the night, I talked to the pit boss, Harry, who was more than happy to comp my room based on my play. In fact, he asked "one night or two." This was very generous and I was happy not to have to negotiate anything.
I have to put in a word for the drink service. It was fast, frequent and efficient. I also really liked the Hacienda's selection of draft beers. They had three ales on tap: Newcastle, Sam Adams Summer Ale, and Alaskan Amber. It is often hard to find even one ale at casino bars. I tried them all at least once. As an aside, Newcastle on tap is an amazing beer – it doesn't even compare to the bottled version. I could drink it all night.
The next morning, I played Deuces Wild video poker, earning 500 points which is enough for a free buffet. (Players may earn one free buffet every day for 500 points). Unfortunately, I lost $160, so it was an expensive buffet. However, my expected loss was only $0.30, and I earned $2.50 in cashback.
Links
Contact Information
Address: Highway 93, Boulder City, NV 89005
Phone: 800-245-6380
Web site: haciendaonline.com
Resort and Parking Fees
| | |
| --- | --- |
| Resort fee | $13.50 |
| Parking fee | Free |