Carnival Legend – 7 Nights out of Baltimore
The cruise ship e-mail offers have been pretty good this spring, and I have some Vacation days that I have to take. So rather than staying home, I drove to Baltimore for this cruise. The cruise was "free" but I wanted a balcony, and everybody pays for the Taxes, etc ( I think ).

$ 000.00 Cruise
$ 100.00 Balcony Upgrate
$ 157.86 Taxes, Fees, Port Expenses, Fuel Supplement
$ 97.93 Prepaid Gratuities
= = = = =
$ 355.79 SUBTOTAL

$ 105.00 Parking at Cruise Terminal
$ 80.00 Gas Driving to/from Baltimore
- Proof of Covid Vaccination AND a recent negative Covid test were required.
- Masks were not required except for boarding on the first day and leaving on the last day.
- However, all the Carnival employees had a mask on the entire time.
My offer came with free Drinks while playing in the casino. To "earn" free drinks, it takes 1500 points on the player club card. $ 5 in Video Poker coin-in = One point, and I assume less for Slots.
There were times, especially when the casino first opened, that drink service was slow because there was only 1 waitress for the entire area. And there were also other times when more than one waiter/waitress would be asking for drink orders. There is a bar in the casino for walk-up service but I was told my free drinks had to be fulfilled by a waiter/waitress on the floor.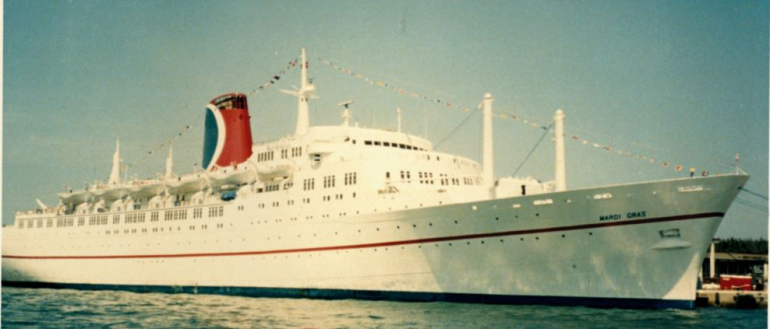 Haha, just kidding, that's an old picture from a cruise my parents took in the 80's. Here's the Carnival Legend: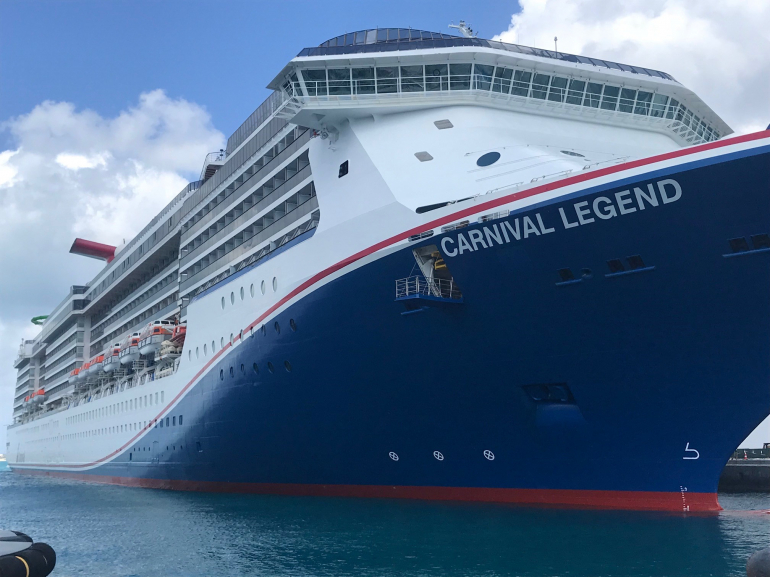 Accommodations
I think the Balcony cabins are a little larger. And it is nice knowing if it is day or night. It had a little refrigerator and a small TV with a sad selection of channels to watch.
I could tell something wasn't quite right with the railing, and eventually it got worse and I saw that one of the brackets wasn't connected to the hull of the ship. Maintenance fixed that right away.
Itinerary
This was a 7 night cruise that departed from Baltimore, with stops in Nassau (nice enough, some interesting things to see that are easy walking distance from the docks) and Freeport (blah). There were 6 cruise line ships in port in Nassau.
Casino
I was surprised that the Casino opened as soon as we pushed away from the dock in Baltimore.
- Bunches of Slot Machines
- 13 Video poker Machines, 2 of them had less crappy paytables than the others
- 2 Roulette Tables
- 3/2 Blackjack ($25 - CSM, NO Surrender)
- 6/5 Blackjack ($6 - CSM)
- 3 Card Poker
- WPT Hold-em
- Let it Ride
- Ultimate Fun 21
- A "dealerless" player vs player Texas Hold-em Table
- A couple CLAW games
- A bunch of the coin pusher games
The 3/2 BJ table was never crowded. And as you might expect, there were people playing $ 25 and up per hand at the 6/5 tables, which generally were crowded.
I was up several hundred dollars in the first couple of days from 3/2 Blackjack, but ended up down for the trip.
Some, but not all forum members, have probably experienced that scenario once or twice.
I mostly played Deuces Wild on the Spin Poker machine (20-10-8-4-4-3-2-1, 95.96 % per WoO) and only hit quad deuces once on the DRAW (playing just the Center line on this game).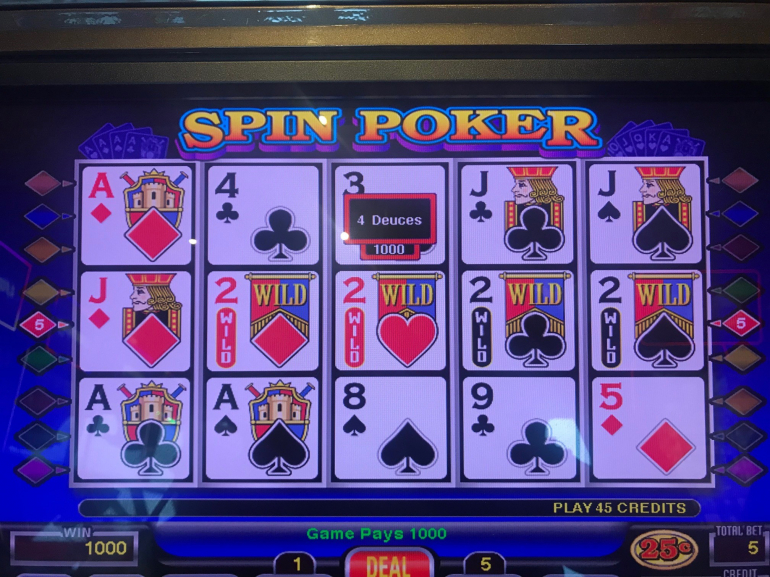 SPIN POKER paytables: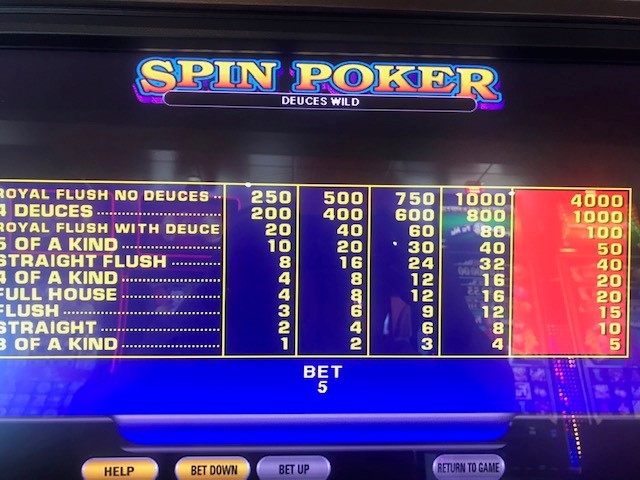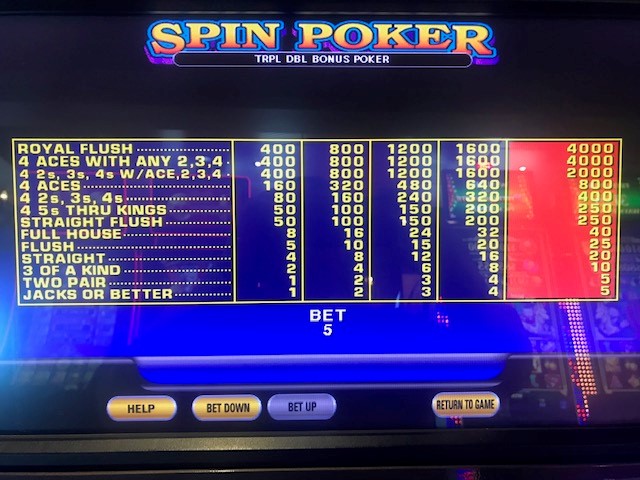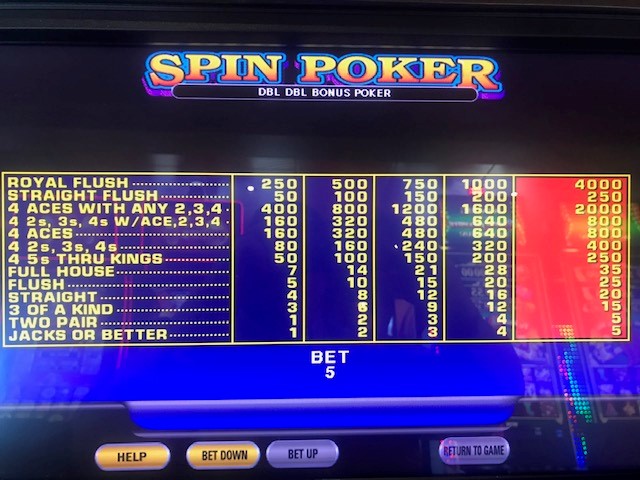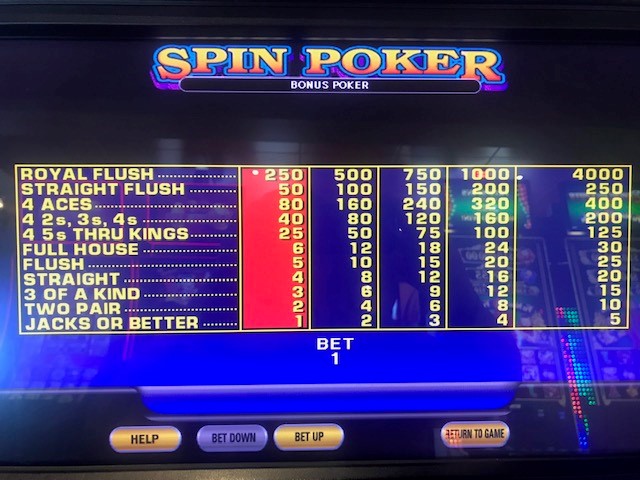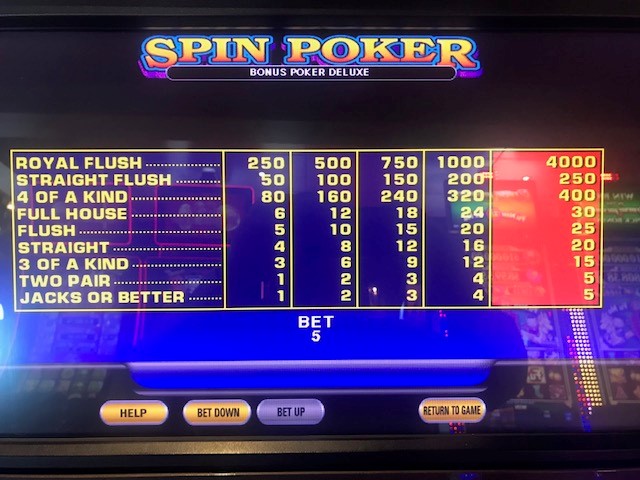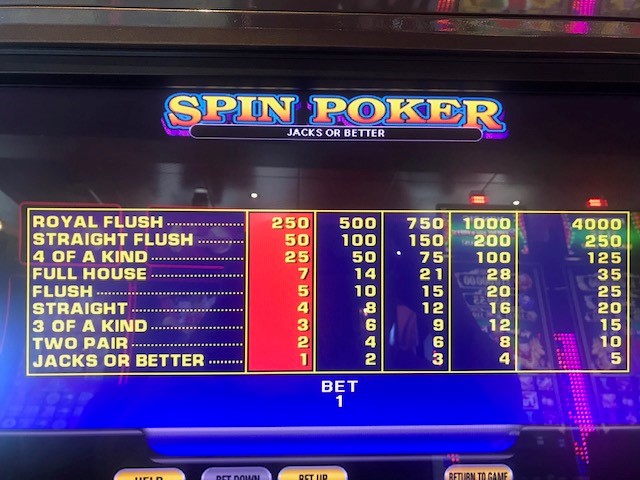 The other VP machines were nasty, here's one with a ~90 % paytable:
Misc: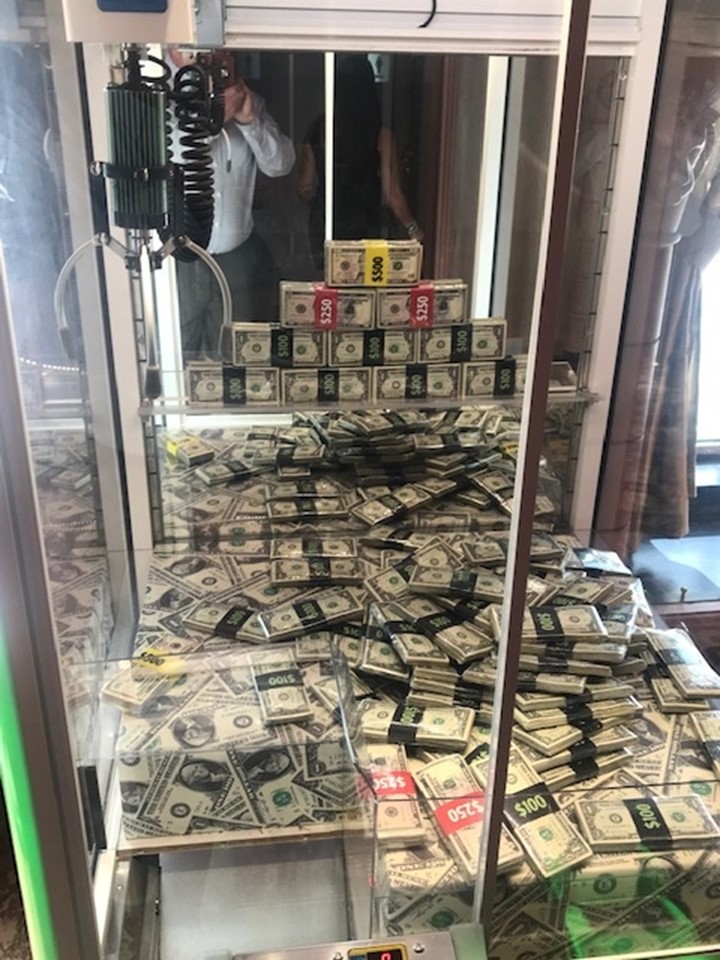 I had the $ 250 packed lifted off the ground a couple of times, but it always dropped out of the claw before getting to the chute.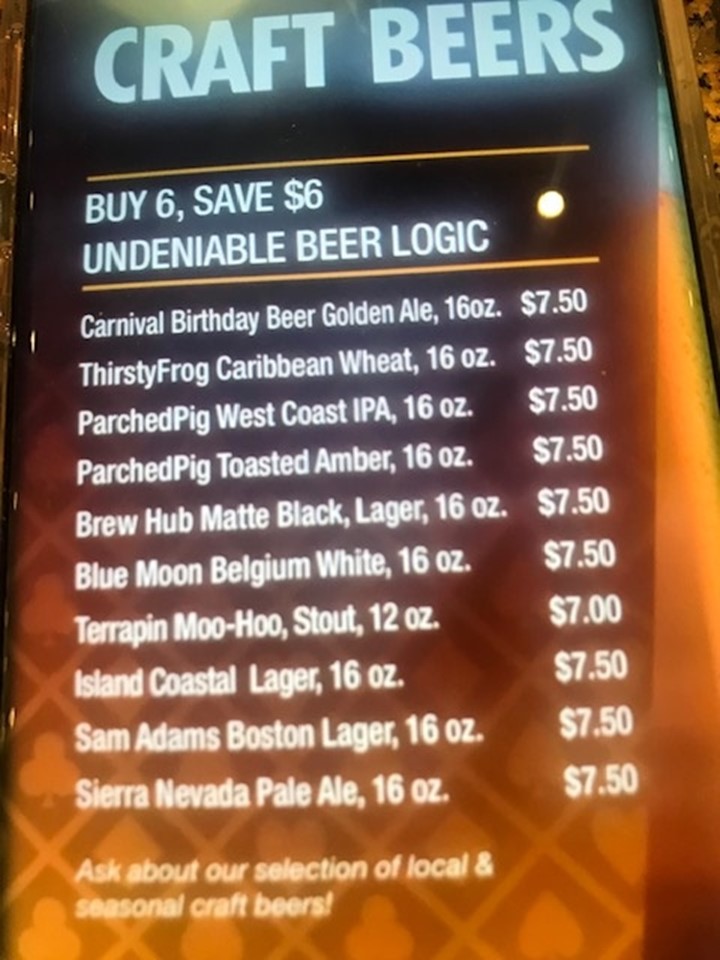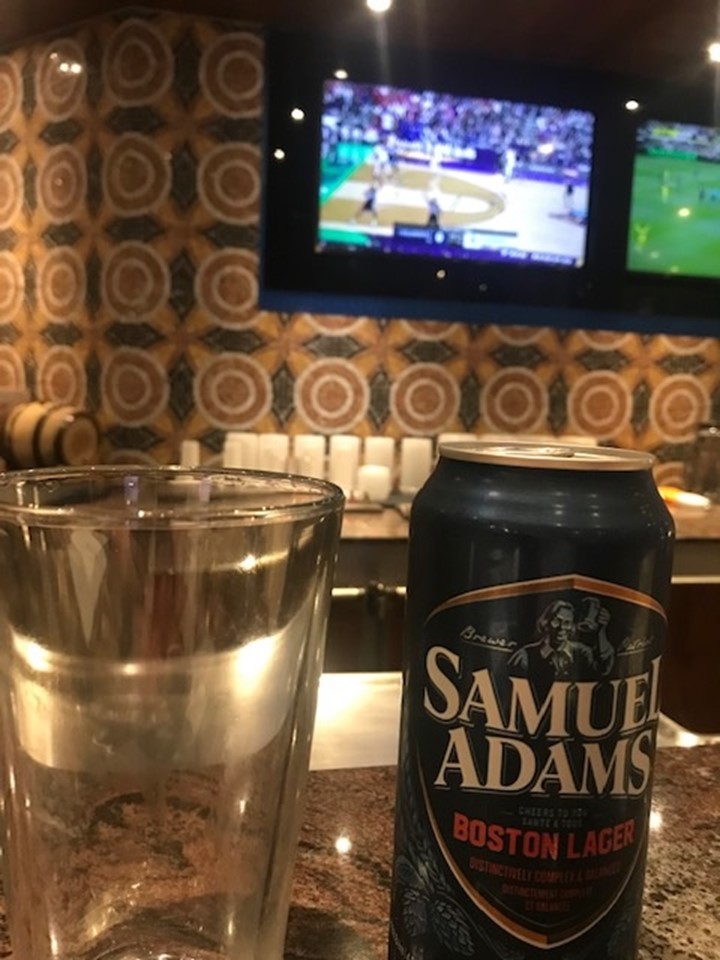 Entertainment
There were 3 song and dance productions and some kind of Married Couple gameshow (which seemed kindof lame to me, so I skipped that one). The singers/dancers are talented and put on a good show. There was a comedy club performance most nights, but I didn't make it to those either.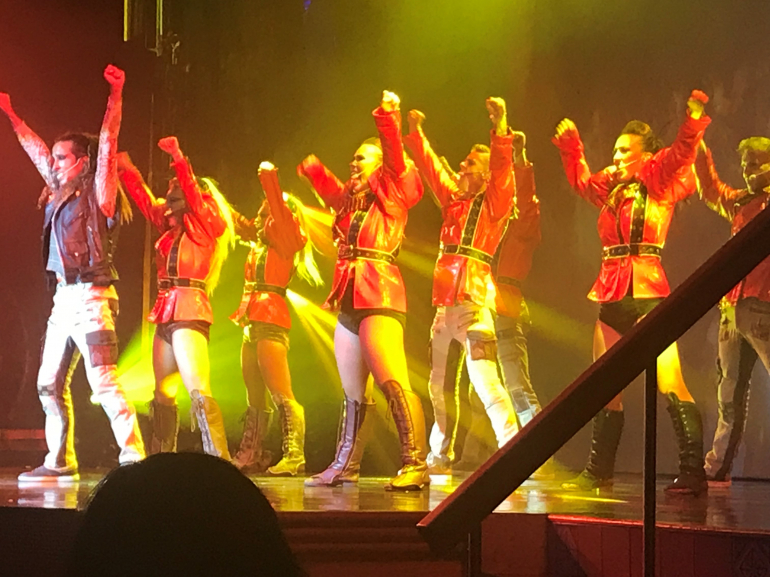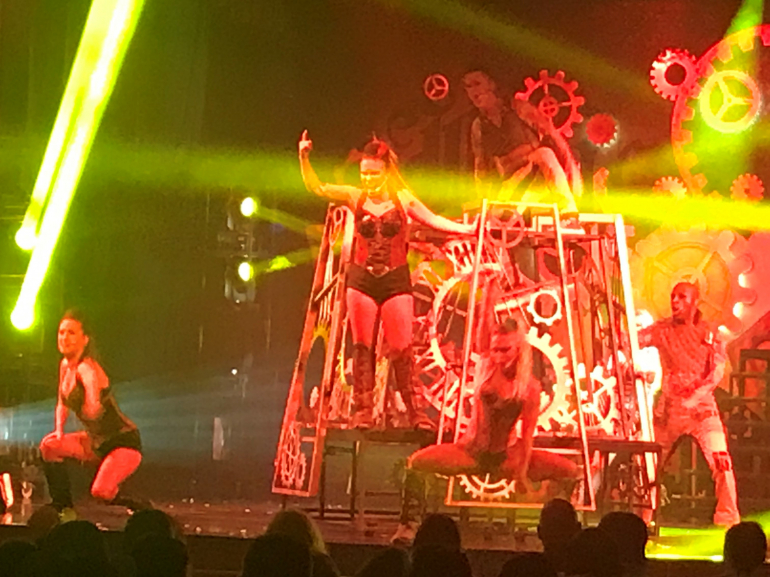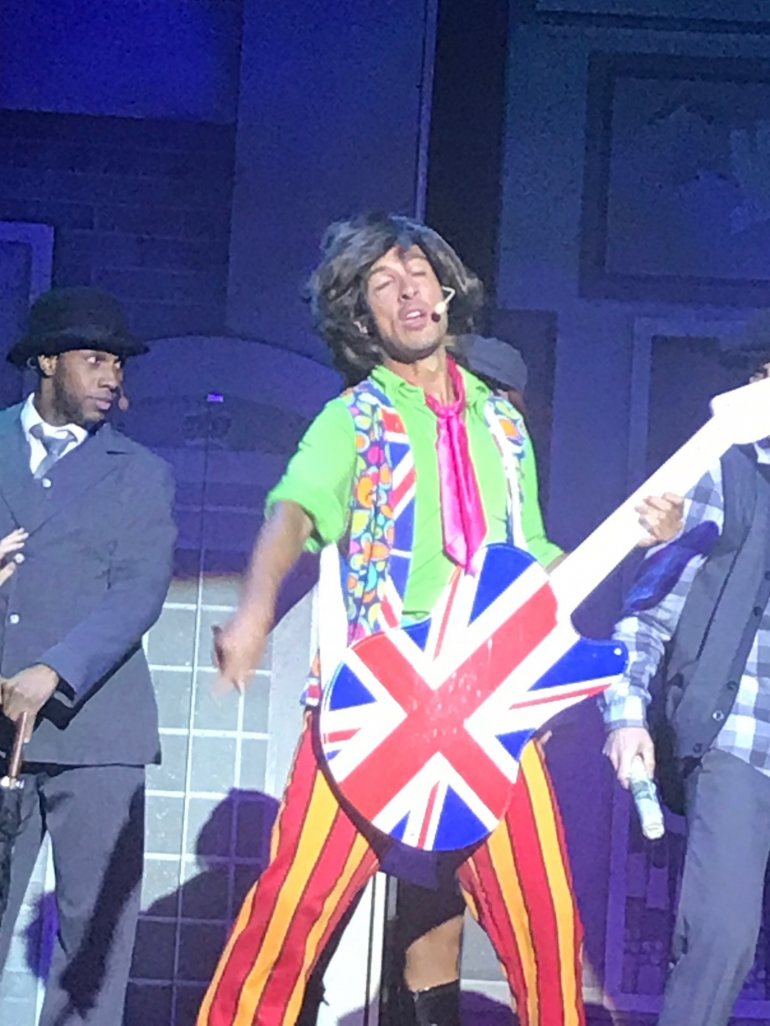 Royal Caribbean vs Carnival
RCL has much, much better entertainment. But for me right now, Carnival has better offers.
Gripes
I paid for the basic internet package. It was FRUSTRATINGLY slow most of the time. And apparently it has WizardofVegas and WizardofOdds blocked, I couldn't reach those sites.
The TV's in the sports bar are too small. Hey, send someone to Wal-mart and get some decent sized ones.
More Misc
As I stood in line to disembark, I read the "Casino Rules" poster. It said that card counting was strictly prohibited. But between whenever that poster was printed and now, all the card games have had Continous Shuffling Machines installed.
Last edited by: JohnnyQ on Apr 4, 2022
There's emptiness behind their eyes There's dust in all their hearts They just want to steal us all and take us all apart
Quote: JohnnyQ



Haha, just kidding, that's an old picture from a cruise my parents took in the 80's.
I was on the new Mardi Gras ship in February. Absolutely LOVED it. Going on her again in May. Quite a bit of a size difference.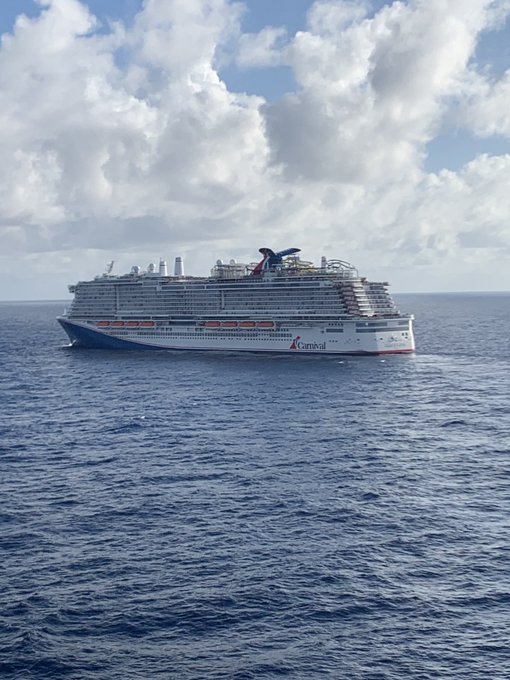 (I took this pic from another cruise I was on in March on the Carnival Breeze for the "fun ship meetup at sea.")
——-
My first ever cruise was out of Baltimore on the Carnival Pride in March of 2018. I vowed not to sail out of Baltimore again unless it was summertime because the first two and last two days going down and up the east coast were way too cold for me.
Never been on RCL yet - have my first one booked for later this month ("free" from my MLife status).
Ding Dong the Witch is Dead
Yep, it was brisk on Day 1 & 2 ( during the last week of March ) leaving the port of Baltimore.
There's emptiness behind their eyes There's dust in all their hearts They just want to steal us all and take us all apart