...Or Make Them Go Away
Anyone who has spent a substantial amount of time in a casino, (particularly true with machine players) has probably encountered a casino bum on at least one occasion. These are the people that will approach a player while at a machine (or, on occasion, in the bathroom) with a sob story about needing money for gas, or something similar, and will ask for $5.00 or, "Whatever the person can spare."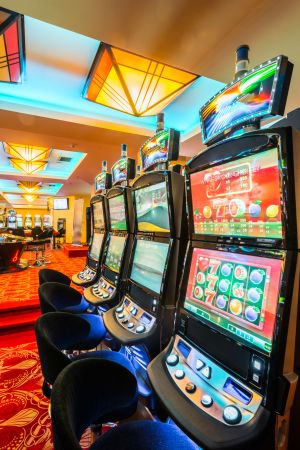 These people are more than a minor nuisance because, unlike the guy panhandling on the sidewalk, they absolutely know that their target has cash money on them. It's obviously not possible to make a statement such as, "I do everything on credit and have no cash, sorry," when the machine that you are actually playing states very clearly that you have, at a minimum, $XX.xx, in cash.
Therefore, I have come up with a few tips that have seemed to reduce the number of occasions that I have had to deal with casino bums, please add any tips that you can think of to the comments!
1.) Use As Small a Denomination as Possible While Playing
Obviously, avoiding hitting a good pay is not a practical option, (nor something that you want to do, anyway) but you can avoid making it look like you hit something when you actually haven't.
For this tip, I'll admit that there is a bit of a cost-benefit analysis involved: Do you want to actively avoid any potential casino bums at the risk of having to reload the machine more frequently?
The idea is that casino bums are more likely to approach a player that appears to have a substantial (to them) amount of money in the machine on the notion that it is more difficult for that player to say, "No," or respond with something like, "I'm way down, I can't help, I'm sorry." Therefore, if you are playing video poker at the quarter level, for example, consider loading the machine with $20's instead of $100's. While the bum can very clearly see how much money you have in credits, they generally won't know how much you have in your wallet.
2.) Cash Out Frequently and Pocket (or Cash) Your Ticket
This tip is closely related to the first tip. Once again, the only amount of money the bum absolutely knows you have is whatever amount you have showing on the machine. Therefore, anytime you hit whatever you consider to be a, "Good," pay, simply cash the ticket out or put it into your wallet to cash later as you load the machine with a different $20.
I think that this is also sound advice for recreational gamblers. While the Expected Loss on a game is based on coin-in multiplied by the House Edge, I think there is a certain psychological factor that makes it more difficult for a person to hit something like a $200 pay and actually receive that ticket and put it back into a machine, or alternatively, to cash the ticket and put ten $20 bills back into the machine. Therefore, this can also be something of a money-saving measure, as well.
3.) Play With A Group
This is going to be a more difficult tip for AP's or even educated recreational machine players (i.e. players looking for good VP paytables) to follow because the machines with good paytables are where they are. For anyone else, though, I would suggest that casino bums are often more comfortable approaching a person who is essentially alone and talking to that person on an individual basis. Therefore, if you sit amongst a crowd of players, I would suggest that you are less likely to be bothered.
4.) Play Towards the Middle of the Casino
Many of these casino bums spinning yarns about needing gas money, obviously, are just people who busted out and want more money to try to hit something. This is not going to be true of all of them, but I would venture to guess that it is true of at least half. While this is not exactly the same as the third tip, it's kind of closely related. The idea is that, if you are a player and are playing near a main walk-through for other players and slot techs, a bum of this nature is going to be less likely to approach you because he/she does not want to draw the attention of casino staff, particularly security.
5.) If You Are Male, Use the Stalls
I have absolutely no idea why this is, but I have been personally approached by bums at the urinal on two separate occasions. This has obviously irritated me greatly on both occasions. As a result, I now use the stalls even for a number one.
6.) Don't Be Afraid to Talk to Security
Securing the premises is the job of security, and it can safely be said that they don't want the casino bums to bother you anymore than you wish to be bothered by the casino bums. Some people will occasionally worry that the bum might physically retaliate if the potential mark reports the bum to security, but security will generally ensure that the bum in question leaves the property completely.
You will also be acting as an aid to future patrons as security staff will know who they are looking for, so while the bum may not be permanently banned from the casino on the first occasion of bumming; it is quite likely that the bum will be criminally trespassed from the property given multiple occasions of being reported.
7.) If You Don't Want to Give the Bum Money, Be Direct
Rather than hem and haw and make up excuses for not giving the bum money, my suggestion is to simply state, "I have no desire to give you any money, so please stop talking to me about it." There are some people who would view this as them behaving in an unnecessarily rude way, but there is a difference between being rude and being direct and I think that such a person is on the right side of that line.
You're actually also doing the bum a favor: If you're not going to give any money to this person anyway, then the less time they spend trying to bum money off of you is more time that they have for trying to bum money off of someone else.
8.) Get Up and Move if You Are Being Watched
There are comparatively rare occasions in which a potential bum will size you up as a mark in order to determine whether or not he/she wants to attempt to extract money from you. On some of those occasions, the bum will actually stand or sit by you or near you and watch you as you are playing your machine.
It honestly irks me to no end when bums do this because people, such as myself, occasionally have legitimate and non-threatening reasons to watch a stranger play his/her machine, but of course, the stranger will sometimes cast a gaze at you...so then I usually wait to watch the machine until someone who doesn't seem to mind me being nearby is playing.
In any case, if you feel like you are being watched and it is practical, (i.e. you're not playing the machine for an AP or educated gambler type reason) then I would suggest getting up and looking for a similar machine on the other side of the casino, or somewhere opposite wherever it is you are at that moment. If you sit at a different machine and notice the person again, then I would definitely approach the security desk because it has now escalated to the point that you are likely being followed.
Furthermore, merely approaching the security desk or the Player Services desk will likely be enough to cause the bum to make himself/herself scarce, so you might even choose to do that rather than to first go to a different machine.
9.) Service Button Fake-Out
The service button can be used for something other than a problem with the machine, it can also be used to get rid of casino bums. If you notice that a bum is near you watching you play and potentially sizing up your value as a mark, simply hit the red service button and the light will come on above your machine thereby causing an observant mark to go away.
On some occasions, (when going after a +EV play) this is the only course of action I have available to me as I don't want to give up the machine. In the event that the bum goes elsewhere, I'll turn off the service light. In the event that the bum sticks around, I'll simply ask the slot attendant to keep an eye on the machine for a couple minutes while I use the bathroom, during which time I am actually explaining the situation to security.
Conclusion
Even following the above tips, it is still likely that you will be approached by a casino bum at some point in your life. Whether or not you give that person any money is completely up to you, but as I learned relatively early in my machine playing experiences, 'Lending," the person a couple bucks is absolutely not guaranteed to make the person go away.
Furthermore, whether or not to approach security and report the bum is also up to you. It is understandable for a person to take this on a case-by-case basis based on how threatened they feel by the bum in question and whether or not they think there is any possibility that the bum is going to retaliate physically.
Anyway, by following as many of the above tips as I can at any given time, (sometimes I am playing a machine and it is the ONLY machine I want to play in the entire place at that moment) I would say that I have significantly reduced the number of times I have been approached by a casino bum. I hope that these work for you guys out there, and again, please add any that you may have in the comments!
Posted by
Mission146