by Michael Shackleford • Nov. 3, 2013
Key Facts
Eastern terminus: Hualapai Way, between Alta and Charleston.
Western terminus: Park to the west of Pavailion Center Drive, just north of Costco.
Distance (shortest from one end to the other): 1.4 miles .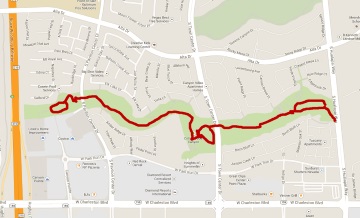 Click on any image for a larger version. Image from GoogleMaps.com.
This is a very nice urban trail in Summerlin. It alternates between grassy areas and attractive desert landscaping. The path is well lit and maintained. Along the way are playgrounds, picnic areas, and benches. It seems to be popular among people taking strolls, many of whom are walking dogs.
These photos were taken starting from Hualapai going west.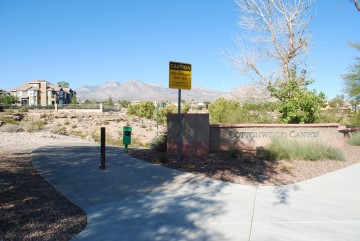 Trail beginning on Hualapai. Sorry, no parking.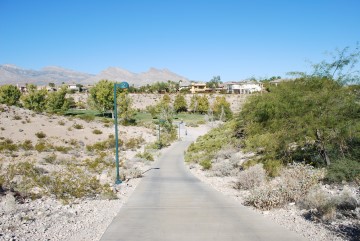 A downhill beginning.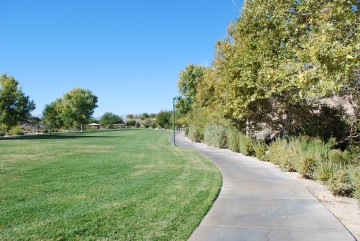 There are paths on both sides of the grassy area. Covered picnic tables are at the far end.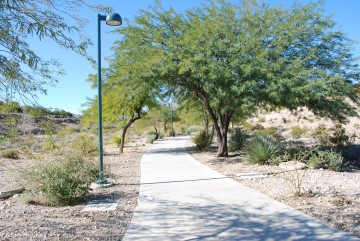 After passing the picnic area it is desert landscaping for a while.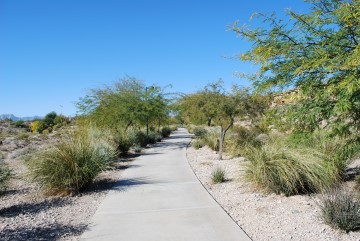 More of the same.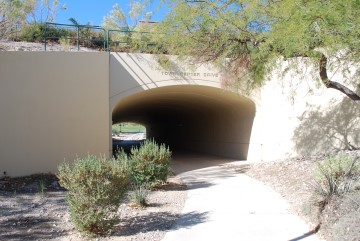 Town Center Drive underpass. There are side trails leading to the street.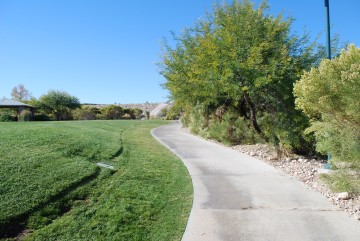 Then another grassy area.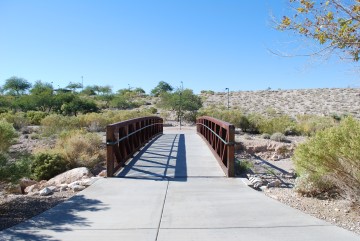 After crossing this bridge turn right. Turning left will take you to a lot of uphill steps, leading to a parking lot at the end of Canyon Bluff Court.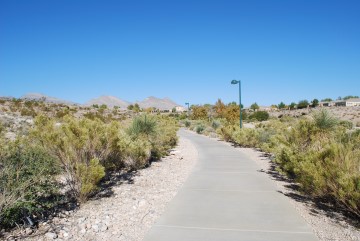 Then it is more desert landscaping.
Lots of cottonwood trees (thus the name of the park). These pictures were taken on November 3. It is what passes for "fall colors" in Las Vegas, although a bit past the peak.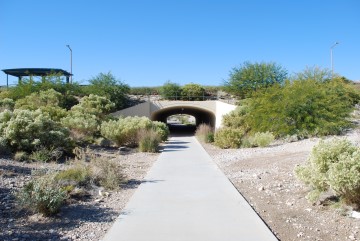 Pavilion Center Drive underpass.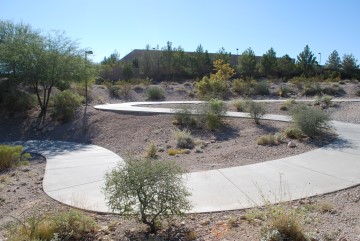 Some uphill curves after going through the tunnel.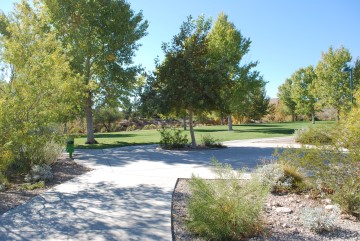 At this intersection you can go to the left or straight through to make a loop around the park. Turning right will get you up to Pavilion Center Drive.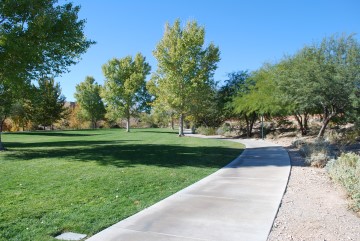 The north side of the park at the western end of the trail. The trail loops around to the intersection two pictures up.
---
Go to index of Las Vegas exercise trails.