Thoughts on a trip to Rising Sun, Ind.
I stayed at Rising Star Resort in Rising Sun, Indiana on 12/28-29. What follows is my review.
Introduction
I selected Rising Star on the basis of a mailed offer I received for one free night anytime, plus $55 in freeplay twice a month. Also, on certain days, I would get a bonus of $15 cash. Saturday, the 29th, just happened to be one of those days, so I booked for the night of the 28th. Looking back on it, I could have booked for the "bubble day" and picked up the $55 freeplay twice, but that date was inconvenient for me (it was a Thursday night). Weekend nights are tough to get comped so I was pleased to get the Friday night rez.
Rising Star is now what they are calling Grand Victoria Resort. They used to be operated by Hyatt. Now, they are owned by Full House Resorts, who also own the [former] Hyatt casino on the North shore of Lake Tahoe. It looks like Hyatt is getting out of the gaming business.
Rising Sun is a nice town about an hour from Cincinnati. To get there, you have to get on the I-275 beltway to Lawrenceburg, Indiana, drive past Hollywood Casino, turn left at the "giant ice cream cone" in Aurora, and drive another 9 miles or so along the Ohio River to Rising Sun. So it is by no means an easy drive, but it is very scenic. The river is very beautiful (except for the occasional power plant). The town itself is small and quaint, with a nice public library and main street. I would recommend walking around the town. You can tell the casino is providing them with some needed revenue as there are a lot of improvements in signage, lighting, etc.
Hotel
The hotel at Rising Star is nothing special. This was the second time I stayed there. It is connected to the casino complex -- about 300 rooms on three levels. Check in was easy. There is a small pool with a sauna and changing rooms, and a fitness room next to the pool. They also offer FREE wifi. There is no resort fee. The room I had this time was updated with a flat screen TV. There was really nothing to complain about in the room, but they are by no means luxurious.
There is a "links" style golf course adjacent to the hotel that is actually very nice and makes for some good views. It looks like a course I could play -- and I suck at golf. Perhaps I will take in a round there (but only if it's comped :))
The theme of the hotel is I think farm implements. Seriously :). They are going for the "homespun" feel. Okay, that's fine, but it's pretty much the opposite of any Vegas/AC/Macau casino. There is NO glitz here. And that can be disconcerting at times. But everybody is very friendly. I wish somebody was mean at least once to bring me back to reality :)
Restaurants
There are a good amount of food options at Rising Star: a steakhouse (Wellingtons), a buffet (Riverview), a food court (Queen City Market), and a snack bar (forgot the name; inside the casino). There is also a pub, Big Vics, that I think might serve food, and the Windsor Lounge, which is the VIP club. The Queen City food court serves Cincinnati Chili (Skyline), LaRosa's Pizza, Graeter's Ice Cream, and generic burgers and sandwiches. I LOVE Skyline Chili, so that is what I always get. For those who don't know, Cincinnati Chili is heavily seasoned chili served over a bed of spaghetti with onions, cheese and beans if you wish, and oyster crackers. It is delicious.
The buffet is better than average. They always try hard, with spinach at the salad bar, some well-made salad mixes, a build-a-burger bar, and great desserts. This time, I went there for lunch, and was not disappointed. I made a burger with sauteed onions, bacon, and mushrooms which was delicious. I also had some fried cod, which was very good, and vegetables. I was too full for dessert. The first time I ate there, for breakfast, I had something called
Goetta
which was absolutely scrumptious. A must try if you are in the Cincy area.
Casino
The casino is on a riverboat. Most of the boat is given over to slots, with a small table games area. It is always crowded, and can be hard to make your way around. The tables games offer a good selection, with two tables of craps (usually $5/$10 or $5/$5) with 25x odds, blackjack that starts at $5, Spanish 21 (S17) which is always at $5 and full of flea grinders, and another carny games pit with three-card poker, Mississippi Stud, Texas Hold 'Em Bonus, and other oddballs like Four Card, etc. There is the linked Shufflemaster progressive for the carny games now. There is also a Big 6 wheel (woot!).
In the back of one deck is the high limit area with $25 minimums on blackjack, but with liberal rules like S17, RSA, and LS. It is usually empty. There is a $25 double deck game on the main floor with unfavorable rules like D10/11 and no DAS. I may have those wrong, but at any rate, it is a higher house edge than playing in the high limit.
The selection of video poker is not great. There are four machines on the lower level in one bank near the window that have 9/6 JOB at $0.25. There are a couple other stray machines with high-paying games, but they are by no means prevalent. The slot club returns 0.25% of your action, which is generous for the Midwest.
One thing I like about the Rising Star boat is that there are actual windows and you can look out onto the water, or even go outside on the deck if you are sneaky about it. In the summer, they will open the top deck with a "tiki" theme. That's fun.
My own gambling
I started out by downloading my freeplay. On a $0.25 9/6 machine, I turned $55 into $72.50. Score. The next day, I also cashed in my $15 coupon, so that was a nice benefit and I was already ahead. Unfortunately, I lost all of it back :( I played 9/6 JOB for about a hour; the machine accepted my $100 bill, burped, and said, "Thank you." So that was that. I played (and lost) a little more, and then moved onto craps. I bet $5 on the pass line with $5 in odds on any point. Another $100+ went very quickly. I decided to take a break and play video blackjack at $3 a hand, pressing up to $8, and made a little of it back and earned some more points on my card. (The blackjack machine gives points at the slot rate).
The next day, I played Spanish 21, at three hands of $5 each. This was pretty fun and something I rarely get to do. There were one or two other players, and they were fleas (not that I wasn't). Unfortunately, I didn't hit the Super Bonus, but I did walk away winners. By the way, some of the dealers were dressed up for Halloween, so I got dealt to by someone who I think was a cast member of
Hair
.
When I finished playing, I asked the pit boss for a food comp (I had played for an hour or two), and she gave me $10 to the food court. I also received a comp the night before after playing video poker (same amount=$10). I already had a buffet coupon from my mailer, so I used the comp to buy more chili for the ride home. (Can always freeze for later. Yum! :))
Conclusion
Rising Star is a nice enough property, but it is not very exciting. However, it is hard to find fault with them beyond that. I would deem it the best of the Cincinnati area properties. On the way home, I stopped at Hollywood Lawrenceburg, saw most of their games sucked, and played Ultimate Texas Hold 'Em for two hours earning a $15 coffee shop comp (but losing $200).
Comments

Good review. The last time I was there ( a couple weeks ago) I did try the buffet again at your suggestion. It is BETTER than what I remember, but that's not really saying a lot. They had smoked salmon, which I could eat all day, but outside that I was unimpressed. I do agree that the gaming options there are hands down the best in the Southern Indiana area, even better than my favorite Horseshoe... however, the boat, parking, overall atmosphere, and confusing players club are all reasons I prefer Horseshoe to Rising Sun.
Nice review! I think you've talked me into making the drive up to Rising Sun when I'm in Louisville later this month. Not sure how much multiplier time I'm willing to give up at HSI, but I get the feeling I didn't give Rising Sun the chance it deserved the last (and only) time I was there.
Have you been to Bel Terra, about 20 or

so minutes south of the Rising Star ?



In my opinion, it is much nicer than Rising Star.

I have played at both, but I admit I have only

stayed at Bel Terra ( several times. It is a

bit of a drive for us, but a nice getaway ).



I'm looking forward to the extra competition

when the new Casino's open up in Columbus

and Cincy OH.
Thoughts on a trip to Northern Michigan
I visited Northern Michigan with a friend over a weekend. We drove about 1,000 miles, and visited nine casinos. I thought about writing a full trip report, and then realized that there was nothing really interesting or notable about all of the casinos, so I will just hit some highlights:
++We visited Saganing Eagles Landing in Saganing, Kewadin casinos in St. Ignace and Sault Ste. Marie, Bay Mills in Brimley, Odawa in Petoskey, Turtle Creek in Traverse City, Leelenau Sands in Leelenau, Little River in Manistee, and Soaring Eagle in Mt. Pleasant.
++First overnight was at Kewadin Sault. The hotel was $49.95 a night, with $10 in freeplay, which they gave to both me and my friend. So that was nice. The hotel for some reason reminded me of the Majestic Star in Indiana. You could tell it was nice and some point, but they really haven't kept it up or renovated it. It is okay. Gambling here was decent with 99.95% payback Pick 'Em Poker in quarters and dollars.
++I highly recommend visiting the Soo Locks: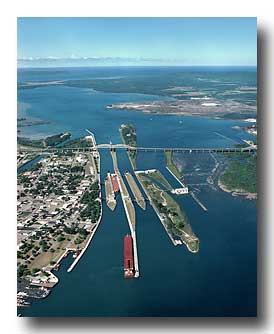 ++Bay Mills is my favorite casino in Northern Michigan. They are the only casino to offer free drinks in Michigan. I ordered a Bourbon and Ginger, and they made it with Vernor's, which was delicious. The blackjack rules are very good with double on split aces, stand on soft 17. The craps was $2 with 10x odds. Best table games in Michigan. They need to improve their video poker, however. Also, they are right next to Lake Superior, but no windows at all in the casino? Come on.
++Turtle Creek and Leelenau Sands offer a free buy on the 4 and 10 in craps. This is the only place I have heard of this bet outside New Mexico. Of course, the bet carries no house edge. I played for a while grinding out $5 bets, and mostly losing (nobody was hitting the 4 and 10). I lost about $150-$200. Then I made a big bet of $180, split between the 4 and 10. They hit twice, for a win of $180. I made same bet at Leelenau Sands, and lost them both, for a wash on my big bets -- exactly the expected return!
++I highly recommend visiting the Sleeping Bear Dunes:
++Soaring Eagle has the best video poker in Michigan. Double Double Bonus with a payback of 99.9%. I hit aces and aces with a kicker in the space of five minutes, so I did pretty well.
Comments

Concerning the free buy of the 4 and 10. Did it seem to be getting any action (other than yours)? Were people aware of it?



I assume that these are locals casinos many of which happen to be located near tourist attractions, so what was the "feel" of the clientele? Rental cars all over the parking lot? Out of state plates all over the place? Staycations? Locals? Day trippers?
Of course no one else was betting the 4 and 10. What would you expect, people to throw their money on the hopping hard eight, or on a bet with zero house edge?

For what it's worth, I tried to do a lay with no vig at Leelenau Sands, and was rebuffed by the dealer. Free buy only. Of course, as soon as I did that, seven out :(
Black Hawk/Central City report (personal experience)
Black Hawk / Central City report
As part of my return cross-country trip, I stopped into Black Hawk/Central City, Colorado to check out the gambling offerings. I wasn't really sure what to expect. There are only three locations in Colorado where state-sponsored gambling is legal: Black Hawk and Central City are near Denver. Cripple Creek is near Colorado Springs. To get to Central City, you drive through Black Hawk, and anyway, it is a much more developed gambling market than Central City. I was suprised at the amount and scale of the gaming offerins they have, and the town is nice, too. It is set high up in a mountain valley in the Rockies, west of Denver just off Interstate 70. There are probably more casinos in a square mile than anywhere in the world (maybe Macau has more), so if you like to casino hop, this is your place.
I stopped in Vail on the way east on I-70 and got my first taste of what lay in store. The place was PACKED. I didn't feel like paying $2.50 for a cup of coffee or dodging rich peoples' BMWs, so I got out of there pretty fast. However, I-70 was absolutely jammed between Vail and Denver. The worst traffic I have ever encountered in my life. It was a Sunday afternoon, so I assume everybody was coming back home from the weekend. Ugh. There was a beautiful rainbow in the Rockies, so it was hard to get angry about the traffic.
I pulled off I-70 onto the Central City Parkway, which is a mountain road that goes straight to Central City, bypassing Black Hawk. It is a nice four-lane highway with very steep grades and curves. I coasted down a steep hill into Central City itself. There isn't much of a town there. I parked in a surface lot and walked around a bit. It was raining. It is an old mining town, and the casinos are placed in the storefronts and repurposed old buildings. Most of the casinos are on multiple levels, and it is easy to get lost, with different entrances.
The first casino I went into was the Century. It seemed to big one of the bigger ones in CC. For signing up for the players club, I got $5 hard cash. That was nice. They had a few table games upstairs, but they looked kind of dead, so I didn't play. I walked across the street to the Bonanza. I think it was an old saloon or something. I played blackjack for about 40 minutes on a DD game, S17, D10/11 only. I lost, but they mixed a mean (and generous) white russian.
Drinks are free in CC/BH casinos, and the best part is, all of the casinos are no smoking! You can step outside for a smoking break on the patio.
I checked out a few more casinos in CC, but they seemed to be mostly slots. Down the road was Fortune Valley, a larger place but one that didn't have anything that attracted me to it. I inquired about a room, and they quoted me a price of $95. Keep trying. Back at Century, they gave me a $103 quote. What is this, Manhattan?
Finally, I checked out the final casino in CC, Johnny Zee's. This is my new favorite casino. They have a DD blackjack where the dealer stands on soft 17, double on anything, for a $10 minimum. Unfortunately the penetration is piss-poor, but what a good game! While I was playing, they came around twice with a hors d'oueveres tray. One was some kind of olive tapanade, the other was cheesesteaks. What a great idea! They had me hooked at this point. I lost at blackjack, and went to play $3 craps, and got a cup of snacks from the bar. The action was good and the crews were friendly. Unfortunately, the dice were not cooperating. and they cleaned me out. I highly recommend Johnny Zee's.
I got back in my car in the pouring rain and drove down the hill to Black Hawk, determined to get a comped room for the night. I refuse to pay for casino rooms on principle (except when I do). Fortunately, my prayers were answered at the Isle of Capri, and its sister property, Lady Luck. They had a promotion where if you earned 500 points in one day, you got a hotel room for the night. I went off to find a 9/6 Jacks or Better video poker machine, and quickly earned 500 points, and got one of the last hotel rooms they had.
The rooms at the Isle are nice, about on the level with a Holiday Inn Express, with nice beds, iron, safe, and large bathroom. The Isle and the Lady Luck are one of only four casinos with hotels in Black Hawk. The other ones are at The Lodge, and at the Ameristar, which has a HUGE hotel (but pretty fancy).
I walked around a bit, used my food comp from Lady Luck for a Bison Burger, and played Ultimate Texas Hold 'Em at the Riv. (Lost $30). The Riveria Black Hawk is one of the nicer, and bigger, casinos in BH and is nothing like the Riviera is Las Vegas. They are also the first casino you hit driving in from Denver, but they still didn't seem that crowded.
The next casino up the road is the Lady Luck, and attached to it, the Isle of Capri. They are corporate cousins. Of the two, I prefer the Lady Luck, which has a railroad motif, good live entertainment, good video poker, and excellent crews on the craps game, with $2 minimums (10x odds). The Isle, like most Isle of Capri properties, is kind of downscale and grind-jointy. (Not like any of the casino in Black Hawk aren't).
Walking uphill, you reach a trio of Golden Gaming casinos: Golden Gulch, Golden Gates and Golden Mardi Gras. They all use the same players club, and are all fairly small. Gates has a very large poker room, and a "sexy dealers" pit. The dealers didn't look very sexy from what I saw, however. Mardi Gras has a nice cafe upstairs (earned a $10 comp), and good video poker including multi-line deuces wild with a good paytable. I hit a royal earning my food comp, so that was a nice $200 hit on nickels. The Gulch is what looks to be a house filled with slots. They are all coin droppers. They give out free popcorn. Yum.
Up next are two very large properties. The Lodge and Ameristar. Ameristar is the obvious 800-pound gorilla in Black Hawk. Their property is brand-new, huge, with a 500-room hotel that towers over everything in the city. Their table games also commanded the highest minimums, often $15-$25. Craps was $10. There was a very nice buffet, so I made a note to come buy the next day and earn a comp for it. I did, playing Ultimate Texas Hold 'Em for an hour and a half, losing $287.50 (ouch), but earning $9 in cash back plus the buffet and a pass to the "Star Lounge," which I didn't use. The buffet was very good, but mostly stood out for its Asian section, where they would prepare for you a bowl of Pho noodle soup. It was probably the best Pho I've had in my life, with fresh cilantro, mint, jalapenos, and hot sacue for garnish. I should have gotten two bowls.
The Lodge is right smack-dab in the middle of Black Hawk and seems to be the busiest in town. It is very convenient to get to, with a large parking garage. The gaming offerings were mediocre, with poorer blackjack rules and video poker than the other places in town. They did have a large poker room, and a nice fish pond right by the table games pit. I did not play at the Lodge, but I liked the decor.
Between the Lodge and "central" Black Hawk is a small dead space that you kind of have to walk past. The casinos following are smaller, more "local" joints compared to the coporate titans further downhill. They actually are storefront casinos, taking up the old storefronts in Black Hawk. The first casino is the Canyon Club. This is an unremarkable casino with slots and table games. I wandered by the craps game and they had half-tabled it and one guy was playing the don'ts. The crew encouraged me to join in, so I bought it for $100 and put $3 on the DP line and the shooter rolled an eight. I asked how much I could lay against, and they said $96 (the max bet on any wager in Colorado is $100). So I stacked up the rest of my chips minus $1 next to my pass line bet. The shooter was impressed. He obliged me by rolling a seven. I continued on this way betting the max lay, and together we missed about four points in a row, after which I colored up dropping $13 for the dealers and making myself a bit of money.
Next door to the Canyon Club is the Gilpin, another storefront casino that is in an old hotel. It is also unremarkable, but has $2 craps. I didn't play since the crew looked bored and there wasn't much action. Next up is Fitzgeralds. I signed up for the players club and got a coupon book for a free entree, $5 match play, and some point bonuses. Unfortunately, I misplaced the coupon book after about 3 minutes. Doh! I was too ashamed to ask for another one.
Black Hawk casinos get shittier the further uphill you go. The last casinos I came to were a real trip. They were Bull Whackers, Bull Durham, Wild Card, Black Hawk Station, and the Sasquatch casino. Actually Bull Whackers was pretty nice, with a beautiful Victorian interior, but only slots. The others were some of the craziest casinos I've been in. They were all coin-dropper slots, no table games, in what looked to be dilapated houses. You walked up narrow staircases to the attic, which was also crammed with slots, and also had a soda fountain. What? The Sasquatch casino took the cake. They floor was astroturf, with a huge furry figure of a Sasquatch in the center. The slots looked like they had just been tossed anywhere in the room. There was a breakfast bar to the left where they would make you a $0.99 breakfast, which I was afraid to try (althought the $2.99 prime rib looked decent). Absolutely horrible layout.
I did have some good luck at Black Hawk Station. They had a promo where if you played $5 on this particular slot, you would get $5 back if you didn't win. The slot was one of the "Hundred or Nothing" slots. You've probably seen it before: The only symbols on the reels are red sevens, and if you get them lined up, you get $100. Otherwise you get nothing. My type of slot! Well, three spins in, you guessed it, the sevens lined up and the dollar tokens came clanking into the tray. I was one of the lucky ones that day; the slot attendant showed me her log and only two or three out of maybe fifty won each day. It was certainly an appreciated win, since I never play slots.
Black Hawk / CC is by far the most weird, at the most intriguing, gaming destination I've encountered in my travels. I would recommend visiting. The product is good, and the physical setting is absoltely gorgeous. It would be fun to get away in the mountains after a day or two of gambling. The only thing I would suggest for improvement is more, and more affordable, hotel rooms. Most of the clientele seemed to by day trippers from Denver. The amount of freebies you can pile up, especially if you are a newcomer, is astounding. I especially like the free hot dog and cookies I got from one casino for signing up. Yum :)
Comments

teddys, I cannot tell you how much I enjoy your casino posts. Always very informative and fun to read. Would CC/BH be worth a day trip to, if I have 3 days in the Denver area? The pictures make it look like a quaint mountain town.

Thanks for the review. I am going to Colorado next month and hope to spend a night or two in Black Hawk. I am shocked to hear that the there was a casino who was offering $2 craps on a Sunday! And per your review, I will probably stay at the Isle.
dlevinelaw -- yes, it is worth a day trip from Denver, especially if you want to see other stuff in the mountains. (You can drive up to the top of Mt. Evans, >14,000 ft. highest paved road in the world). The gaming is good and the signup bonuses are excellent. I would add the best place to play craps is The Gilpin since the minimums are always $2 and you can take or lay odds up to the $100 legal maximum. 2nd best is Lady Luck with $2 minimums Sunday-Thursday and 10x odds.
Quick notes from a Vegas visit
Just made a recent stopover in Vegas. Didn't play much, but here's what I found:
-Played blackjack at Mirage. They had exactly one double deck game where the dealer stands on soft 17. Right outside the baccarat lounge. Minimum is $25. This is probably the best game on the strip for that level. Unfortunately, the dealer was rude.
-Mirage also had $5 craps on day shift, often on two tables. Great deal.
-Bellagio had a similar $25 game with liberal strip rules on about 5 or 6 tables across from the "high roller" (not the salon, but the high limit tables on the floor) area.
-Bally's party pit is very fun. Mostly carnival games, but a good version of Ultimate Texas Hold 'Em with a 0.9% house edge sidebet. Most fun I've had losing $185. Pit boss is especially cool.
-Didn't make it over to Aria or Cosmo as I figured limits would be too high for me. Think maybe the high end has pushed pricing down a bit at the other properties.
Comments
Phoenix-area casinos review
Introduction:
There are seven major casinos in the Phoenix metropolitan area. Being new to the area, I visted all of them at least once. There is no legalized gambling in the state of Arizona -- all gaming is done on Indian reservations pursuant to the 1986 federal Indian Gaming Regulatory Act and a 2003 compact with the state. Gamblin in Arizona has been a contentious issue between the state and the tribes, and has only recently been resolved. At the outset, there was a tense standoff at one of the casinos when the cops tried to seize one tribe's slot machines and the tribe barricaded themselves inside the casino.
Now all Class II and Class III gaming is allowed, as are card-based table games (but not craps and roulette, although there are now physical/digital hybrids). The casinos have been quite the boon for tribes that are lucky enough to be located close to Phoenix. The largest casino tribes, the Salt River Pima Maricopa tribe and the Gila River Pima Maricopa tribe, are some of the wealthiest in the country with very high "per-cap" distributions to tribal members.
The casinos in Phoenix run the gamut from classy to kind of dumpy. I was actually surprised at how nice a few of the casinos are -- they could give Red Rock and M a run for their money. Others are more typical of Las Vegas locals joints. One notable feature about Arizona casinos is that they are small -- there is a limit to the amount of slots and table games a casino may have. This negates the building of large "slot barns" and makes the casinos much more managable, if sometimes crowded.
Every casino has a players' club, and the Casinos Arizona and the Gila Rivers use the same card. Harrah's of course uses Total Rewards. I never seemed to get much in the way of comps, but I never gave them a local address for a mailer, so it is hard to say what marketing offers they sent out. I saw a lot of gift-giveaway promotions, and there were a lot of drawings and sweepstakes. Casino Arizona put $10 cashback on my card at certain times, which was appreciated. (As an aside, a buddy of mine won a $10,000 drawing at Casino Arizona a few years back, and they didn't take any tax out, because it is an Indian reservation).
None of the casinos comp alcohol, but sometimes they will give you a free "drink ticket" or write you a comp if you are playing table games.
A good thing about AZ casinos, in my opinion, is that dealers go for their own tips. This creates a much more pleasurable gaming experience, as each dealer works to make the experience fun and engaging; otherwise they know they will not get tipped. I am ashamed to admit I did not tip as much as I probably should have, but when the dealer warranted it, I did give a little "george."
Here are the individual reviews:
Casino Arizona, 101 and McKellips (Salt River):
The original Casino Arizona is an older property, but the most centrally located of all the Phoenix casinos. It is very convenient to get to, just off the 101 freeway in south Scottsdale/north Tempe. Surprsingly, it does not show its age. Somehow they got the architecture and layout right that it still feels fresh. The style is what I would call desert/Southwest/Native American. There are two large rectangular gaming areas, separated by a rotunda and main entryway. The centerpiece of the rotunda is a large Wheel of Fortune slot machine (of course). Scattered along the exterior is a buffet (The Eagles), a Steakhouse (Cholla), a restaurant (Willows) and a showroom. There is a snack bar as well. There are also two bars and two lounges (Pima Lounge and another one). The Pima lounge often has a live band (they are terrible), and the other lounge is more intimate with a piano player or sometimes a jazz trio and a singer (usually very good). The atmosphere can be very chill at times at it is a fun place to spend time and not gamble.
I only had one meal there at the Willows, and it was excellent. The prices are extremely reasonable, and the food and service is high quality. I never ate anything else there, but the snack bar always looked good, and they had a hot roast beef station where you could get a sandwich and chips for $5.
The showroom does a show called "Showstoppers" which is an impersonation/variety show. You can get a free ticket by showing your players card. A free show is always welcome. Unfortunately, I never got a chance to see the show.
The gaming is decent. There is no good video poker, but the table games are by and large fair. Blackjack is dealt from a six or eight deck shoe or CSM with H17, no surrender, and no RSA. There are always a few tables at $5, even on busy weekends. $25 a hand will get you the high limit room with four decks (ooh). Other table games include three card poker (6-3 paytable), Pai Gow (Fortune bonus), a few oddballs like Casino War, and my personal favorite, WPT 3x All-In Hold 'Em with a 0.74% house edge.
There is also a $1 minimum Shufflemaster digital blackjack table (with surrender available), and an Organic Craps and Organic Roulette table by Interblock ($1 min/3x4x5 odds and $1 min/$0.25 chips 0/00 respectively). These machines are fun way to waste time for little money and I especially enjoyed playing the craps game with the "pop 'em" dice. Kudos to Interblock for a very innovative and well-engineered gaming product.
Casino Arizona, 101 and Indian Bend (Talking Stick Resort):
This has got to be one of the nicest casino resorts around. It is only two years old, and the facilities top just about anything outside of Las Vegas. It is about five miles north of the other Casino Arizona, again just off the 101 freeway. There is a four hundred room hotel, two parking garages, a fantastic poker rooms, a swell pool, and a large gaming area. In addition, there is a gourmet restaurant on the top floor of the hotel (Orange Sky), a cigar lounge (Shadows), an oyster bar (Ocean Trail), a barber shop, a spa/salon, an Au Bon Pain-type place (Blue Fig), a coffee bar, a buffet, and an upscale cafe (Blue Coyote). Boy, did they get this one right.
Gaming offerings are
exactly
the same as the other Casino Arizona, except this one has a poker room. A word needs to be said about the poker room at Talking Stick. It is probably one of the best in the country. The action is huge and constant. I would say it approaches the levels of Wynn, Bellagio, and Venetian is terms of total action and tables. Game is mostly Texas Hold 'Em. For some reason, no limit games are not allowed in Arizona, but the max bet is $500 so the games are effectively no limit within a certain range. The room is very nice, and airy with self serve coffee machines and table side food service which everyone seems to agree is very good. The room is non-smoking.
A nice thing about Talking Stick is the non-smoking BJ tables in the poker room. This is a good idea that I am suprised no other casino has come up with. You get the poker players to play blackjack during their breaks and also appeal to the non-smokers. For what it is worth, there is very little smoking in the main casino, either, and you can often request a table to be made non-smoking. This is another plus, in my opinion.
If I had to recommend one casino to vist in the Phoenix area, it would be Talking Stick without hesitation.
The only bad thing is the drink prices are too high. I paid $7.50 for a margarita. Spare me.
Gila River Wild Horse Pass
:
WIld Horse Pass is another new full-service resort that is in the south valley area, right of the 1-10 freeway on the way out of town towards Tucson. It is similar to Talking Stick, with all of the similar amenities, and similar gaming options. There is no buffet, but there is a Shula's Steakhouse, and a Chinese place called Ling and Louies. There is also a food court with outlets like Fat Burger and a pizza and Mexican place. I never had a meal at this casino, but once again is it very upscale and well designed. It is hard to say anything bad about it.
Gaming options and blackjack rules are the same as the Casinos Arizona. There is only one table of WPT All-In Hold 'Em, instead of two at the AZ's. They deal it differently -- using an automated dealer which spits out two cards at a time. There is no electronic craps or roulette.
I did have a bad experience here that kind of soured me on the place. I was driving to there from Harrah's Ak-Chin through the Indian reservation when I got pulled over by tribal police. Apparently I was speeding when the speed limit went down from 50 to 35 at some point. I didn't see the sign, but I was pacing the car in front of me, and the cop just decided to pull me over. He citied me my for speed not reasonable and prudent, and also for driving with expired registration and insurance (admittedly, I didn't notice they were expired). Thankfully, he didn't book my right there and impound my vehicle, but needless to say I wasn't happy with the experience. I don't see why the Indian reservation should be enforcing Arizona law.
Gila River Lone Butte
:
Lone Butte is the "secondary" casino on the Gila River reservation, and is located about a mile from Wild Horse Pass. It is smaller, with fewer table games and slots, but nicely laid out in a semi-circular formation. There is a nice bar and sports lounge in the center. The gaming is exactly the same as Wild Horse, but on a smaller scale. It kind be a nice change of pace from the froo-frah-ness of Wild Horse Pass.
Gila River Vee Quiva:
This is the dumpy locals' joint of the Gila River empire. It is isolated from the other casinos, and is kind of located in a remote part of the West Valley. I drove out to check it out, and was not impressed. I don't recommend visiting Vee Quiva.
Fort McDowell:
Fort McDowell is another isolated casino, located on the Fort McDowell Yavapai Indian reservation. To get there, you have to drive through the desert for about 15 miles, and pass by a couple other casinos. It's hard to say that it's worth the drive. The architecture is uninspired "bingo palace." They do have a very large bingo hall, and it is quite popular. There are all the latest slots, and a small pit of blackjack tables (6/8 decks, H17, mostly $5 minimums). The one thing that is kind of cool is the digital self-serve soda machine, that will mix and dispense about 35 different sodas for you. (One nozzle, you make your selection on the screen). Pretty neat.
The Fort is not a great place to play, except for one pretty good "hot seat" promotion they have for the table games. Every hour or so (it might have been random), they'd choose a player playing table games and award them I believe $25. Then they deal you a blakjack hand and if you get a blackjack you get I believe $400 more. After that, every player in the table games pit gets a lammer and you are told "they are going for their second blackjack." If they get another blakjack, I believe they get $5,000 and every player playing gets $100 in promotional chips. Then, there is another level where if you get three blackjacks you win $10,000 and every player gets $200 in promotional chips. Pretty innovative promo.
There is a Radisson hotel on property. I did not try any of the food outlets.
Harrah's Ak-Chin:
Harrah's is the most far away of all the Phoenix-area casinos, located in the edge city of Maricopa, about 30 miles south of Phoenix. It is a small, mid-scale property with a medium-sized hotel attached. Everything about Harrah's says "average." The casino is small, with a bingo pavilion on property. The table games pit is the smallest in Phoenix. They do have Ultimate Texas Hold 'Em with the good Trips paytable (1.9% house edge). Blackjack is H17, 6/8 decks. There is no good video poker at lower denominations.
For Diamond players, there is a nice Diamond Lounge that is actually the restaurant, Agave. The restaurant closes after lunch and becomes the Diamond Lounge. You are allowed to order one appetizer off the menu, and a maximum of two drinks for free. The calamari I ordered was not very good, but they did have other stuff like sliders.
The hotel is very atrractive and resort-ish with three-level angled buildings situated around a central courtyard with a very unconventionallly-shaped pool. The pool has a bar in it. The hotel looks like a nice place to stay, although I didn't get the chance to see any of the rooms. There is a buffet and snack bar and probably some other food options in the casino, although I didn't try any of them.
Harrah's lives up to its reputation as the middle-market king in Phoenix. I would only recommend driving out to Maricopa if you are a fan of their properties, have a diamond card, or can otherwise get a free or discounted hotel room.
Comments