Introduction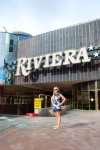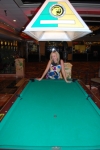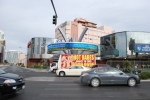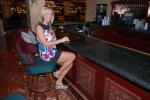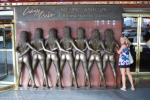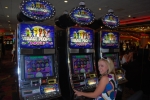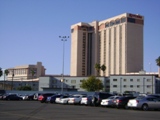 The Riviera opened in 1955 and is today one of the longest-standing casinos in Las Vegas. Since it opened, the heart of the Strip has shifted south, leaving the Riviera in a section of the Strip suffering from age and urban blight. Still, the Riviera is hanging on and trying hard. The following review is based on my stay there September 24-25, 2009.
Location
The Riviera is located between Desert Inn and Sahara, on the east side of the Las Vegas Strip. Across the street is the Circus Circus, and the unfinished and abandoned Echelon Place The Riviera also has the misfortune to be just south of another abandoned construction project, the Fontainebleau. To head in a better direction, walk south for about a 15-minutes to some of the more upscale venues in Las Vegas, such as the Wynn, Venetian, TI, and Fashion Show Mall.
Casino
According to the 2009 American Casino Guide, the Riviera has 103,800 square feet of casino space. By way of comparison, the MGM has almost 50% more at 156,023. Somehow the Riviera doesn't seem that big to me, but it has an odd layout, where you never see much at one time. According to the Nevada Gaming Control Board, the Riviera has 33 table games, 7 poker tables, and 1009 slots. By way of comparison, the MGM Grand has 178 table games, 22 poker tables, and 2,470 slots.
Much like the building, many of the dealers at the Riviera are aging, too. But, they are generally friendly and deal a good game. The pit supervisors engage with the players; one personally offered me a dinner comp many times. The cocktail waitresses are also not the youngest in town, but they are amiable and come by the tables on an adequate basis. There is no shortage of space for red chip bettors, as this is a low-roller casino. Not surprisingly, there is no high-limit room. Following is a rundown of the games at the Riviera and notes on the rules.
Blackjack
The only thing that varies in the blackjack rules are the number of decks and what a blackjack pays. In every game, the dealer hits a soft 17, double after split is allowed, surrender is not allowed, and re-splitting aces is not allowed. The best game is the double deck, at a $25 minimum bet, which has a house edge of 0.40% with proper basic strategy. Beware of the single-deck games that only pay 6 to 5 on blackjacks.
When I was there, they had four semi-electronic "i-tables" for the $5 and $10 minimum tables. There was still a dealer, who dealt real cards, but all bets were made electronically with touch-screens inlaid in the table. The players, evidently, bought in with cash and were paid in real chips upon leaving.
Craps
2x odds. The field bet is the stingy kind, paying 2 to 1 on a 12. Hop bets pay the standard 15 and 30 to 1.
Roulette
There were three roulette tables, each with two zeros.
Other Table Games
Baccarat
Pai gow poker
Let it Ride
Three Card Poker
Texas Hold 'Em Bonus
In addition, the Riviera had six ShuffleMaster big-screen betting stations. These are large, fully-electronic games where each player has a betting terminal and all sit in front of a big screen showing a video of a dealer who is usually very attractive and well endowed.
Live Poker
The poker room is in a quiet area of the casino with seven tables in a roped off area. When I was there, only one or two tables were going, depending on the time. The poker room opens at 10AM.
Sports Betting
The Riviera hosts a franchise of Leroy's sports book. Unlike most Leroy's, which are small bet-and-run affairs, this one is a respectable sports book. Perhaps that is why it is the only one to call itself "Crazy Leroy's." It is in a large room on the north end of the property, with entrances to both the street and the rest of the casino.
I counted three betting windows, three self-serve betting kiosks, 24 desks with monitors, and 24 lounge chairs. The lounge chairs looked old (like everything in the Riviera) but comfortable. There were several television screens for watching the games, but none of them were a big screen. There was also a bar along the back wall and a snack bar to the side. The snack bar was closed when I was there. Betting lines were 20-cents on football and 10-cents on baseball money lines. Sports tickets expire after 120 days, which isn't bad.
Video Poker
The Riviera is not known for liberal video poker. According to VPfree2, the Riviera's best games are as follows:
8-5 Bonus Poker (99.17%*)
9-7 Double Bonus (99.11%*)
9-6 Double Double Bonus (98.98%*)
15-9-4-4 Deuces Wild (98.91%*)
20-13-4 Bonus Deuces (98.80%*)
* Returns quoted are based on optimal strategy.
Video poker players earn one point for every $2 bet. Points can be redeemed for cash, at a rate that depends on the player club level and range from an exchange of 100 to 300 points for $1 cash back. That equates to cash back rates of 0.17% to 0.5%. For more information on the slot club, I also recommend VPfree2. Although the slot tickets indiate tickets expire in 30 days, I believe Leroy's honors tickets until at least 120 days.
Food
The Riviera offers the following dining options:
Kristofer's Steakhouse
Kady's Coffee Shop
World's Fare Buffet
Grand Snack Bar
Banana Leaf Asian Food
Unnamed Italian Restaurant (which seemed permanently closed)
Food Court: La Salsa, Cheese Steaks etc., Wok Express, Quiznos
In addition, there was some kind of pool party at night with live music (I could see and hear it from my room) which may have served food.
Here are my comments on the two restaurants I did try.
Kady's Coffee Shop: I ate here with three friends for dinner. Personally, I found the food and service adequate. There was no waiting for a table, but there were long periods between visits by our waiter. The hamburger I ordered was fine (it is hard to screw up a hamburger). Another friend had some kind of noodle bowl, which he was happy with (but this guy is always happy with Chinese food). The other two were not as pleased. One was served water in a glass with lipstick on it. The other remarked of his prime rib, "I've had beef jerky better than this."
World's Fare Buffet: There was about a three-minute line to get into the buffet for breakfast. The prices were $10.99 for breakfast, $12.99 for lunch, and $14.99 for the continental brunch. It did not appear to be open for dinner. The selection was pretty meager, with nothing high-end like bagels with lox, shrimp, or berries. My waiter was cheerful and fast, so at least I was in and out quickly.
Hotel
According to the 2009 American Casino Guide, the Riviera has 2,100 rooms and 154 suites. As a basis of comparison, the MGM Grand has 5,005 rooms and 752 suites.
When I stayed there on a Thursday night (Sep 24, 2009), the room was $89, plus the Nevada 12% room tax. The room rate was extremely high, in my opinion, especially on a weekday. $89 is just $5 less than what I paid at the Planet Hollywood three months earlier, which is an order of magnitude nicer and better located than the Riviera. A reasonable price would have been half that.
One thing I have to give the Riviera credit for is there is seldom a line for anything, and that was also true of the check in. After checking in, I went up to my room. Once I put my key in the reader, I got the dreaded yellow dot. I tried for at least three minutes, putting the key in every possible way, but no dice. So I went back down and the front-desk lady gave me different keys. Up I went again -- again the yellow dot -- and back down again. This time they assigned me a different room, and when I got to that room, the key worked on the first try.
When I entered the room, I was overpowered by the aroma of a nursing home. Perhaps it came from the curtains, which looked like something my late grandmother would have had back in the seventies. Otherwise, the room was practical and functional. The Riviera earns points for the in-room refrigerator. However, they lose those points, and more, for shaking down their guests on the phone and safe. The safe cost $3.50 a day. The only other property I have seen to charge for the safe is the Hilton. To make local calls, the cost was $1 for the first three minutes and 7-cents for each additional minute. I also have to make note of how filthy the windows were, as the following picture will show.
Pool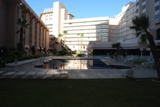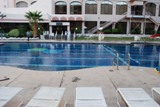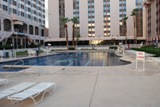 The pool is medium sized with sufficient patio space. I did not see any spa. It is surrounded on four sides by the Riviera itself, so probably doesn't get much sun. Signage says that cocktail service is provided. It also has a direct entrance to Kady's coffee shop, for eats.
Entertainment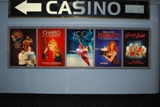 You have to give the Riviera credit for having a lot of shows to choose from, perhaps the best variety of any single property in Vegas. When I was there the following shows were playing:
Andrew Dice Clay
Ice -- The Show from Russia
Charo – A Musical and Dancing Sensation
Scarlett and Her Seductive Ladies of Magic
Crazy Girls
The Riviera Comedy Club
Jay White (Tribute to Neil Diamond)
Dr. Scott Lewis (Comedian and Hypnotist)
Barbra & Frank, The Concert That Never Was
The only one of these shows I have seen is Crazy Girls, which I saw about five years ago. It is one of Vegas' longest-running shows, so after living in Vegas for a few years, I finally went to see why. I can't remember the details very well, but know I was happy to leave when it was finally over. My friend who I went with was not so patient, and he left half way through. It took months to get a number they did out of my head, it's one in which they repeat "girls...girls...crazy...girls...girls...girls...girrrrrrrrrls" over and over. Now that I did this review, the memory is awakened, unfortunately. I apologize in advance for those who already saw the show and may have been trying to forget that one.
Comps
According to the Riviera's records, I played for five hours with an average bet of $125. I tend to think my actual time was more like four hours, so that was nice to get credit for an extra hour. I played the double-deck blackjack game, which has a house edge of 0.40%. Assuming 60 hands per hour, my expected loss was 5×60×125×0.004 = $150. Before checking out, I noticed a "casino host" office. I wandered in and asked if I could have any of my charges comped. By that point, I had racked up about $70 in food charges to the room. After the host examined my play, he was happy to comp everything, both the room and food. No begging required. He gave me his business card and added that if I ever wanted to return, he would give me two nights for free. It would seem for my level of play you'll be golden at the Riviera. In retrospect, I overplayed. It seems that a $100 player is golden at the Riviera. That kind of play would not impress most other Strip properties.
Suggestions for Improvement
I'd love to say a remodeling is long overdue, but they might never recoup the investment, given the economic slump Vegas has been in. Some easier things that could use changing include:
Give the player more than a skimpy 30 days to cash a slot ticket.
The phone and safe charges are outrageous
$89 for a Thursday night...please.
Fix the key reader on my first room.
Compliments
Never did I encounter a long line for anything. A short wait for the buffet was the only time I even saw a line.
The staff was overall a friendly and customer-oriented bunch. A dealer named Hollie gets my best employee award; she was very friendly and fun.
Plenty of elbow room. If you don't like crowds, you'll not have anything to complain about.
Links
Acknowledgement
I'd like to give a huge thanks to Lisa Furman for her modeling services. Lisa invites you to visit her page at ModelMayhem.com.
Contact Information
Address: 2901 Las Vegas Boulevard South, Las Vegas, NV 89109
Phone: 800-634-3420
Web site: rivierahotel.com
Resort and Parking Fees
| | |
| --- | --- |
| Resort fee | $13.50 |
| Parking fee | Free |