How Inaction Worsens the Gambling Industry
"Country roads, take me home," to the place, the dogs can't roam; until they've pent up all their rage, the race starts and up goes the cage...but nobody finds it funny, they're forced to chase a mechanical bunny! West Virginia, your bill choked, and you remain, a total joke....
That's right, everybody, the barbaric, inhumane, immoral and disgusting, 'Sport,' known as greyhound racing just got a stay of execution due to the rank idiocy of the West Virginia House.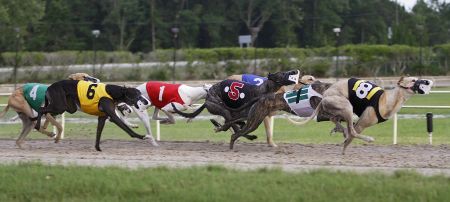 It was as good as over. I reported in a fairly recent News & Notes that WV Senate Bill 641 had passed by a seemingly insurmountable 29-5 vote. The Bill would have effectively killed greyhound racing in the State of West Virginia because it would have eliminated 20 million dollars in State subsidies drawn from the taxes garnered from casino revenues and would have diverted such badly needed cash (to balance the budget) to the State's General Fund. In the meantime, the casinos would no longer be required to prop up the greyhound racing industry by artificially propping up an unprofitable enterprise by diverting (positive) revenues from other sources.
The Bill that would have ended the subsidy would have served to, "Decouple," the casinos from the racetracks. The long and short of that is, if the greyhound tracks could not have operated profitably, (no way in Hell) the casinos would have had the right to discontinue Greyhound Racing Operations.
I've gone over this before, so I'll just detail it briefly: With exception to the Greenbrier Resort, which is exempt as a private club, all casinos in West Virginia are required to offer either dog racing or horse racing, as has been the case since 1994. The greyhound racing was tanking even then, so the casinos were put in place in order to garner revenues that would help bolster the ailing racing industry.
You might ask yourself: How bad is this subsidy? Well, I would be more than happy to tell you, but fortunately, Spectrum Gaming has already done it for me:
http://www.spectrumgaming.com/dl/20151019-SGG-WVGreyhoundSubsidyPresentattion.pdf
If you will kindly peruse Page 4 of the report, you will notice that the greyhound racing handle was a non-adjusted 35 million dollars in 2004 and dropped to 15.8 million in 2013. The first thing that you will notice about those numbers is the fact that the 2013 handle is about 4.2 MILLION DOLLARS LESS than just the twenty million dollar subsidy. If we believe there is sufficient evidence of a continuing trend (less than half the handle) then the handle will be even lower this year than it was then.
People are simply losing interest in greyhound racing. Spectrum Gaming found that Wheeling Downs had 929,000 in attendance for greyhound racing in 1983 compared to 13,000 in 2013. That's correct, in the short span of thirty years, greyhound racing attendance is roughly 1.4% of its previous numbers. The casinos are currently required to have 220 racing days per year, which is a mean average of fifty-nine spectators per racing day. In other words, there are more dogs in each race than there are unique spectators viewing that race. There would have been a mean average of 2,545 spectators per racing day in 1983, assuming the dogs raced every day of the entire year. That's a pretty substantial difference, is it not?
Skipping to Page 5 we notice that Supplements account for 95% of all purse awards and that purses are greater than the live handle. In other words, Greyhound Racing has utterly, completely and miserably failed in the State of West Virginia. The only thing it hasn't done yet is die.
For those of you who might believe this is an isolated incident of inept Legislation, fear not, for we have more from West Virginia just this session, I wouldn't disappoint my readers like that, would I?
Not only would the State of West Virginia prefer to squander its revenues gained from gambling taxes rather than put them to good use, they would also prefer not to acquire more tax revenues as a result of gambling. Once again passing the West Virginia Senate by a 32-2 near majority, a bill that never even saw the House floor would have allowed the West Virginia slot parlors to increase their machine count for public locations from five machines to seven, while private clubs would have been granted the right to have twelve machines rather than ten.
Anyone who has ever visited a West Virginia parlor knows that there are simply times when all five machines are full. Perhaps the players find other parlors in these instances, but it is also quite possible that the players simply go home or do something else instead. Certainly people should not have to hop from parlor to parlor until they are completely exasperated because they've gone to a handful of different licensed locations and no machines have been available!
Can anyone give me a good explanation of how people not being able to gamble when they want to (on a State that counts so highly on the taxes from gambling revenues) is a positive economic mover?
West Virginia is by no means an isolated case. There were quite a few Bills introduced into various State Legislatures this session (2015-2016) around the country to legalize various forms of State-Regulated online gambling (but, mostly poker) that have died, one and all, without even making it to the floor. There is money out there for States to get in the form of taxes on gambling revenues, so I would actually give kudos to Ohio Governor John Kasich for enacting an executive decision to license more racinos in the State of Ohio. Kasich should take it a step further and allow for slot parlors, as well, as a low-cost (to build/implement) way to gain access to the Ohio markets that are geographically closer to gambling options in other States, but unlike most Legislatures, at least he did SOMETHING.
If you want common sense to prevail and revenues to be garnered for your State by way of your State allowing (or expanding) an activity that people clearly want to undertake anyway, then I suggest that you write to your Congressman. Will it result in any actual change? Probably not. But like West Virginia perhaps finally eliminating greyhound racing next Legislative session, at least there's a chance.
Posted by
Mission146