Tunica-area casinos review
I had the opportunity to visit the Tunica, MS area casinos recently. Following is my review:
Introduction:
There are nine full-service casinos in Tunica County, Mississippi. Coming from Memphis, I was surprised at how far the drive was to get there. I expected them to be right outside of town, but it was actually a 30-40 minute drive. There are two ways to get there: One, by going down Highway 61 (Shout out Bob Dylan) which is a limited-access highway but not a true freeway that is the shortest direct route. This is convenient if you are coming from the Memphis downtown area. The other way is to take I-55 south to the newly-built interstate 69, which runs west from I-55 to the "town" of Tunica Resorts. This is more convenient if you are coming from East Memphis or the airport, and it is the route I took. I-69 is interesting because it goes nowhere else but the casinos; it literally ends right at the road that goes to Sam's Town. So everyone you see on the road you know is going to the casino :). That said, it is a very nice interstate and its nice to see the new infrastructure in the middle of an impoverished area.
There are nine casinos in Tunica set up in two distinct "clusters." The first, further south, consists of Hollywood, Resorts, and Sam's Town. The northern cluster consists of Gold Strike, Horseshoe, and Tunica Roadhouse. Fitzgeralds, Bally's and Harrah's are on their own, and don't really fit into either cluster. (Although you could group Bally's with the second cluster, since it is right off the road that leads to them).
The setting of the casinos is positively bizarre. It is pancake-flat cotton fields as far as the eye can see, interlaced with arrow-straight four-lane highways that carry the casino traffic, and a couple gas stations/convenience stores. That's it. I saw a couple retail/housing developments, but they didn't seem to be doing too well. It was all about getting into and out of the casinos as quickly as possible. There were no other tourist attractions, besides a "Riverpark" next to Fitzgerald's that offered boat rides, I think. This place is all about gambling – screw normal civilization! To be fair, there is an actual town of Tunica that I heard is pretty nice, but it is far away from the casino area and I didn't make it down there.
The casinos are not actually on boats, but are on barges floated on artificial ponds of water. To be honest, I didn't see the water at any of them, except the ones who made it obvious with a little "moat" separating the casino from the parking lot which had fish in them. (Harrah's and Bally's did this). Otherwise, there is nothing to let you know you are on the water, and the casinos don't have the "riverboat" architecture like the Indiana casinos do. They are all laid out pretty much the same way, with two levels of gaming and a restaurant/buffet or two. All the casinos also have a hotel attached.
As far as gaming, all the casinos have a ton of slots, of course, and a smaller amount of table games. The variety of table games was poor compared to what I expected from visiting other casinos. The most prevalent game was blackjack, followed by Three-Card poker. Carribean stud was in some casinos. Every casino had a roulette table, and a craps table. Some had crapless craps. Bally's Tunica had Single 21. I was surprised at the amount of double-deck and single-deck blackjack available. There were no poker-based table games, and baccarat was rare. Video poker was available everywhere, but was rarely full-pay.
I visited the casinos in order from south to north over the course of two days. Following is my review of each.
Hollywood Casino:
This is a Penn National property using their Hollywood brand. I am not a fan of Penn properties in general, and this was no exception. It was also the deadest casino I walked into. Their blackjack rules were all H17. I played $5 craps for a while, and found the dealers to be pretty good. The had a special advertised for the "Epic Buffet" breakfast for $0.77 on Saturday morning, so I made a note to come back for that one.
Resorts:
Resorts was also pretty dead. I got the feeling this was the less popular of the casino clusters since it was farther away from Memphis. They had $1 craps and $2 blackjack advertised. The craps was 2x odds. I played for about 5 minutes, made $5, and gave it to the dealers. (I playfully annoyed them by screwing with the odds bets, testing them on the payouts). Then I played double-deck blackjack (0.45% H.E.) at an average bet of $25 for about 45 minutes. The minimum on this table was $5, which I thought was magnanimous. The gentlemen next to me was betting $5, and asked for a buffet comp from the pit boss, which she gave to him. I figured my action was good enough, so when I colored up I asked her for a buffet too. She gave it to me no questions asked, which I was pleased with. Turns out the buffet was doing crab and steak night ($19.99 regular cost), so I got to stuff myself with filet and crab, which was very good. Resorts is all right with me.
Sam's Town:
Having been to the Sam's Town in Las Vegas, I can tell you the Sam's Town in Tunica is exactly the same, right down to the "Boyd" font on the directional signs. The décor is also the same – 1800's Old West Victorian. I played 9/6 Jacks video poker for a while, then went to check out the blackjack games. They had a $25 minimum single-deck game (standard rules, 0.26% H.E. realistic) which I thought was pretty good, having seen it in Vegas at only two places (El Cortez and Tuscany). I played this game for maybe ½ hour – the dealer just wasn't very fun. Then I played craps for a little bit, and was on a winning roll, when I called my odds bet working on the come out. It hit, and the dealer didn't pay my odds. The boxman immediately got very vociferous about me not having my odds working, but the woman next to me heard me and backed me up. The loud boxman just wouldn't budge. I know it's petty, but I immediately colored up and left. I just don't need to deal with that sort of stuff. It was just the case of a lazy, unattentive dealer. (I had already seen him mispay another guy's bet and he was very slow in getting bets booked). So, I left with a poor impression of Sam's Town.
Fitzgerald's:
Having been to the Fitzgerald's in Las Vegas and the Barden Gaming-owned Majestic Star in Indiana, I wasn't expecting much from Fitz's Tunica. However, I was pleasantly surprised. It was probably one of the nicer casinos in Tunica – as I understand, it had been recently remodeled, similar to how the Fitzgerald's Las Vegas was rebranded from the Luck-o'-the-Irish "Fitzgerald's" to the contemporary "Fitz's." The casino floor was deluxe-ish without being too tacky. It was also very dark. I made my way over to the High Limit pit to see what games they offered. They had the standard double-deck game at a $25 minimum, so I bought in for $800 at an empty table and asked if I could play two spots. The dealer said no, you have to play $50 on each, which was more than I was comfortable wagering. I asked the pit boss for an override but she said it was "company policy," even at an empty table. I hate it when an authority figure tells you something is "company policy" when they can't give you a reason for it. Anyway, the pit boss took my buy-in and came back with a brand-new players card and the business card for a host. I was shocked that I had been assigned a host! I'm not used to that kind of treatment for my meager action. I played $25 a hand for about 45 minutes, and I was the only player in the pit for most of the time, save an older guy there with his wife who kept switching between the tables and getting furious every time he lost a hand. When I colored up, I went over to see my host (!) to see if I could get any comps. I already had a room booked and paid for in Memphis, but it was about 10:00 and if I could get a room comp I was going to take it in lieu of driving back. My host was very receptive and said even though I didn't have past action on my card, they had some extra rooms available and I could check in as soon as she wrote out my room comp. I thought this was extremely generous, especially since the value of a weekend room was $59, and I had only played 45 minutes. I went to the car to get my bag and checked out the room. The hotel had a pool and hot tub, and overlooked the Mississippi River. The room was nice, with newer pillow-top mattresses and a nice linen package. Everything else was standard Marriott-quality. I dropped off my bags, and went to the casino to play some Wizard of Oz slots since I saw an open machine and they are always filled everywhere I go. I actually won, --it's a really fun game with the sound effects and motion in the chair. I also played craps, but it was boring so I stopped. I got to sleep around 2 A.M. Central. The next day I played some early-morning blackjack in the regular pit with a dealer who had a talent for impressions. He was really cracking up. I played at $25/hand for 45 minutes and earned a breakfast bar comp ($7.99 value). The pit boss pegged my loss at $27, which was about right, but I had paid out $7 in dealer tokes, so my actual loss was more like $20. My expected loss was of course much less. The breakfast buffet at Fitz's was decent, and they had good bacon and grits, and biscuits and gravy, but the ham was the processed stuff with nitrates and not the good country ham. Still, Fitz's did all right by me.
Bally's:
I drove over to check out Bally's right after I checked in at the Fitz. It was extremely crowded, as I guess the action picked up as Friday night progressed. The theme is I guess some kind of Delta cotton farm. Despite the name, it is not a Harrah's property but is in fact operated by Resorts, so I was able to use my card from Resorts there. I played double-deck blackjack and craps for an hour or two, and then left. I found Bally's to be an unremarkable casino overall.
Gold Strike:
The next day I drove up to the second cluster and entered Gold Strike. This is an MGM property and is by far the most opulent property in Tunica. It is also the tallest building in North Mississippi. The décor is faux-luxurious, which is not my favorite theme. I played craps for a little bit, then went into the high-limit salon and played single-deck blackjack at a $50 minimum for about 15 minutes. When I came back later, they had raised the minimum to $100 and I was told they couldn't lower it. Their double-deck blackjack games were all at $25.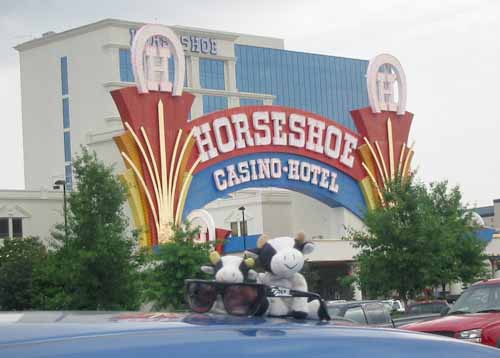 Horseshoe:
Horseshoe is very large, and looks a lot like the Horseshoe outside of Chicago. It is a Harrah's property, but they had the same games as everybody else. The craps table was full, so I didn't play there, and they only had one table open at $5. So I played double-deck BJ at $25 minimum for a little bit. It wasn't too exciting so I left.
Tunica Roadhouse:
This used to be the Sheraton, but Harrah's rebranded it to the "Roadhouse" moniker. The theme is a rude sawdust joint. Not a great theme, in my opinion, but they did have good video poker. They had a Deuces Wild game that paid 11 for the straight flush for a payback of 99.9%. They also had a promotion for a free football jersey if you earned 250 base points, and since, like the Wizard, I am a sucker for a free t-shirt, I played $1 Deuces to earn the 250 points. It took about half an hour, and I think I lost $200, so it was a very expensive t-shirt :)
Harrah's:
Harrah's is the 800-pound gorilla in Tunica. They are the closest to Memphis, and also have the largest gaming area. However, this was not your typical Harrah's. For instance, they had very generous rules on their blackjack games, which is very un-Harrah's like. I played blackjack in the high limit room on their single-deck game for $50/hand for about 1.5 hours. There were two guys there – college football fans – who were betting big, drinking and watching the football games on TV, and having a good old time. Basic strategy was generally followed, but went out the window sometimes. It's been a while since I've seen people having fun at BJ. The dealer was also extremely friendly and told me stories about her daughter breaking into her house and stealing her furniture, and the no-good loser she is dating … gotta love Mississippi. When I finished playing, I asked the pit boss if my rating was good enough for any of their restaurants, and he gave me a $26 comp to Toby Keith's I Love This Bar and Grill. I didn't think Harrah's did discretionary comps anymore, so I was very pleased with this development. At Toby Keith's, I ordered a steak, which took forever to arrive (service wasn't great), but dang it, it was a good steak, especially since I didn't have lunch. I took half of it to go for later. I really don't think anyone can eat a whole steak in one sitting; it's just too many calories for the average person, and this one was 14 oz. It tasted real good for lunch the next day. After dinner, I went back to the regular pit and found a single-deck game for $25. Wish I had known about this one earlier--I could have saved some money. I played this game at two hands of $25, which was fun, but the dealers were automatons. Then I went over to the craps table, which was fun and lively, mostly because of one dealer who was screwing with the players and making all sorts of funny calls.
Conclusion:
Tunica is certainly a different kind of gambling destination. I reminds me of downtown Las Vegas, if downtown was all there was and the Strip didn't exist. Smokers were heavily represented, and some of the people looked pretty downtrodden. Despite the state's reputation for "Southern hospitality," I didn't find the dealers or employees to be any more or less friendly than normal, everyday Americans. There were some standouts, but most were boring. There was also a mix of black and white patrons in the casino, and some people had driven long distances to get there, but I think most people were Memphis locals. The gambling was by and large player-favorable, although I would have liked to have seen a better selection of full-pay video poker and lower minimums on blackjack. $5 craps was available just about everywhere. The second thing that surprised me was that this is the last bastion of the discretionary comp. I don't think I've ever been comped so well, and I am by no means a high-roller. If you ever want to feel like a whale, I would recommend visiting Tunica.
(As a addendum, my own gambling on this trip was beyond horrible. I think I got paid once or twice out of 16 or so sessions. (DJTeddyBear, I can relate!) My bankroll took a $2K+ drop. I don't think I've ever been on a run that bad, so needless to say, I got the wind knocked out of me a bit. I don't think I let my losses color any of my reviews, however.)
Comments

Mississippi gaming laws require that all casinos be on water, either the Gulf of Mexico or the Mississippi River. When the law originally went into effect, in the early '90s, most of the casinos were actual riverboats, but the boats were small and held a limited number of people (there might still be a couple of boats in Natchez). There was hardly enough room for a blackjack table or two, no room for a restaurant, and customers had to drive several miles away to a motel when they got sleepy.



Then somebody got smart and figured out a way to be on the water while still on the land. They dug a big hole, built a big building on permanent pilings, and then dug a trench that reached the Mississippi River so that the river water flowed into and filled up the hole, and voila! they met the legal criteria but could build whatever they wanted, as big as they wanted.



Sometimes the hotel part is outside the moat, as is the case with the Fitz and Bally's.



It's not all cotton fields in Tunica, there are soybeans too :)
Strong offer for new members
[Note: Four Winds Casino in New Buffalo, Mich. is offering a $400 slot loss rebate for new members to their player's club. The following is my experience with the promotion.]

I went to Four Winds this weekend to check out this promotion. It is still running. They will rebate $400 of your real losses. I asked the boothling if this meant net losses, or just a $400 loss. He said actual loss. So I could win $400, lose it back, and still get the rebate if I understood him correctly. I started off playing Zeus slots for $1.80 a spin, and broke even. Then I found a $2 Deuces Wild poker machine--not a terrible paytable--and started playing it because I knew the strategy pretty well. Quickest $400 I have ever lost. Never hit anything higher than one straight flush. So, I'm awaiting my rebate which they said will come in the mail in a few days in the form of freeplay. In retrospect, I wish I had stuck to slots since I never get the chance to play slots seriously and this might have be a rare opportunity, and I think they're fun.

In conclusion, I recommend taking advantage of this promotion. I found Four Winds to be a very nice casino, and they had my favorite table game, WPT 3X Hold-'Em! I also got a discretionary dinner comp, which was a first at any casino. Later on I went to Blue Chip in Michigan City Indiana, which is also very nice if you are in the area.
I am the luckiest video poker player ever.
Hit another one this weekend. This time for $2000. (Required another handpay, and another odious tip. Got away with $5 this time, though). This makes seven royals in the last year, including the $.25 short coin royal. (I will NEVER play short coin again). I realize some people go years without seeing a royal, so I know I am way in the tail end of expectation. Ironically, I play of lot VP on the computer, and have only gotten two royals total there (one was on multi-line). Go figure -- guess I get 'em where it counts!
-----------------------------------------------------------
If I stuck strictly to VP, I would be up a bundle now. As it is, I am underwater, thanks to my predilections for some table games. If only I could resist the temptation. Maybe 'God' is trying to tell me something? ;)
Comments

I have the same problem; can't stay away from the craps table. I also have had some luck lately with VP, and have even won approx. $1,500 at 3 card poker, but given it all back at the craps tables.
On the computer at home is the only place I get them. I will say I have hit one on 9/6, quarter, JoB spin poker (9 lines) and one on a crapy 7/5 JoB, penny, 100 play. But have never gotten one while playing only one line at a time.
Well, hit another royal...at home of course. Was playing the Shufflemaster Reel Deal Edition and held K,Q,J of clubs in 9/6 JoB and up jumped the A,10 of clubs. If only I could just bottle it up and save it for my freeplay use. LOL
I hit a royal this weekend!
Went down to Belterra for some R & R, went to the boothling to check my card, she said I could get $5 back if I earned 200 points. Played $.25 NSUD for a while, saw my points were accumulating at a glacial pace, so switched to 8/5 Bonus Poker, where the points added up quickly. Busted out of $50 there quickly so switched over to Super Times Pay 9/6 JOB with one line, five credits per line. Was hitting pretty well, got a quad, then held the AJK of diamonds in the center and up popped the other two on the ends. Sweet! Still is like a gutshot every time it happens. This almost makes up for the 1 quarter royal debacle. Next, I want a multiline royal :)
Comments
We also enjoy playing / staying at Belterra. If readers from that area haven't checked Belterra out yet, they are really missing a nice place.



We have found the free room comps pretty generous of late, and wonder how they will compete once the Ohio casinos open up. But generally competition is good for the consumer !
I agree. Belterra is certainly my favorite of the Southern Indiana joints. Hollywood Lawrenceburg is nicer (newer?) but dang it their games stink.
Worst Royal Flush Ever
Just got back from the casino. I was playing out my $15 free play on a quarter 9/6 JOB machine, a quarter at a time because they don't have the bonus for the royal. Got down to the last quarter, dealt 10-Q-K-A of diamonds. Of course drew the Jd. Instead of winning $1000 like I should have, I'm left with a measly $125. Which I promptly pissed away on JOB.

*&@!3# mutter mutter ....
Comments
Do you realize that if it had the bonus, you had been playing max credits, so you would have hit zero sooner and never get to that Royal?



So quit your moaning and be happy for the $125!
You said this happened at Greektown in Detroit. If you happen to get freeplay offer here again there is a bank of 5 machines over near where the poker room is where you can use it on 9/6 JoB. They are around the corner from one of the bars. These machines are $.50 and $1.00 games just so you know.
You can email me at Ibeatyouraces@aol.com. I use the computer at the library and I get here about once a week. I do plan on going to MGM for freeplay and MC to check on a promo on the 7th of september though. But I can come down anytime and meet you there as I live only a half hour north. I can show you ALOT of opportunities.