Happy Trails, NCAA Round of 64 Report
This thread is dedicated to the teams that must go back home and start practicing for the fall in the NCAA Men's Tournament. The Big Dance. Post your reactions to the wins and losses here. This is also to keep a record for the future.
03/15/2012
Happy trails to
Colorado State
. Murray St was just too much for you.
Happy trails to
Southern Miss.
. You missed 6 consecutive three point attempts in the last couple of minutes. You got out-rebounded by Kansas St.
Happy Trails to
Davidson
. Louisville was just too much for you offensively. Louisville is used to grinding a win out against tough teams, which you weren't because you couldn't hit a 3 to save your life. You finally hit one at 8:30 left in the 2nd half after not hitting one since early in the first half. Too little. Too late. Good luck Louisville!
Better luck next year to
Montana
. You made a good showing but couldn't compete with the pedigree of Wisconsin and got blown out.
Goodbye to
BYU
. Your weird strategy to get behind and make room for a comeback didn't work against Marquette. They were too much of an inside presence. Too physical for you and you just couldn't hit enough from outside the post and outside the 3 point line
Happy Trails to
UNC Asheville
. The officials were a little one sided on some of the baby bump calls under the basket for the Orange. Probably the only reason they escaped. But they are going to have a tough next game if they can't even handle the pressure of a 16 seed. Syracuse advances even though they got all the freaking help they could've imagined with the worst calls I've ever seen. These officials need to be investigated for gambling on the Orange. OK maybe not. But still very sad to see obvious calls completely ignored. Karma will come back to bite Syracuse.
Time to sit down and watch the rest of the tourney
Long Beach State
. What a great game to watch!!!! Most evenly matched game so far in my opinion. Good luck to the New Mexico Lobos. You were able to hold off the 49'ers attempt at a good run at the end of the game.

Craps Report: Tulalip Casino 01/13/2012
Tulalip Casino
Marysville, WA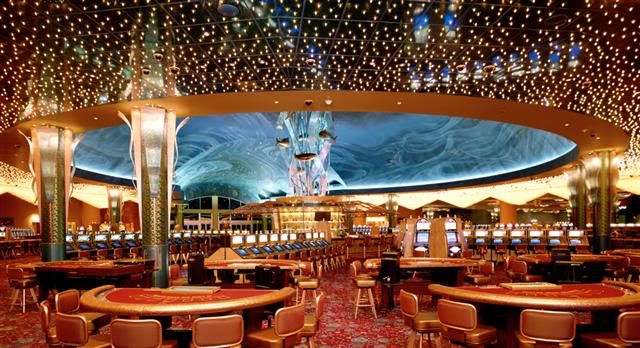 Friday the 13th. Buy in $60. Low spread $35. 10x odds at most tables. Used hardway set entire time. Dealers fairly friendly, stickman(girl) has a sense of humor. Boxman Oscar very professional as usual, even with some newbies at the table. One guy, completely drunk, keeps handling dice with both hands, and at times brings them behind the table. They nicely give him warnings. He throws the dice so hard it rolls down the sidewall, hits the backwall, and almost makes it 3/4 of the way back to the shooter.
Went with a friend, a new player. Love explaining the game to new people. Watched table for 20 minutes. Able to qualify a few shooters who stayed. Bought in stickman left 1. Had a stacker playing left high corner. Had a woman playing SR back wall setting 3V's and intensely looking at other end of the table. Her throws had some yaw in it, but somehow she was hitting with some consistency. Dice got to me. Made 2 points, 7O. Came down to around $35 after a few other shooters with choppy hands. Made sure to tip the dealers every 20 minutes or so. One time when a hardway tip bet lost on the next roll, I just tipped them the same amount they lost on the bet. They were appreciative.
On another shooter. The lady that was with the high roller at SR corner high bet a 6-3 on the hop. She actually got it. Haven't seen a hop bet win in awhile.
Always betting conservatively, P/L with odds. Maybe a come bet here or there, Place 6 and 8 here and there. No field bets. (watched a guy win $80 on a $40 field bet, he lost a few more of those and put $60 on the field, lost that. Cmon people, stop betting the field!)
Dice back to me. Made 5 points. On come out 3 made two 7's in a row. On one roll, another woman bet hard 10. My next roll, hard 10. She was pleased. Come out roll 4 was a 9. Everyone bought odds. One high roller playing SR corner high had $50 P/L with $200 odds and had $1100 of action on the boxes. He was doing well.
Guy to my left was buying high odds during my rolls. Made him at least $100. One of the things I love more than betting on myself is making other people money. Very fun. Lots of high fives.
On my fifth point, 7O after 4 rolls post point.
My fiance had never been a shooter. So she rolled her virgin hand. She made a 9 for the point and had 3 rolls and 7O. She had a lot of fun but we lost $20 on that virgin hand. No worries. Colored up $121. Overall had a very good time here. I like this casino a lot. Tables are consistent, staff are usually friendly if you know what you are doing, even are friendly if you don't. High ceilings, above average ventilation, nice atmosphere.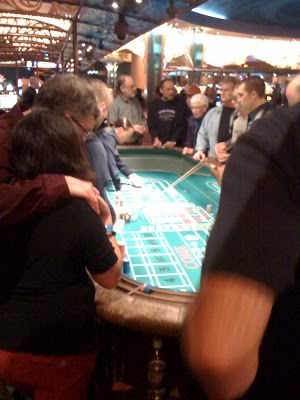 Disclaimer: I am a dice setter and controlled thrower. Please don't use this space to contest this strategy. Enjoy my stories!
Comments