Introduction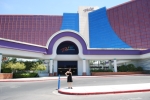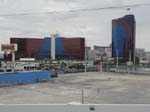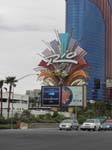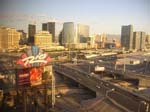 The Rio All Suite Hotel and Casino is located just west of the strip on Flamingo Ave. Technically it is not a strip property, since it is not on Las Vegas Blvd.; however, it is pretty darn close. You're looking at less than a mile to walk to the corner of Flamingo and Las Vegas Blvd. On a nice day, it's certainly doable, but probably not pleasurable. You'll be crossing over I-15 and dealing with a bunch of crosswalks and experiencing a ton of vehicle fumes, though, so my recommendation is to take the free shuttle, provided by Rio, to either Harrah's Las Vegas or Paris/Bally's.
Closer to the Rio than the strip, The Palms and Gold Coast are definitely good walk-to options if you want to see another casino. Gold Coast is right next door to the Rio, and The Palms is just a little farther and across the street.
According to wikipedia, The Rio opened in January 1990 as a locals' casino. The original property included a tower of hotel suites. In 1993, a 20-story expansion tower with suites was added, and in 1997, the 50-story Masquerade tower was opened. Wikipedia indicates Rio is currently marketing itself to Latinos, and while I did notice many large groups of attractive South American men congregating by the elevators, it didn't seem to me that there were more Latinos at Rio than anywhere else on the strip.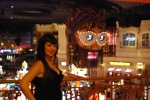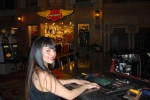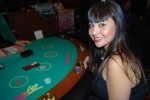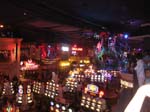 The Rio features more than 100,000 square feet of casino space. It is large but still smaller than the MGM Grand, which boasts 175,000 square feet of casino. According to The Nevada Gaming Control Board, Rio has 1,174 slots and 93 table games. I noticed craps, roulette, blackjack, baccarat, Three Card Poker, Caribbean Stud, Let it Ride and Pai Gow Poker during my visit. By 8:00 pm, the main casino was very busy and nearly all the tables had games going. I never saw much action in the high-limit room.
Throughout the day, singers and dancers, usually attractive, young, scantily clad women, took mini stages amongst the slots and video poker machines. I felt a little sorry for these entertainers, as they weren't really garnering the attention of the patrons. When they finished their number, there would be some polite applause, but mostly they were ignored as gamblers played their games and tourists strolled by.
Poker
The Rio's poker room is located near the Race & Sports Book and the Carnival World Buffet. The room itself is large, with 30 tables and a few more spilling out into a roped-off area of the main casino. Rio is currently the home of The World Series of Poker.
They have a daily tournament, starting at 11:00 am. The buy-in for the No Limit Hold'em games is $40.00, and there is a $20.00 add on.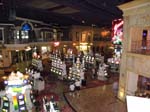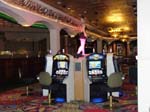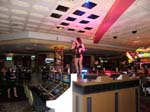 Race & Sports Book
The race & sports book at Rio is fairly large, with plenty of seating options and the usual wall of TVs broadcasting an array of events. There's a bar in the midst of the action, as well as a deli next door.
Player's Club
Rio is part of Harrah's Entertainment, so after I negotiated the moderately long Wendy's-style line at the player's club window, I received a Total Rewards card, which is good at all Harrah's properties. It came with $10 of free play, since I was a new member.
Hotel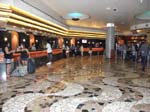 Boasting 2,563 suites, starting at 600 square feet each, the Rio is a large property. They advertise that all their rooms are suites. I stayed for one mid-week night in one of their standard (i.e. least expensive) suites during Aug. 2009. It cost me $55.00 plus tax. I'd been watching the prices at Rio for a while, and this was, by far, the best rate I'd seen all summer.
Check in was easy enough, once I found the reception area. I parked in the Masquerade self-park garage, so I had to haul my luggage through a maze of casino. The line at check in moved quickly. When I was handed my key, I was also presented with a brochure with coupons for venues at Rio, Bally's and Paris. The Rio coupons included:
2 for 1 tickets for the Chippendale's show
2 for 1 entrée at Buzios Seafood Restaurant
Free VIP admission to VooDoo Steak & Lounge
40% off tickets to Penn & Teller
2 for 1 drinks at iBar
So my next stop was my suite in the Masquerade Tower. In my mind, I envisioned the suite as a minimum of 2 rooms (one living room and one bedroom). This is not the case at the Rio, though. What I found was one very large room with a bed on one side and a sectional sofa and coffee table on the other. In between was a TV on a small stand that housed a pay bar along the windows and a table with 2 chairs on the other side of the room.
The highlight of the suite, in my opinion, was the floor-to-ceiling, wall-to-wall windows overlooking Flamingo Rd. I was technically in a mountain-view room; however, because of the size of the windows and the angle of the building, I had a strip view that included The Bellagio and all properties south. I'm a sucker for a view, so I was a happy camper.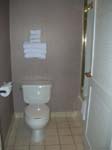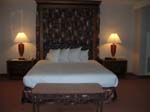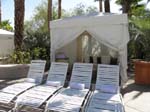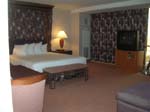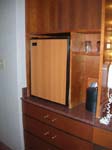 The room itself was satisfactory. Positives include the large overall size, the ample seating and storage, the very well-lit bathroom vanity, the mini fridge (usually tough to find in Vegas hotels), and the cleanliness. Some negatives include the scratchy, low-quality sheets, the uncomfortably firm mattress, the exceedingly cheap toilet paper, and the overall feeling that the room's décor needs to be updated. Riding the middle, the 32" tube TV received a fine signal, but I still longed for an even sharper HDTV and the tub/shower combo with sliding glass door in the bathroom was functional but cramped. A window in the shower that looks out on the bedroom area had me scratching my head. I surmise it's for taking in the view or watching the TV while you're getting cleaned up. I found it a little weird, awkward.
Here are some other details from the room:
Provided amenities include: AM/FM alarm clock radio, in-room safe, iron and ironing board, lighted vanity mirror, hair dryer and mini fridge.
Internet is available in room but will cost you
Local and 800 calls cost
The toiletries — body lotion, conditioning shampoo and bath soap — are made for the Rio by Gilchrist & Soames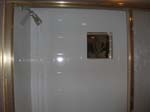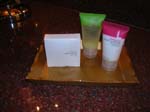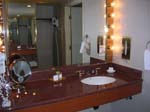 Restaurants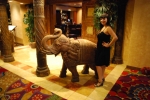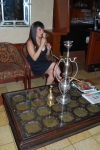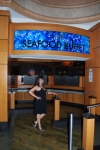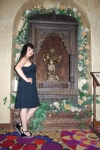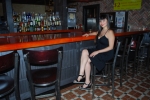 There's a large selection of restaurants at the Rio, and most of them, especially the fine dining options, are highly acclaimed. You can find information and menus for the property's restaurants on the Rio's website. For fine dining, you can pick from:
Buzios Seafood Restaurant: Seafood
Martorano's: Italian
Gaylord India Restaurant: Indian
Hamada's Asiana: Japanese/Asian Fusion
Voodoo Steak & Lounge: Steakhouse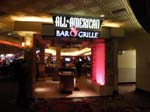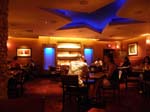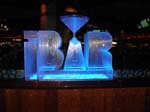 Both Martorano's and Voodoo have a contemporary, hip feel, with interesting menus and fabulous ambience, while Gaylord, Hamada's and Buzios are a more traditional, upscale dining experience.
The middle-of-the-road priced dining options at Rio include:
McFadden's: Irish Pub
RUB BBQ: American
Mah Jong: Chinese
All American Bar & Grille: American – They advertise hamburgers for lunch and steaks for dinner.
McFadden's Irish Pub
During my stay, I opted for dinner at McFadden's. I was eating alone, so I decided I'd rather hang out at a bar and listen to live music than sit solo in a booth at some stuffy restaurant. McFadden's was exactly what I was looking for. The wait staff was very friendly, the joint was jumping with live piano music, and the clientele was there to have a good time.
I ordered a Rueben sandwich (my all-time favorite) with garlic French fries and a draft beer. The food came fast – after just a couple tunes by the dueling pianists. And it was really good. I pride myself on being a Rueben connoisseur, so trust me when I say it was really good. Equally tasty were the garlic fries. They were so scrumptious, in fact, that I skipped the ketchup. I ate only half of what was on my plate, since the portion was very large (the corned beef piled between the two slices of marble rye was at least 7" thick). Thanks to the garlic fries, I went directly from McFadden's to my room so I could brush my teeth and improve my breath.
All American Bar & Grille
A week later, I returned to the Rio and had lunch at All American Grille & Bar. From the casino, AAG&B looks kind of small. I approached the hostess stand at the height of the lunch rush, 12:30 pm. All the tables I could see were filled, so I thought I might be in for a wait. Turns out, however, that you can only see a small portion of the very large restaurant from the casino. I was escorted through a couple rooms before being seated at a two-top in the back room. The back wall of that room consisted of 3 rows of flames flanked by waterfalls – pretty cool – and the ceiling sported a huge, blue-lit star. I found the setting contemporary yet warm. My server was conscientious but not exactly friendly. She seemed to take her work seriously, and I can appreciate that.
I ordered a lemonade (your run-of-the-mill, nothing special fountain lemonade) and a mushroom-Swiss half-pound burger. My burger came out very quickly and included a side of fries and a teaser of coleslaw. The pineapple coleslaw was my favorite part of the meal; unfortunately, it was only 2 bites worth. The fries were interesting – a mix of curly fries, waffle fries and shoestring fries. They all tasted the same, but the different textures were pretty fun. I ordered my burger medium rare; however, it arrived at my table rare. The outside was barely seared. I can deal with a red middle, so I ate it without complaint. While the burger wasn't the best I've had, it was nice, despite being barely cooked. The meat was fresh and well seasoned, the Swiss cheese was thick but not overwhelming, and the mushrooms added a pleasant earthiness. Somewhere in the burger, I think in the mushrooms, though, there was an overpowering level of black pepper. Someone in the kitchen got a little heavy handed with that particular spice.
I'd say All American Grille is all right. I got decent food and satisfactory service, and I enjoyed the atmosphere. I paid, with tax and tip, just over $16.00, which I think is a fair price for food at a major strip(ish) property. The next time I crave a burger, though, I'll probably go somewhere else.
A couple quick bite options at Rio are
Starbucks
Auntie Anne's Pretzels
Buffets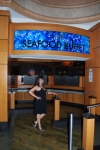 Every major hotel in Las Vegas has a buffet. The Rio has two: Carnival World Buffet and Village Seafood Buffet. Carnival World came first, and when it debuted, it set a new standard for Vegas Buffets. It was the first to offer multiple live cooking stations, as well as segmented buffet sections focused on regional cuisines.
I've gorged myself often at the Carnival World Buffet, since they frequently have locals' pricing in the summertime. Over the years, I've probably been there for dinner 7 or 8 times. At first, I really liked it. The selection is unparalleled, and the food quality was good. Over the years, though, the quality has declined. My vast buffet eating experience tells me dinner at the Carnival World is worth no more than about $14 and breakfast is worth around $9.00. Without a local's discount, you're going to have to pay much more than that to get in the door.
During my August stay, I ate at Carnival World for breakfast for the first time ever (they don't do the locals' discount for breakfast). It cost me $14.99, and it wasn't worth it. My biggest complaint is they had the buffet station stocked with enough food to immediately feed 500+ people. There were probably only 40 sitting at the dining tables. As a result, everything on the buffet line was past its prime. I stuck with the fruit and pastries mostly, as they seemed to be weathering the long wait the best. I also got an omelet, since that was prepared when I ordered it. Next to the omelet station, I found a variety of breakfast meats and potatoes piled high. Against my better judgment, I grabbed a piece of bacon and some hash browns. The bacon was limp and greasy, and the potatoes were dry and under seasoned. Both had, as I suspected, been sitting out for way too long.
I've always said you get what you pay for with buffets in Vegas, but that's not the case with Rio's Carnival World. For the kind of money they're charging, the food should be much fresher and of much better quality. On a positive note, the Carnival World's dining room is a comfortable, welcoming space, especially given it's enormous size. They make it easy to find the clean plates, and they keep the plate piles well stocked.
As for the Village Seafood Buffet, I ate there probably 8 years ago, and it was a positive experience. At the time, they had is decorated in an in-your-face dockside motif. Think Pirates of the Caribbean with food stations. It's been remodeled, and I was able to check out the new look from the casino during my recent visit. Now it sports an upscale, contemporary feel, very fresh. It enticed me enough that I'm going to try it out soon. Check back for my review.
The prices for Carnival World Buffet:
Breakfast Monday – Friday (7:00 am – 11:00 am): $14.99
Lunch Monday – Friday (11:00 am – 3:30 pm): $16.99
Dinner Nightly (3:30 pm – 10:00 pm): $23.99
Champagne Brunch Saturday and Sunday (8:00 am – 3:30 pm): $23.99
The prices for Village Seafood Buffet (only open for dinner):
$38.00 all week for adults, $24 for children
Open Sunday – Thursday from 4:00 pm – 10:00 pm
Open Friday and Saturday from 3:30 pm – 10:30 pm
Café
The café at Rio is the São Paulo Café. I planned to have dinner at the café, but after a long walk through the casino, I discovered they are only open for breakfast. Here are the prices of some common items:
French Toast: $8.99
Two Eggs and Ham Steak: $12.99
Eggs Benedict: $11.99
Pool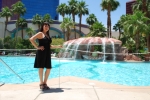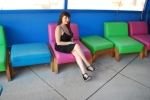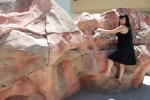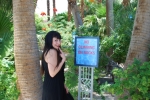 My favorite thing at the Rio was the pool. It's actually 4 different pools, along with a large collection of hot tubs. The pool area is vast yet laid out in a way that makes it interesting. There are nooks and crannies to discover, and there are plenty of lounge chairs. Additionally, there are two bars, a sundries shop and a cafeteria-style restaurant. I also saw a stage, presumably for nighttime concerts and maybe live music on the weekends.
Cabanas are available for $375, and this includes bottle service and fresh fruit. Each comes stocked with a TV, refrigerator, ceiling fan and seating for 8.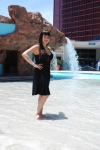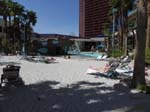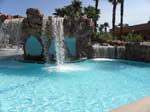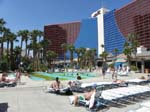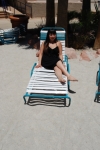 While three of Rio's pools are traditional, the fourth is a beach – VooDoo Beach. The beach pool and its waterfalls are the first things you see when you enter the area, and they are definitely impressive. When I was there, mostly children populated the beach pool. The water was cold, too cold for me, even though the outdoor temperature was in the upper 90s.
Two of the other pools also have waterfalls, and all the pools had multiple lifeguards on duty. I mention this because a couple Las Vegas pools I've been to didn't seem to have adequate lifeguards. In some cases, there were only two guards for a pool with hundreds of people.
If you're looking for somewhere to sun, you'll have plenty of options at Rio. Lounge chairs abound, and thanks to some mature palm trees dotting the premises, you'll have some success finding shade, if that's your preference.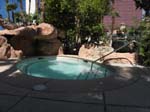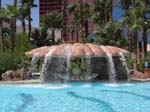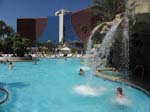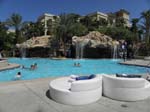 An interesting tidbit: as we walked into the pool area, Rio employees checked our bags to make sure we weren't bringing in outside food and beverage. The check was cursory at best, as the glance they gave our open bag wasn't enough to discover the snacks I had buried for my two year old. Oddly, the employees did not ask to see our room keycard. Apparently they're okay with Vegas locals and other non-guests coming to their pool, as long as they are willing to pay for food and drink.
Entertainment
Shows: During my visit, there were three shows playing at Rio: Penn & Teller, Chippendales and The Masquerade Show in the Sky.

Penn & Teller: I saw Penn & Teller probably 3 years ago, after my husband got two free tickets for donating blood. Penn Gillette is a controversial man. He has very strong political beliefs, and he is quick to speak his mind. I, personally, find him intriguing. I know people, though, who find him offensive and wouldn't think of seeing his show. That's too bad, as he is a gifted entertainer and an exciting magician. I love how he brings humor and irony to his act, and the interactions between over-the-top Penn and mute Teller are priceless. I highly recommend Penn & Teller.

Chippendales: For the sake of my readers, I will, one day, see the Chippendales. I have to admit, though, watching mostly naked men grind on a stage to a remix of "It's Raining Men" doesn't ring my bell. I've been to male strip shows before, during bachelorette parties, and what really bothered me was the women, not the men. Why is it successful, beautiful, well-adjusted women leave their sanity and pride (and good taste) at the door when they enter these establishments? They scream at unseemly decibels and grope dancers as if they've never seen a man before. I feel embarrassed for my sex. I've been to female strip clubs, too, and from what I've experienced there, the men are generally respectful and polite. Maybe because they know a bouncer will have them up off their seat and eating pavement in the parking lot within seconds if they cross the line.

Show in the Sky: This is Rio's free show, and they tout it as the best free show in Vegas. Personally, I like the Fountains at Bellagio best, but the Show in the Sky is quite good. It's a combination of a stage act and parade style floats suspended above the casino. The scantily clad male and female performers are talented and very attractive. I enjoyed the costumes and choreography. The stage act comes first, and as that wraps up, the floats circle the casino while dancers throw beads to patrons on the casino floor and lined along the second-story balcony. The purpose of free shows in Vegas is to get gamblers into the casinos, and Show in the Sky does just that. When I arrived at the property around 6:00 pm to check in, I walked through Masquerade Village. I was shocked by how empty it was…nearly deserted really. After I checked out my room, I jumped into the tower's elevator. It was 7:05 pm. At about floor 4, I started to hear the ruckus happening on the casino level. The doors opened and I was in the middle of an enormous crowd that had gathered for the 7:00 Show in the Sky performance. I have no idea where all these people had come from, but there they were, watching the show, drinking and gambling. As the night went on, the crowds got bigger. There is a show every hour, starting at 7:00 and going until midnight. They only take the stage (and sky) Thursday through Sunday, however. One last note: If you're interested, $12.95 will buy you a ticket to ride on one of the floats. It's probably not as cool as it sounds, though. From what I could see, they make the patrons sit throughout the ride, while the performers are up dancing and having fun. The people I saw riding on the floats seemed to be bordering on bored.

Clubs: The club at Rio is VooDoo Lounge. It's located on the 50th floor of the Masquerade Tower, and the two-story, indoor/outdoor venue delivers outstanding views of the strip and the Las Vegas valley. When I checked in, my room key came with two free passes to VooDoo Lounge, as long as I entered before 11:00 pm. Apparently, the in crowd, the hip people, show up late. I went up at 9:30, and I found a decidedly unhip and small crowd. I stayed long enough to enjoy some of the DJ music and to soak in the view. I could tell the rooftop lounge would be a great place to spend an evening with friends. There are VIP tables available around the perimeter, complete with bottle service. The bars are easily accessible, and the music made you want to dance. The whole experience is made better by the glass elevators you ride up and down. When I go back for the seafood buffet, I think I'll plan to visit VooDoo Lounge, too. Keep in mind, VooDoo Lounge has a dress code. It's pretty easy to meet though – just no athletic clothes or ball caps.

Lounges: The nightlife options at Rio are plentiful and varied. From dueling pianos at McFaddens to iBar's ultralounge to the sexy feel at Flirt, there are great options for having a few drinks and some fun with friends.

Bowling: No

Cinema: No

Bingo: No

Shopping: There are a variety of shops in the Masquerade Village offering everything from high-end watches to club wear to kitschy souvenirs. I wouldn't go out of my way to shop at Rio, but if you find yourself on the property and in need of something, you'll have some options.

Golf: Rio Secco Golf is located 12 minutes south of Rio. Additionally, Casacata Golf, one of the top 100 courses in America, is owned by Rio's parent company, Harrah's Entertainment. The concierge can secure a tee time and transportation for you from Rio.

Spa: Rio Spa and Salon is a full service, on-site spa.

Childcare: No
Odds and Ends
The pay bar in the room is extremely sensitive. Apparently you'll be charged immediately for any product you pick up. I didn't test this. Some pay bars will give you 10-30 seconds so you can hold the product and contemplate your purchase.
Rio's free shuttles are open to everyone. They run from Rio to Harrah's or from Rio to Paris/Bally's.
Laundry service is available, but there is not a coin-operated laundry on the property.
I liked that the room had a wall-mounted digital thermostat, enabling me to easily control the room's temperature. I've never been a fan of those loud window units you find in hotels/motels, and the old-fashioned dial thermostats seem pretty fickle. A small nudge up or down can be the difference between bitter cold and stifling hot.
On my floor, there was an ice machine and a vending machine offering sodas and water for $3.00 each.
My Conclusions
My overall take on the Rio is it is decent. It wouldn't be the first property I recommend to visitors, but I wouldn't tell someone not to stay there either. The biggest pluses are the largeness of the rooms, the comfortable, casual, fun atmosphere in the casino, the variety of restaurants, and the outstanding pool. Some shortcomings include the outdated feel of my room in the Masquerade Tower, the lack of high quality details in the room (i.e. cheap paper products and linens), and some overpriced eating options. Rio is a mid-priced property, but the majority of the restaurants were high end. I'm thinking if you can only afford $60 a night for a room, you're not going to want to spend $50 per person for dinner.
Links
Acknowledgement
The Wizard would like to thank K.M. for this review and Suzie for modeling in some of the pictures.
Contact Information
Address: 3700 West Flamingo Road, Las Vegas, NV 89103
Phone: 866-746-7671
Web site: riolasvegas.com
Resort and Parking Fees
| | |
| --- | --- |
| Resort fee | $13.50 |
| Parking fee | Free |
Games at Rio
| Blackjack | Location | Decks | Min | Max | Soft 17 | DA | DAS | RSA | Surr | Tables | CSM | Party Pit | 6/5 BJ | Video | H. Edge |
| --- | --- | --- | --- | --- | --- | --- | --- | --- | --- | --- | --- | --- | --- | --- | --- |
| Blackjack | Strip | 8 | 10 | 5000 | H | Yes | No | No | No | 6 | No | No | Yes | No | 2.01881 |
| Blackjack | Strip | 1 | 15 | 1000 | H | Yes | No | No | No | 4 | No | No | Yes | No | 1.69824 |
| Blackjack | Strip | 8 | 15 | 5000 | H | Yes | Yes | No | Yes | 4 | No | No | No | No | 0.37104 |
| Blackjack | Strip | 2 | 25 | 5000 | H | Yes | No | No | No | 6 | No | No | No | No | 0.45688 |
| Blackjack | Strip | 6 | 100 | 10000 | S | Yes | Yes | No | Yes | 6 | No | No | No | No | 0.35361 |
| Video Keno | Rank | Avg Return | Grade |
| --- | --- | --- | --- |
| Video Keno | 67 | 87.57% | D- |