For January, the Palms sent me $3 x 4.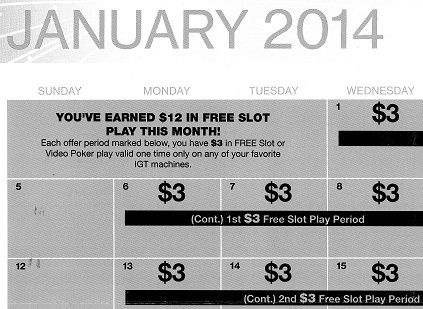 I think I've played (briefly) twice in the last 6 months, so I wasn't expecting anything special.
A couple years back, the Palms offered excellent benefits for video poker play. Multiplier days are uncommon, but instead they enhance the slot club return by offering "play earn and win" opportunities. Sometimes the prizes are merchandise only, but gift cards or free slot play are available on occasion.
Here's a "before and after" comparison: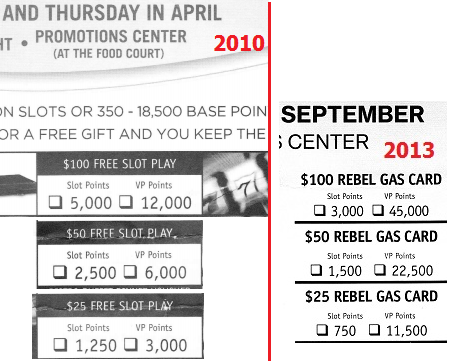 In April 2010 on promotional days, video poker earned 1.08% (0.83% taking the promotion at face value, plus the regular 0.25% slot club rebate).
By September 2013, the total value for video poker players had plunged to 0.47%, but reel slot players were receiving a much higher %. (If you've figured out an exploit, please take notes so you can post about it after the burnout.)
The Palms is the only Vegas casino currently participating at slotplaycoupons dot com. Each month you can buy $40 free play for a $25 purchase online. The redemption process is quick and efficient.
Periodically, the Palms does a mass mailing of coupon booklets within the local area, but I haven't seen anything valid currently.
Bob Dancer summarizes current promotional offerings on his Gambling with an Edge radio show, where the Palms is an advertiser.
"Scientists tell us that the fastest animal on earth, with a top speed of 120 feet per second, is a cow that has been dropped out of a helicopter."