DJTeddyBear
Joined:
Nov 2, 2009
Threads: 206

Posts: 10951
The most surprising thing I saw during my recent G2E trip wasn't at the show, but live in several casinos.
A "new" craps side bet that is almost identical to Galaxy Gaming's Bonus Craps bet (a.k.a. All/Tall/Small). There's nothing on the felt to suggest who distributes the bet, or what the bet is actually called. These photos are from O'Sheas, Mirage, and Linq.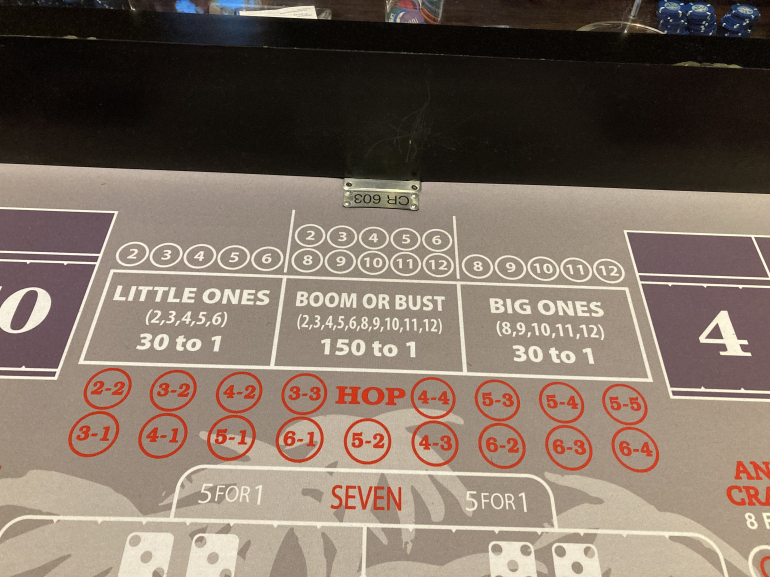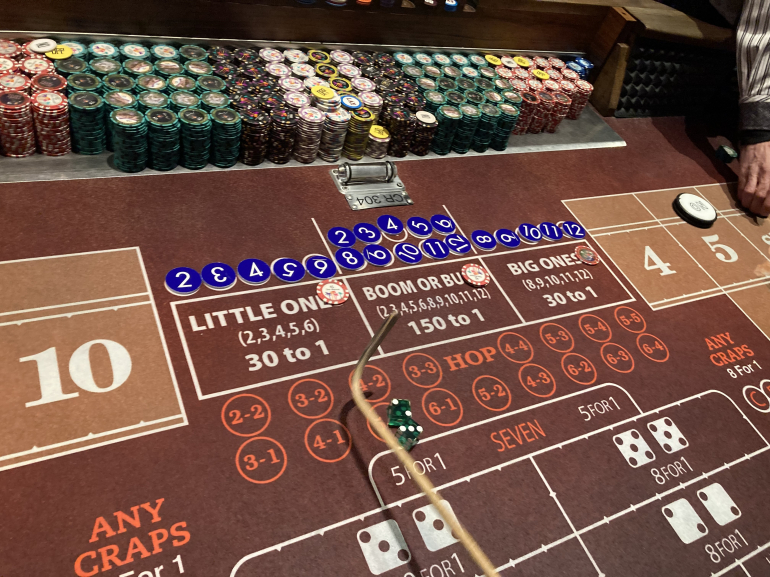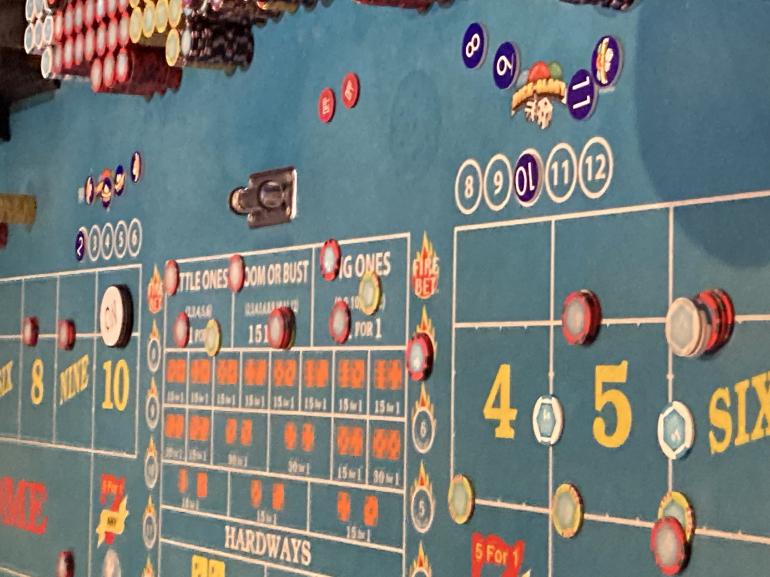 As you can see, the payouts are the same as the current standard ATS payouts. But the big difference, as seen in the first two photos, but curiously missing from the Linq photo, is a second set of spots and markers.
What that second set does is, once the Little or Big bet is completed, it is paid, and immediately restarts. No need to wait for resolution of the Boom (All) bet, since that has it's own set of markers. Additionally, once the Boom bet is completed, both it and whichever of the Little or Big bets also completed are also paid and restart, even though the other of the Big or Little bets may already have several numbers marked off.
Frankly, I think that somewhat minor change would be enough to get around the patent. (Take note, all you game designers. Patents are flimsy at best.)
But that made it even more interesting that it's missing from the Linq layout - which negates my comment about a minor change getting around patents. You'd think that if it was only partially implemented, all the casinos from one company would either have it or not.
Also, I would have hoped that this alternate version would also ignore all come out rolls. That would mean the bet is live for the duration of the shooter, and not need constant replacing whenever there is a come out seven. The house edge is the same either way. But I didn't see it play that way.
I invented a few casino games. Info: http://www.DaveMillerGaming.com/ ————————————————————————————————————— Superstitions are silly, childish, irrational rituals, born out of fear of the unknown. But how much does it cost to knock on wood? 😁
It's from Scientific Gaming. Each just copies each others stuff now.
ZCore13
I am an employee of a Casino. Former Table Games Director,, current Pit Supervisor. All the personal opinions I post are my own and do not represent the opinions of the Casino or Tribe that I work for.
DJTeddyBear
Joined:
Nov 2, 2009
Threads: 206

Posts: 10951
Quote: Zcore13

It's from Scientific Gaming. Each just copies each others stuff now.
link to original post
Sigh. Yeah that's confirmation of this comment:
Quote: DJTeddyBear

(Take note, all you game designers. Patents are flimsy at best.)
link to original post
I invented a few casino games. Info: http://www.DaveMillerGaming.com/ ————————————————————————————————————— Superstitions are silly, childish, irrational rituals, born out of fear of the unknown. But how much does it cost to knock on wood? 😁