Tunica: Gambling, Drinking, and Football
Went back to Tunica this past weekend, and had a whirlwind of a 4-day trip.
Friday:
On the way down, there were multiple cars/SUVs that had "tiger tails" on their vehicles since Mizzou (my alma mater) was playing at Mississippi that weekend. We didn't have tickets to the game, and my jealousy built while driving down. We first stopped at Isle of Capri Cape Girardeau to check it out. Nice place, but unsurprisingly tiny. Most VP sucked, but they did have 2c Ultimate X with 6/5 Bonus, so I diddled around on that for a bit. Getting the first quad of the trip in the process.
Get to Tunica, check-in at Harrah's and then go to Hollywood to eat at the snackbar on our points. Food was decent, and afterward, we briefly played bubble craps. $1 minimum there, so that was great for us. My g/f "pushed the button" maybe 10 times before she sevened out. :(
We were still a bit hungry though, so we decided to go to Resorts to get some popcorn and play a bit. Nothing special on the play, but the damn ticket printer failed, and it took them 30 minutes to pay me. :grrr:
I wanted to go to Sam's Town to do a promo where you got a kiosk prize for 1,000 points, and play 9/6 JoB at the bar, but it was 10pm when we got there, and said promo ended at 10. Oops. My luck with Sam's Town that weekend; it was probably a good thing.
Saturday:
Tickets are still available for the game, and we keep an eye on Stubhub as we go to Southaven to eat/shop and was prepared to go to Oxford from there. They were $85/ea, and then the dude jumped them to $125... :grrr:. Eventually he dropped them down again to $75/ea (face value), and I snapped them up. I should have waited longer though as I could have saved even more. :nono:
A not so warm welcome. Seriously, it was near freezing.
Biggest Tailgate I have ever seen.
Mizzou flag crew. Truman the Tiger is a a blur because I am a newb with texting gloves.
Mississippi state flag. Tradition or racist past? You be the judge.
Mizzou PAT with less blur!
Also this local dad was with his ~four year old son watching the game. Early on the 4-yr old apparently greeted me with an Ole Miss greeting of "Hotty Toddy" and I just smiled because I didn't know what it meant. Later in the game, a happy Mizzou drunk was gradually trying to convert the kid to be a Mizzou fan. But in the middle of the 3rd Qtr. the kid had enough and yelled "I LIKE OLE MISS" at him. My g/f and I got a good laugh out of that one. We left after Mizzou was up 14 with 5 minutes left. Defense was great! :thumbsup:
Leaving early helped us not get stuck after the game, and we head to Fitz to get a Philly Cheesesteak. My g/f left her purse in the car on accident, and of course she gets carded. She was not pleased. She grabbed her ID, we ate, and got back to the room around 2am.
Sunday:
Check out of Harrah's. Gamble at Harrah's to earn 20 Tier points, so we could get a "free" buffet which railroaded Paula Deen. We work on her card first. I scan video poker, and it's mostly a wasteland unless you want to play dollars. There are two old banks left with FP games, and one old Ultimate X unit left. The rest of the casino is a bunch of new, crap machines. I decide on 5c Ult X since they had 8/5 JoB. Hit these.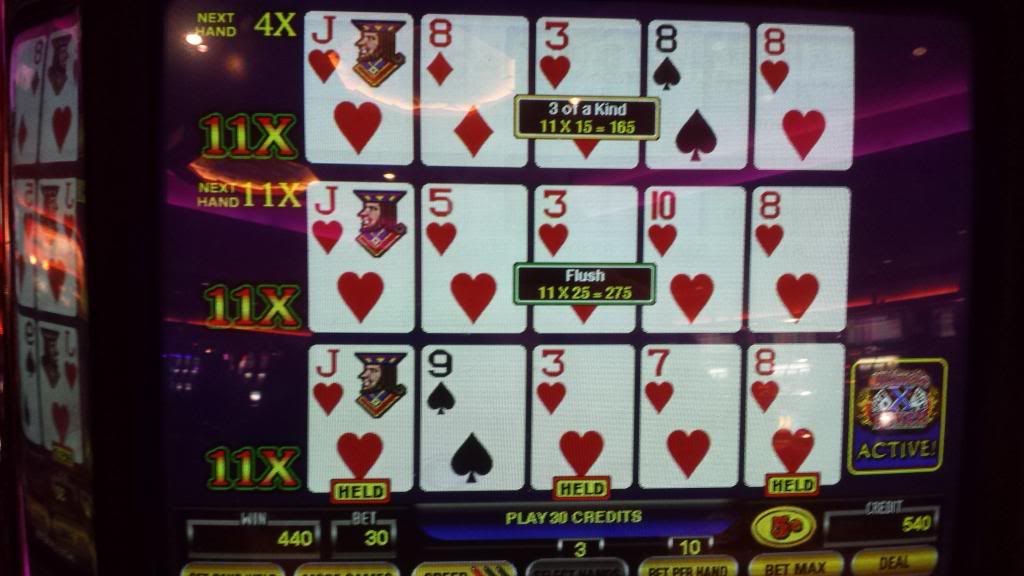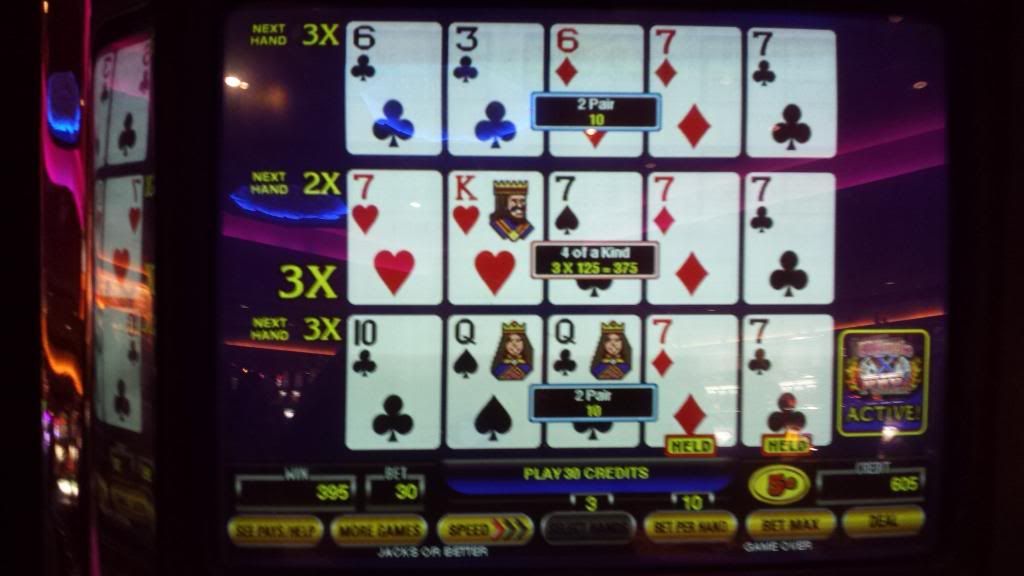 Even with these hits, I'm down $5 after about earning 15 points. My g/f is down $20. :-\
Go to Sam's Town for the tail-end of the Rams/Bears game and to play a free kiosk game. G/f gets crap; I get a t-shirt, meh. I play 9/6 JoB slowwwwwwwly while watching the game, I get nowhere fast.
Checkin to the Roadhouse and play free slot tourney. We both brick. Go back to Harrah's to play 20 more points and lost about $10 more between us, meh. One more hit: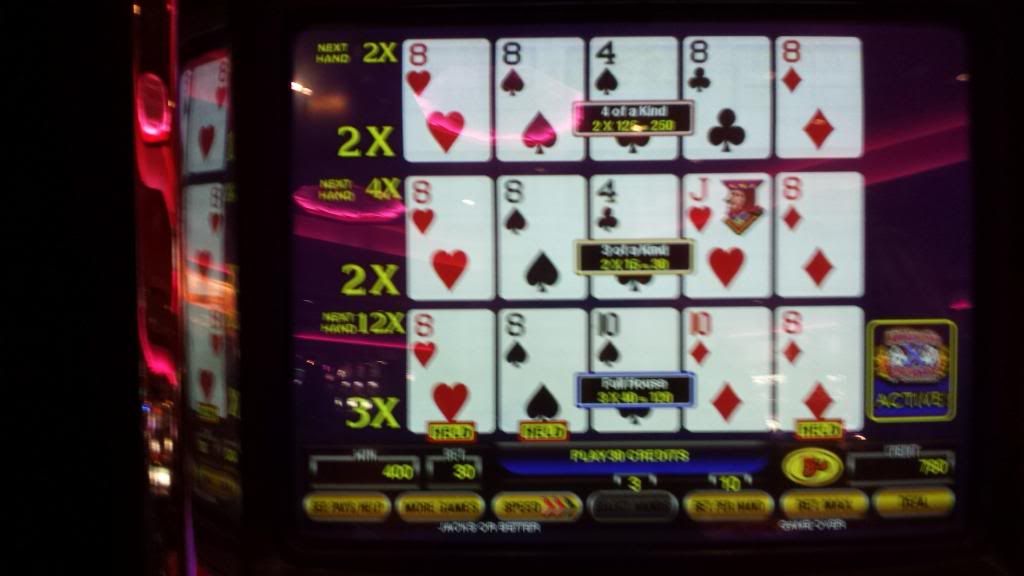 As for the buffet, I thought it was passable, but it's definitely no Paula Deen. My g/f really didn't like it. She struggled to find things she actually wanted to eat! We won't be going back anytime soon.
Get back to the Roadhouse, and decide to start gambling about 10:30pm. My g/f conks out real early, and I make this my "binge night". I was also curious this whole trip about what they did to the machines at Roadhouse. Like I feared, they trashed most of them. No games above 9/6 JoB anymore! And no 9/6 DDB w/STP for quarters! :( They also tinkered with my beloved 2c Double STP game, changing the paytables, and getting rid the 2c option. DDB went from 9/5 to 7/5 now, but they added some other games.
Most paytables sucked, but they did have 6/5 Bonus, and 9/6/5 DB. Ugh, I hate DB, but that game is only 0.07% lower than 9/5 DDB, so c'est la vie. I learned to hold onto Ace-low straight draws pretty quickly I guess. :-\
Play for about 90 minutes with total garbage (I don't think I had even a boat yet), and then I hit this: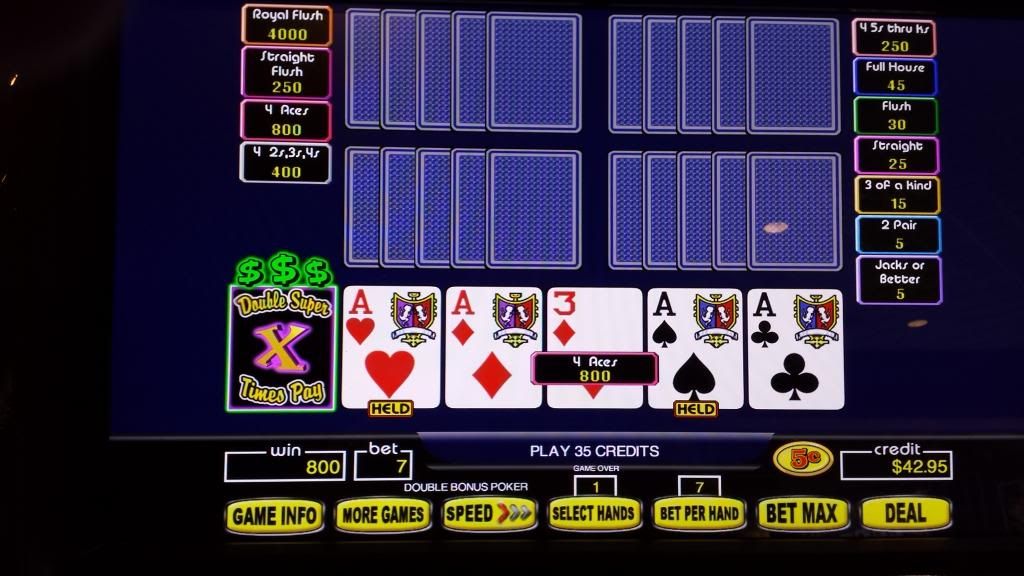 Note the kicker, of course. :grrr: So this keeps me afloat, and I get two more quads in about 2 more hours of play. Even with the Aces, still was down $20 that night, but I was nice and toasty. :drunk: Double STP is definitely a fickle temptress.
Monday:
Wake up about 9:30 and it's cold and drizzling. We begrudgingly drag ourselves to Resorts because if you show up before noon, you can get a free spin of 3 credits on a Double Diamond dollar slot. Whatever you hit, you win in freeplay. I say if she doesn't want to walk out in the cold rain, we could just go to Sam's Town, which has a garage. She still wants to go to Resorts first. So we do, watch someone hit a cherry for $6, so there is some hope. She picks the other machine than him. She gets a Bar...okay...Double Diamond...better...and another Double Diamond to highlight the trip!! I obviously got nothing.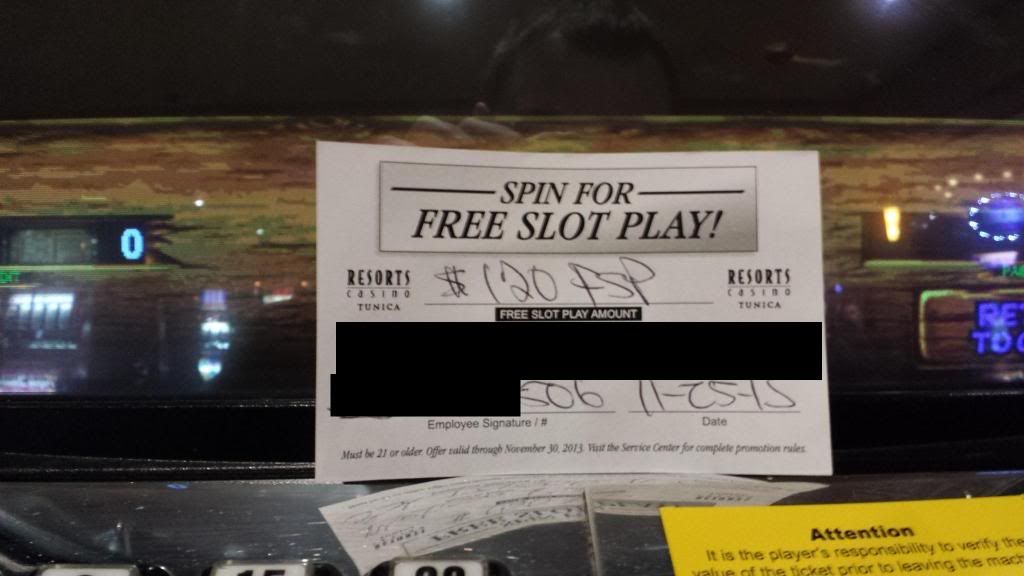 So in a much better mood, we go to Sam's Town to eat the buffet (decent for $10), and play at "Penny Lane". These are a set of penny machines that give you extra bonus games for playing. Well, the problem was it took about $100 coin-in to get one of these. Took us $40 (me -$25) and over an hour to complete. Never do this. Our reward 500 points ($0.50 comps...fml).
So now we go back to Resorts to play off the $120 of freeplay. And we mostly pick random slots to play since she likes slots more than VP. We got off to a good start, but later on, tailed off. She gave me $20 to devote to VP, and I immediately play the best quarter game there (15/10 Double Deuces w/prog 98.86%+). The progressive was at $1340 (99.48%), not bad since it was about $1020 on Fri. night when we first got to town. I can't do any better than a Straight. :( $20 in. $7.50 out. By the time it was all said and done, we got $70 of $120 back, g/f was majorly bummed. :grrr:
Take a quick break, go over to the $7 Fitz buffet on Mondays. The stir-fry station was good as usual, and we run off to the Memphis Grizzlies game. We make a wrong turn on a detour and end up seeing tons of cops. One of them shine a light in our car. Sorry bud, your fugitive isn't in our car. :Þ Fortunately, we don't get shot, go to the game, nothing exciting, and drove home along I-55 instead.
Go to the Shoe to play a little because they had a 10X Slot/5X VP multiplier. Play a little slots, have small wins. Get bored, move over to STP. Play best game available, 6/5 Bonus. Hit this:
Where were you 8 hours ago when hitting that would be worth $500?!?!? :grrr: Play a little bit at Roadhouse, lose what I won at Horseshoe. Call it an early night.
Tuesday: Wake up early, can't fall back asleep. So I go down and play for a bit at 730am. Didn't hit much, $20 in the hole at Double STP. Only decent hit: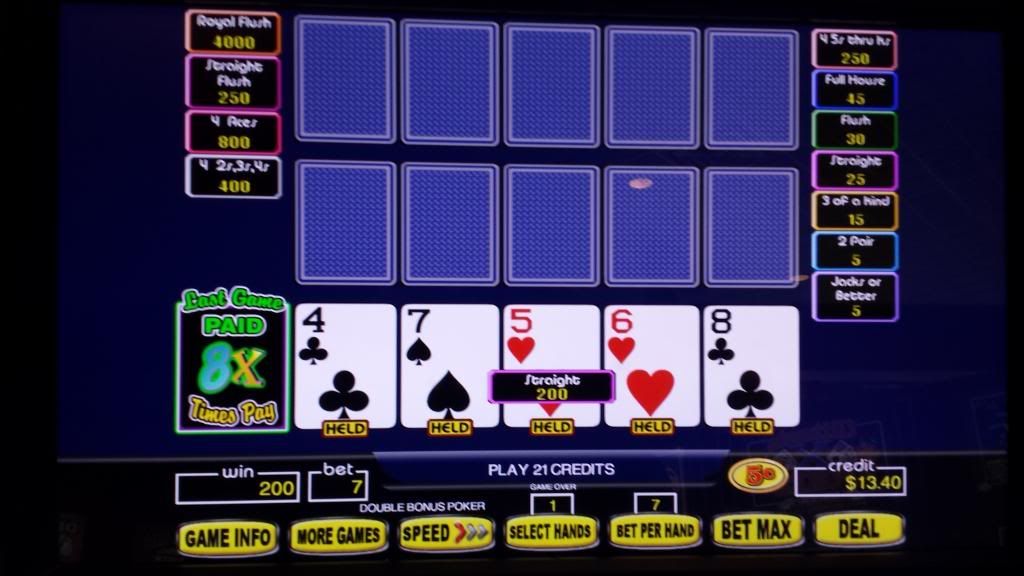 Take $15 over to the 100-penny progressive unit and take a chance. Wanted to play Bonus Deluxe for a bit this trip and settled for 8/6 since they got rid of 9/6 on the floor. :( Nothing good, so switch to 9/6 JoB, more losing, so now down $35 by 9am.
So all in all for the trip I lost about $100 playing mostly nickels...meh. With the free play win, my g/f came home about a $30 winner. Not as good luck this time, but still had a good time.
Had better luck at Hollywood on Thanksgiving up about $90.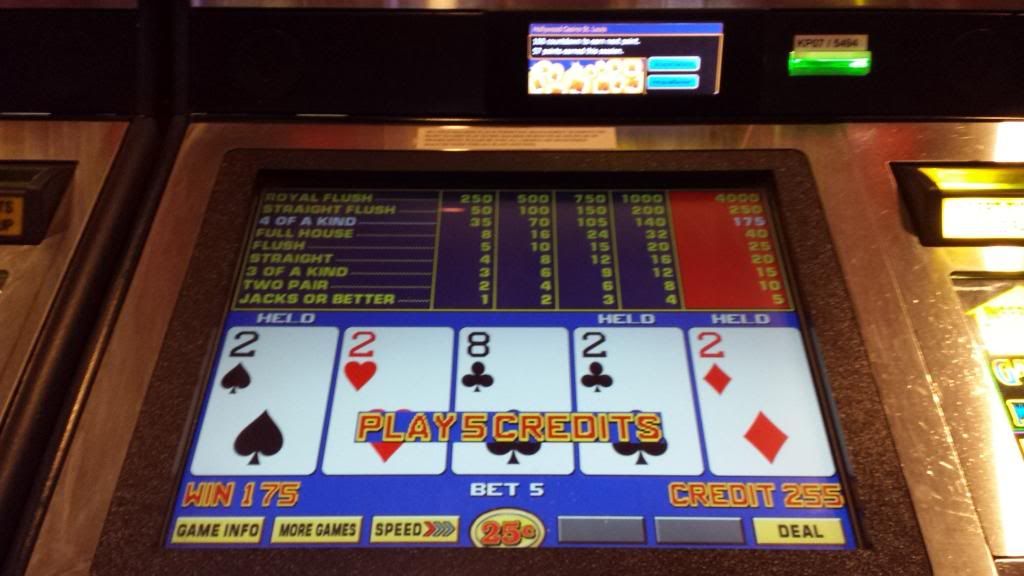 Hit this one when the Village People were singing "YMCA". Four Queens! LOL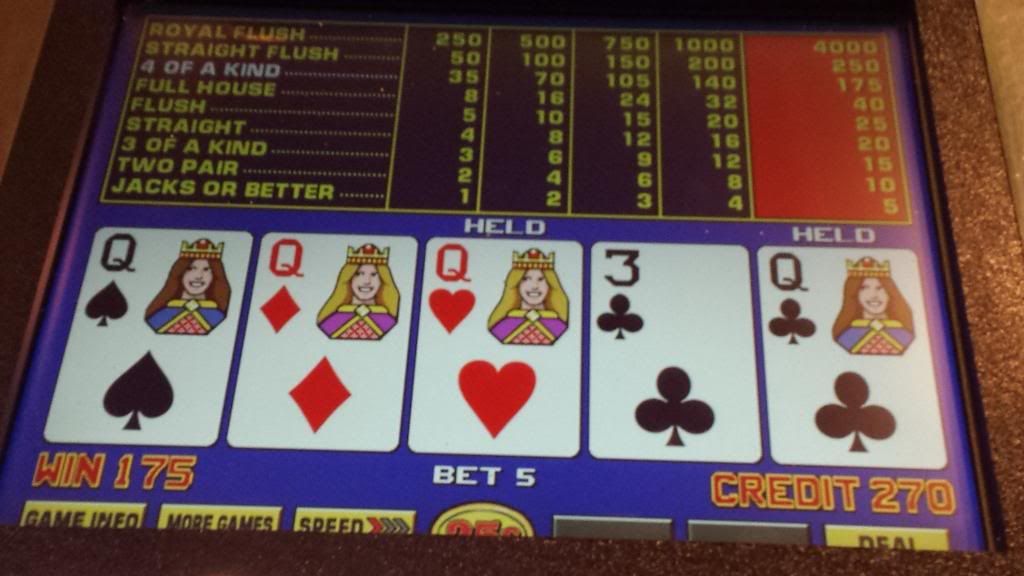 Up about $40, and wanted to slow down my play while waiting around for others. A discussion on videopoker.com earlier this week about Double Bonus Deuces Wild made me want to play the game. Glad I did.
One of these days, I'll hit one of these on quarters...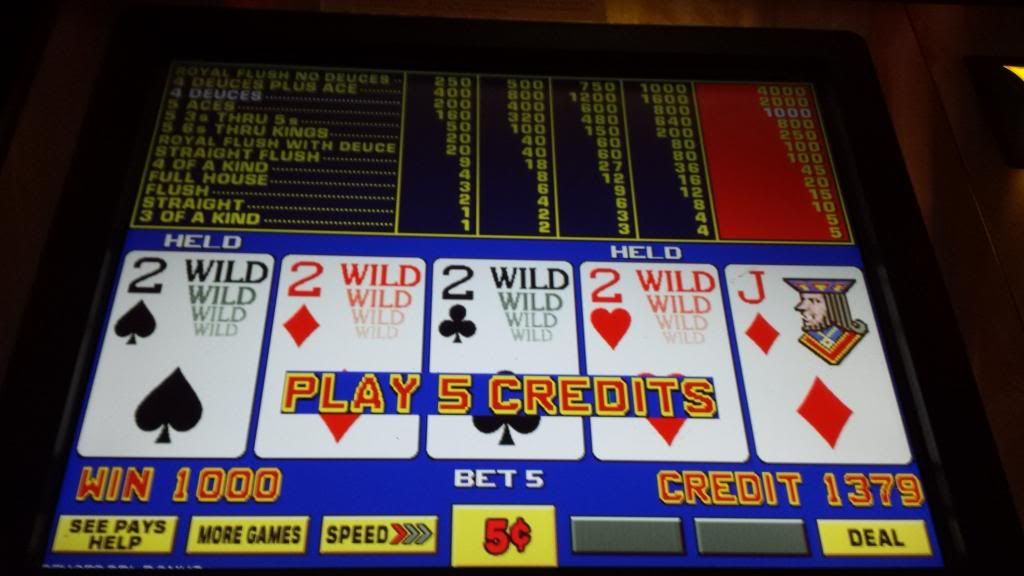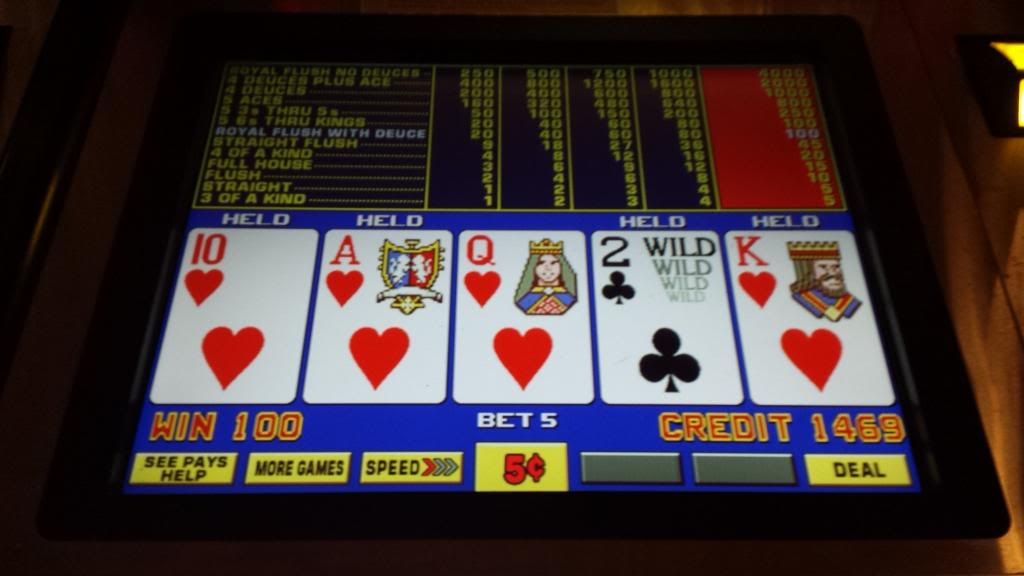 And almostttt the Royal: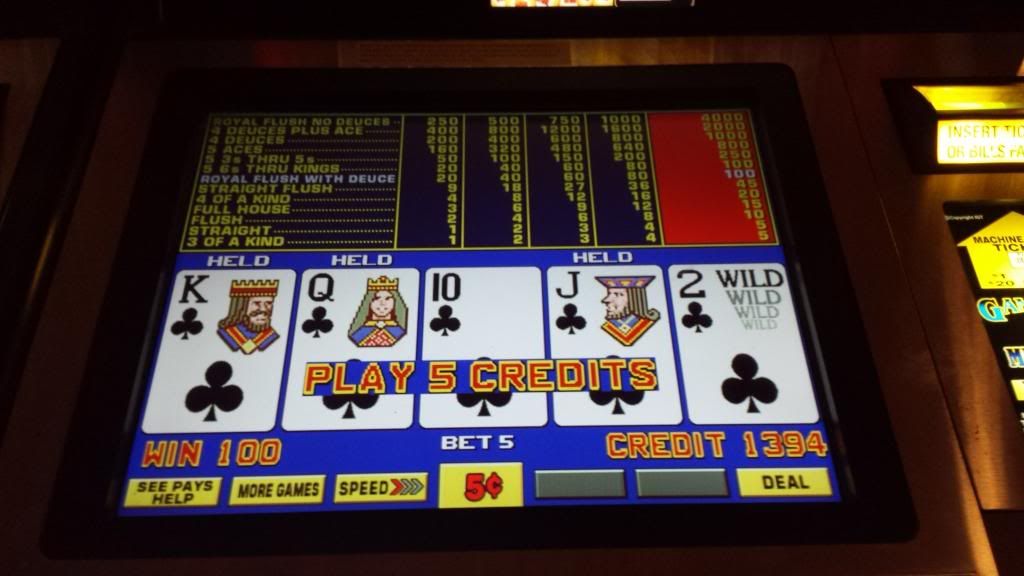 Definitely a welcome rebound! :D
Comments

Nice report, and congrats on the rebound. Wish I could say I was so fortunate on my last Tunica trip. I'm currently in Grad School at Ole Miss and unfortunately (or maybe fortunately) I wasn't in attendance at the Mizzou game as I went home for Thanksgiving but have been there for literally every other home game for the past 2 years (as well as Alabama, Vandy, and the Egg Bowl this year). If you're a baseball fan, come back down to Oxford for a Tunica trip and check out an SEC baseball game. Not quite on the level of the Football craziness, but tailgating in right field with built in grills and bring your own booze to the game. Definitely a good time.



Sorry for the crappy weather while you were here. As an unfortunate side note, the crappy weather also caused all the beautiful women to bundle up as normally they come out to the games in their red and blue sundresses. Really completes the sea of tents and madness that is football Saturday in Oxford.



Hotty Toddy!



-Duck
Tunica...It's More Fun when You Win!!
Well, my g/f and I hit up Tunica for the latter part of Columbus Day weekend for a little getaway. Fairly uneventful drive and stay at the Quality Inn Saturday night near Resorts/Hollywood/Sam's Town because I'm cheap.
Day 1:
I am poor and usually play nickels unless the game is > 99%, but I seem to have better luck when the game is <99%. After a 5+ hour drive, I mostly wanted some beer and and watch the baseball game. I was going to play Double Deuces Wild (98.85% + prog) at the main bar, but it was packed for "Karaoke night"...doh So I decided to move to the other bar where the best offering 7/5 Super Double Double Bonus (98.61% + prog). With the $1100 prog, I decide it's good enough to slowly bet for free booze. I probably hit these first three hands in less than 200 hands tops. Considering what I hit though, playing DDW would have been a bit nicer.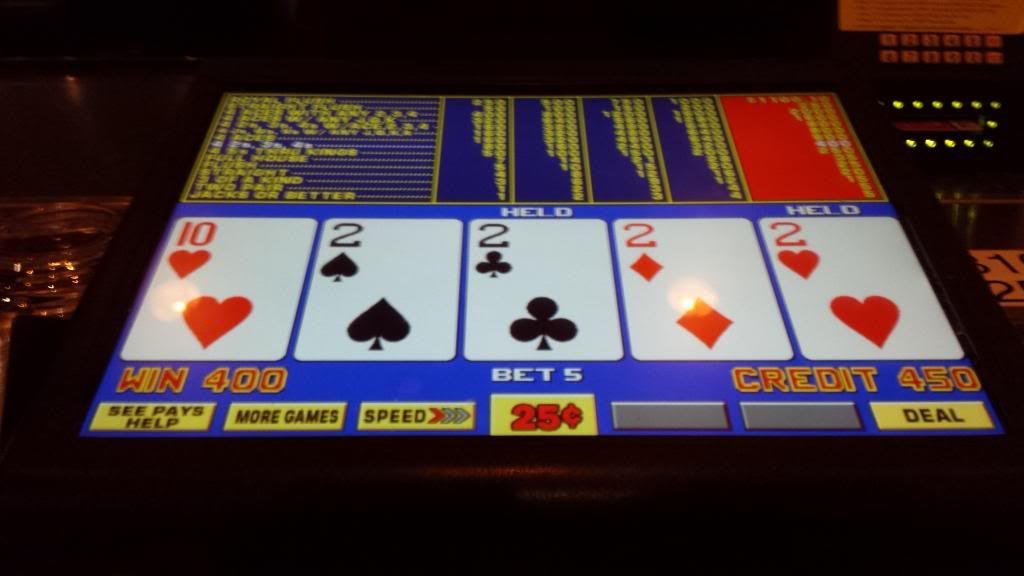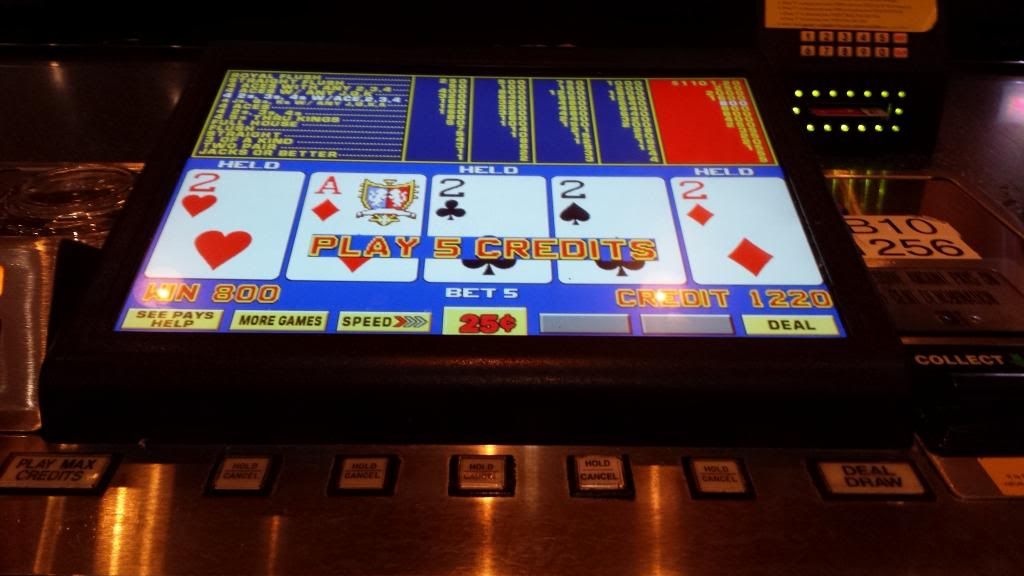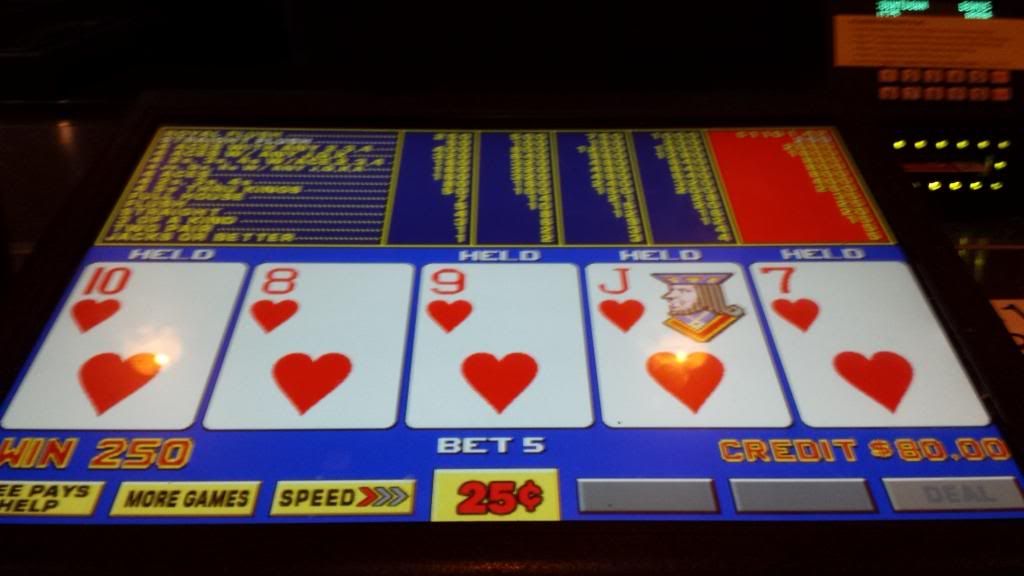 Up $320 for the day. Second biggest one-day total in my life. :D Still waiting on that quarter Royal though... :(
Day 2:
Hit Sam's Town early to take advantage of a 10X multiplier. Played 9/6 Jacks at the bar for a bit. Nothing pretty, but stayed afloat. ~-$15
Went to Fitzgeralds to have a bite to eat. Sit at the bar to gain a beer and a water to go with the philly cheesesteak. Shortplay because paytable sucks (6/5 Super Aces is best choice available). Get AK clubs maybe 20 hands in, and since I was shortplaying, I did hit the right miracle draw at least.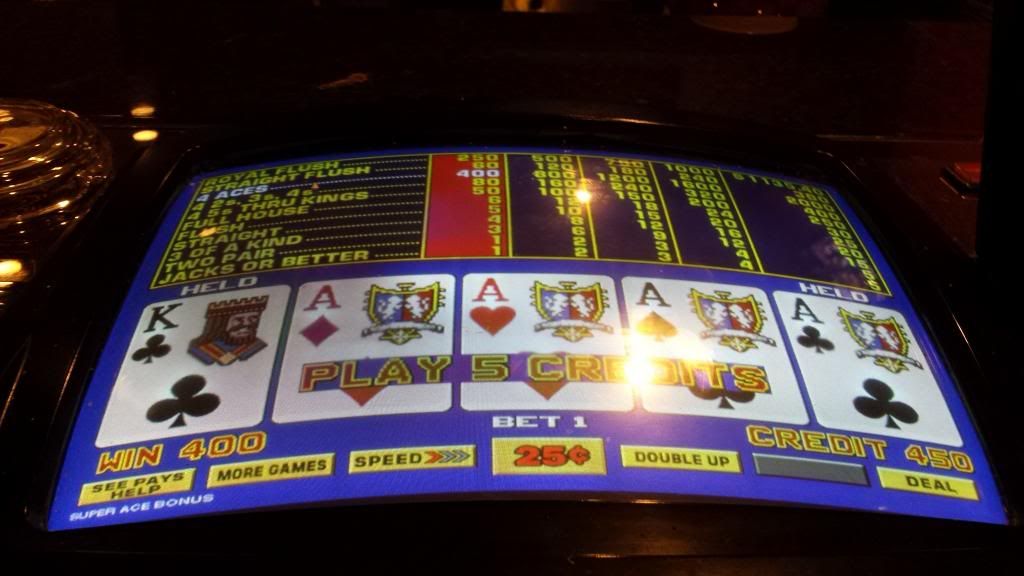 Get back to the casino we are staying at, Tunica Roadhouse. And I am downing more beer and playing for "fun". g/f is trying to drag me upstairs...hit this right before quitting for the night.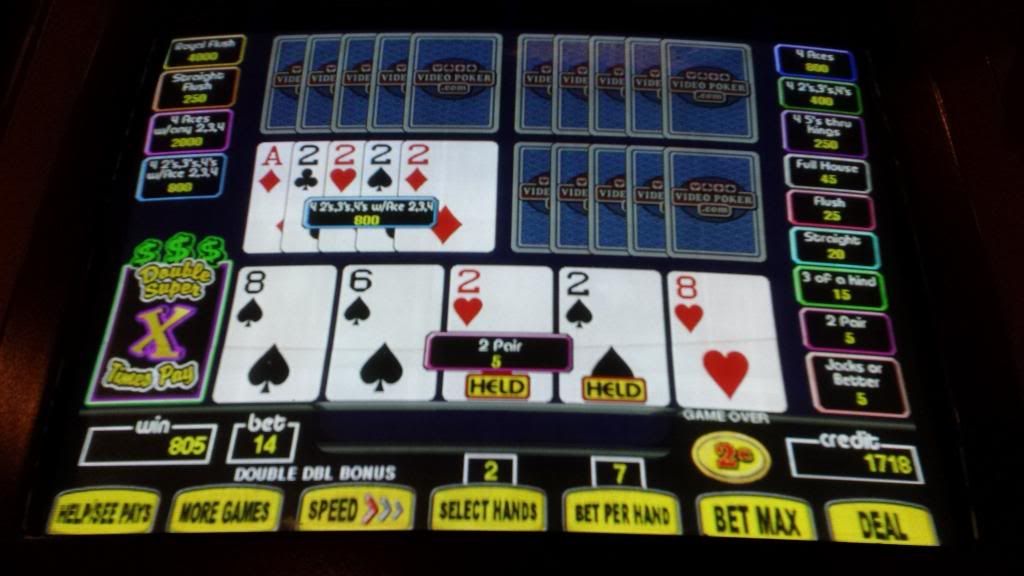 Up $95 for the day.
Day 3:
Didn't do so well this day, but I still lowrolled because I was happy to lock up my biggest casino win of the year.
Went to Harrahs, max bet quarters at pickem poker for a bit just because I haven't played that game in a long while and it's their best quarter game (98.74%). Well, I couldn't even get a 3 of a kind, so that was a $20 mistake.
Hit Sam's Town briefly for another promo. I got garbage, but she got a $10 food credit at least. We used it to eat the buffet on the way out.
During the day, my g/f randomly decides to take a picture of casino floor carpet. So here is "Name that Carpet: Tunica!"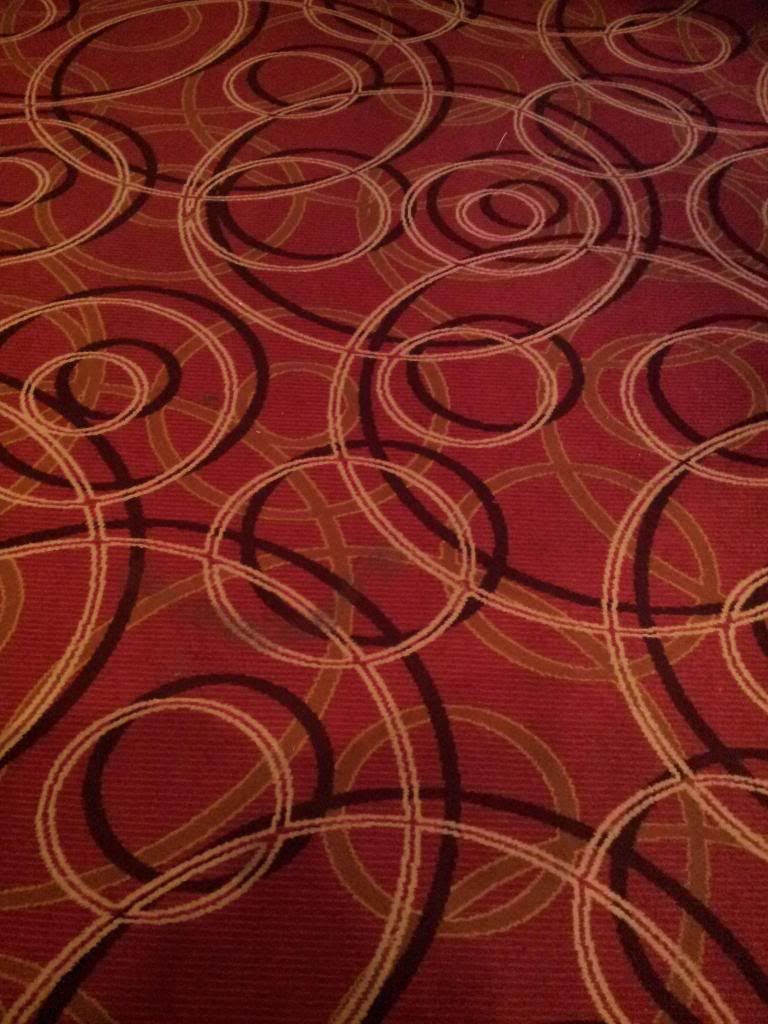 Answer:
Go back to Fitzgeralds for their $7 buffet on Mondays. We see that the line is a bit long, so we decide to do a "video poker challenge". It's a bit of a tradition of ours even if it's sad and pathetic to any real gambler. We both get $1 and play for either 20 min. or the other one goes broke. We both got a comped drink in the process. Needless to say, I won this time.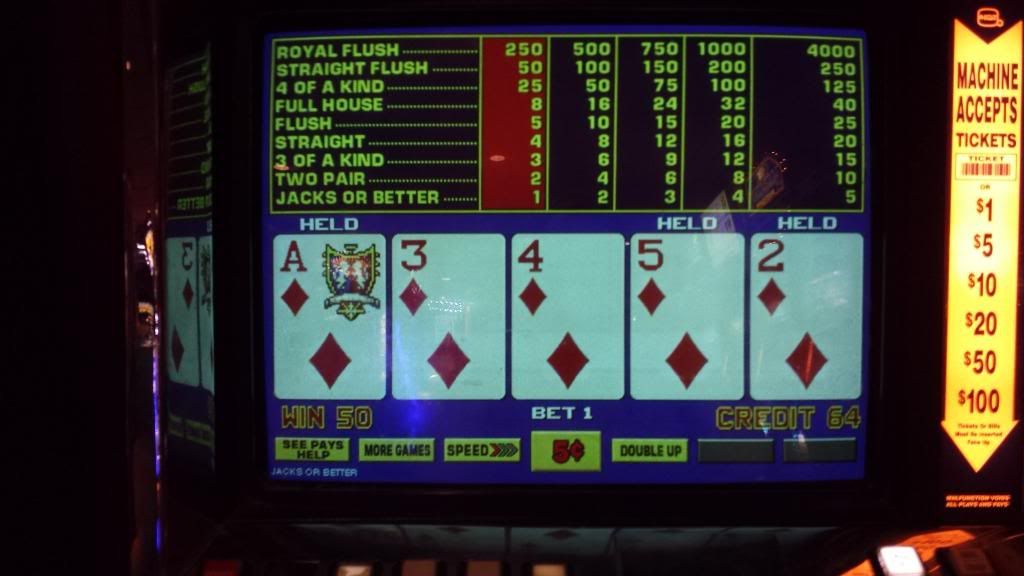 After this went back to the Roadhouse and had a pretty big quad drought. :( But I did still have a few picture worthy hits.
While struggling, I watch this lady next to me playing 3-play 9/6 DDB w/STP for quarters (99.26% max). I noticed her balance jump $1000 while occasionally staring. Would later learn it was a Royal. She also got 4 Aces. Probably up over a grand there, but she admitted she was down for the trip.
I also got 4 Aces that night for my first quad, but...dammit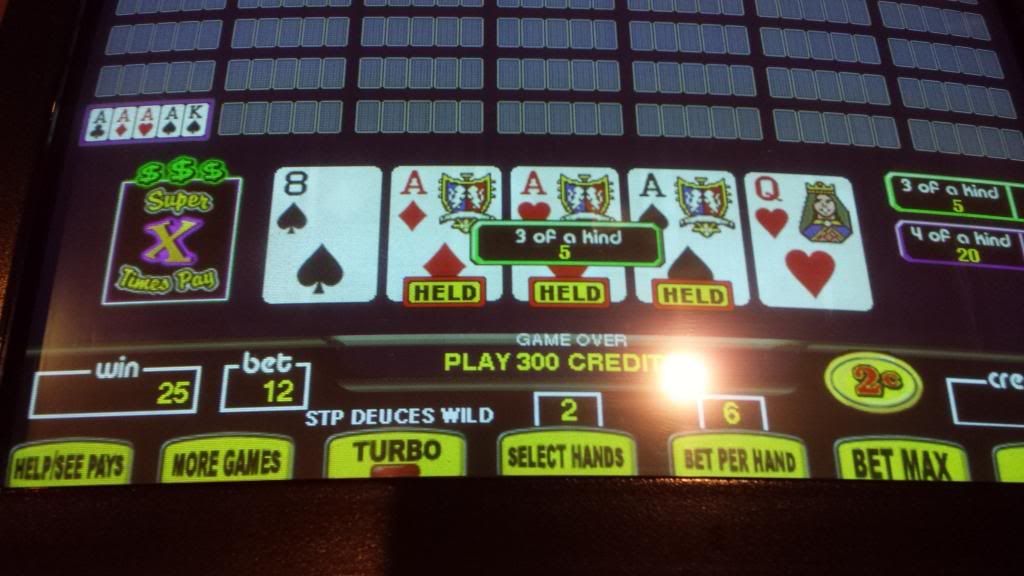 Straight Flush again?!?! First time I have hit 2 SFs in a day (excluding deuces wild obv)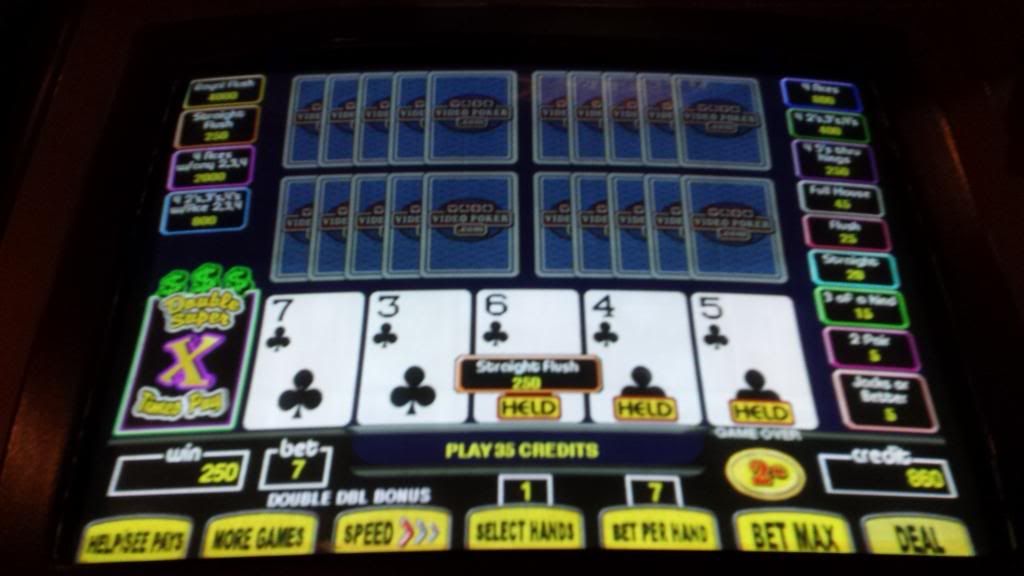 I also got what many Double STP players hearts will skip a beat for. A 10X...followed by a 10X!! I actually have hit this twice now. The first time was at Flamingo on July 1st of last year. I didn't hit a winner, so I didn't bother to take a picture of it. Once I did the math, I was kicking myself that I didn't do it. It should occur about 1 in 532,387 rounds of play and will be a dealt Royal 5.46% of the time when it happens. Figured I'd be lucky if I ever see it again, and damn better be sure I would snap a pic of it, but where was the dealt Royal? :'(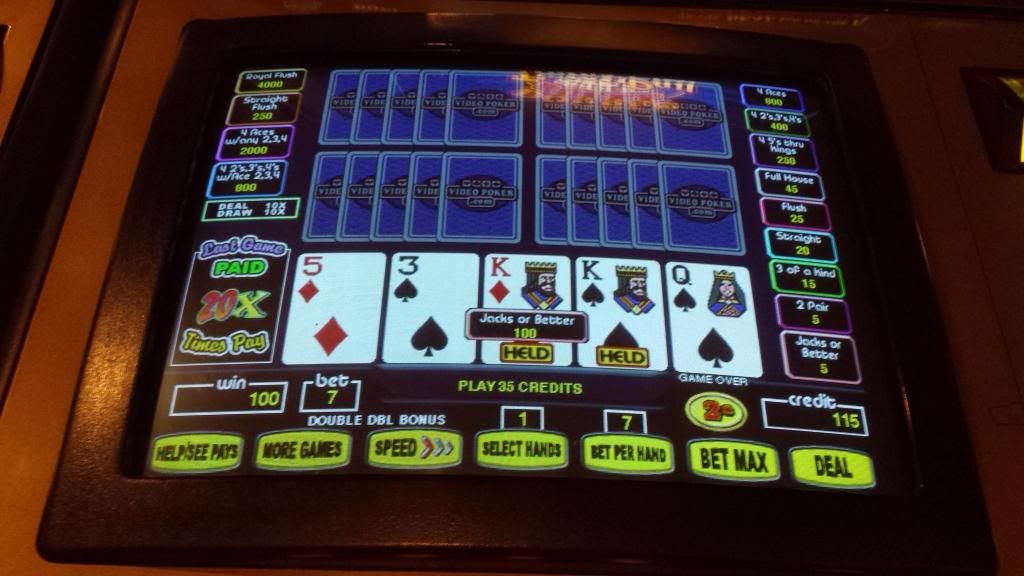 At least I got a winner I guess...
My g/f walked back from Gold Strike and showed me her new little friend.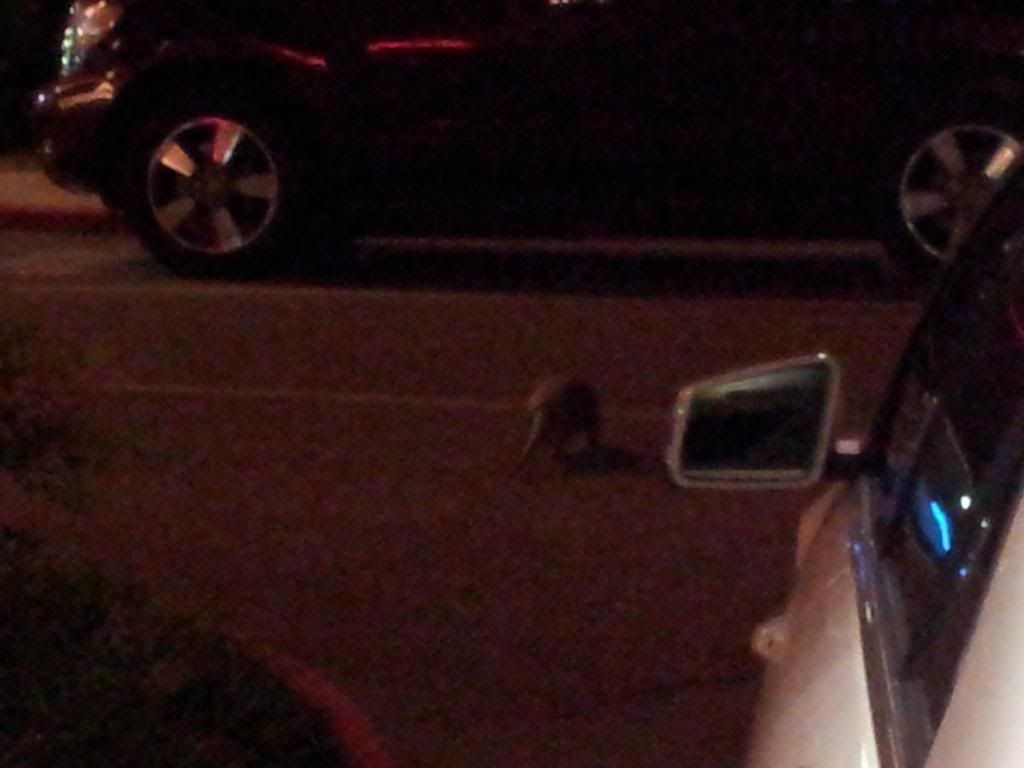 Later, I played this Texas Tea slot at the bar in his honor, but apparently he was worth only 20 cents! :Þ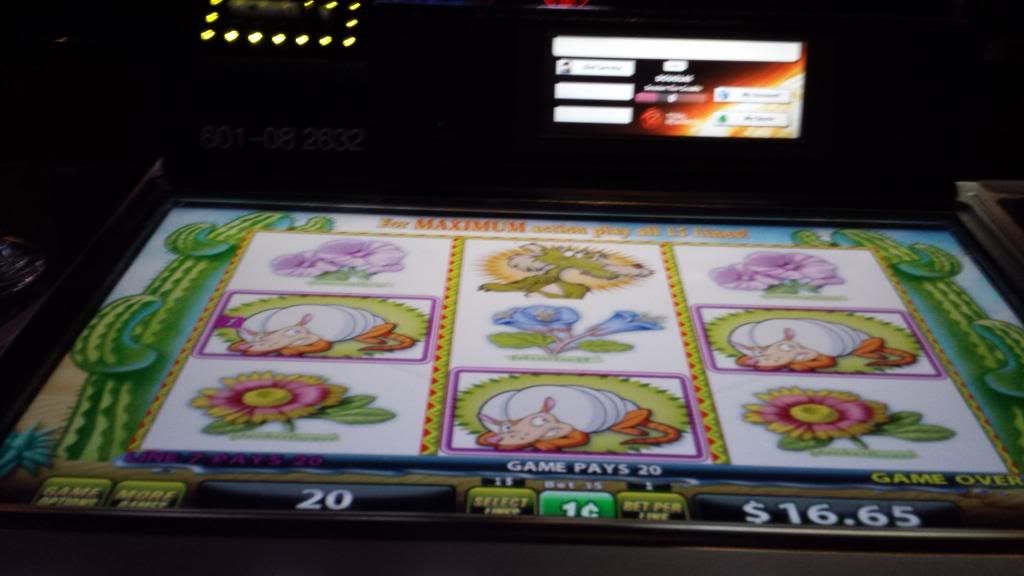 Eventually, the lady playing quarters left her machine, so I planned to take another $20 crack at 9/6 DDB w/STP for a single line max bet. Nada.
So I am still quadless and about $50 in the hole and back playing Double STP for cheap. I was mostly just playing one hand and licking my wounds and getting wasted. This trip I have occasionally played more hands when certain songs game up. My g/f had long went to bed before this, but she likes Shania Twain. She went to see her in Vegas once while I sneaked off to play mix game poker. So "I'm Gonna Getcha Good!" plays in the casino. So I decide wtf and bump up one more hand and start playing. While playing, I hear...de doo de de doo de de de doo doo de de de doo doo doo doo...doo...doo...ka-ching! Play my hand, hit draw...hear it again. Lose or marginally win. Start the very next hand. De doo de de doo de de de doo doo de de de doo doo doo doo...doo...doo...ka-ching! Three multipliers in a row and this one was 5X. Hold my hand, mildly excited it was three Jacks, hit draw. De doo de de doo de de de doo doo de de de doo doo doo doo...doo...doo...ka-ching!
Four
multipliers in a row with another 5X to make 10X total. Then the very next card revealed is the last Jack! :D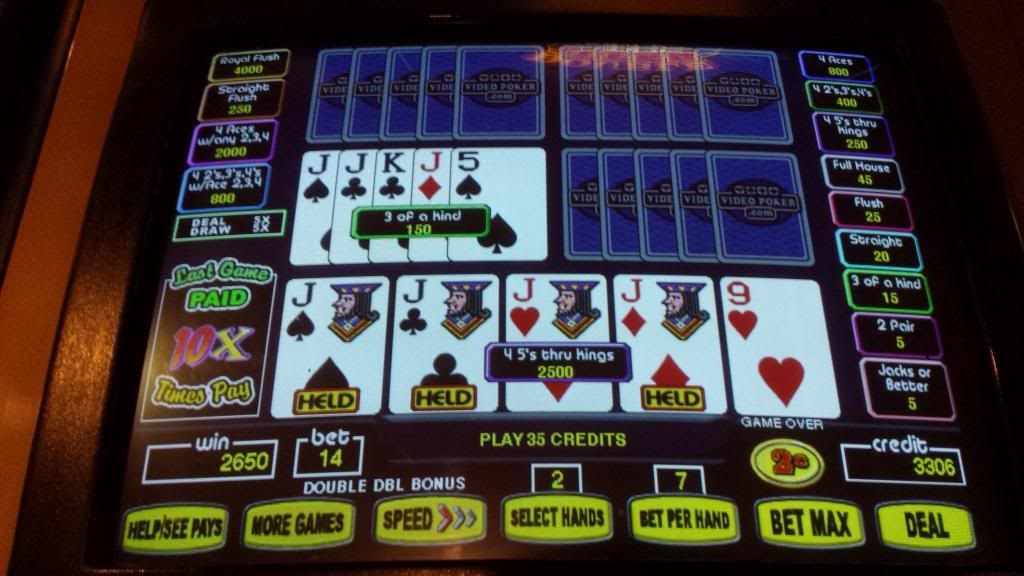 Played for another hour of two mostly losing a bit, ended up losing $10 at the Roadhouse. -$30 for the day. Was one of the last 10 people in the casino at about 4 am. Yikes! On the way out, hand her the keys because I woke up still drunk. I really like "free booze". Also peek at the Horseshoe temp poker room which had just moved to the Roadhouse early that morning right after I went to bed. Not bad for a temp room. They said that they hoped to have the remodel done by December. Had that Sam's Town buffet, pretty good, and had about 4 Mt. Dews, which help sober me up a little and I leave the cottonfields with a big smile on my face. :D
P.S. Next time I played back in St. Louis, I turned the "worst hand in poker", 75432, into this: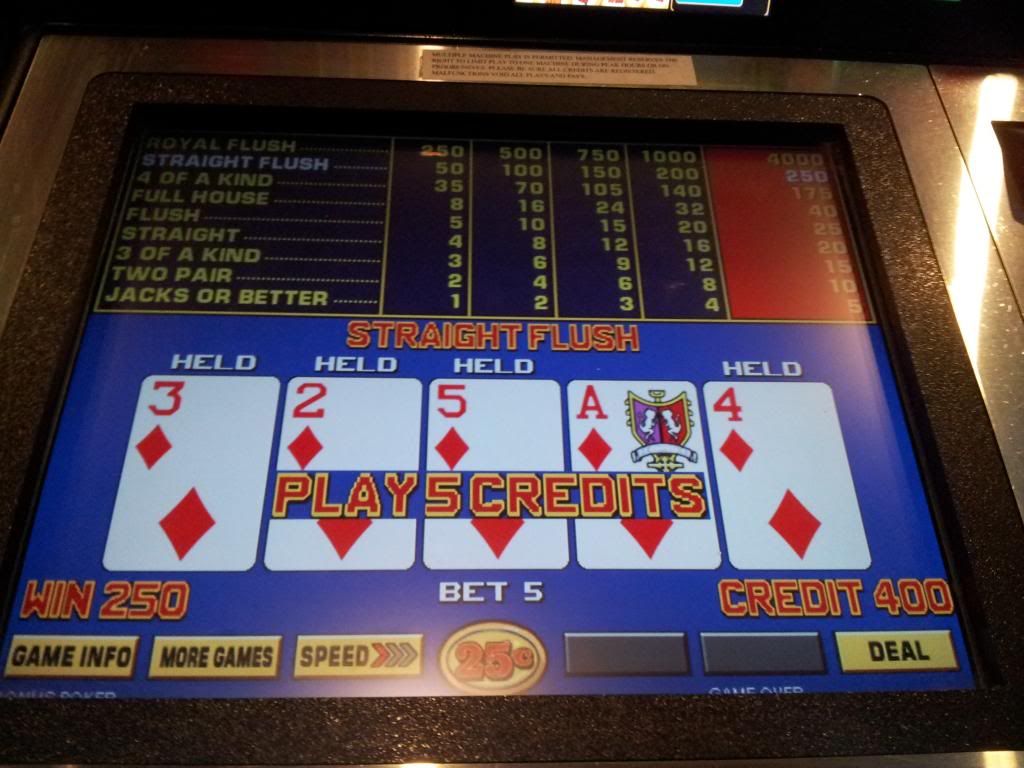 Also hit a SF before leaving for tunica, so that was 5 straight flushes within 5 gaming days...crazy!
Comments
Tunica Trip Report
This trip report has some side info pointing out DDB progressives at the request of a member of another forum. I generally didn't play those since I am more of an STP addict. :)
Saturday: Get to Harrah's Tunica a little after 7pm. On weekends, hotels fill up quick and you aren't guaranteed your smoking preference. Front desk clerk tried to slip us in a smoking room which we did not request. G/f insisted she booked non-smoking while the front desk clerk was being generally unfriendly. I have stayed at Harrah's Tunica about a dozen times, and unfortunately half of their front desk clerks are quite rude. The other half are very nice. The clerk eventually caves in and finds us a non-smoking room on the 7th (top) Floor. But we were also hoping to get a room without an adjoining door. When my g/f asked if the room didn't have an adjoining door, the clerk responded with "I guess". We get up there and of course it has one. But it was silent for now, so I told my g/f to gamble on it (mistake).
The Final Four was on, and we knew that Resorts casino served Sierra Nevada at the bar. So we head out there and plop ourselves on two bartops. I look through the games and DDB is 9/5 (97.87% with max bet - excludes progressive). I settle on 7/5 ACE$ Bonus Poker (98.26%), the best paying machine on the Game King, or at least I thought. I'm not positive but they also might have a 25/15/10 Double Deuces game at both bars (98.86%). The Sierra Nevada was awesome, but the service was quite terrible that night. Sometimes we waited 15 minutes for a beer. Also the progressive meter seemed to be pretty decent. The progressive increased about $50 in two hours from $1360 to $1410, and there looked to be only about 6 people playing. I ended up even, which was pretty good considering I was quad free. Once the game was over, I quickly go over to the other bar "Delta Deuces" to check their games. The meter was lower at $1160 and had 9/5 DDB (97.87%). But it also had 7/5 Super DDB (98.61%), and it may have had that Double Deuces game as well. On the gaming floor, they also had a progressive bank parallel to the Delta Deuces bar. The meter was $1060 and offered 9/5 DDB. This looked to be the best game available on that bank as well.
After Resorts, we briefly go to Fitz as they had a 3X point promo day. They only had one progressive bank that I saw. At the bar next to the snack bar upstairs. For this bank, 9/5 DDB was the best game available and had a meter of $1190. When we returned the next day, it had increased about $40. Fitz is also a decent place to play for cheap as they have a bank of nickel game kings that have 9/5 DDB as well, as well as 8/5 JoB w/STP (97.3%; 97.58% w/STP) for nickels. Since I am an STP addict, that's what I played for awhile. I hit one quad, so that helped. Then as we were wrapping up for the day, I play 9/6 JoB (99.54%) coin-dropper for quarters. I float up and down for a bit, and then promptly at midnight, they announce the 3X point promo ended. I had a hand with two pair and decide to double up on it to either go to even, or down $5. Down $5, meh. Clink, clink, clink, 60 quarters out.
So now we call it a night, get back to the hotel, and then we hear the TV loudly through the adjoining door. Great. Within 15 minutes, we hear a woman moaning. Wonderful. I put in earplugs and still can hear it. Call the front desk asking if we can possibly move. They decide to send up security instead. Takes over 10 minutes for him to get there. He asks them to turn it down, but he isn't firm at all. They don't change anything after he leaves. We go down to the front desk to deal with this. Magically they found us a room to move to.
Sunday: Check out and go to Southaven, MS to eat/shop for a bit. Get back to Tunica about 5pm, and check-in to the Roadhouse. On Sunday, they had a promo where you swiped your card and spun a wheel on the kiosk to possibly win a prize (1 of 10 win). My g/f won 1000 Reward Credits! (i.e. $10 comps). Briefly play 8/5 DDB w/ Double STP (96.79%; 97.27% w/DSTP) and hit this, but couldn't get the quad I wanted. :(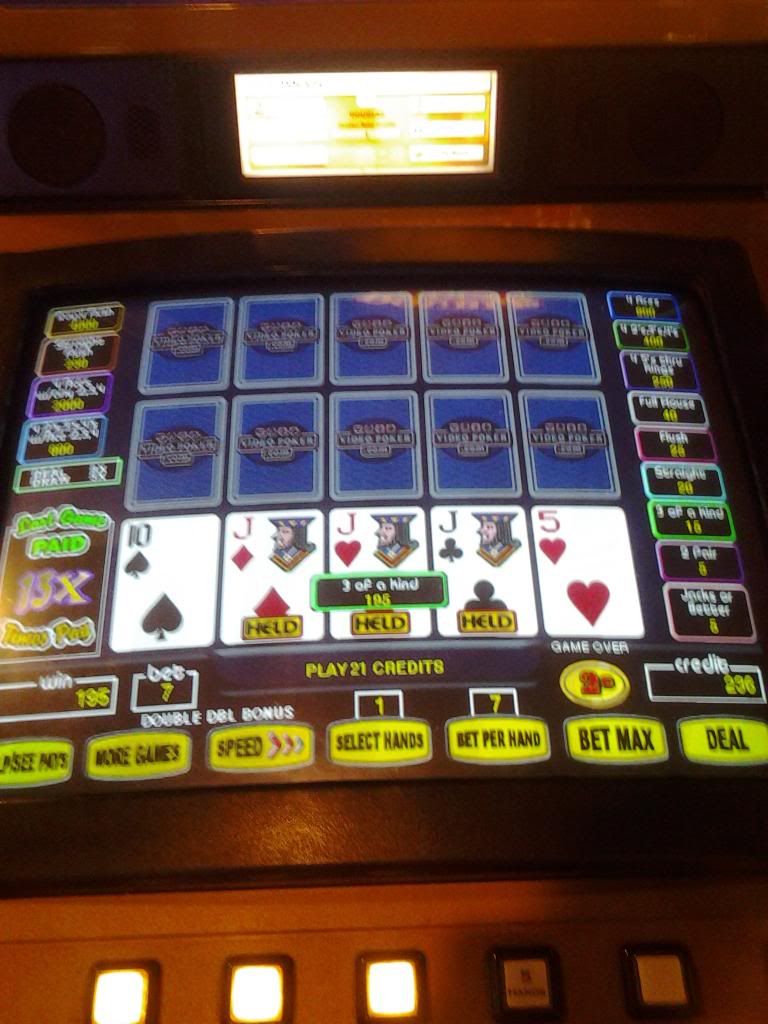 Then decide to eat at the Fitz snackbar for dinner. This snackbar has a great Philly cheesesteak, is reasonably priced for all their food, and is quite popular. Took us over 40 minutes to get our food. Fortunately my g/f was kind enough to order and wait in line while I went back to the 8/5 JoB STP, and get a couple more quads, and a full house with 4X multiplier. Get back to the room at the Roadhouse used the whirlpool tub (standard for all rooms there) and called it an early night. I lost my gambling itch that night apparently.
Monday: Hit up Harrah's Tunica early so we could sneak in to Paula Deen for late breakfast/early lunch. Well, you can't do that anymore as they now stay closed until 11am on weekdays...oops. So now we have time to kill, so I look for more progressives. Didn't find much. Bar didn't have one. Only one I found was an 8/5 DDB (96.79%) bank with progressives on all hits $200 or more. But the meters were all pathetic. The meter rate is probably 0.05% or less of coin-in. I finally settle in, and play nickel 6/5 Bonus with STP for awhile (96.87%; 97.13% w/STP). End up hitting 4 Deuces for $10, mildly disappointed because I planned on taking a stab at quarter Deuces Wild later. My g/f had to wait 25 minutes for a $9 slot cashout thanks to a ticket not being printed...yikes. Finally wander up to Paula Deen at about 11:20am. Great buffet, and it was better than I had remembered it. Had some tasty roast chicken from the cutting board as well.
Burn a little time at casino outlet mall, then go back to the hotel for a bit. A little after four, we go to Bally's to play in their free $5k slot tournament. Had to wait maybe 30 minutes to play. Unfortunately we both bricked out. Then we decide to give Bally's our email as they said they would put $10 free play on our card. (Resorts has the same offer, but since they are owned by the same company, not sure if you can double dip). You can use the promo kiosks there to give it, but you need to be able to click on a confirmation email to get the freeplay. Fortunately, my g/f has a smartphone and we were able to do it. Look around the video poker area and see no progressives period at Bally's. So then I decide to gamble on the best STP in Tunica (or so I thought). A 25/15/9/4/4/3 Deuces Wild machine (98.91%; 99.19% w/STP) for quarters only. I proceed to burn $40 in it in about 10 minutes. :( Took my $10 free play to slot machines, and got $9.50 back.
Leave Bally's and head back to Fitz for dinner because they offer a $7 buffet all day on Monday for Key Club members (limit one per Monday). It's best to save it for dinner because they have a nice create your own stirfry station. Food isn't as good as Paula Deen, but it's pretty good for $7. Get done with dinner and I want my full stomach to settle for a bit, so I tell my g/f to play here for 15 minutes or so. A dealt quad and another 4X full house, up ~$20.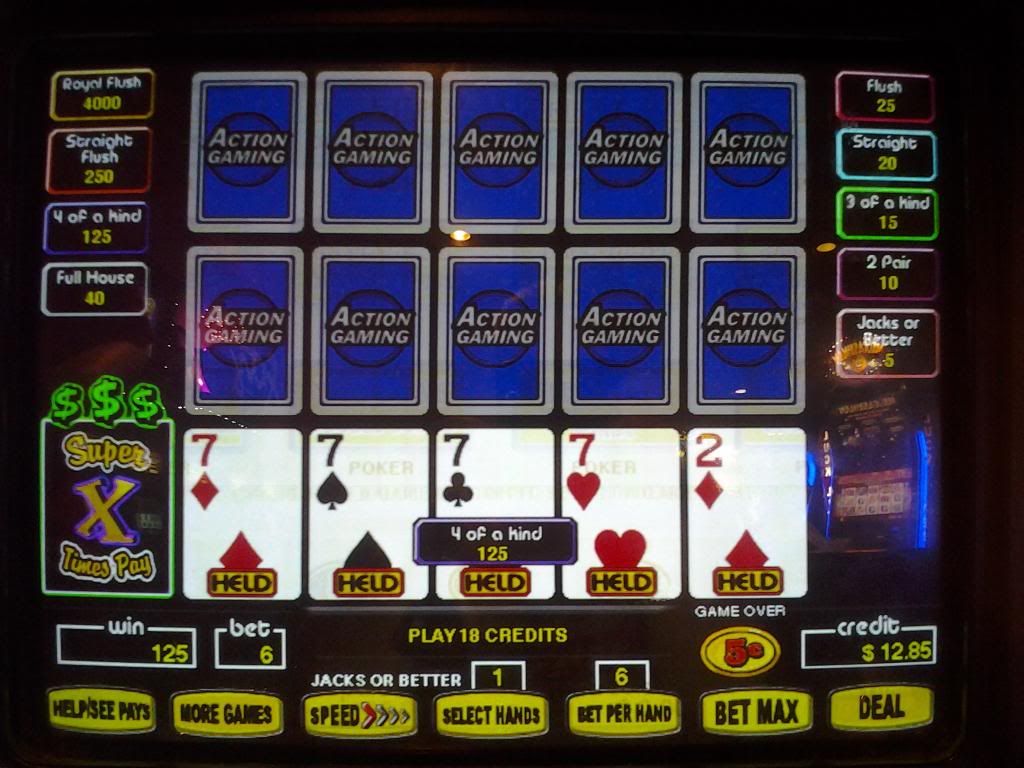 Get back to the Roadhouse, and wanted to check out Roadhouse/Horseshoe/Gold Strike. Go to Horseshoe and it's generally a video poker wasteland [exception: 9/6 DDB Build-A-Wheel (98.98%; 99.11% with wheel bet)]. There was a single unit 8/5 DDB (96.79%) progressive at about $1050. A bank of 7/5 DDB (95.71%) progressives at $1030 against the wall next to the poker room. And 7/5 DDB with $1150 at the main bar.
Also at Horseshoe I see a bank of WMS My Poker machines with winning streak poker on them. All three Harrah's properties in Tunica have them, and their paytables are quite bad. But dammit, I wanted to try "Winning Streak Poker". So when I saw that 7/5 DDB (95.71%; ?? with Winning Streak...How's the math coming along Wiz?) was the best I could do anywhere playing this game, I just went for it at $1.25/round. Ended up hitting this: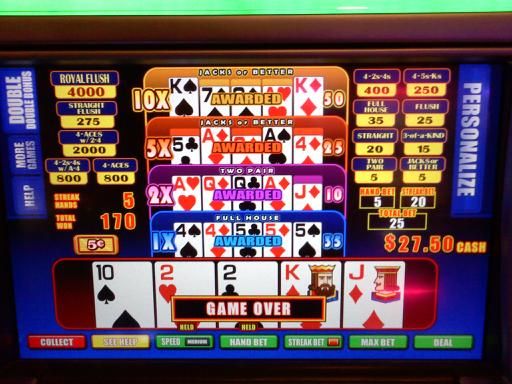 Finished up $6.25, earned 1 Tier Credit, and got the hell out.
Moved over to Gold Strike. Gold Strike's drink service is notoriously horrid, so I just go up to one of their bars, play 1 line of 5c spin poker with 8/5 DDB and order a beer. Wonder upstairs toward the poker room and find a few terrible progressives. One quarter bank was $1030 and had 7/5 DDB. Best game available is 6/5 Bonus (96.87%). Also there was the bank of 10-coin nickel triple plays with a progressive royal on each line. And a much bigger progressive for hitting all 3 Royals. The base games are terrible though: 6/5 DDB (94.66%) with best game being 6/5 JoB (95.00%). But one of the jackpots for all three royals was over $12k. It's about a 1 in 648,273 shot, but it will definitely help the return. But doing rough math, it looks like it only adds about 1%. After getting a beer, wander over to an 8/5 DDB w/Double STP for nickels and finally hit this hand when playing an appropriate game for it. Last time I hit this hand at Gold Strike, I was playing Deuces Wild...lol I also outdid my g/f on her slot hit there.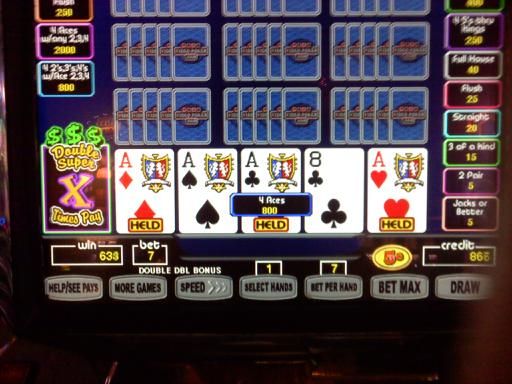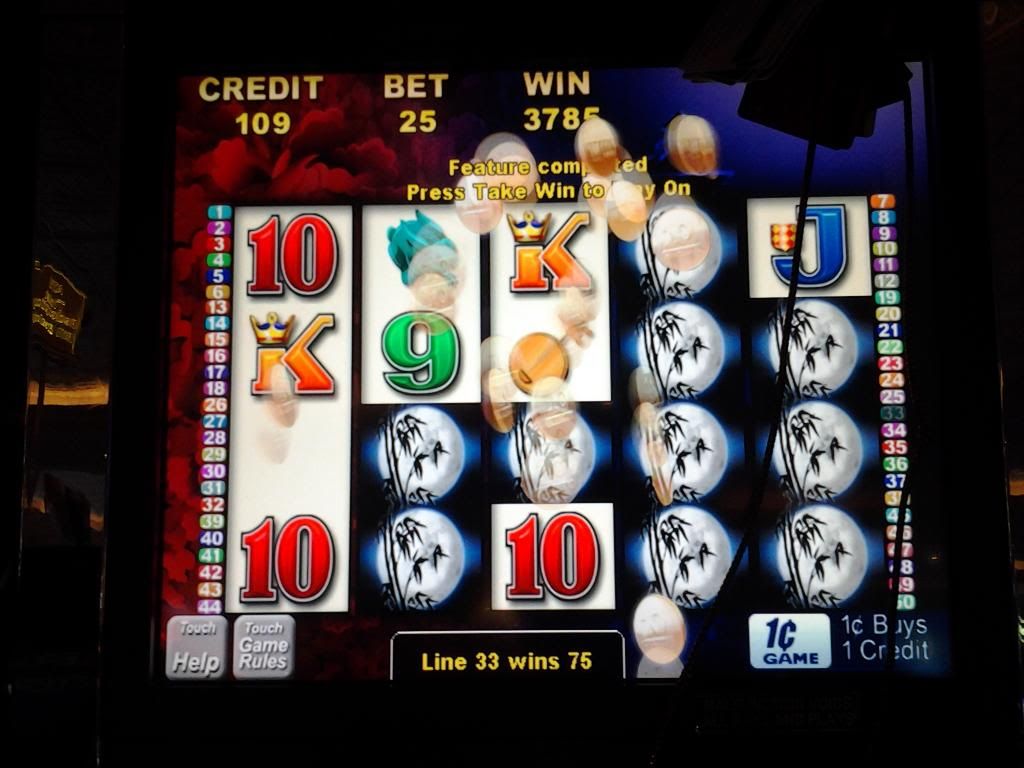 Now it was past midnight and I knew Roadhouse's penny progressive was in a decent state, so I drag my g/f back to the Roadhouse for a bit. The 2 penny progressives were both taken, sitting at $1040 ($1 bet; starts at $800). The best game on that progressive is 9/6 Jacks or Better (99.54%). On this machine, only 9/5 DDB exists, much worse. It may have been one of the worst variants available. For example, 8/5 Triple Bonus Plus (98.73%) existed on it.
So while waiting, I hit the cheap 2c 3-play Double STP machines with 8/5 DDB. On the next bank over my g/f notices a 7-star play a 3-play STP machine for quarters, and I am a little surprised he is just playing 3-play if he is 7-star. Play for awhile, get nowhere. Then after about an hour or so, I see the guy next to me playing 5-play 9/5 DDB w/Double STP for nickels (97.87%; 98.37% w/DSTP). I mutter to myself "dammit", and explain to him that my game pays worse. The 9/5 DDB table exists even for 5-play at 2c. I have been giving the house an 1.1% extra edge for the last 9 months now on these various Tunica trips. :( The machine feels a little bad for me and gives me these hits. It doesn't feel bad enough to let me win though..haha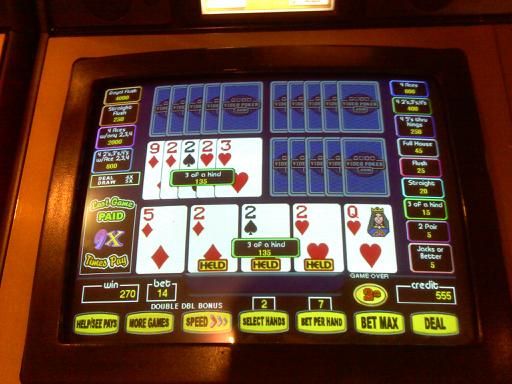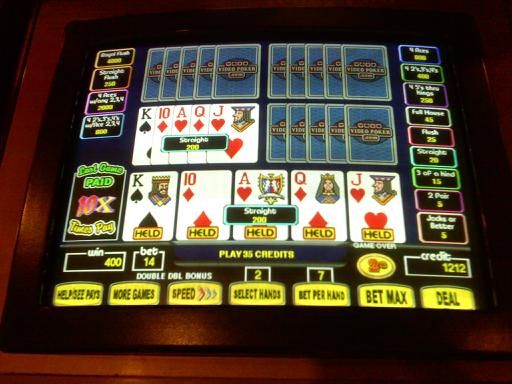 Keep an eye on Mr. Seven Stars at the next bank over, and he is having a decent rollercoaster ride until hit gets dealt 4s with a kicker for $600 total. He finally gets off of the machine after about $10k coin-in and I look at it. Yep, 9/6 DDB w/STP (98.98%; 99.26% w/STP) at 3-play. The best STP machine in Tunica. What was odd is that 5-play/10-play went down to 8/5. And the unit next to it was all 8/5 DDB. Of course that meant I had to play the 9/6 DDB STP at one hand it for $20 minimum. Yeah, nada. Then the penny progressive finally opens up. I play it for awhile and see that the meter increases by 0.25% of coin-in. With the current progressive level the game had a return of 100.16% for 9/6 JoB. I played for awhile, went slowly down. Got $20 in the hole on the machine, and really wasn't feeling it. So I play the cheapo machines some more and then eventually wander to some slots and lose a few more bucks. This includes Hexbreaker which has become a bigger favorite of mine thanks to the Wiz's analysis of the game. No ladder bonus for me though. :( Unfortunately, I slowly bled off about $100 that night at the Roadhouse between that and drink tips over 4 hours.
On the way out, I double checked the Roadhouse bars for the progressive (~$1350), and they had 9/5 DDB. The best game is 25/15/9/4/4/3 Deuces (98.91%). But at Roadhouse, as long as you're playing quarters, I would recommend 40/10/6 DDB (99.96%) or 25/15/11/4/4/3 Deuces (99.96%) instead.
Unfortunately, didn't get to Sam's Town/Hollywood this trip. But I know Sam's Town has the suited Royal progressive, and I think they have 8/5 DDB for that bank. They have regular 9/6 JoB at the downstairs bar. Hollywood doesn't have anything noteworthy for video poker, I'm almost certain.
For any CET loyalists who like video poker, come visit the Tunica Roadhouse sometime, they have some of the best VP CET will ever offer! Just be warned the nearest civilization is about ~25 minutes from Tunica in most directions. ;)
Comments