Hotel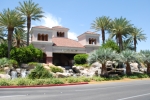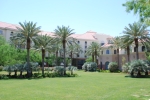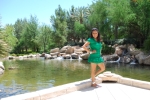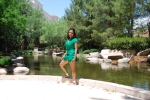 Attached to the Rampart Casino in the west part of the Las Vegas valley, you'll find the luxurious, refined JW Marriott Resort Spa & Golf. Its stately, grand façade reminds me of a southern plantation (with desert southwest touches), and its subdued, breezy interior are reminiscent of a tropical retreat.
Located 20 minutes west/northwest of the Strip in Las Vegas's Summerlin neighborhood, this resort caters more to the spa and golf crowd than to the party crowd. It's a great pick for those wanting a romantic getaway, but it is family friendly, too. My husband and I celebrated our 8th wedding anniversary at the JW, and it was a magical, memorable, nearly perfect 24 hours.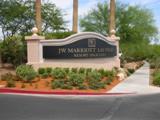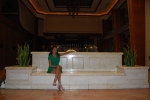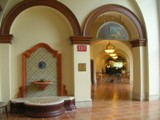 As we walked into our spacious room, we were giddy about checking everything out. The bathroom was very large and included a 2-person, heart-shaped Jacuzzi tub, double sinks, an oversized shower, and a practical WC. The toiletries were top notch, the towels were ultra plush, and we found two cozy robes hanging in the closet. The pillow-top bed and its decadent linens were the centerpiece of the main room, and around it we found 2 overstuffed chairs, a table, a desk and chair and an armoire housing a 32" tube TV. The overall feel of the 560 square foot room was coolly tropical, right down to the slow moving ceiling fan and sheer drapes. Since the JW does not charge the "resort fee" you find at other properties, you have to pay individually for some things. For example, wired high-speed Internet will run you $9.95 for 24 hours of access, and local calls are billed at $1.00 each. Toll free calls are gratis.
We selected a standard room but paid a little more for a balcony and a strip view. Although our view was partially obstructed by a couple giant palm trees, we thoroughly enjoyed standing on our balcony, sipping the champagne and savoring the chocolate covered strawberries that came with our romance package deal. The deal also included brunch buffet for two the next morning at Ceres restaurant and one treatment each in the Aquae Sulis Spa.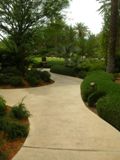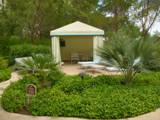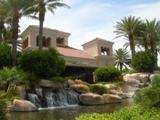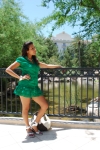 The service at the JW was exceptional. From the reception clerks to the bell staff to the room service waiter, it was clear the resort's employees wanted to make sure we got the most out of our visit.
Restaurants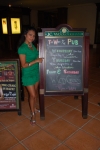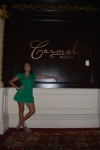 The JW Marriott offers many dining options, and details can be found at www.marriott.com/hotels/hotel-information/restaurant/lasjw-jw-marriott-las-vegas-resort-and-spa/ or www.rampartcasino.com.
Ceres — Continental/American cuisine. Sunday brunch buffet.
Rampart Buffet — Buffet
Carmel Room — Mediterranean
J. C. Wooloughan — Irish Pub
Shizen — Sushi & Japanese Steakhouse
Spiedini Ristorante — Italian
Promenade Café — American
Waterside Café — Light lunches and snacks at the pool
Starbuck's Coffee House
We ate at two of the restaurants during our stay, Shizen and Ceres.
Shizen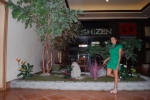 Shizen was our choice for dinner after we polished off our bottle of champagne. My husband isn't big into the bubbly, so I estimate I drank ¾ of the bottle. That being said, I doubt I was all that discerning as I ate my meal. My hazy memory is that the tempura appetizer and sushi as our main course were very good. I recall feeling the restaurant itself lacked panache, however. The tables, chairs and booths were ordinary, similar to what you might find in a family-owned, strip mall eatery. And the wall hangings and table decorations seemed tacky and outdated. The place could use a makeover.
Ceres
We stumbled into Ceres for dessert after our champagne-fogged dinner at Shizen, and we ate at Ceres a second time for brunch the next morning. The Sunday brunch buffet was small in scale when compared to those you find at Strip properties, but it was good. We found the usual breakfast fare: scrambled eggs, oatmeal, breakfast meats, etc. I personally enjoyed the beautiful fresh fruits and cook-to-order omelets.
Promenade Café and Rampart Buffet
We did not eat at the buffet or the café, but I did some research. The Promenade Café is open 24 hours a day, seven days a week. They offer $1.99 early riser breakfast specials – just show your player card and dine between 5:00 and 8:00 am. Their regular menu includes dishes from around the world -- everything from Thai noodles to meatloaf. A meal will run you about $15.00 per person.
The Rampart Buffet is open for lunch (11:00 - 3:00) and dinner (4:00 - 9:30) only Monday through Saturday. On Sundays, they open at 9:30 am for Brunch, which lasts until 3:00 pm.
Lunch will run you $8.99 everyday, Sunday Brunch comes in at $13.99, and dinner prices vary. Tuesday's Filet Mignon and Shrimp Scampi buffet is $14.99, Thursday's Seafood Night is $17.99, and Saturday's T-Bone Steak night costs $13.99. Dinner costs $11.99 the other nights of the week. They do not offer a discount for showing your player card.
Pool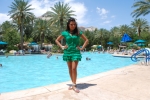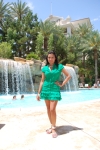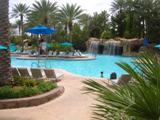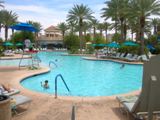 Surrounded by private cabanas and lush landscaping, the JW's pool feels like a tropical oasis, complete with a waterfall, hot tub and poolside bar/café. It's a very large pool with an equally large deck – plenty of room for everyone. I would suspect even on a busy summer day you'd be able to easily claim a lounge chair. Adjacent to the pool are Bocce ball and volleyball courts.
Entertainment
Shows: No, but Addison Lounge, Round Bar and J. C. Wooloughan all offer live music
Clubs : No
Bowling: No
Cinema: No
Bingo: No
Shopping: Gift shop/newsstand and Aquae Sulis Essentials Spa Boutique
Golf: Multiple courses within close proximity, and the JW has an exclusive partnership with TPC at the Canyons.
Spa: Aquae Sulis European Spa & Salon
Childcare: No
Weddings: Yes.
Spa
I've been to the Aquae Sulis spa numerous times. Usually I go with the girls, but on this visit, it was just me and my hubby. I like this spa because of the pleasant, soothing ambience and nice touches (like a steady supply of fresh fruits and juices and a shower area stocked with high-quality shampoos, lotions, etc.). I immediately relax as I enter the very clean, well laid out locker room. The comfortable rattan chairs, calming music and attentive staff all work together to make you feel at ease. Before or after your treatment, you can enjoy the spas, pools, steam rooms and saunas. There is a tranquil outdoor area where the men and women can mingle (that's where my husband and I met up), or you can stay in your respective locker rooms and enjoy the amenities. A fitness center is also at your disposal, complete with fitness classes like yoga, spin and belly dancing.
When it is time for your treatment, you're led upstairs and shown to a private room. I've received a few different treatments at Aquae Sulis, and my favorite is the Desert Stone Therapy. The treatment rooms are designed with relaxation and rejuvenation in mind – soft music, low lights and sturdy treatment tables with plush linens. And the therapists are experienced, courteous, knowledgeable and attentive.
Casino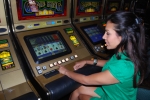 A review of the casino is pending a re-visit.
Odds And Ends
One of my favorite parts of the JW Marriott is the property's 50 acres of lush, tropical-feeling grounds. Maybe because I live in Las Vegas, I always relish spending time amongst towering trees, thick lawns, still ponds and colorful flowers. Walkways wind through the well-groomed, fragrant gardens and lead to private nooks where you can glide on a porch-style swing next to a cascading waterfall.
The facility does not provide complimentary shuttle service to the airport, but they do offer a free, regularly scheduled shuttle to the Strip. There is not a coin-operated laundry on the property.
In The Area
While JW Marriott is off the strip, it isn't too far away. A 15-minute drive will get you to downtown, where you can take in The Fremont Street Experience and check out an older side of Vegas, and another 5 minutes puts you on the north end of the Strip.
If you want to enjoy the natural side of Vegas, Red Rock Canyon is only about 10 minutes away, and Mt. Charleston is approximately 30 minutes by car.
Very close to the JW, you'll find a large selection of dining and shopping options, as well as some of Las Vegas's best golf courses. And if the Rampart Casino isn't quite big enough for you, you're right next door to the Suncoast.
My Conclusions
This property is a perfect place to get away from life's everyday stresses. You can recharge, relax and renew here. The rooms are of high quality, and amenities like the spa and pool are first rate. The restaurants seem just satisfactory, though, and the casino is on the small side. I would recommend it for couples looking for romance and families seeking an escape.
Getting There
From 15 South/Airport: Take I-15 North to US 95 North. Merge on to Summerlin Parkway. Exit at Rampart Blvd and turn left. The property is on the right side of the road.
Links
Acknowledgements
The Wizard would like to thank K.M. for the review and Karina for modeling in some of the pictures.
Contact Information
Address: 221 North Rampart Boulevard, Las Vegas, NV 89145
Phone: 702-507-5900
Web site: www.marriott.com/hotels/travel/lasjw-jw-marriott-las-vegas-resort-and-spa/ (hotel) or rampartcasino.com (casino)
Resort and Parking Fees
| | |
| --- | --- |
| Resort fee | $13.50 |
| Parking fee | Free |