Preface
When this review was written the said property was known as the Fitzgerald's. It has since changed names and been renamed the D. The new owners did a renovation and obviously go for a younger clientele than did the Fitzgerald's. Until I get somebody to do a new review, please consider this one very outdated.
Introduction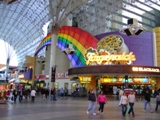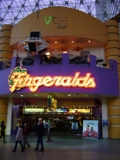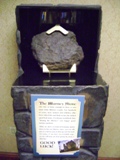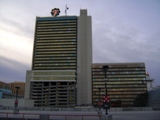 The building now known as Fitzgeralds originally was called the Sundance, which opened in 1979 or 1980 (I'm not sure which). In 1987, it became Fitzgeralds. In 2001, Barden Gaming purchased three of the Fitzgeralds properties (the other two being in Reno and Black Hawk, CO). On November 30, 2008, the Fitzgeralds in Reno closed, which was not part of the Barden purchase. Nobody has taken over the property.
At 34 stories, Fitzgeralds is the tallest building in downtown Las Vegas. The name and signage implies an Irish theme, but it a very soft theme. Like all downtown properties, Fitzgeralds attracts economy-minded tourists who enjoy an old-Vegas experience. Fitzgeralds, in particular, seems to attract a loud and lively crowd.
Location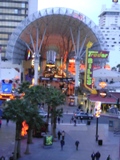 Fitzgeralds is located on the southeast corner of Fremont Street and 3rd Street. It is the easternmost of the major downtown properties bordering the Fremont Street pedestrian mall. Also on that intersection are the Four Queens, Fremont, and a souvenir shop. It is interesting to note that the three hotels at that intersection all start with the letter F.
Hotel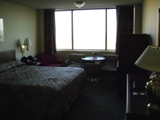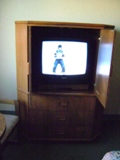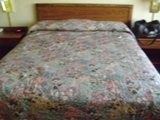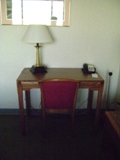 According to the 2010 American Casino Guide, Fitzgeralds has 624 rooms, including 14 suites. I checked into Fitzgeralds on a Thursday, February 18, 2010. The cost for my room was $34 plus a 13% tax of $4.42. While the Las Vegas room tax is normally 12%, I believe there is an extra 1% for hotels fronting the "Fremont Street Experience." $34 for a weekday room is par for the course downtown.
The hotel check is conveniently located next to the parking garage elevators. So no meandering through the casino, schlepping bags and looking for the front desk, as I've done many times before at other places in Vegas. The line for the front desk was Wendy's style (one line leading to multiple windows), but nobody was in line, so I was helped immediately. The check-in process was quick, friendly, and efficient.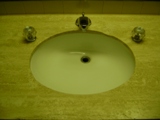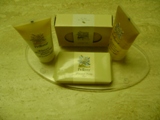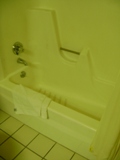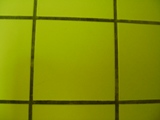 The hotel elevators are also conveniently close to the front desk, another efficiency lacking at many other Vegas properties. There were four small elevators serving the hotel. Throughout my stay, I never encountered a long wait for an elevator.
My room was pretty big by downtown standards. It had an easy chair, desk and small table for two. The amenities were mostly standard: an old TV, ironing board, old mechanical safe with key and the usual stuff in the bathroom (soap, shampoo, lotion, and plastic cups). The one thing I wasn't expecting, that I've never seen in a hotel room before, was a shoe buffer!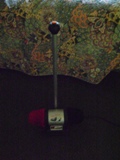 The room's matching curtain and bedspread have probably been there since the place opened. The wood veneer furniture also looked like it had been around two or three decades, but it was still in decent shape. I've seen much worse. However, the mattress was long overdue to be replaced. When I sat on it, I sank down more inches than I prefer with my bad back. So, I pulled off the sheets and slept on the floor. If I didn't, I knew I'd pay the price the next morning by walking around like Quasimoto the next day.
I always enjoy getting coupons when I stay anywhere in Vegas. They gave me a sheet of them at Fitzgeralds, containing the following:
$10 off VIP ticket to "Fitz of Laughter"
$1 draft beer at VUE bar
Half-price souvenir hat ($4.99)
Free dessert or appetizer at Don B's Steakhouse 250 points with new Club Fitz membership (I don't think you need to present the coupon to get the points).
Earn 50 points and get a free gift.
Earn 100 points and get a different free gift.
$5 off "Marriage Can be Murder"
$2 off lunch or dinner at Courtyard Grill
Free regular coffee, with purchase of a half dozen doughnuts at Krispy Kreme
$5 match play
21 pick-7 keno tickets with purchase of any keno ticket. The free tickets win $1,000 only for catching all 7 numbers, with no prizes for 6 or less catches. The value of the free tickets is 51¢.
Parking Garage
Fitzgeralds has a tall and narrow parking garage. It is a simple spiral in design. To get to the public parking, you have to make it up to the 7th level at least. You may get dizzy doing that many circles. Parking is free for patrons of the casino, restaurants or hotel. However, unlike some other places with a no-questions-asked validating machine, at Fitzgeralds, you have to get your ticket validated at the player club, front desk or restaurant. My advice is parking at Fitzgeralds is fine if you're going to patronize them anyway. Otherwise, I would park elsewhere.
Pool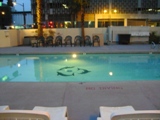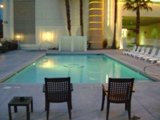 Fitzgeralds has a small pool and spa located near the valet entrance. There are about a dozen plastic lounge chairs and a few palms trees. Not the best hotel pool by any means, but many downtown casinos don't have a pool at all.
Restaurants
There are four choices for eating at Fitzgeralds: Courtyard Grill and Buffet, Don B's Steakhouse, McDonald's and Krispy Kreme. Following are my specific comments.
Courtyard Grill and Buffet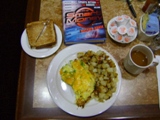 Every Vegas hotel/casino should have a big and cheap 24-hour coffee shop, and Fitzgeralds does not disappoint. I had an omelet, which came with potatoes and toast, for $8.50 and a coffee for $2.25. Other prices were:
House salad: $3.25
Monterey chicken sandwich: $8.55
BLT: $6.95
Spaghetti with meat sauce: $7.95
Following were some specials they were running:
Steak and eggs: $5.99
Two-egg breakfast (with potatoes and toast): $1.99
Soup or salad and half sandwich: $4.99
Fried shrimp dinner: $6.99
10-ounce rib-eye steak with soup/salad bar: $8.99
The service was fast and to the point. The food was fine. My only complaint is I had to wait a while to get a coffee refill, which I had to ask for.
Don B's Steakhouse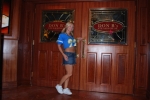 Don B's is named after the owner Don Barden, whose image also appears on the casino chips. Evidently the man is not shy. My friends flaked out on my offer to join me for dinner, so I had to eat by myself. No reservation was necessary, because there were only two other parties in the entire restaurant when I arrived. I'm sure the light crowd helped make the service outstanding. My waitress was very friendly and chatty. Perhaps she sensed I hate eating alone. She, along with some of the other staff, had been working in that restaurant over 20 years. Somehow it came out that I was a local, and she invited me to come back often, suggesting they take very good care of their regular customers.
I ordered an iceberg wedge salad for $6, the salmon dinner (which came with rice or choice of potato) for $22, and a side of spinach for $5. It all totaled $33 plus $2.67 tax. The food was fine -- not the best I've ever had, but commensurate in quality with the prices. When I settled my bill, I incorrectly said my room number was 2117, when it was really 2127. I later realized my room number at the Santa Rosa dormitory at UCSB was 2117, which is probably why it stuck in my head. My waitress said the computers were down, so she let me go without confirming it. When I got back to my room to brush my teeth, I realized my error. So, I went back down to correct myself, and my waitress thanked me for my honesty.
McDonalds
This is a pretty good sized McDonalds considering it's inside a casino. Usually they just have a counter among other fast food places, but this is a no-nonsense McDonalds with about four windows and its own seating. A friend of mine used to eat there often. He told me a story that they used to have a self-serve fountain for drinks but took it out in favor of the employees filling and refilling the beverages. He said when he asked a cashier why they made the change, the cashier said it was in part because people were filling coin cups with Coke. Yup, that's downtown Vegas for you.
Krispy Kreme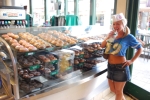 The two big donut franchises in Vegas are Krispy Kreme and Dunkin' Donuts. You can ask anyone who is familiar with both which he/she likes better, and you'll be sure to get a strong opinion one way or the other. Krispy Kremes are light and airy, known for their shiny sweet glaze. Dunkin' donuts are heavier, with an emphasis on the dough. Personally, I prefer the old-fashioned filling donuts, so between the two, you can put me down as a Dunkin' Donuts man. However, in all fairness, my kids prefer Krispy Kreme. If your partial to Dunkin' Donuts, there is a franchise at the Fremont casino, kitty-corner from the Fitzgeralds.
Entertainment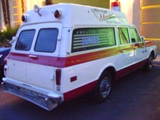 When I was there, Fitzgeralds had two shows to choose from. The first was a dinner/show called Marriage Can be Murder. My reviewer, David McKee, reviewed it already. Suffice it to say he didn't like it much, the food or the show. For more details, please read his full review.
The other choice was "Fitz of Laughter" starring Kevin Burke. I saw this show a few days after my stay, because the show is dark (closed) Thursday evenings. The cost of tickets was $45.96 each, including a $6 service fee. However, when I indicated an interest in buying tickets by asking about the probability of the show selling out, the guy at the box office table upstairs said 0% and gave me an unsolicited 2 for 1 coupon, which was very nice of him.
So I returned later with my coupon in hand and saw the show with a friend of mine. The show is a mixture of comedy, magic and mind reading tricks. I thought the mind reading was the best part. For example, he passed out post cards and keno crayons to about five elderly female members of the audience and asked each to write down the most unusual place they ever "did it." After collecting the cards and shuffling them, he read them and then predicated correctly which card belonged to which lady. With the last card, it was obvious whom it belonged to, so instead he guessed correctly that it said a bailer. Nobody would ever guess that! He must have seen the card somehow, but it was still very amusing. Who does it on a bailer anyway? I'd think some bales of hay would be more comfortable. I think Kevin's greatest skill is improvisation. At one point, he gave something to a rather overweight man in the front row to hold. The man dropped it, and some of the audience, including me, saw more than we cared to when he bent over to get it. Kevin did too, so he started singing "Blue Moon." To summarize, I think the show was pretty good, especially if you can get in with a 2 for 1 coupon.
Casino
According to the 2009 American Casino Guide, Fitzgeralds has 42,251 square feet of casino space. By way of comparison, the MGM Grand has 3.7 times as much at 156,023. Fitzgeralds is about the same in size as the other major downtown casinos. According to the Nevada Gaming Control Board, Fitzgeralds has 32 table games and 985 slots. The table games offered were blackjack, roulette, craps, Pai Gow Mania, Blackjack Switch, Wild Hold 'Em Fold 'Em, Three Card Poker, and Spanish 21. It is an interesting mixture. Missing are common games like Caribbean Stud, Let it Ride, and Big Six. However, as far as I know, Fitzgerald's is the only casino in Vegas (or on Earth for that matter) to offer Pai Gow Mania (http://wizardofodds.com/paigowpoker/appendix5.html) or Wild Hold 'Em Fold 'Em.
The dealers at Fitzgeralds seemed experienced and dealt a good game. Some were chattier than others, but none were the kind of jaded brick wall dealers that are no fun at all. Cocktail service was fine, with about 20 minutes between rounds. They serve Tecate beer, my favorite Mexican cerveza. To the best of my knowledge, they are the only casino in Vegas to serve Tecate to table game players. The first time I ordered it, the waitress said they were temporarily out of limes, but she came back a few minutes later with a lime slice on a toothpick. That was nice of her. The players at Fitzgeralds are a diverse bunch. The median age is higher than average, with a lot of players between 40 and 60 I would estimate. Like all downtown casinos, Fitzgeralds is very smoker friendly. A high percentage of the players smoke, as evidenced by both the senses of sight and smell. Maybe I was there on a bad day, but I encountered a high percentage of drunk players during my visit. They all seemed to know each other, so I can't claim it representative of their normal client base.
Signage emphasizes the low limits at the Fitzgerald's, in particular $2 blackjack and roulette. The craps minimum seemed to be $3 during the day and $5 at night. A significant portion of the casino is on the second floor, including keno, poker, sports betting and lots more slots. Following are some comments about the particular game rules.
Blackjack
According to the Current Blackjack Newsletter, the best game at Fitzgeralds was 2-decks, dealer hits soft 17, no surrender, no double after split, and no re-splitting aces. That is a fairly common set of rules downtown. According to my blackjack house edge calculator, the house edge is 0.60%. The next best was an 8-deck game, with the same rules except allowing double after a split, for a house edge of 0.66%. Finally, be wary of the many 6 to 5 paying blackjack tables, with a house edge of about 2%, depending on the number of decks.
Craps
3-4-5X odds are allowed. Like all downtown casinos, the field pays 3 to 1 on the 12. Hop bets pay 15 to 1 on easy hops and 30 to 1 on hard hops. They include bets on the odds in your average bet for purposes of earning comp points. The evening I was there, the game was very crowded and loud.
Roulette
Double-zero wheel.
Blackjack Switch
Contrary to what the Current Blackjack Newsletter said at the time, Fitzgeralds follows the stingy Blackjack Switch rule of treating a blackjack after switching as 21 points, for a house edge of 0.58%.
Spanish 21
According to the Spanish 21 web site, there are only two casinos on earth that let the player re-double in Spanish 21, and Fitzgeralds is one of them (the other being the Horizon in Lake Tahoe). The rule lowers the house edge from the usual 0.76% to 0.42%.
Poker
Fitzgeralds has six poker tables upstairs. They seem to emphasize low-level tournaments, because they were often announcing them over the loudspeaker during my stay. When I walked by to count the tables, the manager invited me to join the next one.
Video Poker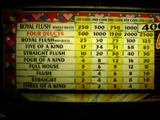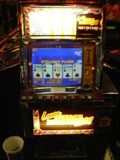 Fitzgeralds has some very liberal video poker games scattered about. In fact, as far as I know, the most liberal video poker game in Las Vegas, or on Earth for that matter, is the 5¢ 25-17-10 Loose Deuces game with a return of 101.60%! There is just a single machine located upstairs by the sports book. It is an old machine that plays slow, so don't expect to make a living on it. All video poker returns are based on optimal strategy, which few people know.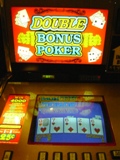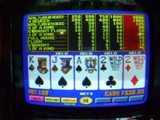 VPfree2 also mentions, and I can confirm, that they have a bank of 25¢ 10-7 double bonus, which has a return of 100.17%. These machines are located upstairs near the VUE bar. For those looking to bet more than that, there is 25¢, 50¢, and $1 16-10 Deuces Wild downstairs by the gift shop, which has a return of 99.73%. However, if you're one to just plop down anywhere and play (something I do not advise), the pay tables are not as good. Here are the games I wrote down at a 25¢, 50¢, and $1 machine picked at random.
If you like to get back real coins when you play slots, you should be happy at the Fitzgeralds. Most of the machines there still pay in coins. The bad news is if you have a large cash out, it will necessitate a hand pay.
Slot and video poker tickets are valid for 30 days, which is too short in my opinion.
Keno
There is a small keno lounge upstairs with about 20 seats and a few tables. I did an exhaustive analysis of every game they had. The returns range from 69.07% to 87.50%, with an average of 75.22%. The following table shows the return of each game.
Fremont Keno
Game
Pick
Return
Regular
2
72.15%
Regular
3
72.15%
Regular
4
74.06%
Regular
5
72.16%
Regular
6
71.54%
Regular
7
71.30%
Regular
8
70.26%
Regular
9
70.80%
Regular
10
71.43%
Regular
11
70.21%
Regular
12
69.67%
Regular
13
69.07%
Regular
14
70.31%
Regular
15
72.79%
Shamrock Special
1
75.00%
Shamrock Special
2
72.15%
Shamrock Special
3
72.15%
Shamrock Special
4
72.44%
Shamrock Special
5
72.96%
Shamrock Special
6
74.15%
Shamrock Special
7
73.69%
Shamrock Special
8
71.68%
Shamrock Special
9
73.14%
Shamrock Special
10
71.31%
Shamrock Special
11
70.18%
Shamrock Special
12
71.19%
Shamrock Special
13
73.51%
Shamrock Special
14
71.09%
Shamrock Special
15
72.94%
40¢ Special
1
87.50%
40¢ Special
2
81.17%
40¢ Special
3
83.25%
40¢ Special
4
81.86%
40¢ Special
5
81.96%
40¢ Special
6
82.03%
40¢ Special
7
84.60%
40¢ Special
8
78.57%
40¢ Special
9
79.98%
40¢ Special
10
79.50%
40¢ Special
11
80.02%
40¢ Special
12
79.08%
40¢ Special
13
79.28%
40¢ Special
14
80.02%
40¢ Special
15
79.88%
Catch All Special
4
73.52%
Catch All Special
5
70.94%
Catch All Special
6
70.17%
Molly Malone's Sweet 16
16
71.29%
Top&Bottom, Left&Right
40
72.29%
The Edge
32
71.38%
20-Spot Special
20
70.84%
Pot O' Gold Special
2
84.18%
Pot O' Gold Special
3
76.31%
Pot O' Gold Special
4
81.09%
Pot O' Gold Special
5
81.96%
Pot O' Gold Special
6
80.22%
Pot O' Gold Special
8
79.21%
The best game is the pick-1 40¢ special, with a return of 87.50%, which is the best low-stakes non-progressive keno game in Vegas, to the best of my knowledge. In case you're wondering, the best non-progressive game at any bet, as far as I know, is the $25 pick-3 "high pay special" at the Gold Coast and Orleans, at a return of 91.58%.
Years ago on my Wizard of Odds site, I indicated that the best non-progressive keno game in Vegas was Fitzgeralds' $10 "Pot o' Gold Special." That was because they evidently had a printing error on their pay table. The win for catching 7 on the pick-8 was $7,500 for a $5 bet. Normally, they pay double that for a $10 win, but instead the pay tables said catching 7 paid $25,000. That increased the return from 79.21% for a $5 bet to 95.26% for a $10 bet. About two or three years ago, a student of mine informed me that Fitzgeralds finally realized their error and lowered the win for catching 7 on a $10 bet to $15,000. However, when I was snooping around for this review, I noticed that some of the pay table cards still said $25,000. Some had the 2 crossed out, with a 1 written over it, and some did not. So, should keno be your game, and it not bother your conscience, look around for an uncorrected pay table that still says $25,000 for catching 7 out of 8 on a $10 "Pot o' Gold" bet. Keep it handy should you catch 7. Assuming they honor it, the 95.26% return is outstanding for keno.
Sports Betting
There is a small Leroy's outlet upstairs, with I think two windows and about four small tables. This is not a big cushy place to watch a game but somewhere to make a quick bet and run. If you want to watch a game at the same place you bet on it, I'd suggest the Fremont, Plaza, or Golden Nugget downtown. Sports tickets say they are valid for 30 days, but other Leroy's franchises have told me they accept them long after that.
Player Club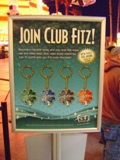 Fitzgeralds' player club is known as "Club Fitz." There are two tiers to their program: the entry level is Rainbow and the higher level is Emerald. The Club Fitz counter has two lines, one for the common folk and one for Emerald cardholders. For new Rainbow card applicants, if you earn 25 points, you get a free keychain. There is also a coupon for a free shot glass for new applicants in the 2010 American Casino Guide.
Slot players earn one point for every $5 bet. Video poker players earn one point for every $10 bet. 100 points is worth $1 in free play, making the rebate rate 0.2% for slots and 0.1% for video poker. There are also "comp dollars" players can earn by playing slots or table games. VPfree2 says video poker players earn comp dollars at a rate of one comp dollar for every $500 bet, for a rebate of 0.2%. Based on my own experience, at the Rainbow level, comp dollars are worth about 20% of the theoretical loss in table games. The Club Fitz brochure says Emerald level players earn comp dollars twice as fast.
Lines
The lines are pleasantly short overall at Fitzgeralds. Sometimes the lines at Club Fitz and the Courtyard Grill run a little long, but nothing that would take more than a few minutes. The lines for the hotel check-in, cashier, and Club Fitz are all Wendy's style, meaning one line leading to many windows. The only McDonalds' style line, where there is one line per window, is, appropriately, at McDonald's.
My Own Gambling
My gambling was divided between video poker, craps and blackjack. I should have played Spanish 21 given the liberal re-doubling rule. However, I didn't do enough homework before I arrived, so I didn't know about that rule until I returned home and got ready to write this review. Shame on me!
Armed with plenty of coupons and offers, I started out playing video poker. My first objective was the free key chain for earning 25 points. There is a 16-10 Deuces Wild machine near the player club, so I quickly earned my 25 points. In fact, I earned about 80 points. When I returned, I was told you can earn up to two key chains under that offer, which is what she gave me. My choice of colors was red or purple.
Then I went to the table game pit for some real gambling. By Fitzgeralds' records, I played blackjack for 2 hours and 4 minutes at an average bet of $100. My actual bets ranged from $50 to $100, so it was nice to get rated on the high end, something that seldom seems to happen to me.
I played from about 9 PM to 11 PM. Much of this time I played with an extremely inebriated woman of around 50 years old. She was both terribly obnoxious and apologetic, alternating between the two constantly. At all times, a supervisor was watching the game, because of the frequent questions, arguments and violations of procedure and etiquette.
Up to this point, in 23 years of playing in casinos, I have only twice seen management come in and stop a player from drinking or gambling. Once was at Cactus Jacks in Carson City, where an extremely drunk and rude player was physically escorted to the door after calling the dealer a bitch. The second time was at Circus Circus in Vegas, when a drunk player was fairly well behaved but slowing down play and annoying other players with an endless stream of chatter. The supervisor cut him off from alcohol when he ordered yet another round, at which time he stomped off in a huff.
Years went by until the third incident, which occurred while I was doing my Fitzgeralds review. Before it happened, the woman in question was constantly knocking over her chips, often dropping them on the floor, spilling drinks on the table, and finding something to dispute every few minutes. At one point, she took issue with the supervisor for letting her lose $1,300. She seemed to be fishing for an apology or some sympathy, but the supervisor would have none of it. Her reply was, and I'm paraphrasing, "You're a grown woman and should be able to control yourself." I couldn't have said it better. Finally, the casino manager came up behind the drunk player and said to color up her chips and cash out. I thought this might lead to a confrontation, but the manager said it nicely but firmly, and the player complied without much comment.
The following morning, I finally got around to looking at my coupons. Two were for free gifts – one for earning 50 points and another at 100 points. Not knowing if I could redeem both at once, I proceeded to earn another 150 points at the same $1 16-10 Deuces Wild game. It took 300 hands to get that many points. This was, perhaps, not the best use of my time, but I'm a sucker for any free trinket I can get. They indeed did accept both coupons. For 50 points, I got another key chain. For the 100 points, I had the choice of a cheap tote bag or a deck of cards. I already have about 200 decks of cards (this after giving many away to trick-or-treaters last Halloween), so I chose the tote bag. The following picture shows all the loot I hauled in.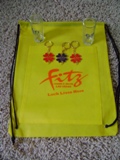 I intended to play some more blackjack next, but they were doing some construction in the casino, and a guy with a jackhammer was making a great deal of noise. So, I ran some other errands downtown. When I returned to Fitzgeralds, the jackhammer guy was still there but occupied with something else. The few blackjack tables open in the morning were mostly full, with many of the players chain smoking.
Meanwhile, the craps table was empty. As I walked passed it, the dealer invited me to play. So I played for 47 minutes, following my usual strategy of making a line bet every single throw and always taking the maximum odds. With $5 line bets, this earned me an average bet of $175. Most casinos don't count odds bets in the average bet amount, but Fitzgerald's does. The downside of that is usually the casinos give you less points/comps when they count the odds. I think one of the dealers may have known who I was. Out of the blue, he started talking about a speeding ticket he received, which I think was a reference to a recent blog entry I wrote about my own speeding ticket.
When I was all done playing and ready to leave, I went to check out from the hotel. I asked the woman at the front desk if I could have any of my charges taken care of, based on my play. She asked for my player card and pulled up my account. She said I earned $37.04 in comps, which I could apply to my bill. Based on industry norms, I estimate they would have thought my theoretical loss to be about $180. To get back $37.04 was a rebate of 21%. That is a less than the industry-average 33% to 40%, but who knows what kind of offers I'll get in the future. As I already noted, Emerald level players get twice the comps. I also got lots of drawing tickets for a car to be held on May 9.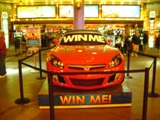 I then went over to the VIP host office, where I peppered the host with lots of questions. It was there I got the exact time and average bet figures I've already mentioned. He seemed to indicate they pretty much gave out comps via the point program only. I pressed him for details about how table game play translated to points, but he didn't volunteer any specifics. He did see I played both blackjack and craps, and said that of the two, blackjack earned much more points.
Summary
Overall, I would say I left Fitzgeralds satisfied. The employees were friendly and easygoing. Never once did I wait more than a minute in a line for anything. The lines for everything were Wendy's style, as I like it. However, it was a bit too loud and smoky for my tastes. Most downtown casinos are under a larger corporate umbrella, which usually leads to conformity. However, Fitzgeralds is independently managed, which is a good thing. If you are economy-minded and looking for a fun, old-Vegas kind of place, I think you'll be pleased with Fitzgeralds.
Links
Acknowledgement
I'd like to thank Lisa Furman for modeling in the pictures. Lisa invites you to visit her page at ModelMayhem.com
Contact Information
Address: 301 Fremont Street, Las Vegas, NV 89101
Phone: 800-274-5825
Web site: thed.com
Resort and Parking Fees
| | |
| --- | --- |
| Resort fee | $13.50 |
| Parking fee | Free |